Five players including RB Quay Holmes from East Tennessee State, RB Pierre Strong Jr. from South Dakota State, QB Cameron Burston from Tarleton State, Devon Krzanowski from North Dakota, and Hayden Olsen from Tennessee Tech have been selected as the College Sports Journal FCS All-Stars for the week ending February 21st, 2021.
Quay Holmes, East Tennessee State, RB, R-Jr, Powder Springs, GA
Holmes started the season where he left off in 2019, rushing for 125 yards on 19 carries with two scores. Holmes scored the first two touchdowns of the season for the Bucs, both 1-yard punches from the goal-line offense, pulling ETSU even with the Samford Bulldogs following an early 14-0 deficit. Holmes' effort boosted the redshirt-junior into 7th-place all-time on the ETSU career rushing chart with 2,196 yards, while lifting ETSU to the 1-0 start on the campaign.
The Georgia native crossed the pylons twice in the seven-point victory, marking his sixth multi-touchdown performance in his collegiate career.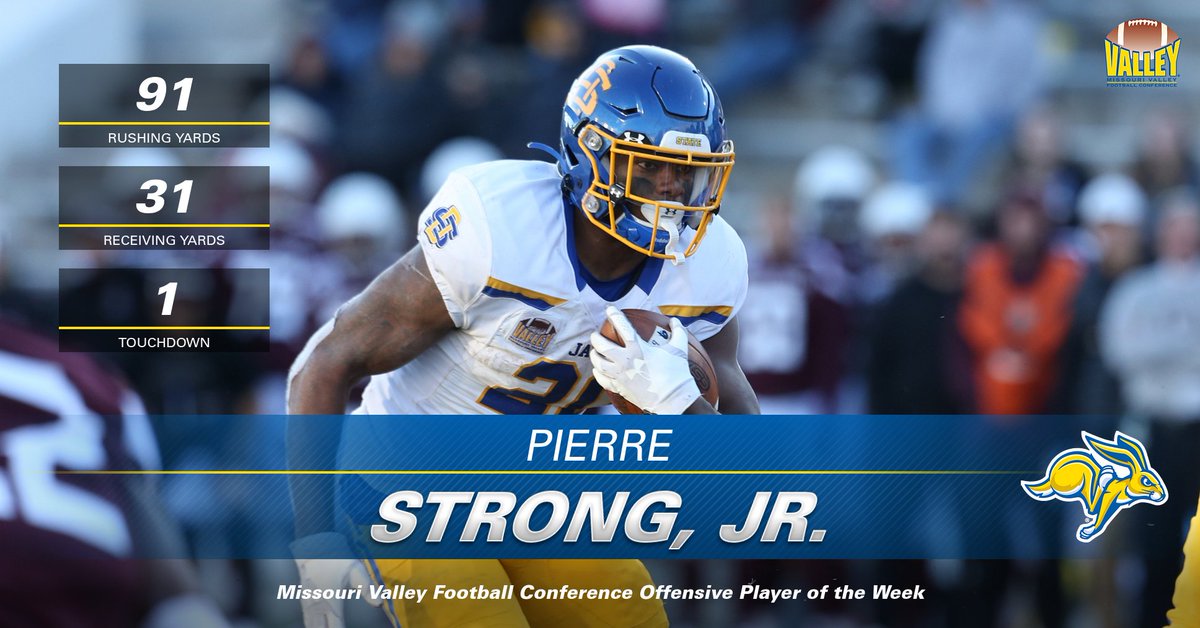 Pierre Strong, Jr, South Dakota State, RB, Jr., Little Rock, AR
Strong tallied 142 all-purpose yards and scored the game-winning touchdown on a 1-yard pass play with 19 seconds remaining in South Dakota State's thrilling 24-20 victory at Northern Iowa on Feb. 19. For the game, he rushed 22 times for 91 yards and caught a team-high six passes for 31 yards. He added a 20-yard kickoff return to round out his performance.
Cameron Burston, Tarleton State, QB, Sr., Douglasville, Ga.
Burston was a spark plug for the Texans after being elevated to the starting QB position hours before kickoff when five Tarleton offensive starters were held out due to COVID-19 safety protocols. In his first career start, the senior from Vallejo, California wasted no time making his presence felt.

He took a QB keeper around the left side for a 70-yard touchdown run on the first play from scrimmage. On Tarleton's second drive, he connected with WR Gabe Douglas on an 86-yard touchdown pass on the first play again. For the day, Burston threw for 252 yards and two scores while rushing for 79 more with a pair of touchdowns. He accounted for four Tarleton touchdowns in the 43-17 rout.
Devon Krzanowski, North Dakota, LB, Jr., Fond du Lac, WI
Krzanowski was all over the field in his first appearance in a UND uniform, posting a trio of solo stops and assisting on two more for a five-tackle performance. The Fond du Lac, Wis., native made his biggest play in the second quarter, scooping up the third forced fumble of the first half and running it back 36 yards for the score to put the Hawks in front, 16-7, late in the stanza. As a team, UND forced five turnovers in the win, the most in a game since a 2016 victory over Montana State.

Hayden Olsen, Tennessee Tech, P/K, Fr., Buford, GA
In his first career game as a true freshman, Olsen had an impressive debut. On field goals, he went 2-for-3, connecting from 25 and 32 yards in windy conditions, while also going 3-for-3 on PATs. Also handling kickoff and punting duties, Olsen averaged 38.0 yards per punt with one inside the 20 and one touchback, and averaged 57.8 yards on kickoffs.