If anything has been learned over the past 12 months it is that plans, like everything else, can be tentative.
Only one of four games scheduled to kick off the 2021 spring season in the Ohio Valley Conference was actually played out last weekend, thanks to storms that hit a big part of the Mid-South.
Sports have proven that in a big way with a pandemic that caused changes on a near-daily basis. Oh, and Mother Nature was not to be outdone either.
With any luck things will return to a semblance of normalcy as four games are slated to be played Sunday.
TV: ESPN+ (subscription required)
Radio: Real Rock 99.3 (SE Missouri), Panther Radio Network Hit Mix 88.9 FM, WSVZ 98.3 FM, WHOW 1520 AM & WMKR 94.3 FM
OVERVIEW: The 2021 spring season finally gets underway for Eastern Illinois on Sunday when the Panthers play host to Southeast Missouri, the defending Ohio Valley Conference co-champion.
The original season opener against UT Martin, scheduled for Feb. 21, was postponed because of ice and snow that hit Tennessee and much of the region. That game is now slated to be played on March 7.
Eastern Illinois and SE Missouri have met four previous times to open conference play. The Panthers hold a 3-1 advantage in those contests.
This will be the 28th meeting between the two schools. SEMO, which leads the all-time series 18-9, defeated the Panthers 26-12 in the last meeting on Nov. 16, 2019 in Charleston.
SE MISSOURI: The Redhawks begin the new season with new faces at several key positions. How quickly those newcomers sync up will go a long way in determining whether the SEMO can make a bid to return to the playoffs for a second consecutive season.
Gone is former quarterback Daniel Santacaterina, who threw for 1,457 yards and 18 touchdowns in 2019.
Andrew Bunch (6-1, 215, RS, Sr.) is expected to step in and fill the void at that position. A native of Tennessee, Bunch began his collegiate career at Scottsdale Community College before spending the last three years at Nebraska and played sparingly during his time with the Huskers.
Also gone is former standout pass catcher Kristian Wilkerson who caught 71 passes for 1,350 yards in his final season in 2019. Wilkerson is currently playing for the New England Patriots of the National Football League.
But the Redhawks' cupboard is not bare at that position as Aaron Alston (6-1, 210, Jr. WR) appears ready to step in and become a threat on the outside. He caught 51 passes in 2019 for 687 yards and scored four touchdowns.
The focus of the SEMO offense, at least in the early portion of the spring season, is expected to be on the ground.
And why not?
Zion Curtis (5-8, 190, JR, TB) and Geno Hess (5-8, 209, RS, So., RB) both return to carry the ball for the Redhawks after combining for more than 1,200 yards in 2019. Curtis led that tandem with 684 yards on 142 carries (4.8 ypc) and scored five touchdowns on the year. Hess, meanwhile, carried 102 times for 575 yards (5.6 ypc) and scored six times.
The SEMO defense is expected to be led by the return of a pair of standouts in Bydarrius Knighten (6-0, 197, SR. DB) and Omardrick Douglas (6-3, 234, Sr., OLB).
Knighten finished third on the team with 75 (53 solo) tackles in 2019 while intercepting three passes for the Redhawks. Douglas added 31 tackles (14 solo) stops that season, including three tackles for loss and one sack.
EASTERN ILLINOIS: The Panthers are looking to improve on their 1-11 record of 2019 as head coach Adam Cushing continues his task of restoring the EIU program to glory.
The last time EIU won just one game during a season came in 1977. The Panthers responded nicely by winning the 1978 NCAA Division II national title.
A similar bounce back may not be likely this season.
Harry Woodbery (6-2, 195, RS, Sr.) returns at quarterback for the Panthers, who finished 1-11 in 2019 after going winless in conference play. He completed 169 of 329 yards for 1,632 yards and 10 touchdowns as EIU completed its most recent season of play.
The Panthers also return a talented rusher and a pair of standouts who will be targeted whenever Woodbery goes to the air.
Jaelin Benefield (5-10, 160, So.) rushed for 402 yards on 125 carries (3.2 ypc) and five touchdowns in his first collegiate season. He also added 299 receiving yards and two more scores on his way to being selected to the All-OVC Newcomer Team.
To prove his versatility, he also started the 2019 season finale at quarterback as the Panthers opened the contest in a Wildcat formation against Austin Peay.
Isaiah Hill (5-11, 190, RS, Jr.),a recent preseason all-conference selection, and Robbie Lofton (6-3, 185, RS, Sr.) both return as starters at wide receiver for EIU. Hill caught 57 passes for 569 yards and four touchdowns and two more TDs as a rusher on his way to joining Benefield on the all-newcomer squad in 2019. Lofton, meanwhile, added 296 yards on 28 catches and his production is expected to rise this season.
The Panthers are expected to be led on defense this season by the presence of Dytarious Johnson (6-1, 270, Sr.), who recorded 67 total tackles, including 13.5 TFLs and 4.5 sacks, in 2019. He was recently selected to the OVC preseason all-conference squad.
He will be joined by Jason Johnson (6-2, 200, So.) and Raymond Crittenden (6-1, 205, RS, Sr.) to provide the Panthers the potential for one of the best units in the conference at linebacker. Johnson had 59 total tackles, including 4.5 tackles for loss and was also named to conference's newcomer squad and also picked up all-American honors at season's end. Crittenden tallied 56 tackles (3.5 TFL) and added one interception and one fumble recovery for the Panthers.
JJ Ross (6-2, 195, So.) returns to lead the secondary this spring. He had 24 tackles in 2019 and added four interceptions and a pair of pass deflections. He was voted a freshman all-American.
Bryce Dewberry (5-10, 2010, Jr.) and Mark Williams (6-0, 175, RS, Sr.) also return in the secondary after combined for 88 total tackles a year ago.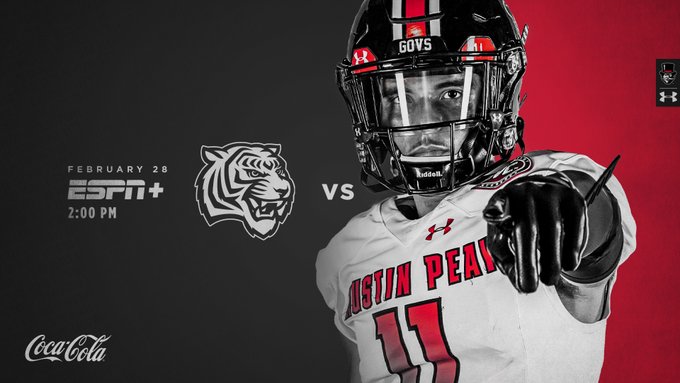 TV: ESPN+ (subscription required)
Radio: Big Blue Network (Tennessee State), Govs Sports Net (Austin Peay)
OVERVIEW: Austin Peay may finally catch a break thanks to Mother Nature.
After the Tennessee State saw its scheduled season opener against Jacksonville State postponed because of a winter storm that hit a big portion of the middle Tennessee area a week ago, the Govs will be looking to bank on the experience gained in their loss to Tennessee Tech last week.
The Govs saw their modest two-game winning streak against the Tigers come to an end with a 26-24 setback in 2019.
Tennessee State holds a 13-9 advantage between the two schools, which first met in 1988.
Tennessee State is now scheduled to play Jacksonville State on March 7.
TENNESSEE STATE
The Tigers hope to improve on their 3-9 season in 2019. Whether an improved record materializes will depend heavily on the improvement at the skill positions where spirited competitions are likely going to determine who starts the season against the Gamecocks.
What won't be in question is the fact the Tigers have plenty of talent along the offensive front with the return of Cam Durley (6-6, 315, RS, Sr., OT), Will James (6-4, 305, SR, OL) and Demetrious Cooley (6-2, 280, RS, Sr., C) to protect the quarterback and open holes for the backs move up the field.
Durley, a recent preseason all-conference selection, started 10 games last season at right tackle and was a big reason the Tigers finished third in the OVC in total offense. He was also the anchor of a unit that allowed just 1.75 sacks per game last season, the second fewest in the conference.
Defense appears to be where the Tigers will hang their hat as seven starters return on that side of the ball.
Talented standouts Nick Harper (5-11, 178, RS, Sr., DB) and Josh Green (6-0, 180, RS, So., DB) headline that group of defensive stars, along with Terry Straughter (6-0, 230, JR., LB), the team's leading tackler in 2019.
Harper, who earned all-OVC honors in 2019, finished fifth on the team in tackles with 58 (46 solo) in 2019 while adding two interceptions and 14 pass deflections. Green, meanwhile, was voted to the conference's all-newcomer team a year ago.
Straughter tallied 66 total tackles in 2019.
The Tigers also return a pair of talented players on special teams. Kicker Antonio Zita and punter Kaleb Mosley were both chosen to this year's preseason all-conference team. Zita etched his name in the TSU and OVC record books after connecting on 20 field goals last season, while Mosley paced the conference in punting by averaging 42.2 yards per kick.
AUSTIN PEAY: The Govs will be looking to clean things up as they aim for their first win of the spring season and snapping a five-game losing skid in the process.
Austin Peay fumbled four times, losing two of those, and threw two interceptions that thwarted their efforts in the spring opener on Feb. 17 at Tennessee Tech. The Golden Eagles scored 17 points in the fourth quarter and held on for a 27-21 win over the Govs.
It was the first game for Austin Peay under Scotty Walden.
Austin Peay dominated things on offense as the Govs racked up 373 yards of total offense. TTU, meanwhile, needed just 156 yards of offense after starting seven drives inside APSU territory on the afternoon. Five of those drives began inside the Austin Peay 25-yard line.
Brian Snead and Draylen Ellis combined for 118 yards to lead the Govs on the ground against the Golden Eagles. Snead, a running back, led the way with 69 yards on 16 carries and Ellis pitched in with 49 yards on 10 carries from his quarterback position. Ahmaad Tanner added 43 yards on seven carries on the day.
Ellis also completed 11 of 23 passes for 165 yards and one touchdown. He was intercepted twice.
Ellis' lone touchdown pass went to standout receiver DeAngelo Wilson, who caught eight passes on the day for 124 yards.
TV: ESPN+ (subscription required)
Radio: WCMT 1410 AM / 100.5 FM (UT Martin), Froggy 103.7 (Murray State)
Overview:
Murray State owns a 37-21-1 record in the series which dates back to 1924. The Skyhawks defeated the Racers 40-7 in the last meeting in 2019 in Martin that snapped a two-game losing skid in the series.
The series was halted following the 1930 game in which the Racers prevailed 7-0. It did not resume until 1961 when MSU triumphed 25-15 to take an 11-0 advantage in the matchup between the two schools.
UT Martin's longest winning streak of six games was snapped by the Racers in 2010.
UT MARTIN
The road to history continues for another season Sunday as longtime Martin coach Jason Simpson, the dean of conference coaches, takes another step toward fifth place in career conference wins. Simpson, in his 15th season at the school, currently sits in sixth place in league history with 87 conference victories and needs just five wins this spring to move up the ladder.
The path to that coaching milestone for Simpson will be a bit easier with the return of talented quarterback John Bachus (6-2, 215, RS, So.), who completed 188 of 332 passes for 2,549 yards and 18 touchdowns in 2019 on his way to being chosen as the OVC's freshman of the year.
"We were very pleased with (Bachus) in 2019," Simpson said during the OVC's recent virtual media day. "He is a great competitor."
The Skyhawks, with the return of Bachus under center, could have one of the most balanced offensive attacks in the league this spring.
Peyton Logan (5-8, 190, Sr, RB) also returns after leading the team with 784 yards on 109 carries (7.2 ypc) last season and scoring six touchdowns in just nine of the team's 12 contests. Teammate Colton Dowell (6-3, 215, RS, Jr.) returns as a starter at wide receiver. He caught 38 passes for 765 yards (20.1 ypc) last season and scored four times.
Simpson is also looking forward to watching his defense perform this spring. And with good reason.
"We will be untested, but I believe we will be solid on defense," he said, "especially in the secondary."
Safeties JaQuez Akins (509, 185, Sr.) and Takeem Young (6-1, 200, RS, Jr.) both return for the Skyhawks. Akins had 92 total tackles in 2019, including 5.5 tackles for loss and one interception. Young, meanwhile, had 64 total tackles to his credit and picked off two passes on the season.
The defensive front is expected to be much improved with the return of Austin Pickett (6-1, 270, RS, Jr.).
MURRAY STATE
The Dean Hood Era finally gets underway at Murray State and things appear bright for the Racers.
Hood has a solid performer under center to help lead the Racers this season with the return of Preston Rice (6-1, 222, RS, Jr.) who accounted for 2,956 yards of total offense in 2019. He completed 247 of 394 passes for 2,648 yards and 18 touchdowns in 2019.
The veteran signal caller ranked 12th nationally in completions per game (23.42) and 20th in completion percentage (.637) in 2019.
Rice also rushed for 308 yards on 118 carries (2.6 ypc) in 2019.
Hood also has four freshman quarterbacks on the roster all vying for playing time behind Hood.
"Every single position becomes better if you have competition," Hood said.
Malik Honeycutt (6-0, 174, RS, Sr.), a first-team All-American following the 2018 season, also returns to provide the Racers with one of the most dynamic players in the league. He missed all of the 2019 season with an injury.
Honeycutt caught 29 passes for 477 yards in 2018 after transferring from Delta State. An electrifying return specialist, Honeycutt returned a pair of kicks that season for touchdowns, including a 79-yard kickoff return that helped MSU overcome a 31-0 deficit against No. 19-ranked SE Missouri. He also scored on an 80-yard punt return in a final game of the 2018 season against Austin Peay.
"(Honeycutt) can change a game in a moment's notice," Hood said.
TV: ESPN+ (subscription required)
Radio: JSU Radio Network
OVERVIEW: As important as it was for the Golden Eagles to pick up a win in the opener to set the tone for a successful 2021 spring season, it may be even more important how they perform against what is a more talented team, at least on paper, when they travel to take on the Gamecocks on Sunday.
If history is any indication it will be a monumental challenge as Jacksonville State holds a 13-4-0 lead in the young series that began in 2003 between the two schools. But, if there is any silver lining to cling to it is the fact Tennessee Tech will be looking to extend its winning streak over the Gamecocks to two games after handing JSU a 37-27 setback last season in Cookeville that virtually ended whatever playoff hopes that JSU may have had.
TENNESSEE TECH
Tennessee Tech took advantage of four Austin Peay turnovers to knock off the defending conference champion Austin Peay to pick up a 27-21 win in the delayed season opener on Feb. 21 in Cookeville.
And if the prolonged layoff was not enough to overcome, the Golden Eagles waited until the final 20 minutes of the game to overcome a 14-3 deficit on their way to the win by scoring 24 straight points and then holding off a late rally by the Govs.
Seth Carlisle and Marcus McMeans both recorded fumble recoveries and teammates Josh Reliford and Jack Warwick both picked off passes to help the TTU defense shine on the afternoon. The Golden Eagles allowed APSU to convert on just two of five fourth-down attempts in the game and sacked Draylen Ellis seven times on the day.
David Gist led TTU with 56 yards rushing on 20 carries and scored a pair of touchdowns. His performance earned him the first OVC offensive player of the week award of the season. Quarterback Bailey Fisher completed 11 of 18 passes for 106 yards on one touchdown. Metrius Fleming caught three passes for 52 yards and one touchdown.
Carlisle was voted the conference defensive player of the week for his 11 (eight solo) tackle performance against the Govs. The Golden Eagles nabbed a third conference award as Hayden Olsen was selected as the specialist of the week. He connected on a pair of field goals (25, 32) and was perfect on all three PATS in his first collegiate game as a true freshman. Olsen averaged 38 yards punting in the game.
JACKSONVILLE STATE
Perhaps no school has the tools in place to quickly return to normal than does Jacksonville State.
Having one of the top players in the country in the fold certainly lifts the expectations for any team.
In fact, JSU has three players who were recently selected to at least one all-American team.
Trae Barry (6-7, 245, Sr., TE) returns for his fourth season with the Gamecocks and tallied 13 catches for 240 yards during the abbreviated fall season as Jacksonville State won three of four games. Six of his 13 receptions went for at least 20 yards. As a team the Gamecocks had just nine catches that covered 20 yards or more.
That talented senior has accumulated 1,316 receiving yards already in his career on 80 catches and is just 184 yards shy of surpassing Rusty Fuller's school record of 1,500 yards receiving by a tight end. He has scored five TDS through the air.
Also being recognized as among the top players in the country heading into the spring season are quarterback Zerrick Cooper (6-3, 225, RS, Sr.) and DJ Coleman (6-6, 245, Jr., DE).
Cooper, who began his college career at Clemson prior to transferring to JSU ahead of the 2018 season, started all 12 games for the Gamecocks in 2019 and led the OVC in passing yards (3,404) and passing touchdowns (28). He completed 260 of his 439 passes last year and was the OVC offensive player of the week three times in 2019.
The rushing attack is expected to be paced by Josh Samuel (5-11, 215, RS, Jr.) and Uriah West (6-0, 225, Jr., RB).
Samuel, who spent three seasons at Western Kentucky prior to transferring to JSU, and rushing for 251 yards on 42 carries (6.0 ypc) and two touchdowns in 2020.
Samuel's 639 rushing yards in 2018 while at WKU led all Conference USA freshmen rushers that season.
West, meanwhile, is in his third season at JSU. He has been used sparingly to this point, having rushed just 40 times for 332 yards through his first two campaigns with the Gamecocks. This past fall he gained 198 yards on 49 carrries (4.0 ypc) in the team's four contests.
Coleman started 11 games for the Gamecocks in 2019 and finished with 59 (24 solo) tackles, including a team-high 10.5 tackles for loss and five sacks. He was also credited with 28 QB pressures. He did not let up. Coleman had 24 (12 solo) tackles during the fall portion of the schedule.
A native of Bismarck, N.D., Ray is a graduate of North Dakota State University where he began studying athletic training and served as a student trainer for several Bison teams including swimming, wrestling and baseball and was a trainer at the 1979 NCAA national track and field championship meet at the University of Illinois. Ray later worked in the sports information office at NDSU. Following his graduation from NDSU he spent five years in the sports information office at Missouri Western State University and one year in the sports information at Georgia Tech. He has nearly 40 years of writing experience as a sports editor at several newspapers and has received numerous awards for his writing over the years. A noted sports historian, Ray is currently an assistant editor at Amateur Wrestling News.