College Sports Journal FCS Top 25 after Week 9 – October 31, 2018
For the first time in a long time, the top teams all won. Towson suffered an upset loss, but it was to a Delaware team that is on the rise.
The biggest loss of the week went to Northern Iowa. The Panthers were riding high off their win against South Dakota State only to lose at Western Illinois.
Some conference races will come into clear focus this week. We will also start to see the thinning of the postseason hopefuls as bubble teams lose games.
1. North Dakota State (8-0 overall, 5-0 MVFC)
Last Week: Beat South Dakota 59-14
This Week: vs. Youngstown State
North Dakota State easily beat South Dakota and should finish the regular season unbeaten and head into the playoffs and the number one overall seed. The Bison continue to win no matter what scheme the opponents throw at them or who is on the field. They are the most complete team in the country. This week Youngstown State visits the Fargodome in a game that is sure to get out of hand early.
2. Kennesaw State (7-1, 3-0 Big South)
Last Week: Beat Charleston Southern 38-10
This Week: vs. Campbell
Kennesaw State easily beat Charleston Southern, running for another 316 yards. Chandler Burks continues to lead the Owls offensive juggernaut, accounting for four more touchdowns this week- two each through the air and on the ground. The Owls host an improving Campbell team this week. The only thing that could derail the Owls is if they get caught looking ahead to their matchup against Jacksonville State the last week of the year.
3. James Madison (6-2 overall, 4-1 CAA)
Last Week: beat Stony Brook 13-10
This week: at New Hampshire
James Madison's offense has struggled to move the ball consistently this season. Luckily for the Dukes, the defense is still as dominant as it was last year. The Dukes held Stony Brook to just 10 points and only 113 rushing yards this week, led by linebacker Dimitri Holloway's 16 tackles. The Dukes will need to find some offensive consistency the rest of the way to remain a serious national title contender. The Dukes cannot overlook New Hampshire this week, despite their record.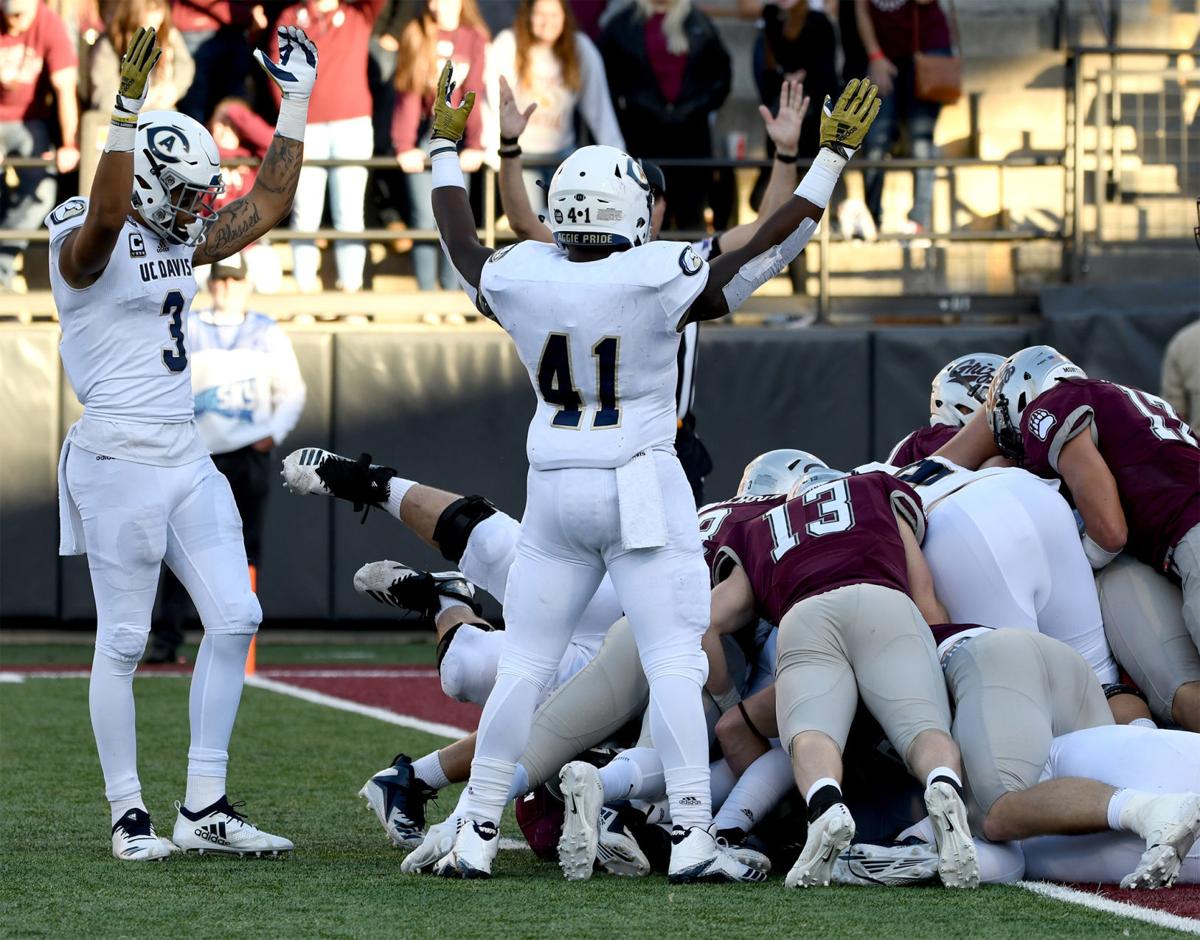 4. UC Davis (7-1, 5-0 Big Sky)
Last Week: beat Montana 49-21
This Week: vs. Northern Arizona
UC Davis entered the fourth quarter against Montana down 21-13. Five touchdowns and 36 points later, the Aggies had a 28 point win. The Aggies continue to show themselves as a very explosive offense that can almost score at will when needed. UC Davis leads the Big Sky and is in line for a playoff seed, which they may still secure even if they do drop a game down the stretch. The Aggies take on a struggling Northern Arizona team this week before traveling to the Inferno in Cheney next week.
5. Weber State (6-2, 4-1 Big Sky)
Last Week: beat North Dakota 35-30
This Week: vs Sacramento State
Weber State hung on to beat a tough North Dakota team last week behind 318 yards and three touchdowns from Jake Constantine. The Wildcats remain in contention for a playoff seed and have a great shot at running the table the rest of the way in the Big Sky. This week, the Wildcats host a Sacramento State team that started the season well but has fallen off once they got into Big Sky play.
6. South Dakota State (5-2 overall, 3-2 MVFC)
Last Week: beat Illinois State 38-28
This week vs. Missouri State
South Dakota State bounced back from its loss to Northern Iowa by beating Illinois State handily. The Jackrabbits led 35-7 after three quarters and coasted to a 10 point win. Taryn Christion threw for 292 yards and three touchdowns on the day. This week the Jackrabbits host Missouri State in the first of three remaining winnable games. Winning out will get the Jacks a playoff seed.
7. Eastern Washington (6-2, 4-1 Big Sky)
Last Week: Beat Idaho 38-14
This week: at Northern Colorado
Eastern Washington took care of business on homecoming, easily beating Idaho. After the game, it was announced that quarterback Gage Gubrud would miss the remainder of the season. That is a big blow to the Eagles' title hopes, but since Gubrud has been out, Eric Barriere has played well. This week the Eagles need to put the bad news behind them and take care of a Northern Colorado team that they should easily beat.
8. Princeton (7-0, 4-0 Ivy)
Last Week: Beat Cornell 66-0
This Week: vs. Dartmouth
Another week, another easy Princeton win. The Tigers overwhelmed Cornell early and often behind a great performance from John Lovett who threw for 133 yards and a touchdown and ran for another 159 yards and another touchdown. The Tigers host Dartmouth in this week's game of the week. Both Ivy League powers enter the game undefeated. The winner will win the Ivy this year as neither team probably has a loss remaining on their schedule.
9. Wofford (6-2, 5-1 Southern)
Last Week: beat Mercer 42-21
This Week: at Samford
Wofford dominated Mercer last week rushing for 359 yards in the win. TJ Luther also caught two passes for 121 yards both for touchdowns, one of 71 yards and another for 50. The Terriers are in line for the SoCOn autobid. This week the Terriers play a Samford team that is probably out of the playoff discussion at this point. Samford has played much better the last few weeks, so this will be a very tough test for Wofford.
10. Elon (5-2, 3-1 CAA)
Last Week: OFF
This Week: vs. Rhode Island
Elon's bye week came at a great time. The Phoenix have some players dinged up and the extra rest should help. It is not yet known if Malcolm Summers will be available this week, or any other week this season. However, the backups that the Phoenix played in their last win against Richmond handled themselves very well. This week, the other CAA walking wounded, Rhode Island comes to Elon in a pivotal CAA matchup.
11. Colgate (7-0, 4-0 Patriot)
Last Week: beat Georgetown 38-0
This Week: at Fordham
Stop us if you have heard this before, but Colgate picked up a shutout in an easy win over Georgetown. The Raiders picked up their second straight shutout and fourth in five weeks in the 38-0 win. The only blemish was a third quarter field goal by Bucknell. Colgate plays Fordham this week and Lehigh next week and could wind up with shutouts in both of those games before taking on FBS Army the last week of the season. The Raiders will easily be in the playoff field and have a shot at a seed.
12. Delaware (6-2, 4-1 CAA)
Last Week: beat Towson 40-36
This Week: at Albany
Delaware has gotten off the mat after a slow start and is playing like the best team in the CAA. Pat Kehoe has done nothing but get better and better each week and it is starting to show in the team results. The Blue Hens have scored at least 28 points in each of their four wins in their current streak. That streak should continue this week against Albany. If the Blue Hens win out, they will be in line for the potential CAA autobid and a playoff seed.
13. Towson (6-2, 4-1 CAA)
Last Week: Lost to Delaware 40-36
This Week: vs. Maine
Towson lost a shootout to Delaware last week. The Tigers were in possession to win, but the final throw went out of the end zone. Towson is one of six CAA teams with only a single conference lost. The Tigers close their season with 3 of those other 5 teams, Maine, Elon and James Madison. Towson will control its own destiny for a playoff seed.
14. Jacksonville State (6-2, 5-1 OVC)
Last Week: beat Murray State 42-15
This Week: vs. UT Martin
Jacksonville State took out is frustration from its loss on Murray State, easily beating the racers 42-15. The Gamecocks again used both Zerrick Cooper and Zion Webb effectively in the offense and the defense returned to form, holding the Racers to only 31 yards on the ground and 260 overall. The Gamecocks should easily win their last two OVC games before their huge showdown against Kennesaw State on November 17.
15. Stony Brook (6-3, 4-2 CAA)
Last Week: lost to James Madison 13-10
This Week: OFF
Stony Brook held a halftime lead at James Madison last week but could not hold it, falling by a field goal. THe Seawolves had a chance to tie the game at the gun, but Alex Luscansky's 51 yard field goal fell short. The Seawolves defense frustrated the Dukes offense all game. On the other side of the ball, the Seawolves could never get into a rhythm themselves and neither Donald Liotine nor Jordan Gowins eclipsed 100 yards Stony Brook is off this week before finishing their schedule against Delaware and Albany. A loss will put them on the playoff bubble, but two wins will land them squarely in the field.
16. McNeese State (6-2, 5-1 Southland)
Last Week: beat Central Arkansas 23-21
This Week: at Southeast Louisiana
McNeese State bounced back from a few of lack luster performances to secure a huge Southland win over Central Arkansas. The Cowboys defense did the job to keep the Bears out of field goal range at the end of the game and secure a two point win. With the win, McNeese is back in the Southland driver seat as the only team with one conference loss.
17. Dartmouth (7-0, 4-0 Ivy)
Last Week: beat Harvard 24-17
This Week: at Princeton
Dartmouth remained unbeaten with a touchdown win over Harvard. The win for the Big Green sets up the Ivy League showdown with Princeton. Dartmouth does not have an explosive an offense as Princeton, but the Big Green has a very formidable defense that will give the Tigers fits . Against Harvard, Dartmouth ran for 320 yards. If they can put up similar production this week, the Big Green will be in line for a win.
18. Illinois State (5-3, 2-3 MVFC)
Last Week: lost to South Dakota State 38-28
This Week: at Northern Iowa
Illinois State dropped its second straight game and third in the MVFC in a loss to South Dakota State that the Redbirds were really not competitive in. This week the Redbirds face an absolute must-win at Northern Iowa. They are already on the bubble and need a good conference win to have a shot at the playoffs. The FBS win over Colorado State helps their resume, but their win against DII St Xavier hurts the resume. Their only choice is to win out.
19. Maine (5-3, 4-1 CAA)
Last Week: beat Albany 28-9
This Week: at Towson
Maine stayed alive in the CAA with an easy win over Albany. Of the six CAA teams with one conference loss, Maine is the only one with three overall losses. The Black Bears are also the only one with an FBS win of the six. Another loss for Maine will make it hard for them to make the playoffs. Chris Ferguson has played well at quarterback the last couple weeks after coming back from injury. He will need to have the best game of his season this week on the road at Towson. A win could lock the Black Bears into the playoffs, where a loss may eliminate them.
20. Southeast Missouri State (6-2, 4-1 OVC)
Last Week: beat UT Martin 56-33
This Week: vs Tennessee State
Southeast Missouri State has used a strong offense to insert itself into the race for the Ohio Valley title. The Redhawks showed that they were for real in an easy win against Jacksonville State two weeks ago and then overwhelmed Tennessee Martin last week. THe Redhawks look to keep the momentum going this week against Tennessee State before travelling to Murray State in a game that could decide the OVC champion.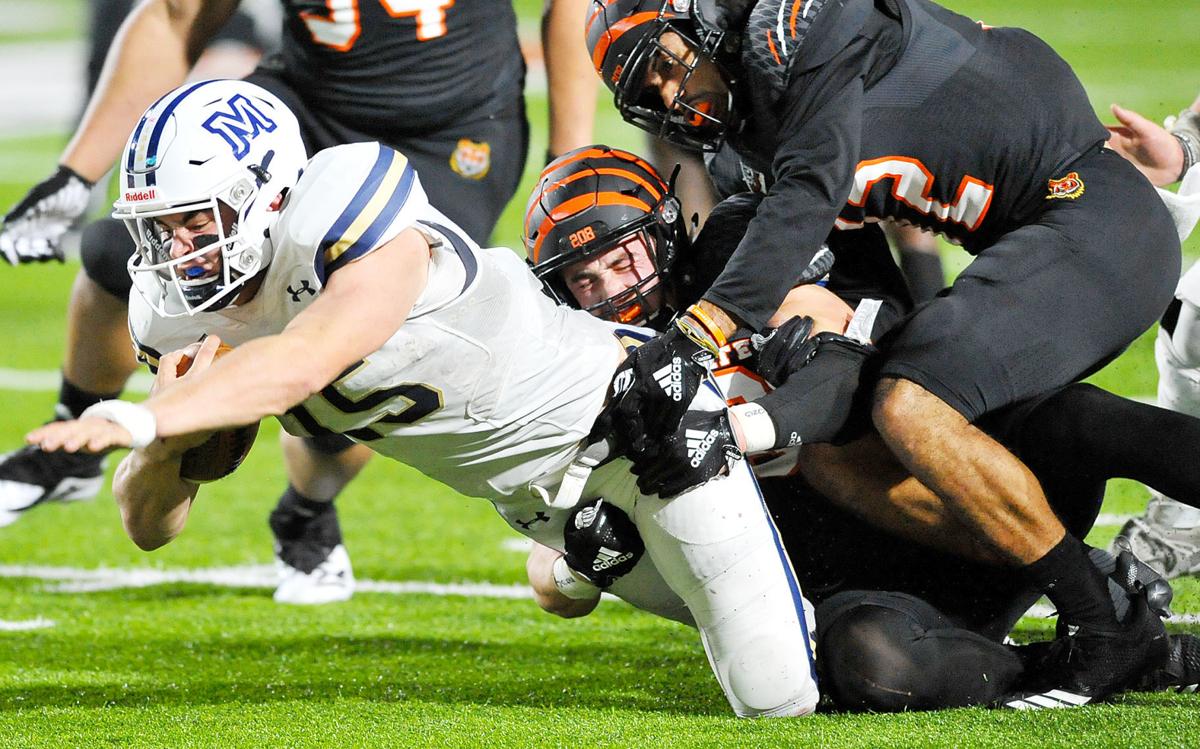 21. Idaho State (5-3, 4-1 Big Sky)
Last Week: beat Montana State 24-17
This Week: at Portland State
Idaho State beat Montana State in a matchup of playoff bubble teams. The Bobcats had their bubble popped with the loss and the Bengals will still have a shot at the playoffs with their win. The Bengals still probably have to win out to get in, which would include a win against Weber State on the last day of the season. This week, Idaho State plays an improving Portland State team that looked like an easy win early in the season. But PSU has been playing much better in the second half of the season and is sitting at .500.
22. East Tennessee State (7-2, 5-1 Southern)
Last Week: Beat Western Carolina 45-43 (3OT)
This Week: at Mercer
East Tennessee State picked up a much needed win in triple overtime when they stopped a Western Carolina two point conversion. The Buccaneers can ill afford another loss and still make the playoffs. The win last week keeps them in the discussion at this point. With the late bye, ETSU has already played nine games. THe last two will not be easy at Mercer and home against Samford.
23. North Dakota (5-3, Independent)
Last Week: lost to Weber State 35-30
This Week: at Idaho
North Dakota put up a strong firth but ultimately fell to Weber State. A win would have solidified the Fighting Hawks as a playoff team. As it stands with the loss, North Dakota will have to win out to be considered for an at large spot. And they may not qualify even if they win out. The have to start this week by beating Idaho on the road.
24. North Carolina A&T (6-2, 3-2 MEAC)
Last Week: beat Bethune-Cookman 35-10
This Week: vs Norfolk State
North Carolina A&T has been inconsistent this season. They still have a strong 6-2 overall record but they have a bad loss to Morgan State on their resume as long as a home loss to Florida A&M. THe Aggies do not control their own destiny in the MEAC race and could get an at large playoff bid if they win out the rest of the a way. All games are winnable for the Aggies but we have seen them lose when they should not.
25. Rhode Island (5-3, 3-2 CAA)
Last Week: beat William & Mary 21-10
This Week: at Elon
Rhode Island picked up a tough win against William & Mary last week. The Rams are in must win mode as they have fallen behind the rest of the CAA with two conference losses. The Rams still have not gotten JuJuan Lawson back in the lineup. But they will need him over the next two weeks with tough road trips to Elon and James Madison.
Others receiving votes: Central Arkansas, Nicholls State, Florida A&M, Chattanooga, Western Illinois, Northern Iowa
Jamie is a proud 2002 graduate of James Madison University. He's witnessed the growth of the program from no one in the stands in 1998, to the hiring of Mickey Matthews, to the 2004 National Championship, to the 2008 team, to the struggles in the early 2010s, and finally the rebuild under Mike Houston. He also allegedly really enjoys Washington, DC-based Stanley Cup winners.
Reach him at: