College Sports Journal Ohio Valley Conference Previews, How To Watch: Week of 10/19/2019
After their second straight victory, Austin Peay is in firm control of the Ohio Valley race. The leaders of the Ohio Valley Conference will look to maintain their advantage while four other schools hope to
remain within striking distance as second half of the season gets underway on Saturday.
BYE: Tennessee Tech
Conference Game of the Week #1:
Austin Peay (4-2, 2-0) at Tennessee State (1-6, 0-3)
Where: Nissan Stadium, Nashville, TN
When: Saturday, October 19th , 4:30 PM.
TV/Streaming: ESPN+ (subscription req'd)
Austin Peay Governors
It's been a season to remember so far in Clarksville, Tenn. and Austin Peay is looking to keep things rolling and add to its already history-making season as the Governors travel to Music City to take on Tennessee State in TSU's Homecoming on Saturday at Nissan Stadium.
The Governors, one of two OVC teams undefeated in conference play, enter the game with a No. 19 ranking in the latest AFCA FCS Coaches Poll. They have already defeated a pair of ranked teams, marking the first time in school history AP has achieved that feat in the same season, and the No. 19 ranking is the highest in school history.
Austin Peay's offense, which ranks No. 1 in the nation in fumbles lost (0), is averaging 40 points per game in their conference wins over Jacksonville State (52-33) and Southeast Missouri (28-24). The Governors are averaging 424 yards per game on offense, while the AP defense is limiting opponents to 311.5 yards per contest.
Key Players: AP's offense is a three-headed monster with QB JaVaughn Craig, RB Kente Williams and WR DeAngel Wilson leading the way. Craig has completed 82 of 147 passes for 1,118 yards and seven touchdowns already this season. Williams leads the Governors with 504 rushing yards (5.7 ypc) with five touchdowns and is averaging 100.8 yards per contest. Wilson, meanwhile, has emerged as one of the top pass catchers in the OVC with 34 catches for 604 yards and six scores on the season.
The defense, which has already intercepted eight passes and recovered five fumbles this season, is led by Juant Bryant and Jack McDonald, who have recorded 48 and 46 tackles, respectively, already this season for the Governors.
Tennessee State Tigers
The Tigers enter Saturday's game on a six-game losing skid after opening the year with a 26-20 win over Mississippi Valley State in Nashville. They have lost to Eastern Kentucky, Jacksonville State and Murray State in league encounters and are averaging just 18.7 points per game on offense in conference play this season, while the defense is giving up 34.7 points per game.
Key Players: QB Cameron Rosendahl has a favorite receiver in the form of Chris Rowland. And, why not? Rowland has already caught 70 passes on the year for 1,021 yards and five touchdowns for the Tigers and is averaging 145.9 yards receiving yards per game. Rosendahl, meanwhile, has completed 148 of 248 passes for 2,029 yards and eight touchdowns through the first seven games this season. Te'kendrick Rosendahl leads the Tigers in rushing with 497 yards (4.5 ypc) and four touchdowns.
Fearless Prediction: The pomp and circumstance of Homecoming will not be enough to carry TSU to an upset of the nationally-ranked Governors. Austin Peay 42, Tennessee State 7.
Conference Game of the Week #2:
Southeast Missouri State (3-3, 1-1) at Jacksonville State (5-2, 2-1)
Where: Nissan Stadium, Nashville, Tenn.
When: Saturday, October 19th , 4:30 PM.
TV/Streaming: ESPN College Extra, ESPN3 (subscription req'd)
Southeast Missouri State Redhawks
The Redhawks head out on the road for a second consecutive week in a big conference matchup. They could not beat Austin Peay and have what nearly amounts to a must win this week at Jacksonville State. A loss will put them at 1-2 in the conference without a real good out of conference win. It would be an uphill climb to the playoffs from there. The Redhawk defense, led by LB Zach Hall, will need to contain Zerrick Cooper and force him into mistakes.
Key Player: QB Daniel Santacaterina has been inconsistent so far this season. He is averaging only 180 yards passing per game and has thrown just eight touchdowns versus six interceptions. Coming into his senior year, many expected Santacaterina to have a big year and lead the Redhawks to a conference title after throwing 28 touchdowns a year ago. He will need to have a strong game to help the Redhawks defeat the perennial conference power.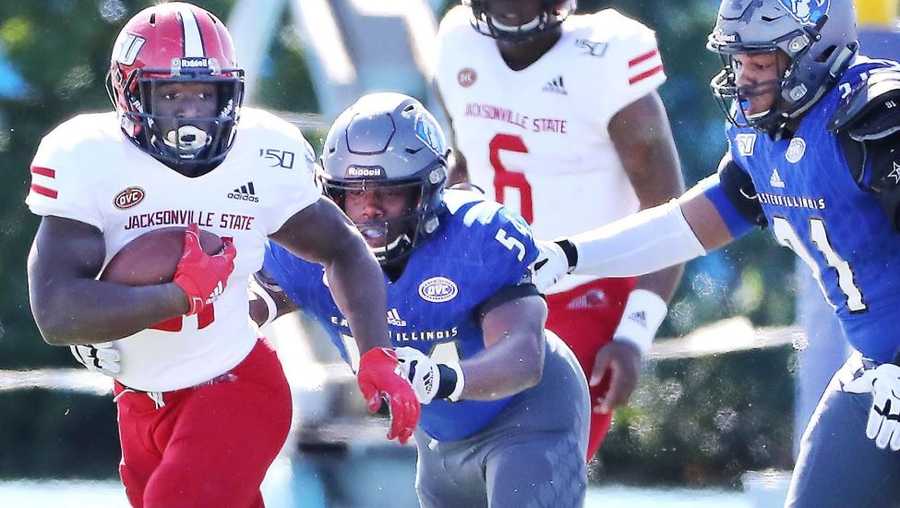 Jacksonville State Gamecocks
Jacksonville State takes a lot of heat any time they lose a game, and they don't get much credit when they win. So far, their two losses are to two solid FCS teams. Unfortunately for the Gamecocks, their win over Eastern Washington doesn't look as good as most thought it might in the preseason. So to this point, they don't have a strong win. The Gamecocks still have a shot at the Ohio Valley title, but will need help from others. If they can win out from there, they stand a great chance at making the playoffs.
Key Player: I have said it before and I will say it again, Zerrick Cooper reminds me a lot of Jameis Winston. THe talent is there to be as good as any quarterback in the country. That is evidenced by his 302 passing yards a game and 23 total touchdowns. But then there are the bonehead plays as seen in his eight interceptions. In the two losses, Cooper has thrown five interceptions, including an awful pick six against Southeastern Louisiana. He has to have more consistent play for Jacksonville State moving forward.
Fearless Prediction: SEMO needs this game more, but Jacksonville State is tough to beat at home. Jacksonville State 34, Southeast Missouri State 28
Fearless predictions for the rest of the slate
Eastern Illinois (0-7, 0-3) at UT-Martin (4-2, 3-0)
Where: Hardy M. Graham Stadium, Martin, Tenn.
When: Saturday, Oct. 19, 2 p.m.
TV/Streaming: ESPN+ (subscription req'd)
UT-Martin is getting some respect from the national pollsters and an expected win on Saturday may be enough to propel the Skyhawks into the Top 25 as they play host to winless Eastern Illinois. UT Martin, which sits atop the OVC standings with a 3-0 league record, is averaging 31.5 points per game this season, while the Panthers are scoring at a mere 12.1 points per contest. UT Martin 38, Eastern Illinois 14
Eastern Kentucky (3-3, 1-1) at Murray State (4-3, 2-1)
Where: Roy Stewart Stadium, Murray, KY
When: Saturday, Oct. 19, 2 p.m.
TV/Streaming: ESPN+ (subscription req'd)
Another OVC game whose outcome will help in clearing up some of the cloudiness of the conference race will take place when Eastern Kentucky tangles with Murray State in the Racers' Homecoming contest. The winner likely won't be known until late in the game as both teams are averaging similar numbers on both sides of the ball. Murray State has the edge in passing with 231.3 yards per game, while EKU has the upper hand running the ball with 219.2 yards per game. Defensively, the edge goes to the Racers, who have given up 388 yards per game, while the Colonels are allowing 524 yards per game. Murray State 24, Eastern Kentucky 21
Additional preview content provided by Jamie Williams.
A native of Bismarck, N.D., Ray is a graduate of North Dakota State University where he began studying athletic training and served as a student trainer for several Bison teams including swimming, wrestling and baseball and was a trainer at the 1979 NCAA national track and field championship meet at the University of Illinois. Ray later worked in the sports information office at NDSU. Following his graduation from NDSU he spent five years in the sports information office at Missouri Western State University and one year in the sports information at Georgia Tech. He has nearly 40 years of writing experience as a sports editor at several newspapers and has received numerous awards for his writing over the years. A noted sports historian, Ray is currently an assistant editor at Amateur Wrestling News.