College Sports Journal Southern Conference Game Previews: Week of 9/7/2019
The Southern Conference did not get off to a great start in 2019, picking up only two out of conference wins. The poor weekend was punctuated by early favorite Wofford getting easily handled by South Carolina State, a team most picked to finish in the middle of the MEAC. Was it a blip in the radar? Or is the Southern Conference headed for a down year?
BYE: Samford, Wofford
Conference Game of the Week:
Chattanooga (1-0) at Jacksonville State (0-1)
When: Saturday September 7th, 7:00pm
Where: Johnson Burgess-Snow Field, Jacksonville, AL
TV/Streaming: ESPN+ (subscription req'd)
Chattanooga Mocs
Chattanooga's win against Eastern Illinois wasn't flashy or particularly dominant, but the Mocs did what they needed to get out of the game with a victory. With a tough non-conference schedule that was a game they had to have. If the Mocs want to make the playoffs, theyre going to need to win either this week's game against Jacksonville State or their game against James Madison in two weeks. The way JSU played in week one, the Mocs have to feel like they have a shot to go down to Alabama and come out of there 2-0.
Key Player: QB Nick Tiano was good not great in the opening win. He knows he will have to be better moving forward for the Mocs to pick up victories against tougher opponents. Tiano threw two interceptions against Eastern Illinois. He is talented, but can Tiano put all of the attributes together to lead the Mocs where they need to go?

Jacksonville State Gamecocks
The first game of the season could not have gone any worse for Jacksonville State. The perennial OVC power went to Southeastern Louisiana and got embarrassed by Chason Virgil and the Lions. The Gamecocks came into the season with Frisco on their mind. But if they cant clean up the mistakes, the only way they will be in Frisco will be the same as you and I – by purchasing a ticket. JSU will be looking for a big bounce back in their home opener. Was last week just a bad week or a sign of things to come?
Key Player: During last week's game against Southeastern Louisiana, I likened QB Zerrick Cooper to Jameis Winston. Like Winston, Cooper has the talent to be one of the top quarterbacks in the country. However, also like Winston, Cooper tends to make the worst plays at the worst time. Both sides of that coin were apparent last week where Cooper threw for 414 yards and two touchdowns. But he also threw two awful interceptions, one going for a pick six as the Gamecocks were trying to get back into the game.
Fearless Prediction: This is a measuring stick game for Chattanooga and a redemption game for Jacksonville State. Look for the Gamecocks to bounce back at home. Jacksonville State 31, Chattanooga 21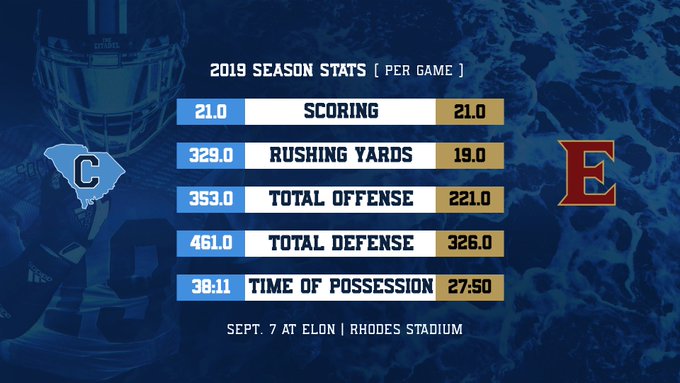 Fearless predictions for the rest of the slate
Western Carolina (0-1) at North Carolina State (1-0), Saturday September 7th, 3:30pm, Carter-Finley Stadium, Raleigh, NC, ACC RSN's/FOX Sports Affiliates, check local listings
The good thing about Western Carolina playing an FBS foe, is that their stud QB Tyrie Adams gets to be seen on a larger stage. The bad thing about Western Carolina playing an FBS foe is that theyre going to get blown out. North Carolina State 47, Western Carolina 17
D-II Mars Hill (0-0) at VMI (0-1) Saturday September 7th, 1:30pm Alumni Memorial Field, Lexington, VA, ESPN College Extra, ESPN3 (subscription req'd)
VMI plays a D-II opponent in what may be their best opportunity for a win this year. VMI 41, Mars Hill 20
The Citadel (0-1) at Elon (0-1), Saturday September 7th, 2:00pm, Rhodes Stadium, Elon, NC, FLO Sports (subscription req'd)
This is a must win non-conference game for two teams who dropped openers against strong FCS opponents. The winner will have a shot to still gain an at large bid if needed while the loser would be relegated to winning their conference to make the playoffs. This game features two teams that like to be physical in the run game. The Citadel will wear down Elon with the triple option in the fourth quarter. The Citadel 21, Elon 20
Mercer (0-0) at Presbyterian (0-0), Saturday September 7th, 2:00pm Bailey Memorial Stadium, Clinton, SC, ESPN+ (subscription req'd)
This game was scheduled just this week after Presbyterian cancelled their opening game against Stetson due to weather. Mercer was willing to schedule this game to give them a 12th game which could go a long way on selection Sunday. Mercer 27, Presbyterian 12
Furman (1-0) at FBS Georgia State (1-0), Saturday September 7th, 7:00pm, Georgia State Stadium, Atlanta, GA, ESPN College Extra, ESPN3 (subscription req'd)
Is Georgia ripe for an upset after their big upset victory over Tennessee? Furman will give them a great game, but the Paladins will fall just short. Georgia State 24, Furman 20
D-II Shorter (0-0) at East Tennessee State (0-1), Saturday September 7th, 7:30pm, William Greene Stadium, Johnson City, TN, ESPN+ (subscription req'd)
East Tennessee State follows up a game against an FBS opponent with one against a DII opponent. Itll be another week until we know what they have for 2019. East Tennessee State 40, Shorter 7
Jamie is a proud 2002 graduate of James Madison University. He's witnessed the growth of the program from no one in the stands in 1998, to the hiring of Mickey Matthews, to the 2004 National Championship, to the 2008 team, to the struggles in the early 2010s, and finally the rebuild under Mike Houston. He also allegedly really enjoys Washington, DC-based Stanley Cup winners.
Reach him at: