The crème has started to rise to the top in the Southern Conference over the last few weeks. With three weeks left in the season, there are three teams left in the mix for the conference title, and those are likely the only three teams who have a shot to make the playoffs – Furman, Wofford and The Citadel. Furman and Wofford each have one loss in conference and control their own destiny for the conference title. The Citadel will become big fans of Wofford next week hoping the Terriers can knock off Furman. Then it will be up to The Citadel to take care of business on their own by beating Wofford to close the season.
BYE: The Citadel
Conference Game of the Week:
VMI (4-5, 3-3) at Furman (6-3, 5-1)
Where: Paladin Stadium, Greenville, SC
When: Saturday November 9th, 2:00 PM
TV/Streaming: ESPN+ ($$/subscription req'd)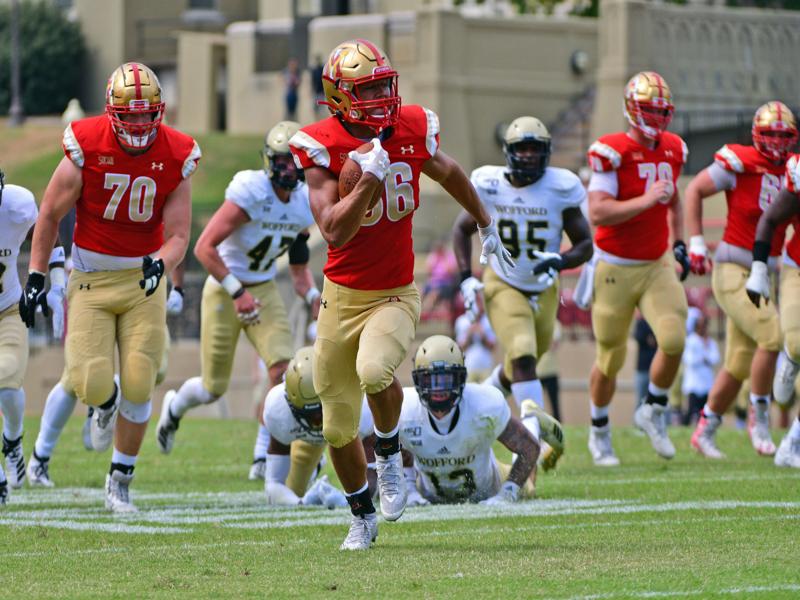 VMI Keydets
After winning just one total game over the last two seasons, VMI has already had a successful improvement in 2019. They have already exceeded even the most realistic of expectations with four wins and three in conference. The Keydets defeated The Citadel for the first time in 13 tries this year and had an exciting overtime win against Samford. This team wont make the playoffs, but they are fun to watch and are starting to build the program and head in the right direction for the future.
Key Player: RB Alex Ramsey is third in the FCS in rushing yards and leads the FCS in touchdowns with 20. In the last six games, Ramsey has gone over 100 yards five times, and the one game where he didn't, he had 97. Over that same six game stretch, Ramsey has 16 touchdowns on the ground including six in the game against Samford. If Ramsey can repeat his recent success, the Keydets will give Furman all they can handle this weekend
Furman Paladins
Furman was rolling right along until they lost to The Citadel a couple of weeks ago. Now the Paladins have no breathing room in the Southern Conference race. Furman only has two more opportunities to impress the playoff committee and show they deserve a seed as their final game is against Point, a non-division one football program. The three games against non-division one opponents could hurt Furman when the committee looks at their resume. So it is imperative for the Paladins to win the next two games and not give the committee a decision to make. The Paladins cannot get caught looking ahead to their showdown with Wofford or VMI can make them pay this year.
Key Player: When playing an offense as potent as VMI, you rely on your leaders on defense to get the job done. For Furman, one of those leaders is Jordan Willis. A versatile defender, Willis lines up at safety and linebacker for the Paladins, leading them in tackles with 62. Willis is also a smart blitzer with 4.5 tackles for loss on the season. Willis will have to keep his eye on the run game of VMI while being ready to defend an equally strong pass game.
Fearless Prediction: This will be a close game throughout, but Furman should get out with a solid win. Furman 34, VMI 30
Fearless predictions for the rest of the slate
Wofford (5-3, 4-1) at Mercer (4-5, 3-3), Saturday November 9th, 3:00 PM, Five Star Stadium, Macon, GA, ESPN+ ($$/subscription req'd)
Mercer is coming off an exciting three overtime home win over Samford. But Wofford is on a mission after a poor start and will cruise in this game. Wofford 37, Mercer 21
Chattanooga (4-5, 3-2) at Samford (4-5, 3-3), Saturday November 9th, 3:00 PM, Seibert Stadium, Samford, AL, ESPN College Extra, ESPN3 (cable subscription req'd)
Both of these teams are out of the playoff picture and are playing for experience. Look for a close game, but like they have a lot this year, Samford will come out on the short end late. Chattanooga 27, Samford 26
East Tennessee State (2-7, 0-6) at Western Carolina (2-7, 1-5), Saturday November 9th, 3:30 EJ Whitmire Stadium, Cullowhee, NC, ESPN+ ($$/subscription req'd)
This has been an awful season for ETSU who hoped to compete for a conference title. Western Carolina will pick up a home win and keep the Buccaneers season spiraling. Western Carolina 28, East Tennessee State 21
Jamie is a proud 2002 graduate of James Madison University. He's witnessed the growth of the program from no one in the stands in 1998, to the hiring of Mickey Matthews, to the 2004 National Championship, to the 2008 team, to the struggles in the early 2010s, and finally the rebuild under Mike Houston. He also allegedly really enjoys Washington, DC-based Stanley Cup winners.
Reach him at: