The Southern Conference continues to confound the rest of the FCS world. As soon as you think a team is heading in one direction, they turn it the other way. Samford looked lost early in the year, but now has two big wins in a row. ETSU lost to VMI, but turned around and picked up a win over Austin Peay. VMI couldn't continue the momentum from their victory over ETSU, losing to lowly Robert Morris. Furman still looks like the best team in the conference, but the way things are going, we may have to revisit that next week.
BYE: NONE
Conference Game of the Week:
The Citadel (2-2, 0-0) at Samford (2-2, 1-0)
Where: Seibert Stadium, Samford, AL
When: Saturday September 28th, 3:00 PM
TV/Streaming: ESPN+ (subscription req'd)

The Citadel Bulldogs
After coming oh-so-close in its first two games, The Citadel looked like a team heading for a year where they had no chance at a playoff berth. Then, the Bulldogs went to Atlanta and took out Georgia Tech in overtime in an exciting game. The Citadel took the momentum from that game and gutted out a victory over Charlestown Southern. THe Bulldogs enter conference play with the confidence that they can beat anyone in the conference. Their unique offense and physicality present tough challenges for any opponent. It will be interesting to see how they respond if they ever get down by multiple scores in the second half of a game.
Key Player: Until Brandon Rainey went down with an injury in the game against Georgia Tech, The Citadel offense was rolling. Rainey did not play against Charleston Southern. If Rainey is not back this week, Brian Murdaugh will run the offense again. Murdaugh ran for 76 yards and threw for 81 against Charleston Southern. But the more important point is that he did not turn the ball over in the game. Whichever signal caller is on the field moving forward will have to continue to be efficient.

Samford Bulldogs
Samford came into the season searching for a replacement for an all time great quarterback, QB Devlin Hodges, who set the all time passing yardage record for the FCS. The first crack at the job went to Liam Welch. In the opening game against Youngstown, it did not go well with Welch under center, with him throwing three interceptions. Enter Chris Oladokun. The Bulldogs defense couldn't keep Tennessee Tech out of the end zone late and Samford fell to 0-2. But over the last two weeks, Samford has beaten Wofford and Alabama A&M to even their record. A season that looked like it would be lost suddenly has some promise.
Key Player: Since taking the reins of the offense, Chris Oladukon has been firing on all cylinders. He is averaging 258 yards per game with 11 touchdowns and four interceptions. Oladukon is also the team's leading rusher where he has added 4 more touchdowns. His play alone has given Samford hope for the season moving forward.
Fearless Prediction: A couple weeks ago, this looked like an easy victory for The Citadel. But that has flipped. Samford looks like a well-oiled machine on offense. The Citadel offense wont be able to keep up if Samford slings it all over the yard. Samford 31, The Citadel 24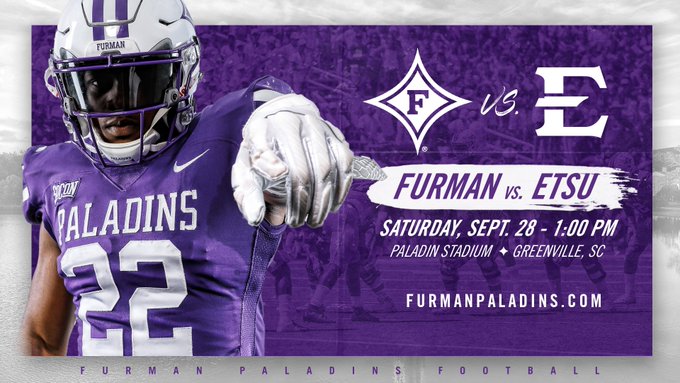 Fearless predictions for the rest of the slate
East Tennessee State (2-2, 0-1) at Furman (2-2, 1-0), Saturday September 28th, 1:00 PM, Paladin Stadium, Greenville, SC, NexStar, ESPN+ (subscription req'd)
This is the story of two teams sitting at 2-2 but with different perceptions of them based on who they played. Furman took two FBS teams down to the wire while East Tennessee State lost to VMI. At the beginning of the year, this looked like it could be a matchup that would potentially determine the SoCon auto bid. Look for Furman to win this one easily. Furman 34, East Tennessee State 17
Wofford (1-2, 0-1) at VMI (2-2, 1-0). Saturday September 28th, 1:30pm, Alumni Memorial Field, Lexington, VA, ESPN+ (subscription req'd)
Wofford has the opportunity to even their record this week after an awful start while VMI is out to prove that their win over ETSU wasn't a one time performance. Take the Terriers to get back to .500. Wofford 17, VMI 13
Western Carolina (1-2, 0-1) at Chattanooga (1-3, 0-0), Saturday September 28th, 4:00 PM Finley Stadium, Chattanooga, TN, ESPN+ (subscription req'd)
Chattanooga challenged themselves in the non conference portion of their schedule. It didn't work out like they hoped, but they should be prepared for SoCon competition. If Tyrie Adams remains suspended, this is an even bigger hill to climb for Western Carolina. Chattanooga 26, Western Carolina 16
Campbell (2-1) at Mercer (2-2), Saturday September 28th, 7:00 PM Five Star Stadium, Macon, GA, ESPN3 (subscription req'd)
Mercer has lost two straight games after their 2-0 start. They should pick up a win here against an inferior Big South opponent. Mercer 28, Campbell 18
Jamie is a proud 2002 graduate of James Madison University. He's witnessed the growth of the program from no one in the stands in 1998, to the hiring of Mickey Matthews, to the 2004 National Championship, to the 2008 team, to the struggles in the early 2010s, and finally the rebuild under Mike Houston. He also allegedly really enjoys Washington, DC-based Stanley Cup winners.
Reach him at: