Nicholls at Sam Houston is a must-see game – it could decide the Southland. If you like offense, this game is a must-see. The winner has the inside track to the autobid to the FCS Playoffs, and potentially even a seed. The loser isn't done, but there will be nervous weeks ahead. Is Sam Houston back among the top FCS teams? Is Nicholls ready for that next step?
After getting blown out by Nicholls in the opener, Lamar played much better Saturday in a 42-20 loss to Incarnate Word in Beaumont. Head coach Blane Morgan was proud of his team's effort but disappointed in his offense – there were two costly turnovers late in the contest which resulted in Incarnate Word scores. After beating Tarleton State 40-37 in a double-overtime thriller to open the spring season, McNeese has lost two straight games, including a 25-20 setback at Southeastern Louisiana last Saturday. Head coach Frank Wilson was proud of his team's effort, but you cannot turn the ball over and expect to beat a ranked team like the Lions.
Lamar Cardinals (0-2, 0-2 in Southland)
Running back Chaz Ward rushed 26 times for 106 yards last Saturday, and sophomore wide receiver Marcellus Johnson proved that he is a reliable target – he had seven receptions for 88 yards. Look for tight end Jeremy Davis to be more involved in the offense – he caught a touchdown pass last Saturday. Quarterback Jalen Dummett looked efficient running the option for the Cardinals, but he must cut down on the turnovers. Lamar's secondary was atrocious against Incarnate Word – but they are incredibly young and will improve with experience.
McNeese State Cowboys (1-2, 0-2 in Southland)
Look for sophomore running back A.J. Carter to carry the ball more – he was the Cowboys' leading rusher against Southeastern Louisiana. He carried 15 times for 57 yards, which does not seem impressive. But he took the opening kickoff of the second half and raced 62 yards to set up the Cowboys' first touchdown. Sophomore wide receiver Severyn Foster is a proven deep threat – he caught two passes for 75 yards in the game against the Lions. One area the Cowboys looked better was on the defensive line, as McNeese pressured Cole Kelley relentlessly and sacked him four times, including one which caused a fumble that started the Cowboy comeback.
Fearless Prediction: McNeese went toe-to-toe with an exceptionally good football team in Southeastern Louisiana – they took a step forward in their development, even in a close loss. The Cowboys have not had much practice time due to hardships beyond their control – and injuries have decimated their offensive line. Lamar is one of the youngest teams in college football with 51 freshmen – they hung with Incarnate Word for three quarters last weekend. But the Cowboys will win this game – although it could be closer than many expect.
McNeese State 34 Lamar 24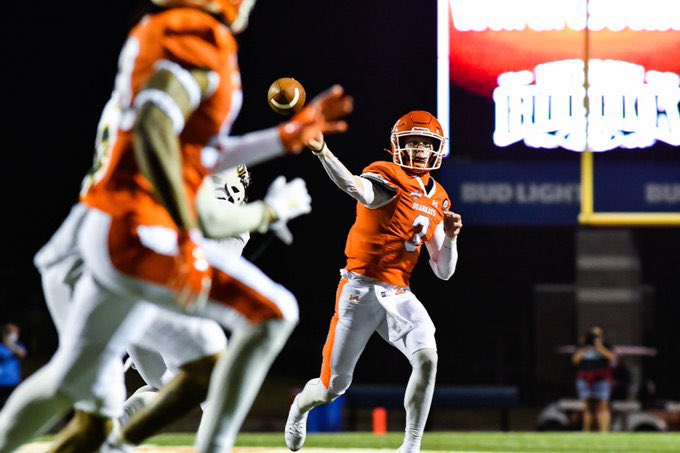 This is a must-see game: No. 12 Sam Houston opened their spring season with a 43-38 win over Southeastern Louisiana in Huntsville while Nicholls is ranked #7 in the country and 3-0 for the first time since 1986. Whoever wins this game is in the driver's seat to win the Southland Conference and get the automatic bid to the FCS playoffs. Nicholls' game at Northwestern State was much closer than expected – a 31-24 victory for the Colonels at Turpin Stadium. But this is a highly competitive league, and the underdog can upset the favored team in any given week.
Nicholls State Colonels (3-0, 2-0 in Southland)
Quarterback Lindsey Scott Jr. has been outstanding for the Colonels – but running back Julien Gums is difficult to stop as well. Gums was the workhouse Saturday night as he rushed a career-high 36 times for 156 yards and a touchdown in the Colonels' 31-24 win over Northwestern State. He also reached a career milestone by becoming only the ninth Colonel in team history to eclipse 2,000 yards rushing. Wide receiver Dai'Jean Dixon is one of Lindsey Scott Jr.'s favorite targets – he racked up 115 yards and two touchdowns on seven receptions in the game against the Demons.
Sam Houston Bearkats (1-0, 1-0 in Southland)
Quarterback Eric Schmid has been as good as advertised – he threw for 428 yards and two touchdowns in the Bearkats' 43-38 win over Southeastern Louisiana in the spring season opener. Running back Ramon Jefferson gives opposing defenses headaches – he rushed 12 times for 139 yards and a touchdown in the opener. Sophomore wide receiver Chandler Harvin is Schmid's favorite target – he had seven receptions for 118 yards against the Lions. Defensively, the Bearkats are led by defensive lineman Joseph Wallace and defensive back Zyon McCollum.
Fearless Prediction: Sam Houston head coach K.C. Keeler is a proven winner – he led Delaware to a I-AA (now FCS) national championship in 2003. Many Bearkat fans believe that Keeler has underachieved a bit at Sam Houston – their last playoff appearance was a 55-13 loss to North Dakota State in 2017. Sam Houston has the talent to make a deep playoff run this spring. Of course, they will have to get by Nicholls Saturday. Tim Rebowe is no slouch of a coach either – he led the Colonels to the Southland Conference championship in 2019. Expect the Bearkats to prevail in a close contest Saturday in Huntsville.
Sam Houston 41 Nicholls 38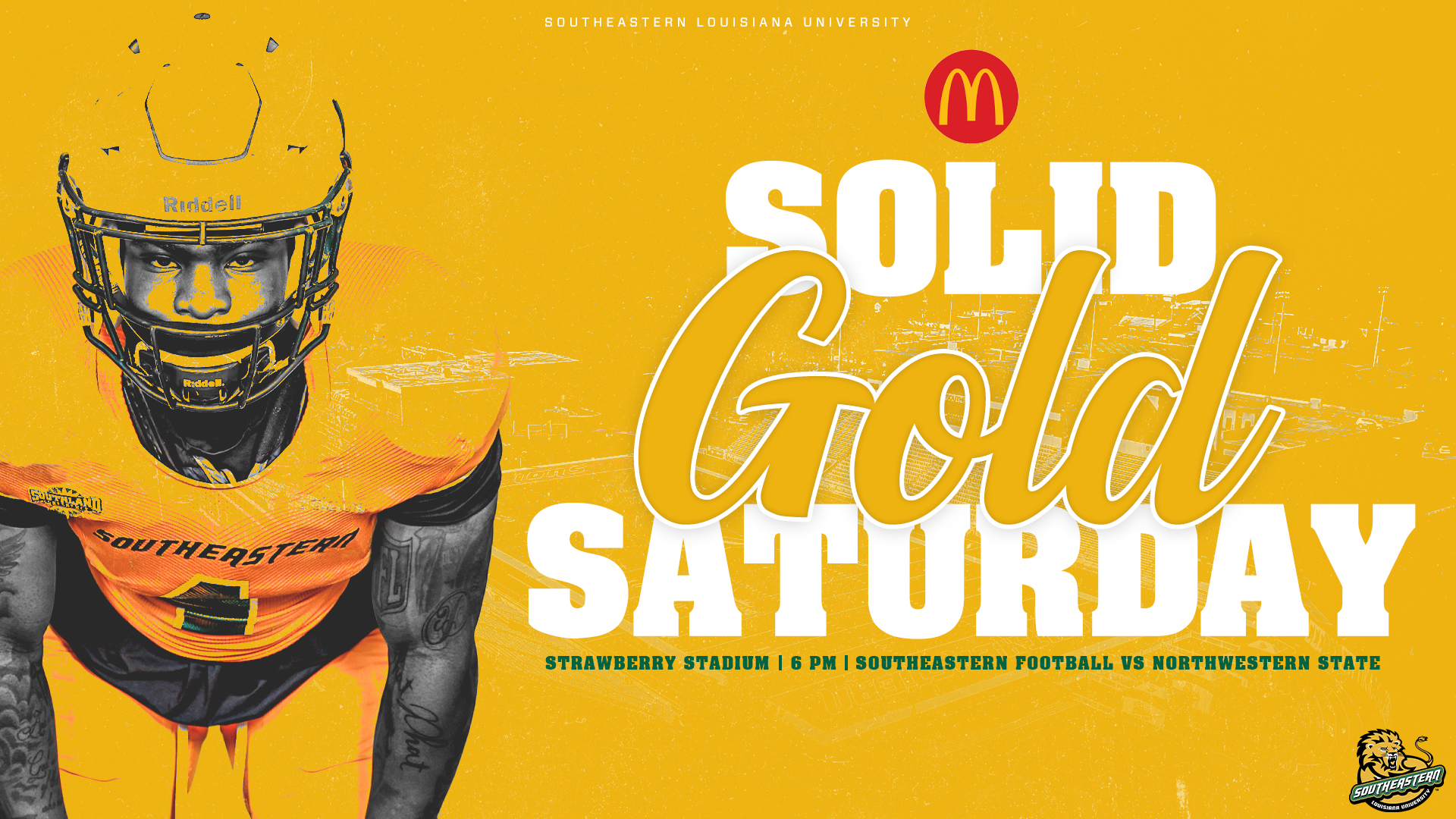 GAME PREVIEW: Northwestern State at Southeastern Louisiana
TV/Streaming: ESPN+ (subscription req'd)
Northwestern State head coach Braid Laird had to be proud of his team's effort in a 31-24 loss to Nicholls last Saturday night in Natchitoches. The Demons showed what they are about in the way they fought and competed. Down 21-7 to arguably the best team in the conference, the Demons were able to battle back and put themselves in a position to win the game. No. 18 Southeastern Louisiana lost the opener to Sam Houston but beat McNeese last Saturday in Hammond.
Northwestern State Demons (0-1, 0-1 in Southland)
Look for dual-threat quarterback Kaleb Fletcher to get the start against Sam Houston – Fletcher led the drive that cut the Colonels' lead to one score in the fourth quarter last Saturday. Senior wide receiver Gavin Landry is a reliable playmaker who is coming off a torn ACL – he caught a touchdown pass in the Nicholls game. Freshman running back Aubrey Scott ran nine times for 119 yards and a touchdown in his first collegiate game last weekend. Defensively, the Demons are led by cornerback Shemar Bartholomew and senior linebacker Ja'Quay Pough – he had ten tackles against the Colonels.
Southeastern Louisiana Lions (1-1, 1-1 in Southland)
Playing at home for the first time in 461 days, the Lions clinched the victory over McNeese with a forced fumble by defensive back Ferlando Jordan – he is arguably their best defensive player. The offense is led by quarterback Cole Kelley and wide receiver C.J. Turner. Kelley threw for 301 yards and a touchdown on 21-of-39 passing while Turner had six catches for 71 yards and a touchdown in the victory over the Cowboys. Senior wide receiver Javon Conner proved that he is a deep threat too – he had five catches for 104 yards in the victory.
Fearless Prediction: Southeastern Louisiana head coach Frank Scelfo signed a contract extension in the offseason – he is building an FCS powerhouse in Hammond, Louisiana. Northwestern State is better than what many first thought, but not good enough to beat the Lions.
Southeastern Louisiana 45 Northwestern State 28
Rob Butler is a lifelong Texas A&M football fan – his family is full of A&M graduates. He graduated from Lamar University in Beaumont, Texas with two degrees – a BBA in Finance and an MBA. His hobbies include jogging and reading books pertaining to college football.