Every Southland team is playing on opening weekend, which means all Southland fans will be in for a treat of quarterback play. Better yet, there are multiple Southland teams that have a chance to pull of upsets of FBS teams this weekend. Who are they?
BYE: None
Conference Game of the Week:
Jacksonville State (0-0) at Southeastern Louisiana (0-0)
When: Thursday August 29th, 8:00pm
Where: Strawberry Stadium, Hammond, LA
TV/Streaming: ESPN+ (subscription required)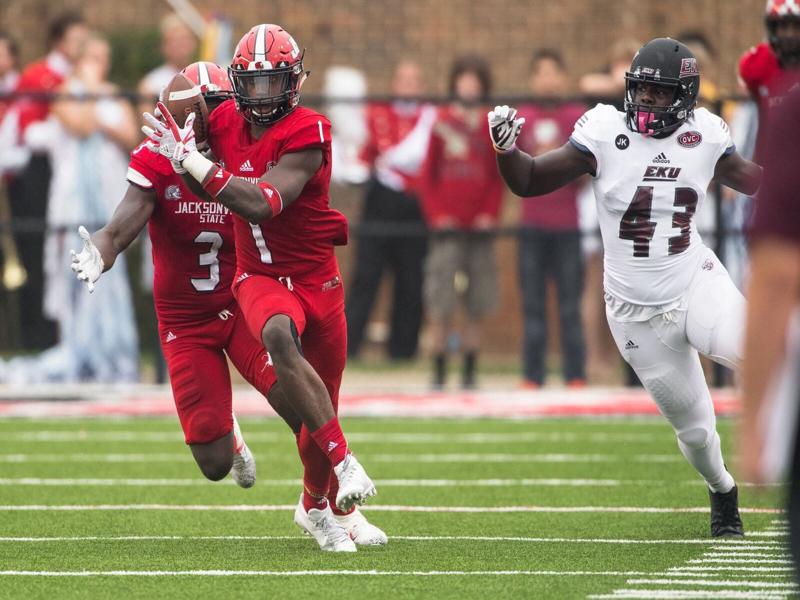 Jacksonville State Gamecocks
Jacksonville State enters the 2019 season loaded and ready to take their best shot at Frisco. The Gamecocks feature on of the best QB/WR combinations in the country – Zerrick Cooper and Josh Pearson. Both Cooper and Pearson are on the initial watch list of 25 names for the Walter Payton Award. Offense will not be a problem for Jacksonville State. Some questions around their defense, especially the secondary, seem to be what is keeping people from putting the Gamecocks in the top tier of Frisco contenders. Some of those questions can start to be answered this week in a game against a Southland opponent with a strong quarterback.
Key Player: We know what we are getting from the Gamecock offense- fast paced, and explosive. What we don't know is how the defense will perform. S Marlon Bridges will try to help clear everyone's mind about the state of the defense. Playing a team like Southeastern Louisiana early who likes to throw the ball could be just what the doctor ordered for the Gamecocks early in the year.
Southeastern Louisiana Lions
Moving the ball on offense was not too big of a problem for Southeastern Louisiana in 2018. Keeping the opponent from doing so, however, proved to be quite difficult for the Lions. SeLa gave up yards in chunks and also struggled with turnovers, logging 13 interceptions. The Lions have the talent to beat playoff caliber teams, as evidenced by their victory over Lamar. However, last year they lacked the consistency to keep the momentum moving. Poor defense and turnovers on offense wont bode well against a team like Jacksonville State.
Key Player: The Lions throw the ball a lot and like most teams in the Southland Conference have a good quarterback under center, Chason Virgil. He must play mistake free football to keep his team in the game. If he does that, the Lions may have a shot late to pull off the upset. If not, it could be a long night in front of the home crowd.
Fearless Prediction: Southeastern Louisiana has the ability to beat playoff teams. But this is not the week that happens for them this year. The Jacksonville State offense is just too powerful for them to keep pace with. Jacksonville State 44, Southeastern Louisiana 27

Fearless predictions for the rest of the slate
Northwestern State (0-0) at Tennessee Martin (0-0), Thursday August 29th, 7:30pm, Graham Stadium, Martin, TN, ESPN+ (subscription required)
A matchup between two mid to bottom pack teams in their conference. Northwestern State looks to be just a touch better this year. This will be a close game. Northwestern State 23, Tennessee Martin 20
Central Arkansas (0-0) at FBS Western Kentucky (0-0), Thursday August 29th, 7:00pm, L.T. Smith Stadium, Bowling Green, KY, ESPN+ (subscription required)
Here is a spot where an FCS team has a chance to pull an FBS upset. The Bears are looking to return to playoff form while the Hilltoppers will be looking to prevent a loss to an FCS opponent for the second consecutive year. Western Kentucky 31, Central Arkansas 27
D-II Bethel (0-0) at Lamar (0-0) Thursday August 29th, 8:00pm Provost Umphrey Stadium, Lamar, TX, ESPN3 (subscription required)
Lamar made the playoffs in 2018. They're starting off against a non-division one opponent. Lamar 58, Bethel 7
Sam Houston State (0-0) at FBS New Mexico (0-0) Saturday August 31st, 6:00pm, Dreamstyle Stadium, Albuquerque, NM, Mountain West Network
The Bearkats have a real shot to win this game. The Lobos struggled last year and look to be at the bottom of the Mountain West Conference again this year. We aren't bold enough to take Sam Houston here, but we wont be surprised if they escape with a win. New Mexico 37, Sam Houston State 34
Incarnate Word (0-0) at FBS Texas-San Antonio (0-0) Saturday August 31st 6:00pm, Alamodome, San Antonio, TX, ESPN College Extra, ESPN3 (subscription required)
A playoff team in 2018, Incarnate Word looks to continue their march up the Southland ladder. This is their first of two FBS matchups this year and the one they have the best chance to win. THe Roadrunners project to be a poor team, but will probably squeak this one out unless Jon Copeland pulls some magic out of his hat. Texas-San Antonio 28, Incarnate Word 20
Stephen F Austin (0-0) at FBS Baylor (0-0) Saturday August 31st, 7:00pm McLane Stadium, Baylor, TX, ESPN+ (subscription required)
A large number of Southland teams are playing FBS foes this weekend to open the season. Stephen F Austin is one of those teams. A few Southland teams have real shots to pull off upsets over FBS foes. Stephen F Austin is not one of those teams. Take the Bears comfortably. Baylor 55, Stephen F Austin 14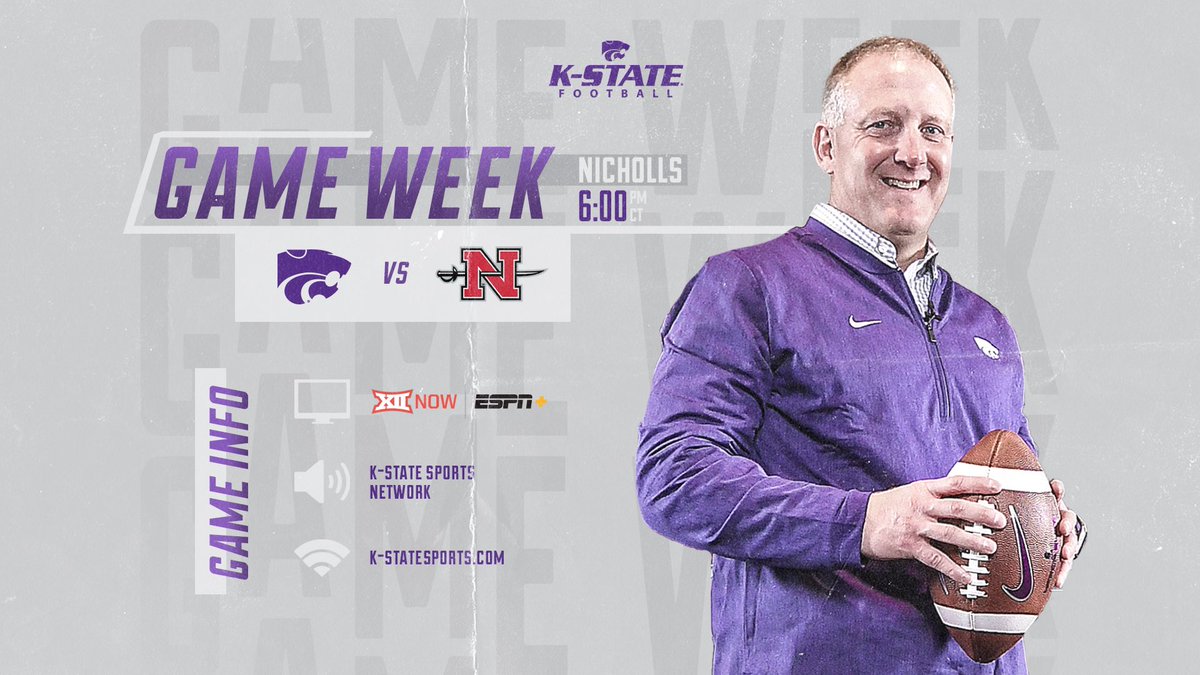 Nicholls (0-0) at FBS Kansas State (0-0) Saturday August 31st, 7:00pm, Bill Snyder Family Stadium, Manhattan, KS, ESPN+ (subscription required)
Nicholls is probably the most talent team in the Southland and is favored to win. Last year they went to Kansas and left with a win against the Jayhawks. They'll put up a strong fight this week against Kansas State, but they wont ruin Chris Klieman's debut. (You might have heard of Mr. Klieman – as head coach of North Dakota State, he helped the Bison win the FCS National Championship last year.) Kansas State 41, Nicholls 31
Southern (0-0) at McNeese State (0-0) Saturday August 31st, 7:00pm, Cowboy Stadium, Lake Charles, LA, CST, ESPN+ (subscription required)
McNeese looked the part of a top Southland team many times last year; while at other times they couldn't find a way to put points on the board. They have to have this game against Southern to build any momentum for the season. McNeese State 17, Southern 7
Abilene Christian (0-0) at FBS North Texas (0-0) Saturday August 31st, 7:30pm, Apogee Stadium, Denton, TX, ESPN+ (subscription required)
Abilene Christian is set up to have an excellent season. They will challenge the Mean Green with their offense for at least the first half. But North Texas is a decent team and should pull away in the second half. North Texas 44, Abilene Christian 24
Houston Baptist (0-0) at FBS Texas-El Paso (0-0) Saturday August 31st, 8:00pm, Sun Bowl Stadium, El Paso, TX, ESPN+ (subscription required)
UTEP is a bad team. No doubt about it. But unfortunately so is Houston Baptist. The Huskies can put up points with a strong offense, but they have no defense. Texas-El Paso 57, Houston Baptist 33
Jamie is a proud 2002 graduate of James Madison University. He's witnessed the growth of the program from no one in the stands in 1998, to the hiring of Mickey Matthews, to the 2004 National Championship, to the 2008 team, to the struggles in the early 2010s, and finally the rebuild under Mike Houston. He also allegedly really enjoys Washington, DC-based Stanley Cup winners.
Reach him at: