The FBS Group of Five starts with a couple of heavy weights playing some Power Five squads that will go a long way towards which G5 team will be playing in a New Year's Six Bowl game. This will be a preview of the two heavy hitter games that I will have my eyes on to start the season. Both Cincinnati and BYU have aspirations for great seasons and start with tough Power Five matchups against two Pac-12 opponents.

Game 1 of the Night:
UCLA (0-0) at Cincinnati (0-0)
When: Thursday, August 29th 7:00pm EDT
Where: Nippert Stadium, Cincinnati
TV/Streaming: ESPN
UCLA Bruins
UCLA — which finished 3-2 after an 0-7 start — could be a dark-horse contender in the wide-open Pac-12 South. There are question marks on offense, but the defense is as talented as almost any in the Pac-12. The Bruins hope a resurgence in the second season under coach Chip Kelly. That poor start began last year when Cincinnati came to the Rose Bowl and were one of 2018 Week 1's suprises with the Bearcats 26-17 victory.
Key Player: RB Joshua Kelley should be a key difference for UCLA compared to the opener a season ago. Kelley got the start in Week 1 a year ago but was quickly pulled and did not resurface as the Bruins' workhorse until Pac-12 competition got rolling. The FCS UC Davis transfer was one of the best backs in college football by season's end, racking up 1,243 yards and 12 touchdowns essentially over nine games. Getting him rolling early on the road will be the key for UCLA to pull off a road victory.
Cincinnati Bearcats
Cincinnati's exciting playmakers on offense with QB and seven starters on an outstanding defense make this team poised to end UCF's reign of dominance in the American. Cincinnati finished tied for last place in the American Athletic Conference East division in 2017. Heading into Year 3 under Coach Luke Fickel, after a breakout 11-win 2018 season, the Bearcats look like a real threat to UCF's prominence atop the league. This Week 1 home match and next week's in-state road contest at Ohio State will go a long way showing if this team can match what it did last year.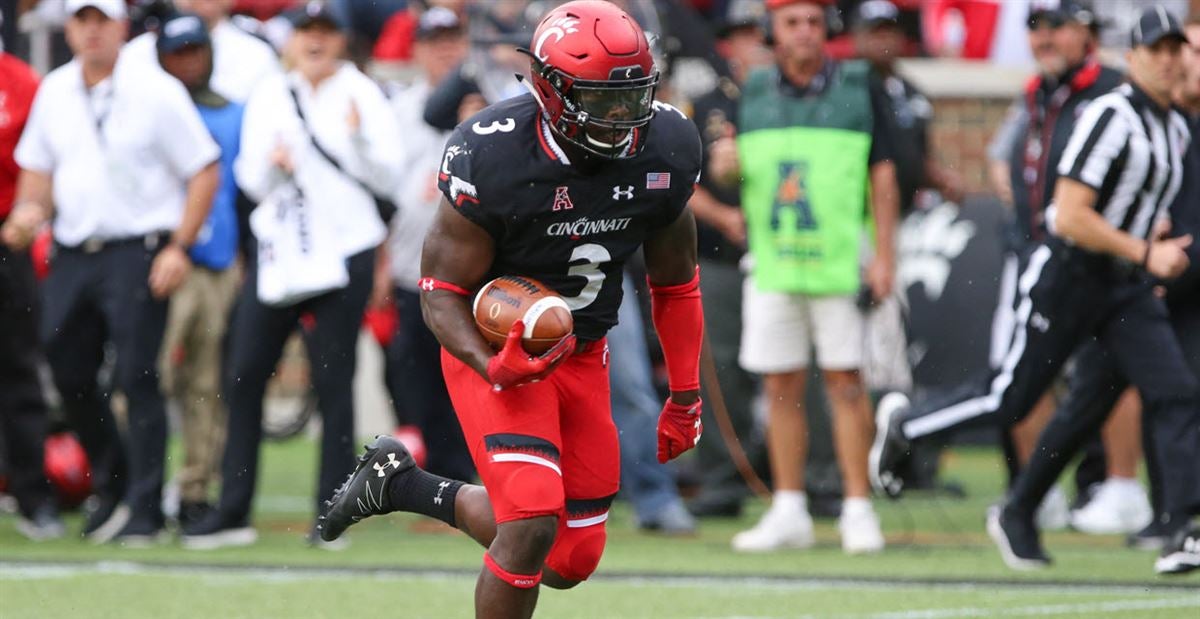 Key Player: RB Michael Warren II rushed for 1,329 yards and 19 touchdowns in 12 games a season ago and will again look to be the workhorse for the Bearcats in this one. His rushing balance to go with sophomore QB Desmond Ridder will go a long way to how well Cincinnati offense goes. With a strong defense, the Cincinnati offense will have to try to play a strong, ball control game to keep the time of possession.
Fearless Forecast: While the Bearcats have several new starters on the Cincinnati offensive front, the skill spots are loaded, so the offense should be just fine in this game against an unproven UCLA defense. Cincinnati won 11 games last year, including a bowl game over Virginia Tech and having just beat UCLA last year on the road, playing a Power Five team at home will only excite the confidence. Cincinnati 31 UCLA 21

Game 2 of the Night:
Utah (0-0) at BYU (0-0)
When: Thursday, August 29th 10:15pm EDT
Where: LaVell Edwards Stadium, Provo, UT
TV/Streaming: ESPN
Utah Utes
The Utes have recently been dominate in the Holy War. Utah has won eight straight and a ninth for Coach Kyle Whittingham, he would match the series-record runs of two legendary coaches: Utah's Ike Armstrong (1929-37) and BYU's LaVell Edwards (1979-87). Utah has asparations of winning the Pac-12 this yeardespite just a 9-5 overall record but a slew of injuries hurt the team last year. A win in this rivarly game could be the leapfrog to get them going.
Key Players: QB Tyler Huntley and RB Zack Moss are two seniors this year that wound up missing last year's meeting with BYU. Both will play in this game and will play a key role in a Utes victory. Huntley started nine games last season, going 6-3 before missing the final five contests with a broken collarbone. For the season, he completed 150-of-234 passes for 1,788 yards and 12 touchdowns. Moss earned second-team Pac-12 honors despite missing five games due to injury and led the Utes with 1,096 yards rushing and 11 touchdowns.
BYU Cougars
The Cougars have also won five straight season-openers but none have been the calibar of Utah. BYU is coming off an up and down season but did end with some momentum with an Idaho Potato Bowl victory. Coach Kalani Sitake's team had the Utes down 27-7 midway in the third quarter last year but Utah came back to score 28 unanswered points to win its eighth straight win in this rivarly.
Key Player: QB Zach Wilson completed 120-of-182 passes for 1,578 yards and 12 touchdowns a season ago. Now a sophomore, he has been asked to become another great BYU signal caller in their history. He did alright last year but he will really need to use some running game to aid in his performance to have a chance to upset their Holy War rivals.
Fearless Prediction: While I put key players on offense, the two teams have two of the nation's best defenses in all of the FBS. Utah finished last season 14th in total defense at 315.6 yards per game, while BYU was 18th at 324.1. The talent level favors the Utes but the home field advantage is with the Cougars. Expect BYU to go with some trick plays early and have some of those land for an early game lead for BYU. But like last year, Utah will come storming back in the second half and get its ninth straight win in the series. Utah 31 BYU 24
Originally from LaMoure, North Dakota, Kent is a 1996 graduate of North Dakota State University. His prior writing experience is over 15 years having previously worked with D2football.com, I-AA.org, and College Sporting News before coming to College Sports Journal in 2016. His main focus is college football is the Missouri Valley Football Conference within the Division I FCS. And in 2017, he began also to look at the FBS Group of Five conferences of the American Athletic, Conference USA, Mid-American, Mountain West, and Sun Belt.
Reach him at this email or click below: