College Sports Journal Southland Conference Previews: Week of 9/21/2019
Week three brought a mixed bag of results in the Southland. Houston Baptist shocked the FCS world with their exciting 53-52 upset of MVFC member South Dakota. Sam Houston State was unable to avenge their 2018 loss to North Dakota, again falling to the Fighting Hawks. In conference, Central Arkansas and Abilene Christian lived up to the pregame hype with the Bears prevailing late 31-30.
BYE: NONE
Conference Game of the Week:
Lamar (2-1) at Southeastern Louisiana (1-1)
Where: Strawberry Stadium, Hammond, LA
When: Saturday September 21, 8:00pm
TV/Streaming: ESPN+ (subscription req'd)
Lamar Cardinals
Lamar surprised everyone in 2018 by making the playoffs. In 2019, the Cardinals have been looking to build on the momentum that created. The results so far have been mixed, however. Lamar is 2-1 to start the year. But they have beaten a D-II team and a woeful Mississippi Valley State team that took until overtime for the Cardinals to beat. Their loss came against FBS Texas A&M. So far, we don't know what to make of Lamar. They get the chance to prove themselves worthy again this year starting with their Southland opener against an early surprise, Southeastern Louisiana. Lamar doesn't have any stand out players, but they have a lot of players who just do their job. If they can get consistent effort across the board, the Cardinals will be in the discussion all year. Lamar has committed eight turnovers in three games so far. That is a trend that must not continue for them to have success.
Key Player: For Lamar to be successful, QB Jordan Hoy needs to step his game up in conference play. With the quality of the quarterbacks in the Southland Hoy has to take charge of this offense and lead it. SO far he is completing 56% of his passes and averaging just 178 yards per game. Hoy has thrown 3 touchdowns but also two interceptions and a fumble. That stat line will not get it done in the Southland.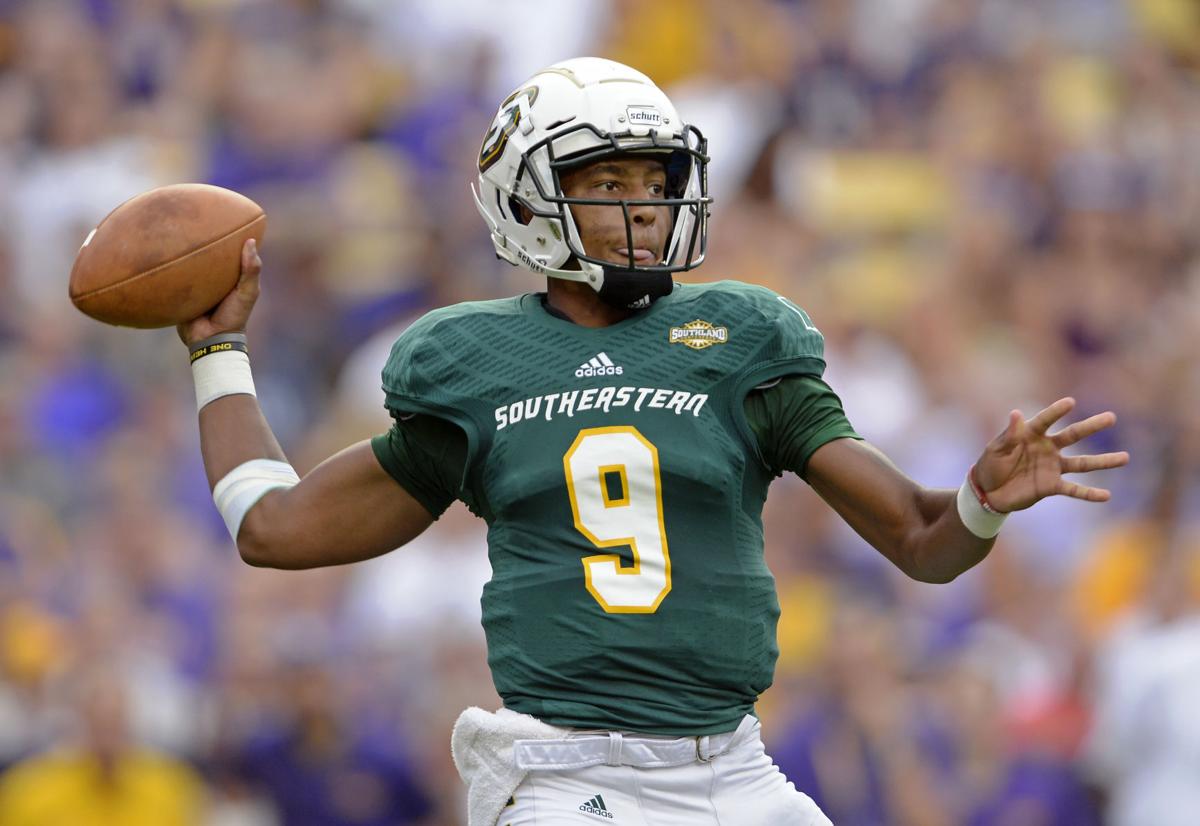 Southeastern Louisiana Lions
All Southeastern Louisiana has done so far is easily beat Jacksonville State – the same Jacksonville State who just got done beating last year's runner up – and play an extremely tight game against FBS Ole Miss. SLU looks like a team that could be taking a step up in the Southland conference after a few years in the middle of the pack. We aren't ready to anoint them as the potential conference champions, but another impressive week or two, especially in conference play, will make people really stand up and take notice of the Lions. The Lions should be favored in their next six matchups leading up to a closing stretch where they play Central Arkansas, Abilene Christian and Nicholls.
Key Player: QB Chason Virgil did a great job of managing the game in the win against Jacksonville State. His numbers didn't jump off the chart, but he took care of the football. Against Ole Miss, Virgil had to take some chances and he threw three interceptions while throwing for 309 yards. Virgil needs to find the balance between those two games for SLU to continue to win games throughout the season.
Fearless Prediction: Lamar doesn't look quite as strong as they did last year and Southeastern Louisiana already has a big win under their belt. Lamar will put up a good fight, but the Lions take the home win this week. Southeastern Louisiana 28, Lamar 24
Fearless predictions for the rest of the slate
McNeese State (2-1) at Abilene Christian (1-2), Saturday September 21st, 7:00 PM, Wildcat Stadium, Abilene, TX, ESPN+ (subscription req'd)
Abilene Christian returned most of their 2018 team but they need to start putting up some wins. They'll get one this week against a good McNeese State defense. Abilene Christian 23, McNeese State 17
Incarnate Word (1-1) at Sam Houston State (1-2), Saturday September 21st, 7:00 PM, Bowers Stadium, Huntsville, TX, ESPN3 (subscription req'd)
Both teams really need this win. In the past, Sam Houston State has been the team with the better quarterback, but that's not true this year. Jon Copeland leads Incarnate Word to a tough road victory. Incarnate Word 37, Sam Houston State 30
Northwestern State (0-3) at Houston Baptist (2-1), Saturday September 21st, 7:00 PM, Husky Stadium, Houston, TX, ESPN3 (subscription req'd)
Are we really talking about a potential Houston Baptist three game winning streak? Yes we are. Its amazing what having an outstanding quarterback like Bailey Zappe can do for a team. Houston Baptist 38, Northwestern State 22
Nicholls (1-1) at Stephen F Austin (0-3) Saturday September 21st, 7:00 PM, Homer Bryce Stadium, Nacogdoches, TX, ESPN+ (subscription req'd)
Nicholls pulled out a late win against Prairie View last week. They won't need to be that nervous this week. They'll get a comfortable win that this team needs for its psyche. Nicholls 45, Stephen F Austin 13
Central Arkansas (3-0) at Hawaii, Sunday September 22nd, 12:00 AM, Aloha Stadium, Honolulu, HI, Stadium on Facebook (mainland only)
Can Central Arkansas pull off a second FBS win on the season? No one will be awake to know. [ED NOTE: I will be. #SouthlandAfterDark – Chuck] But we will wake up in the morning to a 3-1 Bears team that fought valiantly. Hawaii 34, Central Arkansas 27
Jamie is a proud 2002 graduate of James Madison University. He's witnessed the growth of the program from no one in the stands in 1998, to the hiring of Mickey Matthews, to the 2004 National Championship, to the 2008 team, to the struggles in the early 2010s, and finally the rebuild under Mike Houston. He also allegedly really enjoys Washington, DC-based Stanley Cup winners.
Reach him at: