There were four conference games in the CAA last week and all but one was decided by seven points or less. The one that wasn't? It was an upset of a ranked team. The CAA continues to be a strong conference and not disappoint in conference play.
Rhode Island faced a test in its first week as a ranked team since 2015. Their back-and-forth game with Stony Brook was tied after the third quarter and again after the fourth. In overtime, the Rams got a touchdown pass from Kasim Hill and the defense held. For the Seawolves, they fought all game, led by TySon Lawson with 154 yards rushing, but they fell just short.
Richmond had to play last week without starting quarterback Joe Mancuso and it showed. The Spiders never got any rhythm in their 20-7 home loss to Elon. The stats weren't flashy for Elon, but they didn't turn the ball over and took advantage of the two turnovers they forced.
Albany gave Delaware all they could handle but the Great Danes had to settle for two red zone field goals instead of punching in for touchdowns. Delaware was able to get into the end zone with two rushing touchdowns and that was the difference in a 20-15 final
Despite gaining 162 yards of total offense, New Hampshire nearly pulled the upset over James Madison. The Wildcats scored on a fumble return and a pick six, keeping them in the game and taking lead into the fourth quarter. Kris Thornton's second touchdown catch of the day provided the winning score for the Dukes who escaped with their record unscathed.
This week we look forward to five conference matchups including two featuring two ranked teams. Richmond and New Hampshire take this weekend off after tough losses last week.
Last Week: 3-1, Season: 37-4
Elon at Maine Saturday October 9, 12:00pm FloSports
Elon is coming off a big road win at Richmond last week, its first CAA win of the year. The Phoenix were projected to finish last in the CAA, but with quarterback Davis Cheek, I questioned that placement. They wont make the playoffs, but they wont be last either. Cheek has bounced back from his spring injury, averaging 280 yards per game. The one thing he is known for is protecting the ball and he has continued to do that. He has only thrown two interceptions in five games. And he has taken every snap under center for the Phoenix, defying his injury prone label. Defensively, Elon gives up too many yards on the ground, allowing 171 per game. They need to get off the field and give their offense more chances.
Maine is coming off its bye week at 1-3 but looking for its second consecutive home win. The Black Bears lost at FBS Northern Illinois before the bye. They are 0-2 in the CAA after playing two of the top teams in the conference: Delaware and James Madison. Against James Madison, The Black Bears lost quarterback Joe Fagnano to an ankle injury. Derek Robinson is not the player that Fagnano is, and the offense has struggled. It has been tough for Maine to score points since the injury. The run game has also suffered because teams can stack the box and dare the Black Bears to throw. They'll need Fagnano back to have any success this year.
Travelling to Maine from Elon is a long trip and usually gives a slight advantage to Maine. That may be the case, but Elon is playing a little better than Maine and has a healthy quarterback as well. Davis Cheek will do enough to get Elon in the win column.
Fearless Prediction: Elon 23, Maine 21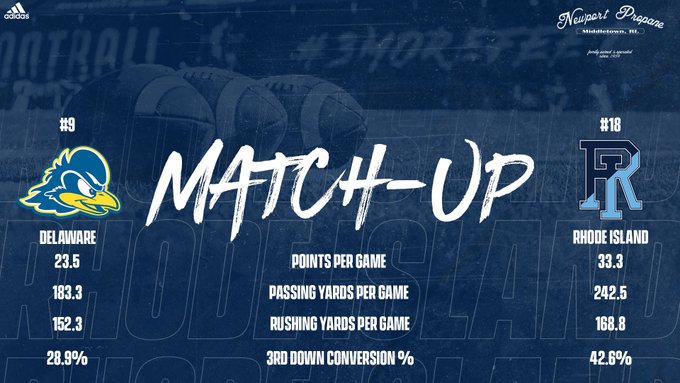 #9 Delaware at #18 Rhode Island Saturday October 9, 1:00pm FloSports
Delaware is another CAA team with injury questions at quarterback. No one questions the toughness of Nolan Henderson. He has been playing hurt since 2019. But he did have to leave last week's game against Albany in favor of Zach Gwynn only to return after Gwynn was injured. Henderson looks like he will at least be able to start the game this weekend, but will he finish it? Thankfully, the Blue Hens can rely on Dejoun Lee in the run game. Lee currently leads the CAA with 89 yards per game on the ground. He will be relied on even more due to injuries at the quarterback position as well as to his main backup Khory Spruill. Delaware usually excels on defense. This season they have been leaky against the pass, allowing 248 yards per game. The Blue Hens haven't really been able to pull away from any opponent this year.
Rhode Island is shaping up to be the big surprise of the FCS this year. While it hasn't been against top quality opponents, the Rams have started the season 4-0. They get the chance to prove themselves this weekend against a tough opponent. A usually leaky defense has allowed only 19.75 points per game. The Rams have a balanced offense that can move the ball running or passing. They average 169 yards per game on the ground and 243 through the air. Kasim Hill is in the running for CAA offensive player of the year with 942 yards and six touchdowns passing along with 188 yards and three rushing touchdowns. He completes just under 60% of his passes and has thrown one interception. The run game is led by Antrum Justice. The speedy tailback has already scored five touchdowns and has 311 yards.
Delaware is the higher ranked team. Rhode Island is the home team and is actually favored by three points. With the uncertainty at quarterback for Delaware, I am going to take the Rams for a huge win at home, setting them up to at least challenge for a CAA title
Fearless Prediction: Rhode Island 30, Delaware 27
#11 Villanova at #3 James Madison Saturday October 9, 2:00pm FloSports/NBCSW
Villanova had its bye week last week so they could rest up and spend an extra week preparing to face the top dog in the CAA, James Madison. The Wildcats are off to a 3-1 start with the one loss against FBS Penn State. They are outscoring opponents 38-18 so far this year and have one of the stingiest run defenses in the FCS, allowing just 42 yards per game on the ground. In the pass game, the Wildcats can hurt you too. In just four games, they already have nine interceptions including four from Christian Benford. Villanova also has 31 tackles for loss and ten sacks. Offensively, Daniel Smith has bounced back from a tough spring with 10 touchdown passes already. Having Justin Covington back has helped the run game. He missed half of the 2019 season but has surpassed his spring yardage total. He should be the focus of the Wildcat offense this weekend to try to keep the powerful James Madison offense on the sideline.
James Madison escaped New Hampshire last week with a two point victory. The defense allowed just 162 yards and one 45 yard touchdown drive. But the James Madison offense had three turnovers, and two of them were taken back for defensive touchdowns. The Dukes made a lot of mistakes that will hurt them against better teams, like Villanova. The Dukes will be putting their 19 game home winning streak and their 21 game win streak against regular season FCS opponents on the line as well. James Madison is top five in both offense and defense in the FCS, outscoring opponents 46-16 and out gaining them 498-217. The Dukes allow just 33 yards per game on the ground. Cole Johnson has been the breakout player so far this year, completing 74.6% of his passes with 14 touchdowns and only one interception. Defensively, the Dukes have 37 tackles for loss and 11 sacks. There doesn't seem to be a real weakness to attack against this team.
Villanova and James Madison, except for the weird spring season, have played every year since 1993. The two teams know each other and there have been some classics. Look for this game to be close into the fourth quarter until James Madison pulls away late.
Fearless Prediction: James Madison 34, Villanova 20
Albany at William & Mary Saturday October 9, 3:30pm FloSports
Its looking more and more like Albany's 2019 season was more of an anomaly than the start of an ascending program. Jeff Undercuffler looks nothing like the Jerry Rice runner up that he was in 2019. He is at 51% completion with only 165.5 yards per game with three touchdowns and interceptions. The Great Danes only score 14.75 points per game. Even their top back, Karl Mofor is struggling with just 178 yards. Defensively, Albany is getting exposed as well. They allow 31.5 points per game and are getting gashed in the run game at 223 yards per game. They enter this game winless, and it doesn't look like they are going to turn around this year. The Great Danes did hang with Delaware for most of the game, but they settled for field goals versus getting into the end zone.
William & Mary has quietly started their season 3-1. Their defense has bent but has not broken, allowing 21 points per game despite giving up 385 yards per game. The have forced six turnovers that have come at opportune times. The Tribe has already picked up 28 tackles for loss and 13 sacks. This is a defense that finds a way to make a play at the right time. Offensively, they are a step behind but there are signs that this team will be a contender in the next couple of years. Darius Wilson has stepped in following an injury to Hollis Mathis. Wilson has become a dual threat option for the Tribe and is their second leading rusher.
Look for this to be a lower scoring game. The team that protects the ball better will win. The Tribe has shown a penchant for making the big defensive play at the right time. Take them here.
Fearless Prediction: William & Mary 16, Albany 13
Stony Brook at Towson Saturday October 9, 4:00pm FloSports
In their two CAA contests, Stony Brook has been in the game up until the last play. Unfortunately for the Seawolves, they lost both of those games and have an overall lrecord of 1-4. Offensively, they only score 17.2 points per game which is one of the lowest in the CAA. TySon Lawson has carried the bulk of the load on offense, running for 425 yards and four touchdowns. The yardage leads the CAA at this point in the season. Tyquel Fields continues to struggle at quarterback. Along with low completion percentage and yardage numbers, he has thrown only three touchdowns against seven interceptions. Unfortunately, Stony Brook does not have another solid option that could give them a better shot at success. They will continue to struggle on offense this year. Defensively, they remain aggressive with 33 tackles for loss. That lets them hang around in games. But late in a game, you cannot count on the offense to get points on the board.
Towson has struggled to start this season as well. After their opening win against Morgan State, the Tigers have dropped three straight games. They haven't played the easiest teams, but the Tigers haven't been as competitive as we thought they would be. Offensively, Towson cant run the ball. As a team they only average 84 yards per game which is 107th in the FCS. Defensively, the Tigers give up 202 yards per game on the ground which also ranks 107 in the FCS. You would think that would lead to a large time of possession deficit for Towson, but on average its only two minutes. That is because the opponents are averaging 5.5 yards per play. They aren't getting off the field.
I am not sure what to think about this game. Both teams have underachieved so far this season. However, one team has the leading rusher in the conference and the other has the worst run defense in the conference. That's where I will go with the pick
Fearless Prediction: Stony Brook 24, Towson 20
Jamie is a proud 2002 graduate of James Madison University. He's witnessed the growth of the program from no one in the stands in 1998, to the hiring of Mickey Matthews, to the 2004 National Championship, to the 2008 team, to the struggles in the early 2010s, and finally the rebuild under Mike Houston. He also allegedly really enjoys Washington, DC-based Stanley Cup winners.
Reach him at: