BETHLEHEM, PA – College football is truly unlike any other sport.
In the NFL, an 0-5 start can inspire a thought of tanking the season, putting injured players on the shelf and playing for the No. 1 draft pick. In Major League baseball, losing most of your games means fans stop showing up at the games, or caring about the trajectory of the franchise.
College football is built different.
Happily for Lehigh, conference play, out-of-conference matchups, and rivalries mean even a struggling team can find themselves after a rough start – even a winless start – and thus opportunities to turn things around and make a season a success abound.
That is the situation that both Lehigh (0-5, 0-1) and Penn (1-2, 0-1) find themselves in this Saturday when they face off at 1pm at Franklin Field in Philadelphia.
On the Lehigh side, the Mountain Hawks are mired in a 12 game losing streak stretching back to 2019, though that streak includes three games this spring where Lehigh was lucky to be able to field a team at all.
Though the noise and bad energy continues from the slump from outside the program – the fans, understandably, are restless – it hasn't negatively affected the preparation of the team or made all the goals of the season out of reach, according to the team.
"This team has been relentless in terms of its effort and spirit," senior OL Jack Fris told Keith Groller of The Morning Call this week at the weekly media session. "It has been impressive every week and this week is no different. I've never lost confidence. We've had some very promising things, some improvement week after week. We just need to put it all together and play as one unit."
Part of the reason why might be that despite a 30-3 loss to Colgate, there are five Patriot League games left, including one against their archrival Lafayette, that will go a very long way towards defining whether the season is a success.
Though Lehigh's history, there is a case of a Penn victory leading to a hugely successful campaign.
In 2016, Lehigh started 0-2 before heading to Penn trying to find out what they were going to be that season. Down 28-21 at the end of the first half, it looked like Lehigh might live down to that teams' reputation going into that game – finishing a few yards short of winning the game. With 0.3 seconds left, on Penn's goal line, head coach Andy Coen elected to go for it – and scored the game-tying touchdown before halftime.
After that momentum- and season-turning play, Lehigh would shut out Penn the rest of the way in a 49-28 win and then continue to win their next eight games and the Patriot League title.
So a Penn victory in the past has turned around Lehigh football seasons before.
That's significant, because in Lehigh's 62 meetings against Penn, they've only won at Franklin Field five times. In 2002, Penn broke Lehigh's 26 game regular-season winning streak at Franklin Field with a 24-21 victory (a game which I attended). More recently, Penn in 2018 dominated Lehigh 30-10 at home, with Mountain Hawk killer Karekin Brooks gaining 186 all-purpose yards and scoring the back-breaking touchdown to clinch it in the 4th quarter.
But above all this weekend, Lehigh needs to put touchdowns on the board, no matter where they might come from.
The team has not found the end zone in five games this season and only twice in the eight games this 2021 calendar year (both coming against their archrivals Lafayette in a 20-13 defeat this spring).
Against Yale this past weekend, Lehigh found the red zone twice, but both times were knocked for big negative yards in terms of penalties and sacks in a 34-0 defeat. An apparent kickoff return for touchdown, too, was called back due to a block in the back penalty, keeping Lehigh fans' frustrations at an all-time high.
"Our players continue to work hard and effort is not the issue," head coach Tom Gilmore said during Wednesday's weekly media session on campus. "Our ability to execute on a consistent basis as an individual and as a unit is the issue. We need everyone to trust in each other to do their job and you do yours."
Despite the outcome, there were positives to be seen from the Mountain Hawks.
Starting QB Nigel Summerville, in his first-ever start after coming in relief in all his prior appearances, made some positive plays and didn't turn over the ball once, despite eight sacks. He seemed to have a good connection with WR Dajuan Fields, who had 56 all-purpose yards and hauled in three of Nigel's passes.
On defense, DL Mikhari Sibblis continued his impressive junior season with 6 more tackles, 5 of them solo. He has 22 tackles on the season with 2 sacks, and is a constant factor in putting pressure on opposing defenses.
But the fact remains that as a unit Lehigh hasn't really put things all together yet.
The good news is that a turnaround this Saturday could very well set up the remainder of a successful football season for the Mountain Hawks, and make a lot of people forget their early season struggles. And it seems like the team is focused on doing just that.
"We met as a team on Sunday and changed our normal routine to talk about [outside noise]," DT Dean Colton said. "No one has lost confidence. It's just the opposite. I think we're even more passionate, more ready to win after we talked as a team. We believe we can turn the tide."
The game is taking place at historic Franklin Field in Philadelphia, PA, and kickoff is at 1pm. If you can't make it to Philadelphia, it is going to be broadcast on NBC Sports Philadelphia or can be streamed on ESPN+ with Joe Tordy and Jason "Coffee" Jones on the call. The Lehigh radio call will be available on Fox Sports Radio 1230/1320 AM and 94.7 FM Allentown, with Matt Kerr, Matt Markus and Mike Yadush on the call (and also available on LVFoxSports.com).
LFN's Drink of the Week
Since we're headed back to Philly, let's take a break from the highly-alcoholic mixed drinks that are worryingly becoming a staple of the "Drink of the Week" and instead go with a pandemic beer find of mine, Yards Brewery Brawler Champion Ale.
I think during one of my first forays out of the house after initial quarantine was to – this should surprise no one – the beer store to replenish my supply of brew that I had gone through in the early part of quarantine. There I got a six pack of this Champion ale which I really liked a lot. "Crafted in the style of an English mild, this malt-forward ale is great when you want to go a few rounds," the website helpfully adds, really adding to its football-game-tailgate quality. The graphic on the front, too is appropriate: not only does the hero look like he plays alongside Richard Harding Davis for Lehigh football in 1884, whether against Penn or Lafayette, Lehigh football games are always classic matchups of good vs. evil.
LFN's Drinks of the Week are meant to be enjoyed in responsible tailgates, meaning everyone is over 21, nobody is driving while impaired or under the influence, and Ubers are lined up if necessary. Only enjoy these things responsibly.
Injury Report
QB Dante Perri has recovered from his injury from last week and will be backing up QB Nigel Summerville, who was named the starter this week by head coach Tom Gilmore. No word if Perri will come in one (or multiple) times during the game – which was the plan two weeks ago – but Summerville took the majority of reps at QB1.
More good news on the injury front – DL Trevor Harris returns on the defensive line, as is OL Justin Gurth (but Gurth's time could be limited – they will see during the game how he progresses). Freshman DL Xavier Stephens, also missing last week, comes back as well to give Lehigh a lot of badly-needed depth on the defensive line. DL Michael Callahan, RB Gaige Garcia and QB Cross Wilkinson still remain out this week nursing injuries.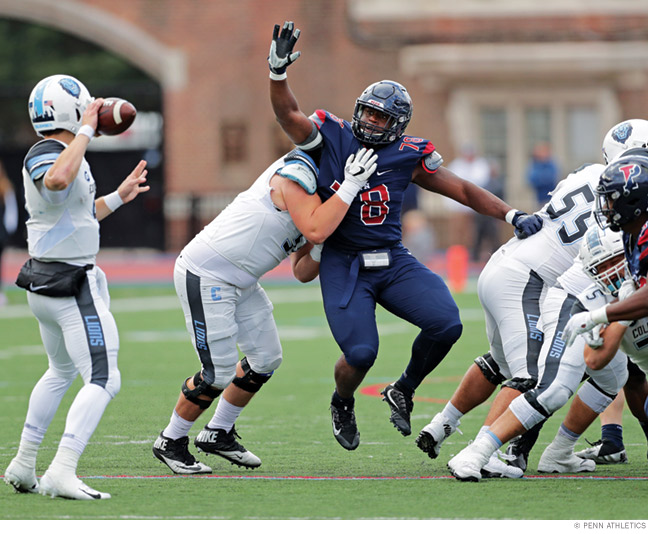 Scouting Penn
In some ways Ray Priore's Penn team is like Lehigh in the fact they also have a conference loss and are looking for a non-conference win to be the perfect tonic towards setting up the rest of their season, including big upcoming games vs. Harvard, Princeton and Yale.
The nature of Penn's losses however are different.
When you look at the losses – a 24-14 defeat to Lafayette and a 31-7 loss to Dartmouth – it reveals a team that was in it most of the way. But miscues, most notably in special teams, set up some of their losses.
The Lafayette game saw the Leopards lead throughout, but Penn hung around most of the game. A brief lead was lost when one play later WR Joe Gillette caught a pass from QB Ah-Shaun Davis on the sideline that would go 70 yards and give Lafayette a lead they wouldn't relinquish. A critical missed 30 yard FG, and two interceptions later, victory was Lafayette's.
Against Dartmouth, a blocked punt set the tone for Dartmouth's first score Dartmouth CB Robert Crockett III blocked the kick, which sailed into the end zone then bounced back over the goal line, which then fortuitously was scooped and scored. It was a blow from which the Quakers could not recover, though the defense put a line in the sand in the second half and only gave up a touchdown. It allowed Penn to stay in it until the end.
Penn is likely not as bad as their 2 losses might indicate and likely not as good as their 30-6 win over Bucknell might indicate, where senior QB John Quinnelly passed for 273 yards and 2 TDs. Against the Bison, Penn's fearsome defense held Bucknell QBs to 7 for 25 passing for 101 yards and 1 interception.
Penn doesn't list a date of birth for 6'2, 275 lb DT Prince Emili, (19 tackles, 4 tackles for loss, 3 sacks), who was a freshman in the fall of 2016, but the New City, New York native is an unquestioned star on this defense. Given the choice of entering the transfer portal to play elsewhere, he instead rearranged his schedule to have a half credit left this fall so he can devote himself near full time to playing football and possibly getting a look in the NFL Draft.
"I really like the staff and I didn't really want to switch anything up," Emili says. "I decided to stick it out and finish everything up here. My goal is to go to the next level and I've seen people do that from the Ivy League. I didn't really want to muddy the picture. I just wanted to lock in on my own plan."
Another grad student, LB Brian O'Neil (20 tackles, 2 tackles for loss), and senior CB Jason McCleod Jr. (4 pass breask-ups, 1 INT) also stand out on this defense, who has been very tough but has been vulnerable to big plays.
On offense Penn likes to be balanced between the run and pass, and when they were able to play their game against Bucknell they balanced the run and pass well. The rushing game against Bucknell was a four-headed attack of Quinnelly, RB Isaiah Malcome, RB Trey Flowers, and RB Jonathan Mulatu that worked effectively, with Malcome as the "speed" back and Flowers more of the "bruiser". Quinnelly's favorite receiving targets are WR Rory Starkey, Jr. (9 catches, 234 yards, 2 TDs) and WR Ryan Cragun (17 catches, 290 yards, 1 TD).
Keys for Lehigh
Blitz Every Down? This might be a game where Lehigh's defensive line might be able to pin their ears back and disrupt Quinnelly's rhythm, something both Lafayette and Dartmouth were able to do against Penn in their victories. Getting to him a few times, perhaps forcing a few turnovers, might get things steered in the right direction.
More TE sets? It's hard to look at Penn's front seven with NFL talent on it and not be a bit worried. Maybe putting in some more TE sets for blocking might free up some more time for QB Nigel Summerville to get open and make good things happen.
Special Teams Execution. Special teams played a part on both of Penn's losses. If the game is close, an edge in Lehigh special teams could go a long way towards getting into the win column. Good execution on punts, an extra lengthy FG or two – it could be the difference if this game ends up a defensive battle.
Fearless Prediction
The bad news is that Lehigh still has a lot of monkeys on their backs. The good news is there are some emerging signs of stability after what was a chaotic first four games of the season, and there is a willingness to work through this to find success, one of the big lessons football teaches us.
It's hard to call this a true Rivalry, even though it has many of the ingredients of one. They've played each other more than 60 times, Lehigh head coach Tom Gilmore (as a player) and former head coach Andy Coen (coordinator on Al Bagnoli's staff) have ties to the place. Heck, in the late 1800s Lehigh, Lafayette and Penn played for a mythical "Championship of Pennsylvania". So there is a long, shared history.
But it's been lopsided. Overall, Penn has dominated the series, even when Lehigh was making runs in the FCS playoffs and Penn was a middleweight in the Ivy League. It's the scene of the death of one of Lehigh's biggest streaks, the 26 game regular-season winning streak that feels like it might not be broken during my lifetime.
Might another, different type of streak be broken here?
Lehigh 16, Penn 10