Last week's CAA action featured two huge upsets of top 10 teams. Those two games upset not only the CAA title landscape but also the FCS landscape overall. The CAA continues to be competitive and there are still five or six teams who could make the playoffs out of the conference. Here is a quick look back at the previous week.
Davis Cheek had 332 yards passing and three touchdowns leading Elon to a 33-22 win over Maine. For the Black Bears, Andre Miller had a huge game with eight catches for 176 yards.
In the first of the two big upsets on the day, Rhode Island defeated Delaware 22-15. The Rams jumped out to a 15-0 lead and held off a charge from Dejoun Lee and the Blue Hens. Lee ran for 115 yards in the lost. Justice Antrum ran for 122 for the Rams. The Rams picked off Zach Gwynn three times.
Villanova shut out James Madison in the second half to pick up a 28-27 win. With three minutes left, the Wildcats went for it 4th and 1 from their own 29 and got the yard to secure the win. Rajoun Pringle had eight catches for 132 yards and the game winning touchdown for Villanova. For the Dukes, Percy Agyei-Obese scored two touchdowns.
Albany jumped out to a 21-3 half time lead against William & Mary. But the Tribe outscored the Great Danes 28-3 in the second half to pick up the win. The score went from 21-10 Albany to 24-21 William & Mary over a four possession sequence between the third and fourth quarter. To lead the Tribe to the win.
Towson scored on their opening possession and never trailed in a 21-14 win over Stony Brook. Overall, it was a sloppy game featuring missed field goals and fumbles by each team. Chris Ferguson threw two touchdowns for Towson. Ty Son Lawson scored two rushing touchdowns for the Seawolves continuing his solid season.
It's a packed slate this weekend in the CAA with six games, five in conference. Elon takes the week off.
Last Week: 3-2, Season: 40-6
William & Mary at Maine Saturday October 16, 12:00pm. FloSports
William & Mary has quietly started the season 4-1 and 2-0 in the conference. The Tribe don't get a lot done on offense; they only average 319 yards per game, running for a respectable 172 yards per game. They have turned games by forcing turnovers at an opportune time. It has led them to wins in their games against Colgate and Albany. Darius Wilson has filled in nicely for Hollis Mathis at quarterback. Wilson and Mathis play similar styles so there is little adjustment needed no matter who is in the game. Wilson is completing 2/3 of his passes even though the Tribe don't throw it often. William & Mary has three players who average at least 43 yards per game rushing
Maine is 0-3 to start their CAA season. Derek Robertson is starting to look a little more comfortable filling in for Joe Fagnano at quarterback. Against Elon, Robertson threw for 253 yards and a touchdown. He has developed a chemistry for top receiver Andre Miller who hauled in seven catches for 167 yards last week. The Black Bears have really struggled on defense. They allow 38 points and 454 yards per game. The biggest deficit for the team is in the run game. The Black Bears average 89 yards per game and have scored 4 touchdowns on the ground. Defensively, they allow 147 yards per game rushing and have conceded 11 rushing touchdowns to their opponents. The do not get any pressure on the opponent's quarterback with just one sack and nine tackles for loss on the season.
It is tough for the southern CAA teams to travel all the way up to Orono, Maine and pick up a victory. This should be a close game for most of the game. The Tribe have shown a penchant for getting a big turnover at the right time.
Fearless Prediction: William & Mary 24, Maine 20
Dartmouth (Ivy) at #23 New Hampshire Saturday October 16, 1:00pm, FloSports/NBC Sports Boston
Dartmouth has started the season 4-0, but they haven't played a very tough schedule so far. The Big Green have been excellent on defense allowing just 11 points and 241 yards per game. Nick Howard and Zach Bair lead the rushing attack. The two of them average 172 yards per game and have totaled eight touchdowns. Derek Kyler have thrown seven touchdowns without an interception as well.
New Hampshire has dropped their last two games after starting the season 3-0. In their last game, they nearly upset James Madison. Bret Edwards has played ok at quarterback. He only throws for 186 yards per game, but he protects the ball. He has nine touchdowns and only two interceptions. Defensively, the Wildcats have pulled in eight interceptions. They have fifteen sacks and 32 tackles for loss. Even without Pop Bush the last couple games, the Wildcats have been able to have success defensively.
Dartmouth is playing a solid team this week and it's a good Ivy league measuring stick. New Hampshire is the home team and should pick up the win at home
Fearless Prediction: New Hampshire 21, Dartmouth 17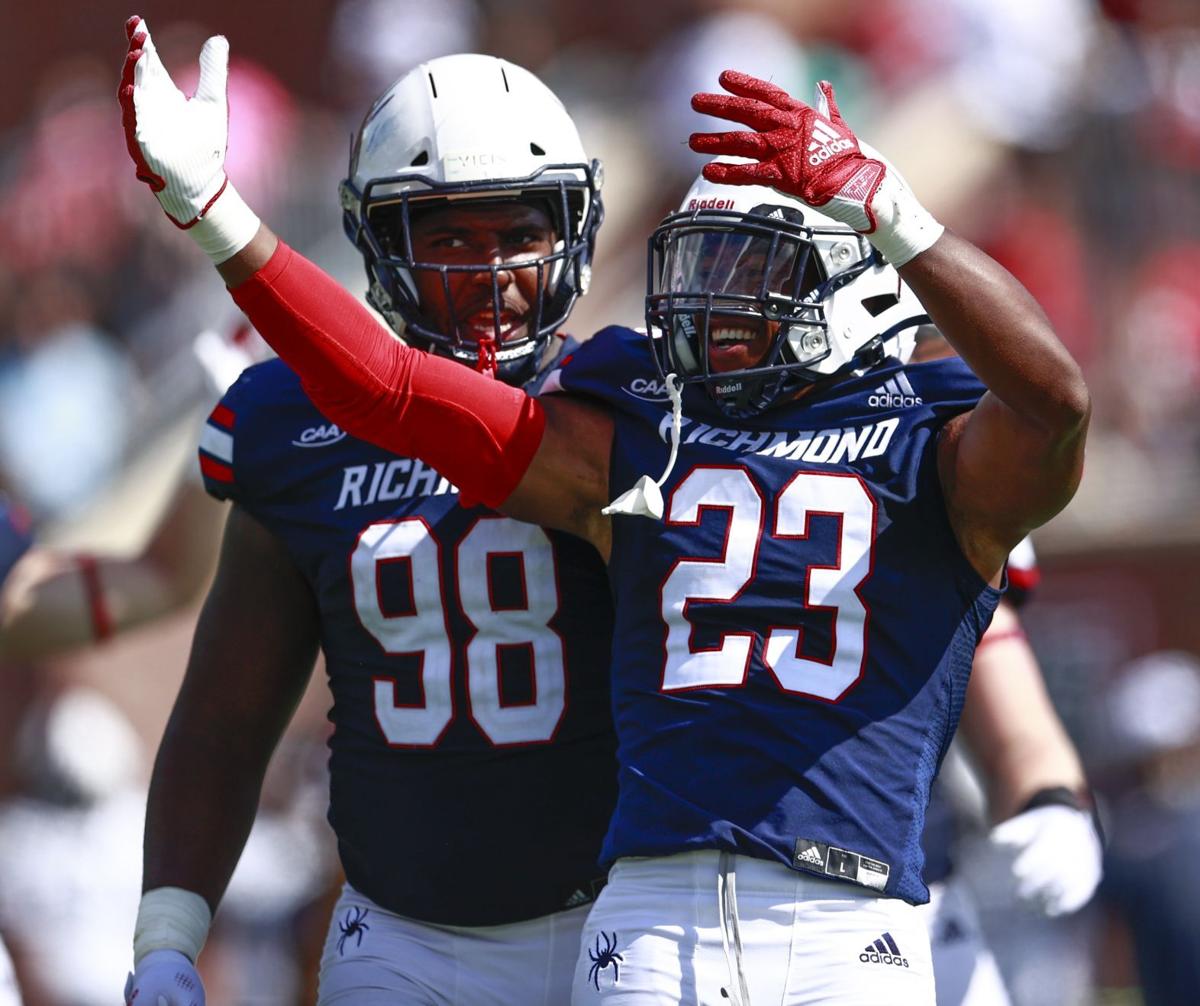 #8 James Madison at Richmond Saturday October 16, 2:00pm FloSports/NBC Sports Washiongton
James Madison suffered its first loss of the season when they could not score in the second half against Villanova last week. It was the first home loss in 19 games for the Dukes. JMU is still allowing just 18 points per game and 251 yards. The rush defense allows 52 yards per game and is second in the FCS in that category. The Dukes' top two receivers, Antwane Wells and Kris Thornton have combined for 68 catches for 880 yards and nine touchdowns so far this season. Defensively, James Madison has 41 tackles for loss, keeping their opponents behind the sticks on many plays. The Dukes will be looking to bounce back with a strong performance against a rival this weekend.
Richmond is coming off a bye following a loss to Elon. Joe Mancuso is still recovering from the broken finger he suffered against Villanova and will miss another game this weekend. That means Beau English will get another start. The Spiders will try to stick to the run game where Savon Smith average around 100 yards per game and have scored five touchdowns. Defensively, Richmond will look to stop the run. Their front seven is as good as any in the country and has 30 tackles for loss so far this year. Keeping James Madison in third and long will be key for the Spiders
This is a rivalry game and even though James Madison has dominated as of late, they should still be ready for a fight from Richmond. In the end, I think the Dukes bounce back big from their first loss of the season
Fearless Prediction: James Madison 31, Richmond 16
#6 Villanova at Albany Saturday October 16, 3:30pm, FloSports
Villanova is coming off one of its biggest wins in recent memory in their road win against James Madison. The Wildcats held the Dukes scoreless in the second half and got just enough points on the board to win the game. Their only loss this season is to FBS Penn State. Villanova only allows 280 yards per game. Finding yards against this defense led by Forrest Rhyne is tough. They have scored 33 total touchdowns and given up just 17. Daniel Smith has thrown for 1078 yards and 11 touchdowns on the season, six of which have gone to Rayjoun Pringle, who scored the game winning touchdown last week. The Wildcats must stay focused and not let down in what could be a trap game this weekend.
Albany is still winless on the season, a season in which they were expected to compete in the CAA. But the Great Danes have not been able to get the offense going at all scoring just 16.6 points and gaining 254 yards per game. The quarterback play has been abysmal to say the least. Joey Carino started last week instead of Jeff Undercuffler and gave the Great Danes a spark. They let a 21-3 halftime lead slip away in the second half. Their defense hasn't been much better, allowing nearly 400 yards per game.
This game has mismatch written all over it. Even with Villanova coming off an emotional upset win, I don't expect any let down from them. They are too well coached.
Fearless Prediction: Villanova 44, Albany 13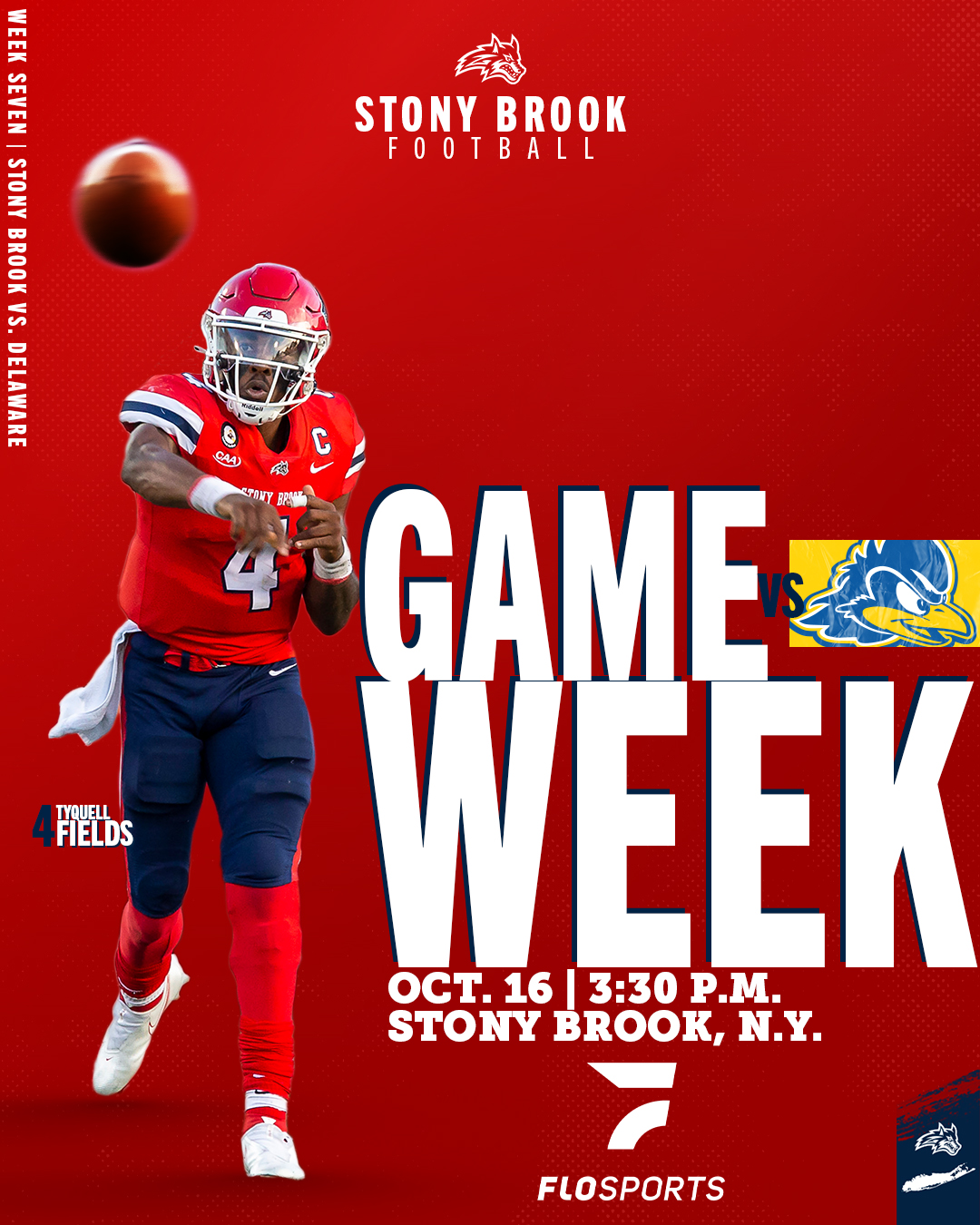 #14 Delaware at Stony Brook Saturday October 16, 3:30pm, FloSports
The key for Delaware in recent memory has been what kind of quarterback play they will get. In the spring, Nolan Henderson took that next step and led the Blue Hens to the semifinals. But his nagging hip injury has had him in and out of games. Zach Gwynn has not been able to carry the load in his absence and it finally bit them last week in a loss at Rhode Island. Dejoun Lee is leading the rushing attack with nearly 100 yards per game. And when they have needed a big catch, Thyrick Pitts seems to come up with it. But they'll need more consistency out of the quarterback position or their season could spiral downward, and quickly.
Stony Brook enters this week 1-5 and 0-3 in the CAA. Each of their CAA losses has been decided by one score. They just keep coming up on the wrong end of those finishes. They took Rhode Island to overtime two weeks ago and fell to Towson last week. The Seawolves only score 16.7 points per game. Ty Son Lawson is the only offensive player remotely contributing. He has 533 yards and six touchdowns. Tyquel Fields has run for four touchdowns but has thrown only three and has yielded seven interceptions. The defense keeps them in games, but doesn't get enough key stops to win games.
With the Blue Hen quarterback issues, its tempting to pick a big upset here. But the Seawolves usually find a way to shoot themselves in the foot. Look for a low scoring game
Fearless Prediction: Delaware 17, Stony Brook 13
#12 Rhode Island at Towson Saturday October 16, 4:00pm, FloSports
Rhode Island continued their unbeaten start to their season with a win over Delaware last week. What they cant do is get caught looking ahead to next week's game at Villanova. In recent years, even if the Rams could move the ball, the defense couldn't keep the opponent out of the end zone. That's not the case this year. Rhody is allowing just 18.6 points per game. They've forced nine turnovers and have 27 tackles for loss. Offensively, Tennessee transfer Kasim Hill is leading the way. He has thrown for nearly 1100 yards and six touchdowns with just two interceptions. He also has four rushing touchdowns. Antrum Justice has 453 yards and four touchdowns on the ground.
Towson is kind of a forgotten team in the CAA this year. They are 1-1 in conference but don't overwhelm you on either side of the ball. Offensively they don't even gain 300 yards per game on average. On defense they allow 370, a number inflated by an FBS loss to San Diego State and a loss to North Dakota State. The Tigers broke a 3 game losing streak last week with a 21-14 win over Stony Brook. Overall there are no real standouts for Towson. They don't have the big numbers from any one like they recently got from Terrance West or Tom Flacco.
If Rhode Island comes into this game focused on just this game and not whats in front of them next week, they'll win easily. Towson doesn't have the skill to matchup with the Rams.
Fearless Prediction: Rhode Island 30, Towson 14
Jamie is a proud 2002 graduate of James Madison University. He's witnessed the growth of the program from no one in the stands in 1998, to the hiring of Mickey Matthews, to the 2004 National Championship, to the 2008 team, to the struggles in the early 2010s, and finally the rebuild under Mike Houston. He also allegedly really enjoys Washington, DC-based Stanley Cup winners.
Reach him at: