Last week's results in the CAA left us with one team unbeaten in conference and six others with a single loss. Villanova is clearly in the driver's seat, but the battle for playoff spots is far from decided in the CAA. Look for the conference to have anywhere from three to five bids come Selection Sunday.
Maine jumped out to a 17-0 halftime lead and never looked back in a 27-16 win over William & Mary. Derek Robertson had 223 yards passing and two touchdowns for the Black Bears. The Tribe turned the ball over three times and didn't force any for the first time this season.
New Hampshire was never in their game against in state foe Dartmouth out of the Ivy League. Dylan Laube ran for 139 yards on just six carries including touchdowns of 75 and 53 yards.
James Madison bounced back from its first loss of the season by suffocating Richmond 19-3. The Dukes struggled to score in the red zone, but Ethan Ratke made four field goals. The Spiders never got any traction and were held to just 188 total yards of offense for the game.
Villanova avoided the letdown after a big win by beating Albany 17-10 in a rain soaked contest. A muffed punt scoop and score late in the first half provided the winning margin. The teams combined for five turnovers in the wet conditions.
Delaware continued to be hindered by quarterback injuries in their 34-17 loss to Stony Brook. The star of the day was TySon Lawson who ran for 192 yards and two touchdowns including a 99 yarder. Thyrick Pitts had 115 of the Blue Hens 199 receiving yards on the day and both touchdowns.
Towson upset previously unbeaten Rhode Island 28-7. Towson scored three rushing touchdowns on the day while holding the Rams to just 162 yards of total offense.
All twelve teams are in action this week in conference play.
Last Week: 2-4, Season: 42-10
Maine at Albany Saturday October 23, 1:00pm, FloSports
Maine was finally able to put a complete game together on both sides of the ball last week in their win over William & Mary. Derek Robertson had his best game as a starter so far with 253 yards and two touchdowns. They also did not turn the ball over. The Black Bears hope this is the start of their run of improvement. Currently they average just 314 yards and 21 points per game while allowing 443 and 34. In five games, Maine only has eight touchdowns. Robertson has taken care of the ball in his time under center with only one interception. Maine would be well served to establish the run and then feed passes to Andre Miller. Defensively, theres no question why they allow so many yards and points: they have eleven tackles for loss and one sack on the entire season.
Albany gave Villanova all they could handle last weekend. But they still fell short of victory. The Great Danes are winless on the season, which is obviously result of struggling on both sides of the ball. Jeff Undercuffler has been in and out of the lineup and has been ineffective when he was in the game. The Great Danes average 255 yards per game on offense. That is not nearly good enough to win games. On defense Jared Verse does continue to produce for the Great Danes with 30 tackles, six for loss and five sacks.
Neither team really excels on offense so expect a low scoring game. Maine is a bit more complete this season, so go with the Black Bears.
Fearless Prediction: Maine 19, Albany 13
New Hampshire at Elon Saturday October 23, 1:30pm, FloSports
After winning their first three games of the season, New Hampshire has now lost three straight. Last week, they came off their bye with a non-competitive loss to Dartmouth. At 2-1 in the conference, the Wildcats are still in the mix for the conference and playoffs, but they can ill afford anymore trip ups. New Hampshire is in the same boat as a lot of other CAA teams – lack of offense and issues at quarterback. Defensively, the big loss to Pitt is hurting their numbers as they average 450 yards against, but the Wildcats have a good defense, especially in the secondary with eight interceptions. They also have 17 sacks and 36 tackles for loss. The strength of the New Hampshire offense has been the running backs -Carlos Washington and Dylan Laube. They would be well served to run the offense through those two and work from there
Elon has quietly won two straight games after starting the season 1-3. The Phoenix were projected as 12th in the CAA in the preseason. I always felt that was off base and a result of their poor spring due to injuries. They are 2-1 in the CAA, but still have the conference gauntlet to run including back to back games against James Madison and Villanova. Davis Cheek has played every game and has played extremely well and is back to his old self. Cheek has 1734 yards to lead the CAA and 11 touchdowns and only two interceptions. Cheek has always protected the ball well. Elon needs to run the ball better. They have an excellent back in Jaylan Thomas. But the offensive line has struggled, as the Phoenix only average 3.1 yards per carry.
This is an interesting game to project. Both have had good and bad moments this year. The Elon offense looks a little more complete
Fearless Prediction: Elon 27, Maine 17
#7 James Madison at #23 Delaware Saturday October 23, 3:00pm, FloSports
James Madison bounced back from their loss to Villanova with a dominant win over rival Richmond on the road. The Dukes offense continued to sputter in the red zone. They settled for four Ethan Ratke field goals instead of touchdowns. They'll have to be much better in the coming weeks to compete for a title. The Dukes like to establish the run but have not done a great job of that in the last few weeks. In the pass game, Cole Johnson is second in the conference in passing yards while receivers Kris Thornton and Antwane Wells are first and second in receptions and third and first in receiving yards. Defensively, James Madison had six sacks and allowed just 188 yards against Richmond. In six games the Dukes have 49 tackles for loss and 19 sacks and have forced ten turnovers.
Delaware is struggling to find a healthy quarterback week after week. Nolan Henderson is still out, and Zach Gwynn is questionable for this weekend's game. If Gwynn cant go, itll be Cade Pribula and Anthony Paoletti. If Paoletti is in, the call will most likely be a run and JMU has one of the top run defenses in the country. Delaware will lean on Dejoun Lee who averages just under 100 yards per game. But he has been over 90 yards the last four games. They will need that and more from him this weekend. When they pass the main target is Thyrick Pitts. Teams know this and Pitts still performs. Pitts has 6 of the seven Blue Hens' touchdown receptions. The defense will be without their leading tackler, Colby Reeder. The Blue Hens are a banged up bunch but are well coached and have solid depth.
James Madison is healthier and more talented than Delaware at this point of the season. Don't expect this game to be exceptionally close.
Fearless Prediction: James Madison 31, Delaware 10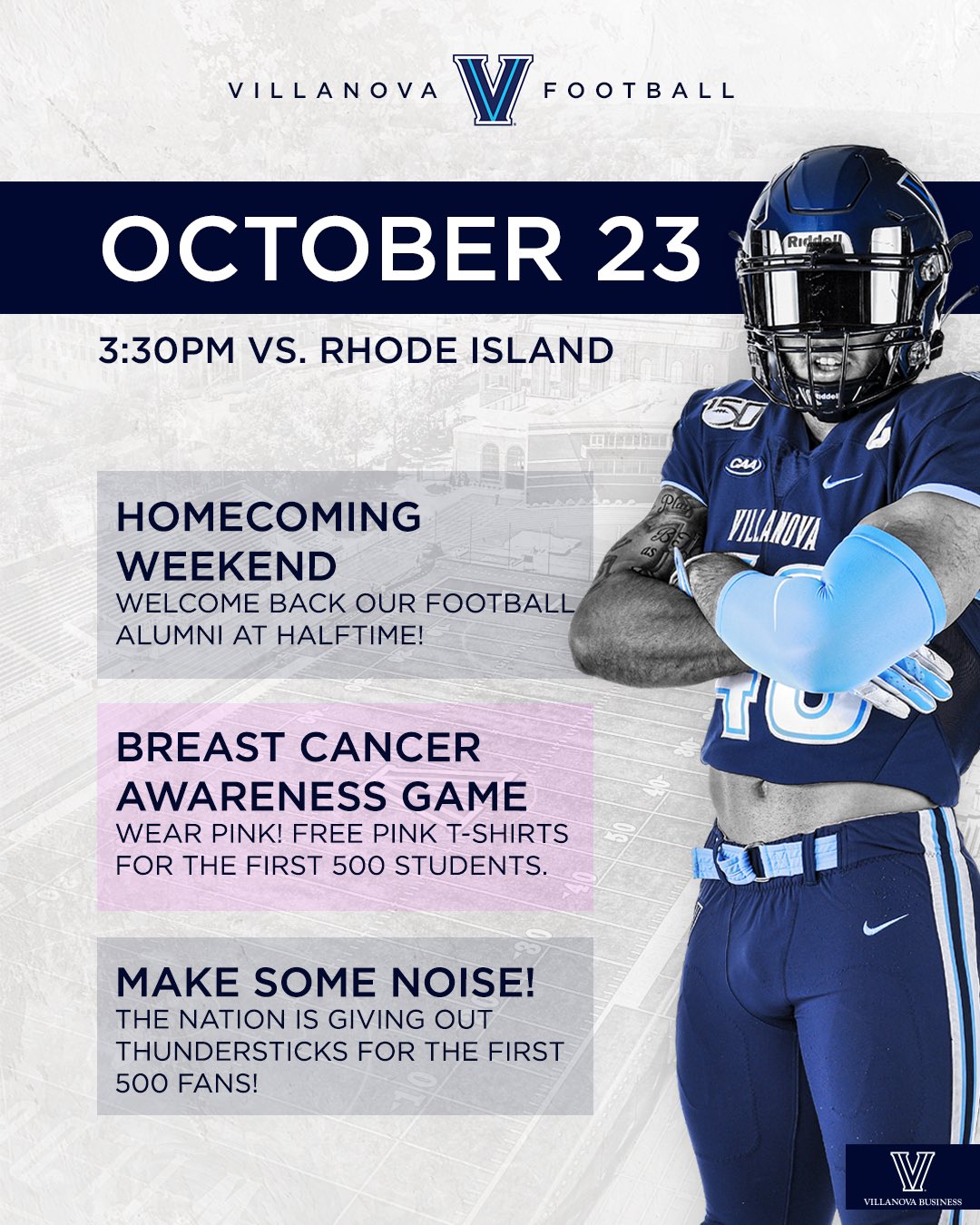 #18 Rhode Island at #5 Villanova Saturday October 23, 3:30pm, FloSports
Rhode Island suffered their first loss of the season last week at Towson. The Rams struggled offensively, gaining just 162 total yards and scoring a single touchdown. That kind of effort will not work this weekend against Villanova. Antrum Justice has 515 yards and six touchdowns on the season. He leads a solid Ram offense. Kasim Hill has been good for the Rams with 7 touchdown passes, but his 53% completion percentage needs to improve if the Rams are going to beat a team like Villanova. Hill has also kicked in 206 yards rushing and four touchdowns. On defense, Jordan Jones has been a no fly zone with five interceptions. He will most likely matchup against Rayjoun Pringle in an excited one on one matchup
Villanova is unbeaten against FCS competition this season. They avoided a trap game last week in a wet win over Albany. Unless Delaware can get healthy by the end of the season, this week could be the Wildcat's last real test before the playoffs. They'll be favored in every game the rest of the way. Allowing just 18 points and 276 yards per game, the Wildcats defense is suffocating and one of the best in the FCS. Couple that with an offense that scores 33 points and you have one of the top teams in the country. Daniel Smith has returned to form with 12 touchdowns. Six of those touchdowns have gone to Rayjoun Pringle. Defensively, Forrest Rhyne has 52 tackles and Christian Benford has four interceptions and broke up another eight passes. This is one of the more complete teams in the FCS.
Some luster came off of this game with Rhode Island's loss last week. But it should still be a competitive game. With the Wildcats at home and running at full trim, its hard to see them losing this game.
Fearless Prediction: Villanova 30, Rhode Island 24
Richmond at Stony Brook Saturday October 23, 3:30pm, FloSports
Richmond is another CAA team with a big question mark at quarterback. If Joe Mancuso is healthy and can play, it's a no brainer. But they aren't sure he will be ready. Backup Beau English hasn't been very effective, but he is also nursing an injury. It may come down to Jackson Hardy. With quarterback uncertainty, Richmond is going to have to rely on their veteran offensive line to keep the quarterback who does play upright and open lanes for Savon Smith and Aaron Dykes. The defense played well against James Madison, holding the Dukes to 19 points including four times in the red zone holding them to field goals. The defense is led by lineman Kobie Turner and linebacker Tyler Dressler.
Stony Brook had played three one score conference games prior to last week and lost them all. Finally, last week against Delaware, the Seawolves broke through. Ty Son Lawson led the way in the victory with 192 yards and two touchdowns including one for 99 yards on the first play from scrimmage. Lawson is the CAA rushing leader entering play this week with 736 yards and eight touchdowns. On defense for the Seawolves linebacker Tyler King has 62 tackles and 8.5 for loss. Defensive lineman Makye Smith has nine tackles for loss and four sacks.
If Mancuso plays, the pick here would swing to Richmond. Without him, Stony Brook is the pick. So, we are going to do the unconventional thing and pick it both ways.
Fearless Prediction with Mancuso: Richmond 24, Stony Brook 20
Fearless Prediction without Mancuso: Stony Brook 20, Richmond 10
Towson at William & Mary Saturday October 23, 3:30pm, FloSports
After testing themselves with a tough out of conference schedule, Towson is starting to reap the rewards with two straight conference wins. The latest came against previously unbeaten Rhode Island where the Tigers easily won 28-7. The offense still needs to produce more, averaging just 303 yards per game. But typical of a Rob Ambrose team, the Tigers play strong defense, allowing just 335 yards per game, including just 163 through the air, which is 11th in the FCS. The Tigers do it with their coverage. They only have three interceptions on the season. On offense Chris Ferguson is starting to get his feet under him in the offense. He has completed over 60% of his passes and has eight touchdowns against just three interceptions.
William & Mary suffered its first loss to an FCS team last week against Maine. The Tribe had been winning by forcing turnovers at the opportune times. That script flipped on them last week when the Tribe committed three turnovers and forced none. With an offense that doesn't pick up a lot of yards especially in the passing game, the short fields helped the Tribe get into the end zone. They do average a strong 186 yards per game rushing which leads the CAA. They have three players who average over 46 yards per game, so the opposing defense has to be aware of who is on the field at all times. Defensively, the Tribe's line is aggressive and is led by Nate Lynn and Will Kiely who have combined for 10.5 sacks and 14 tackles for loss.
These are two evenly matched teams. The game will most likely come down to a key turnover or big play on special teams. The Tribe has shown the ability to make those plays so far.
Fearless Prediction: William & Mary 24, Towson 21
Jamie is a proud 2002 graduate of James Madison University. He's witnessed the growth of the program from no one in the stands in 1998, to the hiring of Mickey Matthews, to the 2004 National Championship, to the 2008 team, to the struggles in the early 2010s, and finally the rebuild under Mike Houston. He also allegedly really enjoys Washington, DC-based Stanley Cup winners.
Reach him at: