Eastern Washington vs. North Dakota State, FCS National Championship Game
When: Saturday, January 5th, Noon EST
Where: Toyota Stadium, Frisco, TX
TV/Streaming: ESPN2 / Watch ESPN
Eastern Washington Eagles (12-2)
Cheney, Washington
Big Sky Conference
Enrollment: 10,761
FCS Sagarin Rating: 3
CSJ FCS Championship Team Preview: Eastern Washington's Road to Frisco for a Second Time this Decade
Eagles Path Through the Playoffs
Round of 16: Blocked Field Goal Returned for Touchdown Swings Momentum Eastern Washington's Way to Defeat Nicholls 42-21
Quarterfinals: Barriere, McPherson Combine To Have Eastern Washington Outlast UC Davis, 34-29
Semifinals: Barriere, Eastern Washington Rout Maine 50-19 for a Ticket to the National Title Game
Key Players:
Jamie: QB Eric Barriere. Since taking the reins of the Eastern Washington offense following the injury to Gage Gubrud, Eric Barriere has been electric. Barriere has thrown for 2254 yards with 24 touchdowns and just seven interceptions. Where Barriere separates himself from other quarterbacks at the FCS level is his running ability. He has the breakaway speed you expect from a running back. On the season he ran for 603 yards and seven more touchdowns, including 6.7 yards per carry. Barriere put a huge stamp on his season with his performance in the semifinal game against Maine where he threw for 352 yards and seven touchdowns and added another 53 on the ground. Barriere is the ultimate key player in this game. If he can have another big game, his offense may be too much for the Bison to keep up with. If the nerves get to him and he lacks in his decision making, the Bison will eat him alive and it will be a long day for the Eagles. One thing is for sure, in order for the Eagles to win, Barriere must play mistake free football on Saturday.
Kent: RB Sam McPherson had three 100-yard rushing games in his last four games. He also rushed for over 1,000 yards this season–the first players since 2013 for the Eagles. McPherson has 1,208 yards this year and has 2,001 yards in his career, along with 15 touchdowns. He also has 626 receiving yards on 66 catches in his career and 21 total touchdowns. He has even thrown the ball a perfect 6-of-6 for 155 yards and three scores. McPherson will be a key to the Eagles to get the running game going in this game to balance out the passing of Barriere. He will need to provide a threat in the running game for the Eagles to have a shot in this game.
Chuck: DE MItchell Johnson wasn't expected in the preseason to be a huge impact player on the defensive line as a redshirt freshman, especially as a converted linebacker. Instead, he put on fifteen pounds and went from second team to starter, where he was a critical member of Eastern Washington's pass rush early, leading the team with 8 tackles for loss. As the playoffs rolled on, he faded more into a backup role, but he'll be expected to be a spark in the defensive line rotation. If he can unload on Easton Stick a couple of times, that would help the Eagles' chances immensely.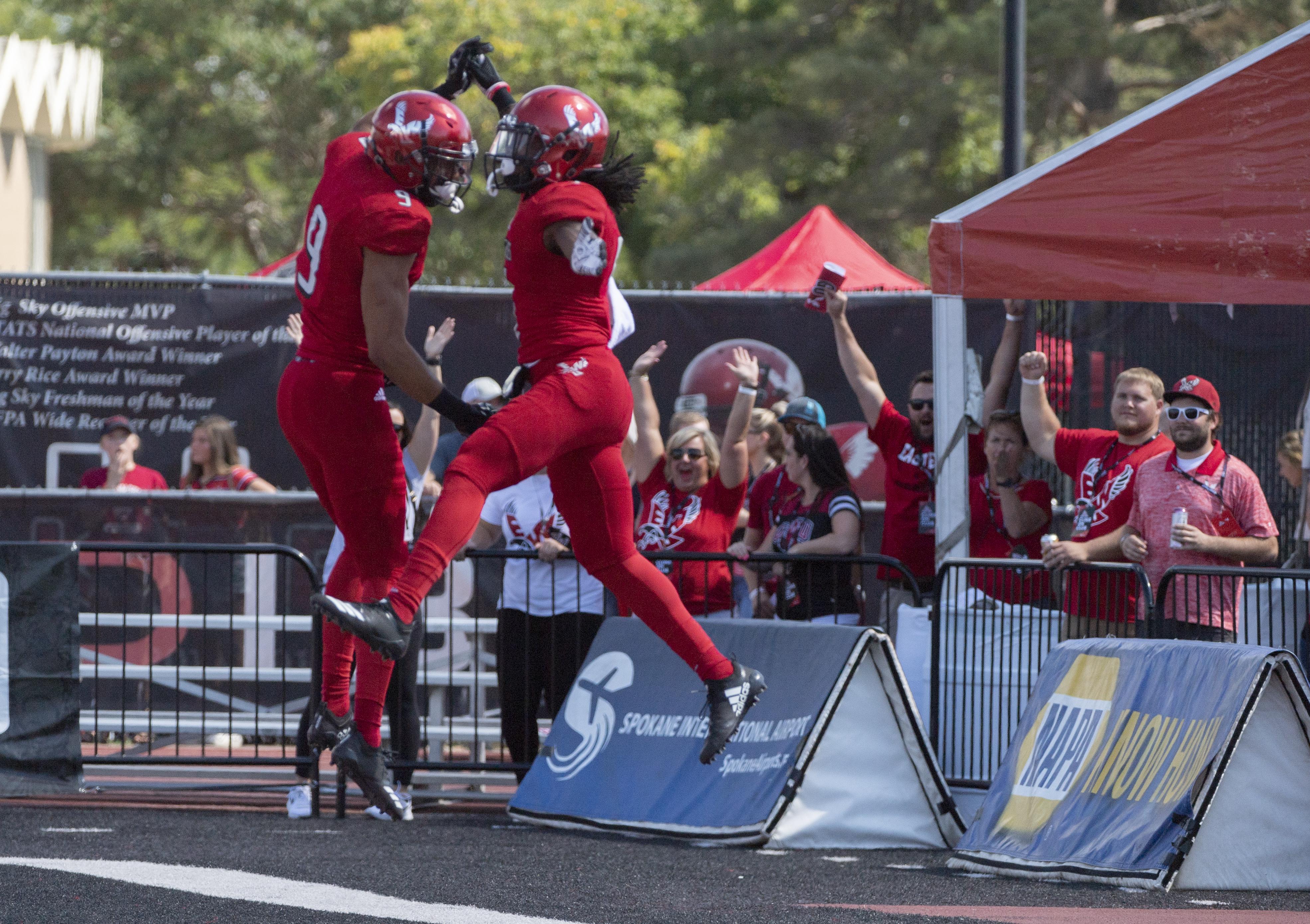 Fantasy Players to Watch:
Jamie: WR Nsimba Webster. Of Barriere's seven touchdown passes against Maine, 4 of them went to Webster as part of his nine catches for 188 yards. Webster is the clear number one receiver for the Eagles having accumulated 80 catches for 1287 yards and 11 touchdowns in the 14 games this year. There have been a couple of games this year where Webster was not much of a factor. But when he has been counted on, he has usually delivered. The championship game should be no different. Webster will have double digit targets. When a big play is needed, Barriere looks his way. Look for Webster to have between 6-10 catches and go over 100 yards with at least one touchdown in the game.
Kent: LB Ketner Kupp is not only Cooper Kupp's (former EWU Walter Payton Award WR and current Los Angles Ram) younger brother, he is now the star on the other side of the ball. He leads the team in tackles (104) and has 256 tackles in his career. He had a career high 16 tackles in the quarterfinal win over UC Davis and had 12 against Nicholls in the second round. Also in the Nicholls game, he returned an interception 95 yards–one yard short of the school record. Look for Kupp to be very active on the Eagle defense in stopping the NDSU rushing attack and to mount a great fantasy total from the defensive side.
Chuck: TE Jayce Gilder isn't the top guy one thinks of when thinking of Eastern Washington's offense, but he has this funny way of getting in the end zone, something he did twice in EWU's 50-19 romp over Maine. If this becomes a shootout, Gilder might find the end zone again.
Eastern Washington Keys to Victory:
Jamie: Keep Eric Barriere upright. Anyone who has watched North Dakota State this decade knows they have a dominant defensive line. It's a big part of their identity. Their ability to get into the backfield and disrupt a quarterback's timing or stop a running back for a loss has been a recipe for success. Eastern Washington's offensive line will have to play their best game of the season to keep Barriere from falling victim to multiple sacks. If Barriere can have time to read the defense, his receivers should be able to have some success against the Bison secondary. North Dakota State really doesn't have any weaknesses, but compared to the other units on the team, the secondary lags behind the rest, although Robbie Grimsley may have something to say about that. If Barriere is going to run, he will need to find and hit the hole immediately and not second guess himself. If he waffles with a decision, there will be no shortage of Bison defenders ready to make the play.
Kent: The Eagles key to winning this game is to win the turnover margin. The Eagles also lead the FCS in defensive touchdowns with six (and nearly had a seventh in the playoff win over Maine when CB Josh Lewis returned an interception as close as you can get without scoring to the one-yard line). The Eagles rank second in the country with 32 turnovers gained and was third with 20 interceptions. The Eagles also rank 12th in turnover margin (+0.79/game). Holding onto the ball when they have it and getting turnovers from the Bison will be the key to an Eagle victory.
Chuck: Eastern Washington's run through the playoffs were based on grabbing momentum that was impossible to stop. Against Maine, they burst out of the gate fast and made the game a laugher. Against Nicholls, they were losing in the first half but scored on a big special teams blocked FG and seemed to ride that momentum into a huge offensive second half. Getting a wave of momentum, and getting their RPO momentum going, will be key to their chances of victory. Can they catch one more wave?
North Dakota State Bison (14-0)
Fargo, North Dakota
Missouri Valley Football Conference
Enrollment: 13,796
FCS Sagarin Rating: 24 (1 in FCS)
CSJ FCS National Championship Team Preview: North Dakota State's Road to Frisco for the Seventh Time in Eight Years
Bison Path Through the Playoffs:
Round of 16: Dunn and the North Dakota State Rushing Attack Overwhelm Montana State, 52-10
Quarterfinals: Stick, Stout Defense Lead Top Seeded North Dakota State to a Shutout of Colgate, 35-0
Semifinals: Stick, North Dakota State Beats South Dakota State, 44-21 to Advance to National Title Game
Key Players:
Jamie: LB Jabril Cox is only a sophomore, but he plays like a senior. Cox was key in the Bison championship victory last year and will be a key in this year's game as well. Cox will very likely be used as a spy on Eastern Washington quarterback Eric Barriere to prevent him from doing as much damage in the run game. Cox has excelled in this role in the past, and as recent as the semifinal game. On one particular play, Cox spied Taryn Christion, mirror his movements. As Christion broke the pocket, Cox exploded and dropped Christion for a big loss on the play. Cox is also good in coverage and stopping the traditional run game. He plays sideline to side line and is a three down linebacker. If Cox can help keep Barriere at bay, it could be a long day for the Eagle offense.
Kent: QB Easton Stick already has tied the FCS mark in career victories for a signal caller with former NDSU QB Brock Jensen and can break the mark in this game with his 48th career win. Stick, who is a Walter Payton Award finalist, did not have the gaudy numbers that possibly the other two finalists of Kennesaw State quarterback Chandler Burks and Samford quarterback Devlin Hodges but still can beat a team with both his passing and running abilities along with his wherewithal to put the Bison in the right play. He has already won one national title game as a starter and was instrumental in his freshman season in starting all the playoff games until the national title game when former and current Philadelphia Eagle QB Carson Wentz came back to play. He will need to continue that trend of keeping the Bison offense in the right play for the Bison to secure their seventh Division I national title.
Chuck: Could North Dakota's secret weapon be P Garret Wegner? An AP all-American, the sophomore from Lodi, Wisconsin averages 43.2 yards per punt and was a critical weapon when it came to pinning teams deep in their own end. Pinning Eastern Washington in bad offensive situations will be critical in keeping their offense gorunded, and Wegner could be a big part of that.
Fantasy Players to Watch:
Jamie: RB Bruce Anderson has seemed unstoppable at times. And when he gets near the end zone, you know he is punching the ball in. Anderson runs with power, but also has breakaway speed in the open field. To go along with his 9 rushing touchdowns, Anderson also has three touchdowns receiving. He is always a threat when he is on the field, no matter the down and distance. With the Bison having their full complement of backs available for the game, they should all be fresh from start to finish. Look for Anderson to eclipse the 100 yard mark and score multiple touchdowns.
Kent: WR Darrius Shepherd is in the top three all-time on the NDSU receiving record chats for catches and yardage. He has the fourth most receiving yards and receptions in team history with 940 and 57 respectively. He also has a team high seven touchdowns this season. And those that look at last year's win over James Madison, his long touchdown reception was a key to the Bison win. Look for him to have some very good numbers receiving as Eastern Washington plays against the running game first as he is Stick's top receiving outlet.
Chuck: DB Robbie Grimsley was also a first-team AP all-American and he'll be one of the key players that will be looking to slow down or reverse the Eastern Washington passing game. He'll be looking to add to his interception total (6) in this year's Championship game.
North Dakota State Keys to Victory:
Jamie: Run the ball. North Dakota State resets the line of scrimmage better than any team in the FCS. The Bison offensive line has a size advantage over the Eastern Washington and they should look to exploit that in the run game. The Bison also have a stable of running backs all healthy and ready to go in Frisco. The Bison run attack is led by Bruce Anderson and Lance Dunn. The pair combined for 1743 yards and 21 touchdowns on the ground. The pair is averaging 6.5 yards per carry. If both of those guys are on the sideline, the opposing defense doesn't get a break, because Lance Brooks and Adam Cofield each average 6.9 yards per carry in spot duty. And then there is Easton Stick. The Bison quarterback is so smart and does not make mental mistakes. He will tuck and run when he sees the lane open up. All of that talent adds up to 285 yards per game on the ground. If the Bison can frustrate the Eagles with their run game by continuing to move the chains and chew clock, the game could get late early. Anderson seems to have a nose for the end zone. When he gets close, you know he is going to find a way in. The Eagles are going to be missing some key starters on the defensive side of the ball, including Big Sky Defensive Player of the Year Jay-Tee Tiuli. That is a bad recipe when facing a run game as potent as North Dakota State.
Kent: The key for the Bison in this game is to play like a champion like they have in their past six national title games. The way they played was to play a strong defense and a ball-control offense. The Bison also were dominating on the offensive and defensive lines and the fourth quarter usually paid the dividends with NDSU controlling a tired opposing defense. With the number of starters out for the Eagles, their backups have played nearly as strong but how NDSU plays well is to wear-out a defense and is able to control the later part of the game. The Bison also have limited their turnovers and gained turnovers in their past six title contests and that will be another key to NDSU hoisting its seventh Division I national title trophy.
Chuck: Though it's tempting to say "simply show up", like the Bison seem to do every year in Frisco, the most critical thing they will need to do is to douse a whole lot of water on the pace of the game. NDSU needs to play their slow, methodical, grinding game to keep Eastern Washington's offense off the field and to keep any momentum away from the Eagles. If NDSU controls the tempo, they're likely to win another national championship.
Fearless Predictions:
Jamie: For all of the complaining the masses did about playoff bracket when it was released, we are left with the two best teams playing in Frisco. Eastern Washington has its typical strong offense, but they also come in with a much improved defense. This is a team that can hang with the Bison. The Bison boast their typical strong defense, but also have an offense that seems to score at will from time to time. A lot of people are expecting the Bison to march in to Frisco and easily win their seventh championship in eight years. But in the famous words of Lee Corso, "not so fast my friend." The Eagles fan base will be the one rushing the field this year. Eastern Washington 35, North Dakota State 31.
Kent: As I mentioned in the semi-final game preview for the NDSU versus South Dakota State, I thought that game really would be the national title game. Eastern Washington is a very good story with making it to the national title game especially considering all the injuries they have had to endure but their run will end with this game. NDSU is just too strong and playing for coach Chris Klieman for the last time, they will be motivated to send him to Kansas State a four-time national champion. North Dakota State 38, Eastern Washington 24
Chuck: I can't get over the fact that the story of this game will be momentum, and the fact that the Bison just bring an impossible amount of experience and poise to this game. The Bison know how to sit on an opponent and frustrate them in Frisco- they do it every year. Once again, they'll get the job done. North Dakota State 31, Eastern Washington 13