Tulsa at Cincinnati
When: Saturday, December 19th, 8:00 PM EST
Where: Nippert Stadium, Cincinnati, Ohio
TV/Streaming: ABC / WatchESPN
This championship game was supposed to be a rematch as the two teams were scheduled to play in Tulsa with the winner getting the home field advantage for the AAC title game.
But COVID-19 got in the way last week to allow the two teams to meet in Oklahoma so the game went to the College Football Playoff rankings where Cincinnati at #9 is set to host the game. Tulsa is currently ranked #23.
The undefeated Bearcats have progressed towards this championship contest this year. Cincinnati two years ago won 11 games but were edged out by UCF for the AAC East Division crown. But last year, the Bearcats edged a step closer with a similar 11-win season but won the AAC East crown. UC, however, fell at Memphis in the AAC title contest.
This year, Cincinnati hosts Tulsa, who had a much larger turnaround to get to this game. The Golden Hurricane last year finished just 4-8 overall and just 2-6 in AAC play. There were talks of Coach Philip Montgomery not staying in Oklahoma's second largest city. But the Tulsa administaration stayed the course with Montgomery and he turned his team around completely.
Tulsa is also undefeated in AAC play like Cincinnati and its only blemish was the first game of the season at in-state foe in the Big 12's Oklahoma State.
At the #9 spot in the CFP rankings, the Bearcats may have a chance at getting into the top 4 but a lot has to happen. Likely, Cincinnati will need to defeat Tulsa by a large margin and then hope that Notre Dame hands Clemson its second loss in the ACC Championship game and Northwestern upsets Ohio State in the Big 10 championship game. Of course, Cincinnati is also ranked below a two-loss Big 12 Iowa State currently but could springboard them should Iowa State lose to Oklahoma. Texas A&M is also ranked above them and they play a make-up SEC regular season contest this weekend at Tennessee so there is another possibility.
But the CFP committee has never selected a Group of Five team and with the above scenarios, there would have to be a lot of chaos for the committee to consider Cincinnati, despite its possible undefeated record.
Also, defeating Tulsa handedly at least on paper does not appear to be a likely scenario either. Below are the two teams statistical comparisons:
Whichever team wins this AAC title game, it will be the first championship within this conference.
Cincinnati hopes to win a conference title for the first time since winning the Big East Conference back-to-back in 2011 and 2012.
Tulsa last won a conference title also in 2012 when the Golden Hurricane won the Conference USA title.
This is the 35th meeting in the series as Tulsa leads 17-15-2. but Cincinnati leads the series 2-1 while both teams have been in the AAC. Cincinnati won the last match-up a year ago 24-13 in a game closer than the final score as a Tulsa interception while trailing 17-13 led to a late touchdown for the Bearcats to prevail. See highlights of that last contest below:
Tulsa Golden Hurricane (6-1 Overall, 6-0 AAC)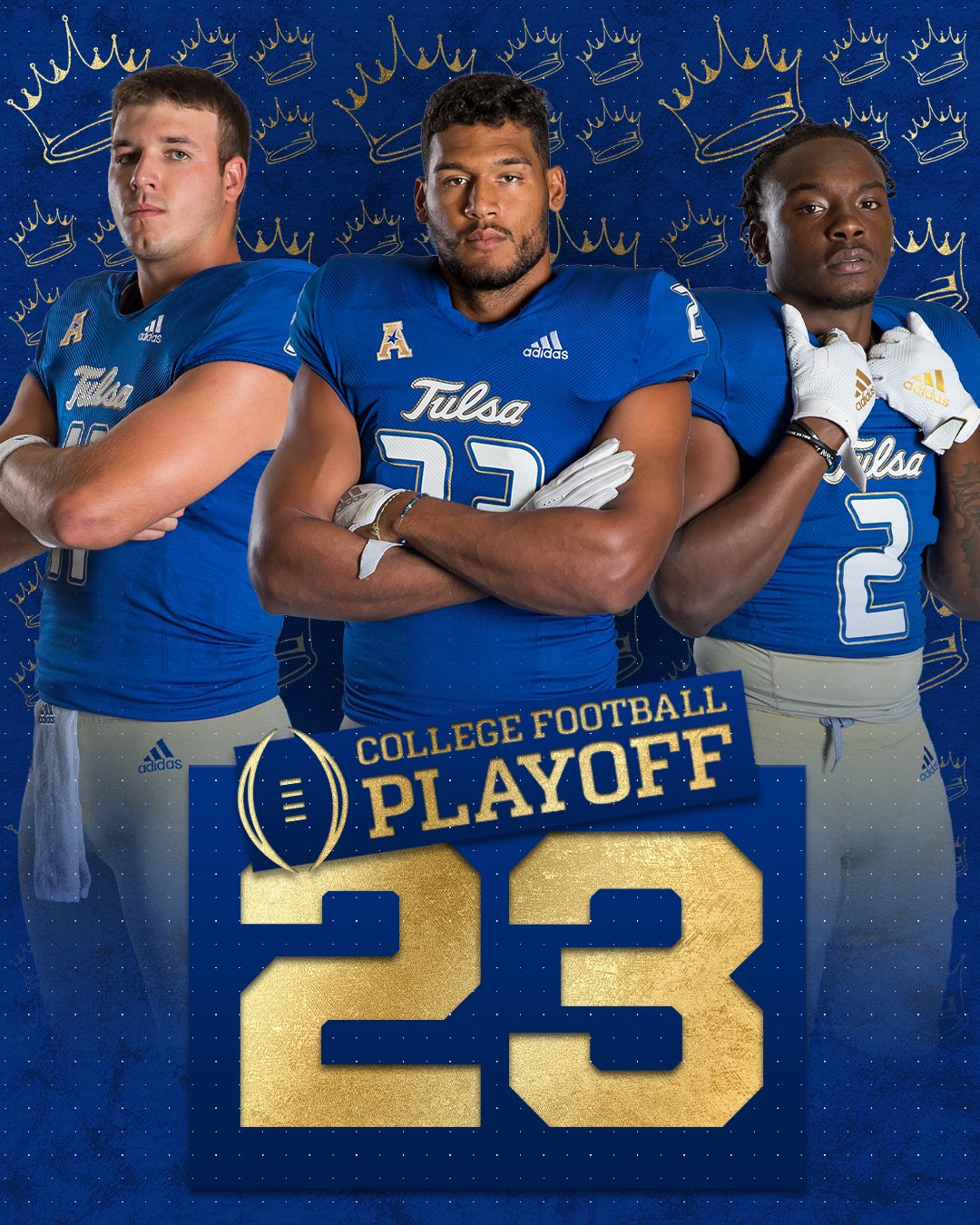 Location: Tulsa, Okla.
Head Coach: Philip Montgomery (31-38 @ Tulsa & Overall)
Season Recap:
As mentioned above, Tulsa started its season on the road with a close loss to Oklahoma State. But the Golden Hurricane have rattled off six straight wins all within AAC play to get to this championship game.
Tulsa got on everyone's radar during its wild overtime win against Tulane earlier this season.
QB Zach Smith has been the leader of the offense. He has led Tulsa to wins over ranked teams of SMU and UCF, as well as other victories over South Florida, East Carolina, Houston, and Navy. The wins over SMU and UCF marked the first time in Tulsa's history to defeat two Top 20 ranked teams in the same season.
Smith has 1,434 passing yards and 11 touchdown passes but has been sacked 10 times and has thrown six interceptions.
Tulsa's defense is the 20th best in the nation. Tulsa leads the AAC in third down stops. It starts with a whole slew of tackles for loss and a whole lot of toughness against the run.
LB Zaven Collins is the star on the this side of the ball. He is second on the team with 51 tackles to go along with four sacks and 11.5 tackles for loss, and he has four picks including a 96-yarder for a score in the 30-24 win over Tulane. That came after sealing the win over SMU with an interception.
Tulsa has had the ability to come back in several games this year so this team will not be counted out even if it falls behind early. The UCF, Tulane and SMU wins were games that the Golden Hurricane fell behind early but stormed back in the second half to pick-up
Best Win: at UCF, 34-26
Worst Loss: at Oklahoma State, 16-7
Key Player: QB Zach Smith
While Smith and the Golden Hurricane offense has shown the ability to come back from being down early, Cincinnati and its strong defense will be a bigger challenge. Smith will need to avoid the sacks and long third down conversations, as well as holding onto the ball to wear out the strong Bearcat defense. The running game for Tulsa has not been real impressive this year but he will need to mix in the run to keep Cincinnati honest. Punting and using the Tulsa defense against a long field will not be a bad solution in what I expect to be a lower scoring game.
Cincinnati Bearcats (8-0 Overall, 6-0 AAC)
Location: Cincinnati, Ohio
Head Coach: Luke Fickell (34-13 @ UC, 40-20 Overall)
Season Recap:
Cincinnati has had a great season and has used a strong defense and an improving offense to get this far undefeated.
The Cincinnati defense ranks fourth in in scoring defense (15.0 ppg), second in pass efficiency defense (94.74) and tenth in total defense (308.1) amongst all FBS teams.
This Bearcat defensive unit also currently holds the longest active streak in FBS with a forced turnover in 18 straight games and its done a great job of closing games out with just 18 fourth-quarter points allowed in its last five games combined.
The Bearcats have used that defense in winning all but one of its games by at least 14 points including a 49-10 drubbing of Memphis, the team it lost to in the 2019 AAC championship game. That one close game came in its last performance at UCF in a thrilling 36-33 win.
QB Desmond Ridder was the AAC Offensive Player of the Year. He has 21 touchdowns in the last five games, passing for 1,224 yards with 10 touchdowns and running for 455 yards (8.8 yards per carry) with 11 scores.
RB Gerrid Doaks, who also earned All-AAC honors, has nine total touchdowns in 2020 (7 rush/2 receiving), matching his career totals entering 2020. The senior has three 100-yard rushing games to lead the team.
Cincinnati enters into this championship game but have not played a game since Nov. 21st, the last one against UCF. Two games were canceled against Temple and Tulsa in that time due to COVID-19 concerns.
That lack of play will be a key for the Bearcats early to get the rust knocked off.
Best Win: at UCF, 36-33
Worst Loss: None
Key Player: QB Desmond Ridder
Ridder has been the biggest reason for the Bearcats improve play. Last season, he only connected on 55% of his passes. This year, he's tearing off bigger runs and he's hitting 67% of his throws with deeper plays. He was the starter, although injured in the loss last year in the AAC title game and will need to use that experience to help move the Bearcats against a very strong Tulsa defense.
Fearless Forecast:
Past AAC championship games have been offensive shootouts but this game might be the polar opposite with two strong defenses matching up here. The Bearcats on paper are the better team and also have the home field where Cincinnati has won 19 games in a row. There will also have a home crowd feel as the state of Ohio is allowing over 5,000 fans to attend. But with two strong defenses, I do not see this as a runaway victory for Cincinnati. Tulsa will be able to keep this close but in the end, the Bearcats will prevail. Cincinnati 27 Tulsa 17
Originally from LaMoure, North Dakota, Kent is a 1996 graduate of North Dakota State University. His prior writing experience is over 15 years having previously worked with D2football.com, I-AA.org, and College Sporting News before coming to College Sports Journal in 2016. His main focus is college football is the Missouri Valley Football Conference within the Division I FCS. And in 2017, he began also to look at the FBS Group of Five conferences of the American Athletic, Conference USA, Mid-American, Mountain West, and Sun Belt.
Reach him at this email or click below: