Boise State vs. San Jose State
When: Saturday, December 19th, 4:15 PM EST
Where: Sam Boyd Stadium, Las Vegas, Nev.
TV/Streaming: FOX / Fox Sports Live
The Mountain West Championship game is intended to be hosted by the top team in the league. That team this year is the surprising San Jose State. But 2020 and COVID-19 will not allow the Spartans to host the game in California and instead the game will take place in a sort-of-neutral site in Las Vegas. SJSU did play also in Las Vegas last week against Nevada as their home in the their clinching win to win the
San Jose State could not host as the county where they are located in California (Santa Clara County) has mandated no contact sports to played in their county. This is the first time San Jose State has made the MWC title game and are having their best season since 1939 with its undefeated start to this season.
Boise State is the like the polar opposite of SJSU as the Broncos are making their fourth straight appearance and fifth overall championship game. The Broncos finished undefeated in league play but had its one loss against independent BYU.
These two teams were scheduled to play in Boise on November 28th but the game was canceled just five hours before the scheduled kickoff due to a COVID-19 outbreak with the Broncos.
This is will be the 15th meeting all-time between these two schools and Boise State has more than dominated the Spartans as the Broncos have won all prior 14 meetings. The most recent game the two played was last year with Boise State winning a high scoring game 52-42. See highlights of that game below:
The two teams statistically are very similar as can be seen below:
Boise State Broncos (5-1 Overall, 5-0 MWC)
Location: Boise, Idaho
Head Coach: Bryan Harsin (69-18 @ BSU, 76-23 overall)
Season Recap:
The Broncos are coming off a 17-9 victory over Wyoming during a blizzard in Laramie. Given the whiteout conditions, the Bronco offense could not get a lot going but one bright spot was WR Khalil Shakir pulling in 8 catches for 105 yard. QB Hank Bachmeier completed 68 percent of his passes, going for 181 yards with one touchdown versus one interception.
On defense the Broncos held Wyoming's offense in check, limiting the Cowboys to just 146 total yards, the fewest allowed in a true road game in the last decade. BSU only allowed four completed passes as well.
Shakur is the team's leading receiver with 46 catches this season. Beyond Shakur, CT Thomas (17 rec.) is the only other wideout with double-digit grabs (although tight ends John Bates and Riley Smith have 12 and 11 catches respectively).
Bachmeier leads an offense that is the best scoring team in the league (36.2 ppg), a mark that ranks 21st nationally. Last week was a bit of an anomaly as he has averaged nearly 250 passing yards per game.
Boise State's running game took a hit with the injury loss of RB George Holani. He returned against Wyoming but left the game midway and did not return. In his place, Andrew Van Buren has performed well and even led the league with eight rushing touchdowns.
Special teams has been just that, special especially Avery Williams, who is fifth nationally in combined kick return yards with 575. He is the
only player with three returns for touchdowns and the only one to rank in the top 10 nationally in both punt returns (ninth, 11.4) and kickoff returns (ninth, 29.6).
The Broncos have recorded 14-straight conference victories, the second-longest in-conference streak in the country. Only Ohio State (20) has a longer winning streak against conference opponents.
In this COVID-19 shorten season, the Broncos, outside of the one game at home with BYU, defeated the majority of its MWC foes easily. That last game at Wyoming and the one before that at Hawai'i (40-32 win) were the closest margin of victories. Boise State defeated Utah State, Air Force, and Colorado State all by at least 19 points.
Best Win: at Wyoming, 17-9
Worst Loss: vs. BYU, 51-17
Key Player: QB Hank Bachmeier
In the snow storm last week, it was understandable not to get the passing game going. That game was Bachemeier's first action since the Hawai'i win on Nov. 21. The Spartans are a stop the run first type of defense so Bachemeier will need to do it with his arm for the Broncos to win this game. He will also need to avoid the turnovers and try to get in a rhythm throwing the ball to more receivers other than Khalil Shakir.
San Jose State Spartans (6-0 Overall & MWC)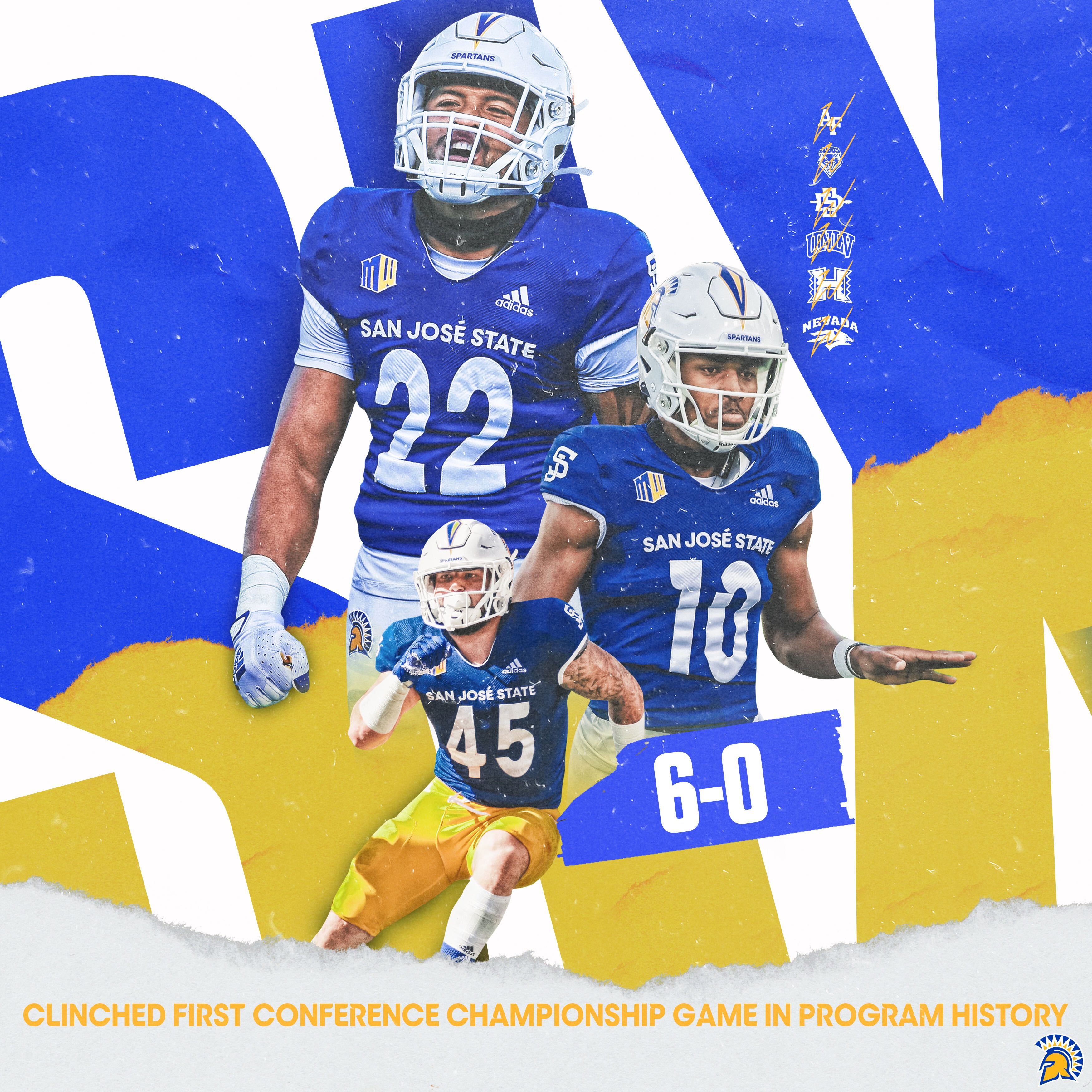 Location: San Jose, Calif.
Head Coach: Brent Brennan (14-29 @ SJSU & overall)
Season Recap:
The Spartans, who were picked to finish 10th (our of the 12 teams in the MWC) in preseason media polls, have been the big surprise possibly outside of Coastal Carolina in all of the Group of Five. SJSU capped off the regular season with a 30-20 come-from-behind over Nevada on Friday night and are 6-0 for the first time in 81 years.
RB Tyler Nevens, who is averaging 8.9 yards-per-carry this season, broke off two 69-yard runs against the Wolf Pack while QB Nick Starkel threw for 306 yards, two touchdowns against one interception.
Starkel has been a very effient quarterback and has two top receivers in Bailey Gaither (36 rec., 627 yds.) and Tre Walker (31, 409) to provide one of the nation's top passing group.
Nevens has had two big games in the last two. He rushed for 152 and 184 rushing yards (on just 28 total carries) in the last two games vs. Hawaii and Nevada respectively.
The Spartans went 1-11 just two years ago but the turnaround started last year with a 5-7 finish.
A big reason for the further turnaround has been the Spartan defense. San Jose State opened the 2020 season keeping Air Force scoreless in the first half which included a goal line stand at the end of the second quarter. The Spartans concluded their regular season against Nevada not allowing any second half points and had a goal line stand which ended when San Jose State recovered a Nevada fumble on the 1-yard line.
In between, the Spartans never allowed the opposition to score more than 24 points in a game. San Jose State remains in the top-20 among
FBS teams in scoring defense. The Spartans enter the Mountain West championship game 13th nationally in points allowed 17.5 per game.
The defense also boasts the MWC Defensive Player of the Year in DE Cade Hall, who currently leads the conference and ranks fourth nationally in quarterback sacks per game with 8.5 and a 1.33 per game average, respectively. He registered at least 1.0 quarterback sacks in four of the six games the Spartans played and also ranks tied for 19th nationally in tackles for loss.
Best Win: vs. Nevada, 30-20
Worst Loss: None
Key Player: QB Nick Starkel
Starkel, who transfered from Texas A&M via Arkansas, has been the great game manager this season and used his top two wide outs to move the ball down the field. He has also been able to use the strong running game and also has avoided costly turnovers. In fact, SJSU led the league in turnover margin. This will have to be the case for the Spartans to stay undefeated.
Fearless Forecast:
This game just might be the best of all the ten FBS conference title games this weekend. The two teams on paper look very similar statistically with two strong defenses and capable offenses that shows spurts. This game like most come down to turnovers and holding the opposing offenses to kicking field goals rather than scoring touchdowns. The Spartans have been the stronger team down the stretch but the Broncos have the history of playing on this big stage so something has to give. I think Boise has the better talent overall and it will shine in this game and give the Spartans their first loss but will be a game that will not be decided until late. Boise State 31 San Jose State 28
Originally from LaMoure, North Dakota, Kent is a 1996 graduate of North Dakota State University. His prior writing experience is over 15 years having previously worked with D2football.com, I-AA.org, and College Sporting News before coming to College Sports Journal in 2016. His main focus is college football is the Missouri Valley Football Conference within the Division I FCS. And in 2017, he began also to look at the FBS Group of Five conferences of the American Athletic, Conference USA, Mid-American, Mountain West, and Sun Belt.
Reach him at this email or click below: