#4 CINCINNATI VS. #1 ALABAMA
WHEN: FRIDAY, DECEMBER 31, 3:30 PM EST
WHERE: AT&T Stadium, Arlington, Tex.
TV/STREAMING: ESPN, WATCHESPN
After years of public uproar (especially of those that follow the non-Power Five leagues) in the consideration of Group of Five schools, Cincinnati gets their shot to show what it can do in a college football playoff setting. In previous years, undefeated G5 schools were passed up for one-loss Power Five teams, UCF was that team in 2017 who like Cincinnati was the only undefeated team in the FBS ranks.
The Bearcats get a shot at the top seeded team, the Alabama Crimson Tide. Alabama won the SEC Championship Game in convincing fashion, with a 41-24 win over previously undefeated Georgia.
Cincinnati won the American Athletic Conference title with a 35-20 win over Houston. Both of those two teams will be joining the Big 12 Conference, along with another AAC powerhouse in UCF, as well as a top current independent in BYU in 2025.
This game will likely be watched heavily by the new Big 12 members as the Big 12 was shutout of the playoff final four, along with the Pac-12 and Atlantic Coast Conferences. It is the first time that three so-called Power Five leagues have been shutout of the CFP since it began after the 2014 season. And this is likely to lead to a change to the number of teams in this playoff in the years to come.
Alabama is making its 11th appearance in a College Football Playoff game in this contest. The Crimson Tide have won 8 of their 11 prior CFP including winning national titles three times. Alabama is the defending national titlist after defeating Ohio State last year in the national championship game. Alabama also won titles in the CFP era after the 2015 and 2017 seasons. The Crimson Tide also lost twice in the title game (both to Clemson) after the 2016 and 2018 seasons.
Alabama in total has five national titles under Coach Nick Sabin that include three Bowl Championship Series (BCS) titles after the 2009, 2011, and 2012 seasons. And in total all time, Alabama has 18 national titles.
Cincinnati has less of a history than Alabama but still has three prior New Year's Six Bowl games in its history. The Bearcats were considered under the old BCS system in the Big East Conference has an automatic bid qualifier twice when then Coach Brian Kelly led to team to two appearance back-to-back in 2008 and 2009 to the Orange and Sugar Bowl respectively. Kelly left the team to go to Notre Dame before the 2009 Sugar Bowl.
The Bearcats also were the G5 qualifier last year after also going undefeated in the regular season in the Peach Bowl but lost a narrow game to Georgia. Cincinnati so far is winless in New Year's Six Bowl games with a 0-3 mark including losing twice to SEC schools.
Alabama and Cincinnati have played each other five prior times but the last meeting was in 1990– a 45-7 Crimson Tide win.
Here is a look at how these two teams stack up statistically this year with the FBS ranking in parenthesis:
Team Stats Per Game:
| Team Stats Per Game | #1 Alabama | #4 Cincinnati |
| --- | --- | --- |
| Points per game | 42.1 (2nd) | 39.0 (7th) |
| Points allowed per game | 20.8 (20th) | 16.8 (6th) |
| Total yards | 500.9 (4th) | 431.7 (35th) |
| Total yards rushing | 146.2 (77th) | 184.0 (42nd) |
| Total yards passing | 354.8 (6th) | 247.7 (50th) |
| Yards allowed | 311.9 (7th) | 310.2 (6th) |
| Rushing yards allowed | 84.2 (4th) | 141.2 (44th) |
| Passing yards allowed | 227.8 (60th) | 169.0 (2nd) |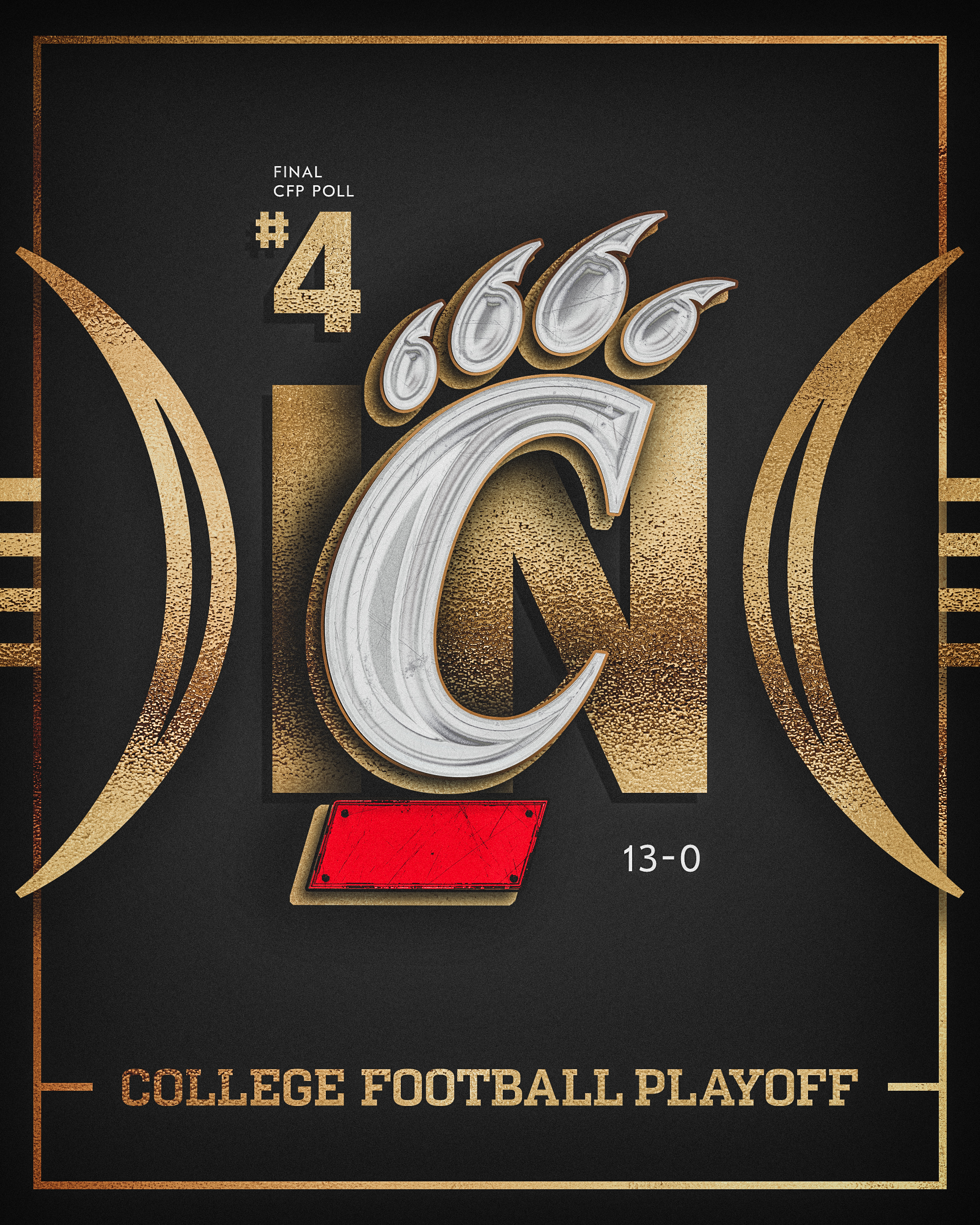 CINCINNATI BEARCATS (1ST AAC, 13-0 OVERALL, 8-0 AAC)
LOCATION: CINCINNATI, OHIO
HEAD COACH: LUKE FICKELL (5TH SEASON, 48-14 AT UC, 54-21 OVERALL)
The Bearcats sit as the only undefeated team left in the FBS. Coach Luke Fickell's team scheduled two teams from last year that were near the top of all of college football on the road and Cincinnati won both of those out-of-conference tilts to really set up their chance at being in the College Football Playoff. Cincinnati defeated the Big 10's Indiana 38-24, which now at the end of this season did not seem like a top win but the Hoosiers finished just 2-10 this season but had a 6-2 record a year ago.
But the biggest win of the Bearcats' season had to be the win at Notre Dame, 24-13. Cincinnati handed the Fighting Irish its lone loss of the season as Notre Dame finished 11-1 and won its last seven contests after falling to the Bearcats. See some highlights of this game below:
In American Athletic Conference play, Cincinnati had two games that were narrow wins at Navy and at home against last year's AAC Conference Championship opponent, Tulsa. Both games were just seven and eight point margins in the middle of AAC play.
The Bearcats though would find their groove again in defeating SMU and East Carolina to end their regular season to set-up the AAC Championship game this year against Houston. The Cougars, like Cincinnati, were undefeated in AAC play and only had a single loss to begin the season against Texas Tech.
Cincinnati broke out a close game at the half (Bearcats led 14-13) with 21 points in the third quarter to put the game away. The Bearcats let in a late touchdown by Houston but the final score was 35-20. See highlights of this game below:
The Bearcat offense is headed by senior QB Desmond Ridder. The three-year starter for Cincinnati has seen his play climb throughout his career and is playing his best right now at the end of his college career. in 13 games this year, Ridder has completed 65.9% of his passes for 3,190 yards with 30 touchdowns and just eight interceptions.
The running game is led by a former Alabama back in Jerome Ford (who does not want to recognize his former Alabama playing days as he transferred to the Bearcats after seeing action in only four games with Alabama in his first two collegiate years). Ford has 1,242 yards and 19 touchdowns rushing with five 100-yard games in his second season at Cincinnati.
The top receiver for the Bearcats is WR Alec Pierce, who led the team with 50 catches, 867 yards and seven touchdowns.
While the offense has some top performers, it is really the Bearcat defense is the steady force for this team. The team arguably has the top cornerback duo in Ahmad Gardner and Coby Bryant. Gardner has never allowed a single touchdown catch in more than 1,000 coverage snaps since 2019, according to Pro Football Focus. Bryant has 45 career passes defended, which ranks second nationally among active players.
Those two All-American performers are joined in the secondary by S Bryan Cook, who totaled 84 tackles, including 5.5 for loss, with 9 break-ups this year. That trio helped lead the team to rank No. 1 nationally in pass efficiency allowed (100.47), fourth in opponent completions (53.5 percent), third in interceptions (18), fifth in TD passes allowed (10) and No. 3 in passing yards allowed (168.3).
But the Bearcats also have talent up front led by DE Myjai Sanders and LB Darrian Beavers. Sanders produced 34 tackles, 6.5 of which for loss, with 2.5 sacks and five break-ups. Beavers was second on UC behind fellow LB Joel Dublanko with 91 tackles and he also added 9.5 TFL, along with 3.5 sacks this season.
Key Player: QB Desmond Ridder
Ridder has seen a SEC team before in playing in last year's Peach Bowl versus Georgia. It is a game that really Cincinnati outperformed the SEC foe but fell in the in final seconds 24-21 on a late field goal (and a safety on the last play of the game).
He was named AAC Offensive Player of the Year in each of the last two seasons, and he is the Bearcats' all-time leader in passing touchdowns and the AAC leader in total yards and touchdown responsibility. He threw for 190 yards with three touchdowns on 11-for-17 passing in his last game in the AAC title game against Houston. It was his fifth game this season with at least three passing touchdowns; he had six such games in his first three seasons at Cincinnati combined.
He will need to avoid any turnovers and will need to try to hold the ball to keep the Bearcats with the time of possession for the Bearcats to unset the Crimson Tide.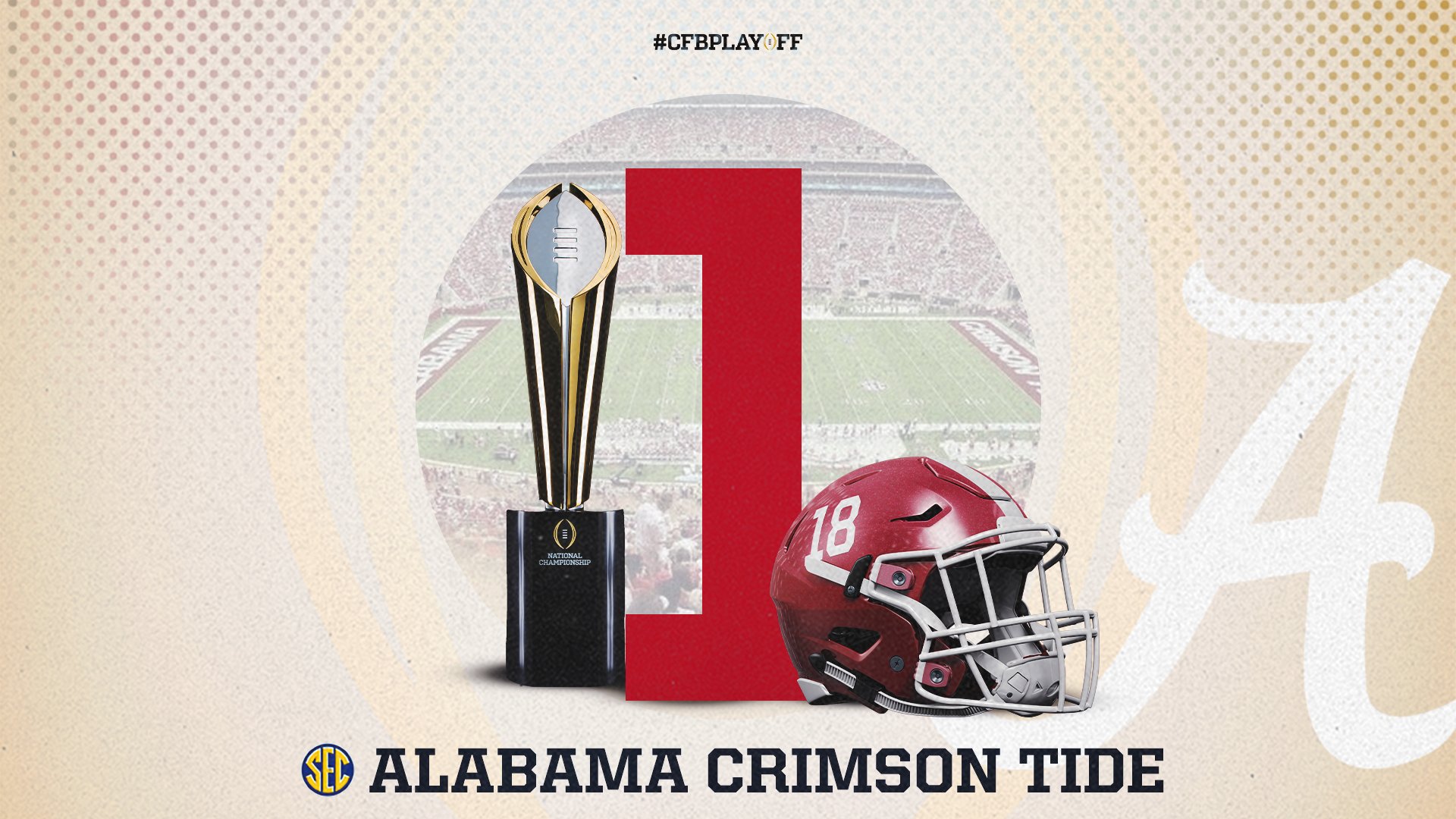 ALABAMA CRIMSON TIDE (1ST SEC-W, 12-1 OVERALL, 7-1 SEC)
LOCATION: TUSCALOOSA, ALA.
HEAD COACH: NICK SABIN (15TH SEASON, 182-34 AT UA, 273-66 OVERALL)
Like many seasons over the last decade, Alabama had questions coming at many positions this fall. The Crimson Tide won the national title last year but lost ten NFL draft picks off of last year's team including six that were selected in the first round. That list included WR Jaylen Waddle (No. 6, Miami Dolphins), CB Patrick Surtain II (No. 9, Denver Broncos), WR DeVonta Smith (No. 10, Philadelphia Eagles), QB Mac Jones (No. 15, New England Patriots), OT Alex Leatherwood (No. 17, Las Vegas Raiders) and RB Najee Harris (No. 24, Pittsburgh Steelers).
But like in the past, Coach Nick Sabin's team just reloads with even more talent. QB Bryce Young used the most of his first year under center and was named the Heisman Trophy winner after the season. He had two top WRs in John Metchie III and Jameson Williams, to go with RB Brian Robinson Jr.
This season started off well as the Crimson Tide blew out Miami (FL) 44-13. But within SEC play, Alabama had to hold off Florida (31-29) to start SEC play. And after back-to-back rather easy victories, Alabama stumbled 41-38 at Texas A&M. See highlights of this game below:
That loss left no margin for error for the Crimson Tide. Saban's team responded by winning out, but victories against LSU (20-14), Arkansas (42-35), and Auburn (24-22 in four OTs) didn't come easy or relied on last-minute plays to hold onto the win.
Despite the close wins and the one loss, Alabama won the SEC West Division and set up a SEC title game against Georgia. A loss by Alabama likely would have sent Alabama out of the CFP picture. But Young had his best performance of the season. The redshirt freshman completed 26 of 44 passes for 421 yards with three touchdowns and ran for 40 yards with one more score against the Bulldogs in the 41-24 win over the previously undefeated SEC East Division champions. See highlights of this game below:
As mentioned, Young won the Heisman Trophy this year after passing for 4,322 yards and 43 touchdowns to only four picks in the regular season. Also, he connected on 68 percent of his throws, while averaging 9.4 yards per attempt.
Young's supporting cast suffered a setback when Metchie III tore his ACL late in the second quarter of the SEC title game. Metchie led the team with 96 receptions, turning those catches into 1,142 yards and eight scores. With Metchie out, more focus will likely be towards the other WR in Williams (68 rec., 1,445 yds., 15 TDs).
The running game led by Johnson, who had 1,071 yards and 14 touchdowns this season and should be closer to 100 percent after a leg injury against Auburn forced him to play at less than full strength in the SEC title game.
The defense though much like Cincinnati, is the strength of the team. Alabama enters this playoff contest holding teams to just 4.7 yards per snap and 20.2 points a game this year. Opposing teams have struggled to find any running room against this defense (just 82.8 rushing yards a game allowed), and the pass rush (46 sacks) led by Bronko Nagurski Trophy-winning LB Will Anderson Jr. has been relentless. On the back end, the Crimson Tide have been prone to giving up a few big plays at times and ranks just 66th nationally in pass efficiency defense.
Key Player: QB Bryce Young
Young has shown up well in big games this year as was seen in the SEC title game but there have been other times when the offense has sputtered. His numbers overall look tremendous but as seen with SEC teams that have strong defenses like Florida, LSU, and Auburn, he has not performed at the same level. But he did against arguably the best defense in the country in his last game against Georgia.
As mentioned above, he will be without his top WR in Mechie III so having a full game without him and facing a strong almost SEC like defense like Cincinnati's will throw some wrinkles in there. I believe the Bearcats will look to stop the running game early to see how Young does against the strong secondary. He will need to make the right reads and use possibly some of his third and fourth receivers to move the ball.
Fearless Prediction:
Luke Fickell was the defensive coordinator at Ohio State in the only time that Alabama has lost in the semifinal round of the CFP. But that game turned into a high scoring game that the Buckeyes won 35-28. I don't think Cincinnati will be able to win if it allows 28 points so it will need to hold onto the ball and limit the number of possessions by both teams.
The Bearcat defense will also need to do the same to force short throws and make tackles on the short passing game.
Many of the betting lines has Alabama as a 14-point favorite but I think Cincinnati will hang around and might have a lead in the first half. But I think Alabama's talent will be too much to overcome to see them move on to the title game. Alabama 27 Cincinnati 17
Originally from LaMoure, North Dakota, Kent is a 1996 graduate of North Dakota State University. His prior writing experience is over 15 years having previously worked with D2football.com, I-AA.org, and College Sporting News before coming to College Sports Journal in 2016. His main focus is college football is the Missouri Valley Football Conference within the Division I FCS. And in 2017, he began also to look at the FBS Group of Five conferences of the American Athletic, Conference USA, Mid-American, Mountain West, and Sun Belt.
Reach him at this email or click below: