EDEN PRAIRIE, Minn. – Despite the fact he has no formal medical training, Chuck Foreman will forever be known as a doctor to a legion of National Football League fans.
Spin doctor, to be more precise.
The moniker was well earned during Foreman's eight-year career in the league where he established himself as one of the most dazzling runners of his time.
That he was so successful was made even more remarkable by the fact he spent his entire career in cold-weather environments which was a far cry from his days playing for the University of Miami and being told he would never become a running back in the NFL by his college coach.
Foreman grew up in Frederick, Md., a short drive west of Baltimore. A multi-sport athlete, he excelled in basketball and track after being one of the stars on the football field each fall for the Cadets.
The six-foot, two-inch Foreman, who played mostly as a wide receiver while in high school, once caught four touchdown passes in a game for the Cadets.
Despite his success on the gridiron, he was lightly recruited to play football at the next level and drew more attention by college recruiters to play basketball. He had his sights set on playing football though and was learning toward signing to remain close to home and play for the University of Maryland. He also considered offers from Penn State and Syracuse.
That all changed, according to Foreman, when Miami came to town to scout a teammate of Foreman's, an offensive lineup during the 1968 season. The future NFL legend simply stole the show that night and the focus of the scouts turned to Foreman.
VERSATILITY IN MIAMI
"I listened to what they had to say and decided to visit the school," Foreman said. "They treated me well during the visit and I decided almost right then and there that Miami is where I wanted to be."
Charlie Tate, the head coach of the Hurricanes at the time, also made an impression on Foreman.
"(Tate) was a southern gentleman who smoked cigars and was an impressive man," Foreman said. "Plus, Miami was an international school with a diversity of students which made attending there a pretty easy decision … it was one of the best decisions I've ever made."
It may have taken some time to come to that conclusion, especially after considering the inauspicious start as a collegian.
Foreman, who saw little time on the field as a freshman, was switched to defensive back during the 1970 season in an effort to take advantage of his athleticism and to help offset a series of injuries that depleted the Miami secondary.
When Fran Curci took over as coach in 1971 he switched Foreman back to running back. It turned out to be the finest statistical season of Foreman's time with the Hurricanes.
He combined with Tom Sullivan to form a tandem that become known as "The Gold Dust Twins" due to their ability to run the ball. Foreman ended the season with 951 yards on 191 carries (5.0 yards per carry). He also caught seven passes for 72 yards and was voted a first-team all-American by The Sporting News.
Foreman's journey around the playing field continued in his final season when Curci used him more at wide receiver than in previous seasons. His rushing production dropped to just 484 yards on 107 carries that season (4.5 ypc), but his pass catching reached new heights as he hauled in 37 passes for 557 yards.
If there was one knock against Foreman during his time in a Hurricane uniform, it was his trouble sometimes holding on to the football. Many football followers said he had a tendency to hold the ball too loosely and having it dislodged by his high running style.
That issue was addressed by New York Jets coach Weeb Ewbank, who coached Foreman during the 1973 Senior Bowl prior to the NFL Draft.
FIRST ROUND PICK
From the beaches surrounding Miami in south Florida, Foreman was forced to make the transition to the colder climate of Minnesota.
The Vikings selected him with the 12th overall pick in the 1973 Draft.
University of Tampa defensive end John Matuszak was the top pick by the Houston Oilers and LSU quarterback Bert Jones went No. 2 overall to the Baltimore Colts.
Other notable players selected ahead of Foreman included Jerry Sisemore (Texas) and John Hannah (Alabama). Sisemore was selected third overall by Philadelphia and Hannah followed by being selected fourth by New England. Both went on to long careers in the league. Sam Cunningham (Southern Cal) was selected by New England just one pick ahead of Foreman, whose Miami teammate Burgess Owens was chosen by the New York Jets at No. 13.
Darryl Stingley (Purdue). Billy Joe Dupree (Michigan State) and Ray Guy (Southern Miss) were also chosen in the first round.
MINNESOTA VIKINGS
News that he had been drafted by the Vikings reached Foreman as he was at home in his Miami apartment and it was cause for some concern knowing he was destined to play in cold weather.
The scenes of flamethrowers being used to thaw out the frozen turf of Metropolitan Stadium still resonate in NFL lore and was replayed in Foreman's mind as he prepared for his journey to the Land of 10,000 Lakes to begin his professional career.
The day after the Draft in January he flew to Minnesota, which gave him a jolt of what to expect.
"It was cold," Foreman said.
A big part of Foreman's allure to pro scouts was the athleticism he had showcased since his time as a high school star in Maryland. It also caused some debate as to how Minnesota planned to use him in the Viking offense.
Foreman insisted on playing running back, in large part, to prove Curci, his former coach wrong who reportedly gave him little chance of excelling in the NFL at the position.
It didn't take long for the Vikings, under the leadership of Bud Grant, to find a place for Foreman.
He was inserted into the offense as the team's premiere back and being used heavily out of the backfield as a receiver. He finished his rookie season with 801 yards rushing on 182 carries (4.40 ypc) and catching 37 passes for 362 yards during the regular season on the way to being chosen as the NFL Offensive Rookie of the Year and earning his first trip to the Pro Bowl after Minnesota improved from a 7-7 record the previous year to a 12-2 record and an NFC Central Division title in 1973.
Minnesota defeated Washington in the first round of the playoffs before advancing to the Super Bowl with a win over Dallas.
Foreman was held to just 18 yards rushing and 27 yards receiving as Miami defeated the Vikings 24-7.
His quick emergence as one of the league's premiere players was largely the result of then-offensive coordinator Jerry Burns, according to Foreman.
"(Burns) moved me to fullback in an effort to best incorporate my talents," said Foreman, who was emotionally when recently talking about Burns following his death last month.
"He was so far ahead of his time in his offensive approach," Foreman said of his former coach. "What he developed was really the precursor to what has become known as the West Coast offense. He was the architect of all of that."
The 1975 season saw Foreman seriously challenge to overtake several longstanding NFL records. He did manage to set a new record by catching 73 passes on the year. He also entered the final game of the season in a race with O.J. Simpson to surpass the record for combined rushing and receiving touchdowns in a season, a record held by Gale Sayers.
The showdown came down to the final game of the season in Buffalo. But after scoring his third TD of the game, Foreman was struck in the eye by a snowball thrown by a Buffalo fan. He did manage to score a fourth touchdown later in the game to tie Sayers' record at 22 before Grant pulled Foreman from the game as precaution.
Simpson would break the mark later in the game by scoring on a 64-yard reception to finish the season with 23 combined touchdowns.
Foreman also came up just short in his bid to lead the NFC in rushing when St. Louis' Jim Otis ended with six yards more than Foreman in the final tally. Otis amassed 1,076 yards to Foreman's 1,070 yards on the ground.
He still became first player in Minnesota history to reach 1,000 yards rushing in a single season.
He surpassed his own record the following season by rushing for 1.155 yards, including a 200-yard rushing performance as the Vikings defeated Philadelphia 31-12 in Philadelphia. He was the only Viking to rush for that many yards in a game until Adrian Peterson surpassed that mark in 2007.
Foreman, who racked up 51 touchdowns in a three-year span (1974-76) with the Vikings, was plagued with injuries in each of his final two seasons in Minnesota. He would finish his seven-year stay in Minnesota before playing with New England in 1980 after being traded to the Patriots.
NFL TOTALS
The Minnesota franchise record holder in career rushing yards at the time of his trade to New England, Foreman ended his NFL career with 5,950 yards rushing and 3,156 receiving yards in 109 career regular season games. He averaged 3.8 yards rushing on 1,556 carries and scored 53 rushing touchdowns while adding 23 TDs as a pass catcher.
He shares the NFL record for most receiving touchdowns by a player with at least 10 rushing touchdowns in a single season with Marshall Faulk. Both stars had nine receiving TDs in a season to go along with at least 10 rushing touchdowns. He also holds the league record for most games with a rushing and receiving in a single season with five.
He also holds several Minnesota franchise records more than 40 yards following his retirement from the league.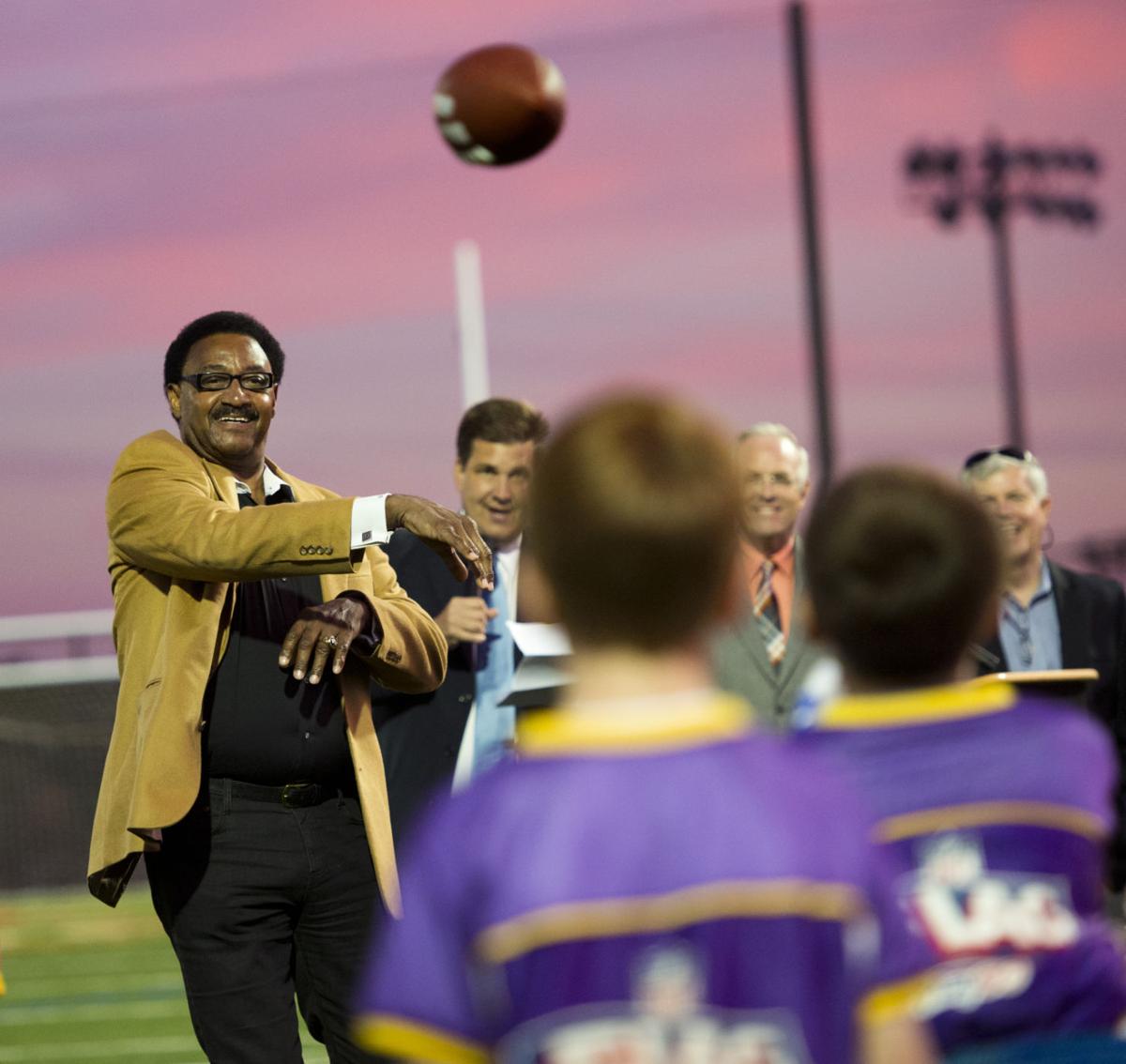 AFTER THE NFL
Foreman, who was voted one of the 50 Greatest Vikings in 2010 as part of the team's 50th anniversary, became a substitute teacher in Bloomington, Minn., in the shadows of where he played at Metropolitan Stadium, where the Mall of America now sits.
He's been a fixture in Minnesota for many years. In 2014, the Frederick County Board of Commissioners dedicated a playing field in his honor in the place where he grew up.
He also established Sound Advice for Life, a development program for students that provides positive reinforcement and guidelines for youngsters. He also helps counsel young players.
"If you're going to get into this game you have to be committed to yourself and to others and you must be mentally prepared," the NFL legend advises. "By doing those things you can do big things in this game."
He also refuses to get into any debate as to the GOAT (greatest of all-time) that seems to run rampant across all sports in today's society.
"I don't believe in any talk about a GOAT," Foreman says. "The fact is that everything changes and anyone who wants to get into that type of talk are just blow-hards."
A native of Bismarck, N.D., Ray is a graduate of North Dakota State University where he began studying athletic training and served as a student trainer for several Bison teams including swimming, wrestling and baseball and was a trainer at the 1979 NCAA national track and field championship meet at the University of Illinois. Ray later worked in the sports information office at NDSU. Following his graduation from NDSU he spent five years in the sports information office at Missouri Western State University and one year in the sports information at Georgia Tech. He has nearly 40 years of writing experience as a sports editor at several newspapers and has received numerous awards for his writing over the years. A noted sports historian, Ray is currently an assistant editor at Amateur Wrestling News.