Charlotte at Florida Atlantic
When: Saturday, August 27, 7:00 PM EDT
Where: FAU Stadium, Boca Raton, Fla.
TV/Streaming: CBS Sports Network / Watch CBSSN
The first G5 conference game (and second only to Nebraska-Northwestern overall in the FBS) starts in Boca Raton with Charlotte visiting Florida Atlantic. This C-USA match-up for this year will turn into a American Athletic Conference tilt next year as both squads will move to the AAC with four other C-USA squads in UAB, North Texas, Rice and UTSA.
Both FAU and Charlotte were predicted to finish in the middle of the C-USA pack this year with the Owls picked at #4 and the 49ers at #7 in the now 11-team conference that will see no divisions and the top two teams in the league will play for the C-USA title in early December. UTSA and UAB were selected as the top two teams in the league.
Last year, FAU looked like a bowl team but lost its last four games to finish just out of the bowl running at 5-7. Charlotte was very similar as it had it sights also on a postseason game but lost its last three games to also finish at 5-7.
FAU took the game last year between the two teams rather easily in a game in Charlotte 38-9. The Owls also have the all-time advantage with a 5-2 record.
Here is a look at some highlights of last year's game between these two squads: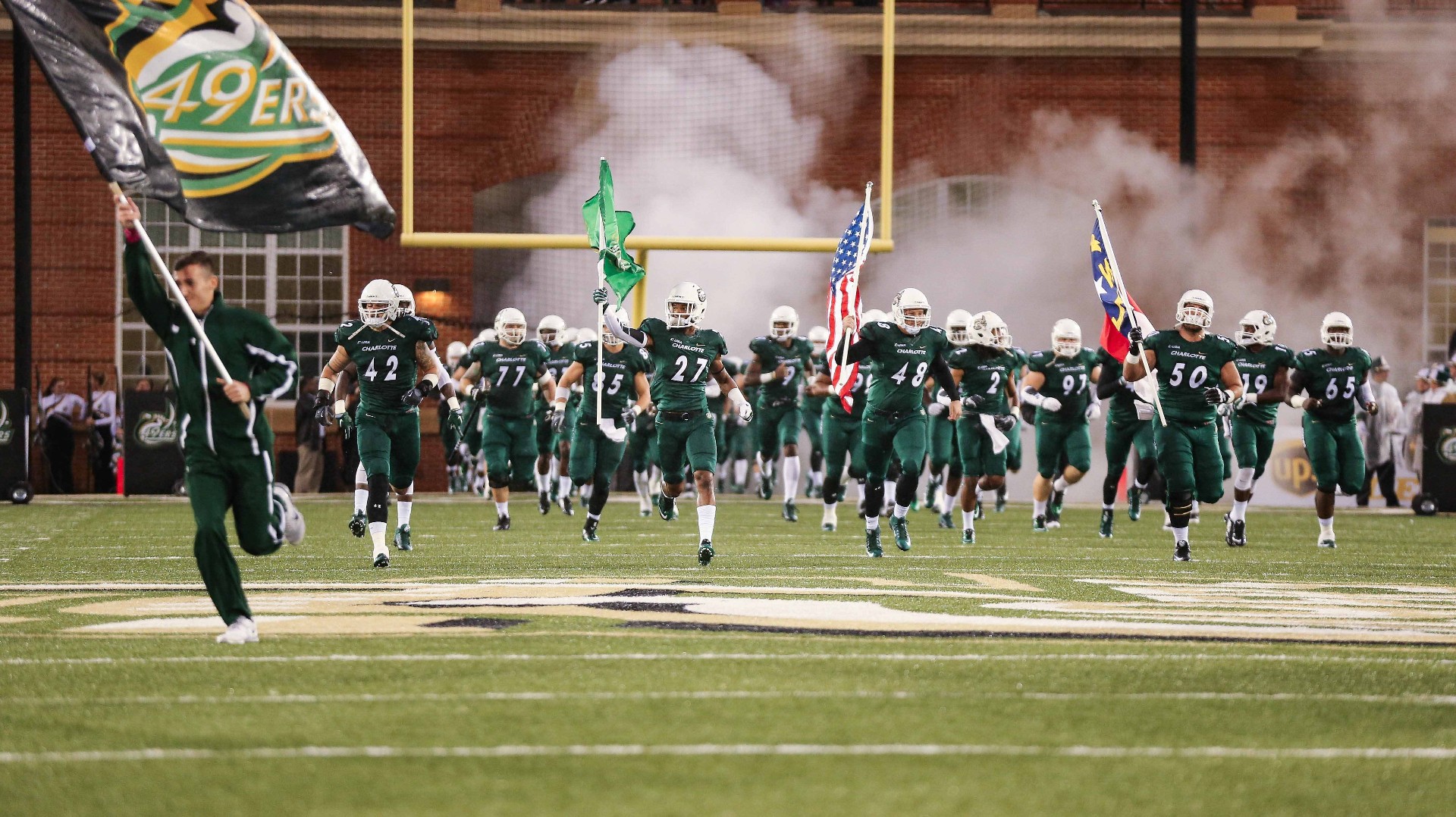 Charlotte 49ers (5-7, 3-5 C-USA, 2021)
LOCATION: Charlotte, N.C.
HEAD COACH: Will Healy. (4th Season, 14-17 @ Charlotte, 27-38 Overall)
The 49ers offense last year was very good at times and other times struggled. There should be more consistency this year with eight starters back including QB Chris Reynolds and his top three receivers in Grant DuBose, Victor Tucker, and Elijah Spencer.
Charlotte also should have a good running game with RB Calvin Camp and Shadrick Byrd for a good rotation. This duo combined for just under 1,300 yards and seven touchdowns. And Reynolds also adds the ability to run the ball.
The issue last year though was the defense. The 49ers were among the worst in the country in defense, allowed 465 yards per game overall and allowed 34 points per game. Charlotte losses three of its top four leading tacklers from last year but the line should be one of its strengths with DT Jalar Holley and DE Amir Siddiq leading the group. Holley only had 13 tackles last year but has the size to be a cog in the middle to stop the inside running and be a presence to help the pass rush. Siddiq is a transfer from Central Michigan and had 33 tackles, four sacks, and 9.5 tackles for loss last year for the Chippewas in limited playing time.
The team finished just 1-5 on the road last year so this will be a key for the team to get more wins on the road if it wants to get to its second ever bowl game.
Key Player: QB Chris Reynolds
Reynolds was a key performer in two tight wins last year over Duke and Rice and generated late scoring drives in both to pick up those victories. He is also the 49ers all-time passing leader with 7726 yards in this career. He decided to come back for his COVID senior season this year and will look to bring the 49ers back to a bowl game like he did in the 2019 season.
Last year, he set single-season school records with 2,684 passing yards, 244.0 passing avg. and 26 passing TDs and should see similar numbers with the players he has around him this season.
The key though for him is to get off to a fast start in this game so the 49ers are not playing catch-up.
Florida Atlantic Owls (5-7, 3-5 C-USA 2021)
LOCATION: Boca Raton, Fla.
HEAD COACH: Willie Taggart (3rd Season, 10-11 @ FAU, 66-73 Overall)
The Owls have won five games in both of coach Willie Taggart's seasons in Boca Raton so far and have yet to get a bowl eligible season. This year, FAU has 12 returning starters and may just have the team to get to a bowl.
Improving the offense (25.4 points a game) will be a key to a bowl eligible season. They have a new a new offensive coordinator in Brent Dearmon, who helped Middle Tennessee State to a bowl appearance last season. He will have a much to work with on the offensive side and it starts with QB N'Kosi Perry. He had 242.6 total yards a game last year in using both his arm and legs. Perry will also have top targets WRs LaJohntay Wester and Je'Quan Burton back to find down the field.
Johnny Ford (831 rushing yards) returns after missing spring ball and FAU should have some depth with the transfer Marvin Scott III from Nebraska.
Just five starters are back on a defense that limited opponents to 24.8 points a game last fall. And this side of the ball will also see a new coordinator after Todd Orlando took over from Mike Stoops, who left to coach with his brother Mark at Kentucky.
The defense helped FAU stayed competitive in a good portion of its games, but the lack of a consistent pass rush was an issue.
FAU finished in the bottom three in Conference USA in sacks, but that should change as Orlando's style is an aggressive, blitzing defense.
The Owls defensive line will be led by NG Evan Anderson who's alongside DEs Jaylen Joyner and Decarius Hawthorne. The linebackers starters will be new after the departures of Caliph Brice and Akileis Leroy. But the FAU secondary should be strong led by possibly the best C-USA S Teja Young.
Key Player: QB N'Kosi Perry
With a strong defense on the other side for FAU, Perry will need to hold onto the ball. The Miami (FL) transfer from a season ago did not come to Boca Raton until the start of last season so a full year inside the FAU program should help with his consistency, which lacked especially at the end of last season.
His key will be to avoid interceptions and fumbles and to take what the Charlotte defense gives him.
Fearless Forecast:
FAU used a balanced offense and were flawless on defense last year in the game at Charlotte for the 29 point victory. I do not think this game will be as one-sided as last year but with FAU having the home field advantage, I like the Owls to pick up the victory by a couple of scores. Florida Atlantic 31 Charlotte 21
Originally from LaMoure, North Dakota, Kent is a 1996 graduate of North Dakota State University. His prior writing experience is over 15 years having previously worked with D2football.com, I-AA.org, and College Sporting News before coming to College Sports Journal in 2016. His main focus is college football is the Missouri Valley Football Conference within the Division I FCS. And in 2017, he began also to look at the FBS Group of Five conferences of the American Athletic, Conference USA, Mid-American, Mountain West, and Sun Belt.
Reach him at this email or click below: