North Texas at Texas-El Paso
When: Saturday, August 27, 9:00 PM EDT
Where: Sun Bowl, El Paso, Tex.
TV/Streaming: Stadium / Watch Stadium
The second G5 conference game follows another Conference USA match-up in Week 0 with two Texas schools battling in this one. This Texas rivalry will go away after this year as North Texas will move away from C-USA and join the American Athletic Conference, while UTEP will remain in C-USA.
The two teams were selected fifth (UNT) and sixth (UTEP) in the C-USA preseason media poll.
North Texas owns the series record with a 6-3 record over UTEP. The Mean Green have won the last five contests including a 20-17 win in Denton. The last two contests though have been one-score games.
Last year, when these two faced off, the Mean Green went for 183 yards on the ground to get that narrow victory.
Here is a look at some highlights of last year's game between these two squads:
North Texas Mean Green (6-7, 5-3 C-USA, 2021)
LOCATION: Denton, Tex.
HEAD COACH: Seth Littrell. (7th Season, 37-38 @ UNT & Overall)
The Mean Green finished with six wins and went to their second straight bowl game in 2021. UNT would lose to Miami (OH) in the Frisco Football Classic Bowl to wind up with a losing record. Coach Littrell has taken North Texas to the postseason in five of his six seasons but has yet to get a bowl win so far.
This year's UNT squad should be very good on offense with eight starters back. The team had to win five straight games to close out the regular season to be bowl eligible. It finished with the fifth-best rushing game in the FBS, which was a little different than past Mean Green squads that relied heavily on the passing attack.
QB Austin Aune is back to be the signal caller but could be pressed for playing time with transfer Grant Gunnell, who comes to UNT after spending last year with Memphis and before that with Arizona. The two are in a tight race for the starting spot and both very well could see playing time in this one.
Whichever QB is selected, he will have a loaded receiving corps as targets in WRs Roderic Burns, Damon Ward, and deep threat Jyaire Shorter, who missing most of last year injured.
The RB situation is the biggest offensive question as 1,000 yard back DeAndre Toney is gone. However, Ikaika Ragsdale was his back-up last year and will likely be up for the higher role this year. Ayo Adeyi will also be in the mix in the backfield.
The defense for UNT turned things around in 2021 after being rated as the worst in FBS in 2020. this unit allowing 382 yards per game and just 5.7 yards per play. One thing they will need to do though is to replace their star DEs Grayson and Gabriel Murphy, who combined for 15.5 sacks last year as the twin brothers transferred to UCLA. The two inside linemen are also gone so it will be an interally new starting group upfront.
But the Mean Green have one of the G5's best LB KD Nixon to be the star this fall on this defense. He had a team-high 121 tackles and should lead a very good group. The secondary was a bit inconsistent last year but S DeShawn Gaddie was a one of the top tacklers on the team and will provide some experience in this group.
Key Player: RB Ikaika Ragsdale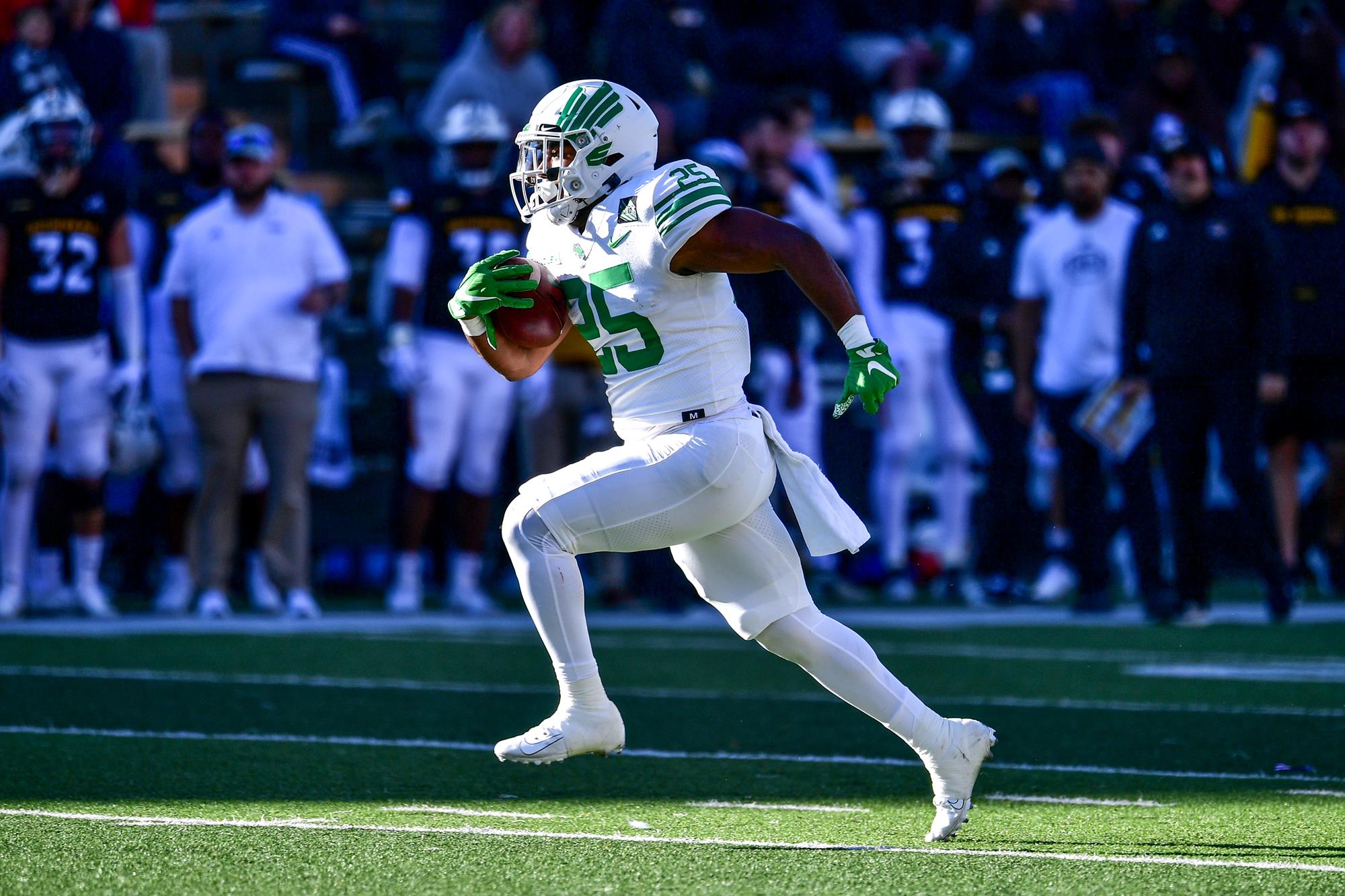 Ragsdale rushed for 534 yards and five touchdowns with four receptions for 23 yards in his backup role last year. His first start though was in the Mean Green bowl game he only rushed for just 23 yards in that loss to Miami (OH). He will be pressed with fellow sophomore Ayo Adeyi for carries and the duo will need to do more to get the win in El Paso.
UTEP Miners (7-6, 4-4 C-USA 2021)
LOCATION: El Paso, Tex.
HEAD COACH: Dana Dimel (5th Season, 12-33 @ UTEP, 42-72 Overall)
UTEP was the turnaround story for 2021. The Miners had seven-wins and bowl appearance (although a loss to Fresno State in the New Mexico Bowl). In fact, the team won two more games last year than it did over the previous four combined under Coach Dimel's watch.
With many of the top C-USA programs leaving the league, the Miners will have a chance if it continues with the play like it did last year to become one top team in the league for years to come.
But for this season, the Miners will look to build on the success from last year and have many pieces back from that squad. QB Gavin Hardison led the team but he will need to find two top targets, who both have left the program in WRs Jacob Cowing (transferred to Arizona) and Justin Garrett (graduated).
But the Miners still have some experience in pass catching coming back. WR Tyrin Smith averaged over 17 yards per catch and had four touchdowns and TE Trent Thompson also scored four times.
The offensive line for UTEP though might the strength of the offense with three C-USA honorees leading the way in OC Andrew Meyer, OG Elijah Klein and OT Jeremiah Byers leading the way upfront.
The running game should be just fine as well behind this line with the duo of RBs Ronald Awatt and Deion Hankins both back. These two combined for over 1,300 yards last year and should be able to equal that mark this year as well.
The defense for UTEP in 2021 was very solid solid after allowing just 25 points per game, and finished second in Conference USA giving up 349 yards per game. This unit should again be headed by LBs Breon Hayward and Tyrice Knight, combined for over 200 tackles last year in the 4-2-5 defensive scheme.
Upfront, DEs Praise Amaewhule and Jadrian Taylor create havoc as two of the C-USA's best pass rushers. The secondary though is the one big question mark on the Miners defense. UTEP was the most vulerable to the pass game last year but will have S Dennis Barnes, who was third on the team with 59 tackles, and CB Corey Richardson, who led the team with eight pass breakups, back to lead this group.
Key Player: QB Gavin Hardison
Hardison as mentioned will be without his top two targets from last year so it will be a key for him to find the new top targets. I expect the UNT defense to focus on the run game to see how the passing game for the Miners can do.
While Hardison finished last year with an impressive 3,223 yards and 18 touchdowns, he also had 11 interceptions. In what I expect will be a tight game, turnovers will likely be the factor for the winning squad so he will need to take what the defense gives him and not force any throws.
Fearless Forecast:
I think this game will be very similar to the one it was last year–very defensive and low scoring. I think the game will be tight through and turnovers will play a big role in who wins this one. But in a tight game, I like the home team to get the victory. UTEP 24 North Texas 20
Originally from LaMoure, North Dakota, Kent is a 1996 graduate of North Dakota State University. His prior writing experience is over 15 years having previously worked with D2football.com, I-AA.org, and College Sporting News before coming to College Sports Journal in 2016. His main focus is college football is the Missouri Valley Football Conference within the Division I FCS. And in 2017, he began also to look at the FBS Group of Five conferences of the American Athletic, Conference USA, Mid-American, Mountain West, and Sun Belt.
Reach him at this email or click below: