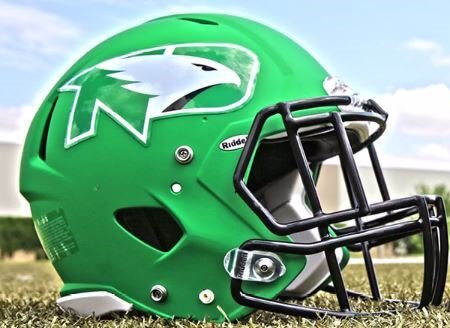 The Big Sky finished just 1-4 last week against the MVFC in the two conference's challenge against each other. North Dakota looks like the cream of the conference right now and UND can improve the Big Sky ranks in the challenge this week with a victory at South Dakota.
The two Utah schools in Weber State and Southern Utah look to be the next two teams in this league right now and both will have games this week that will tell us more if that is truly the case.
1. (1) North Dakota (1-1 overall, 0-0 BSC)
Last week: Beat Missouri State
This Week: at South Dakota
The Fighting Hawks dominated the MVFC Bears in what would be the only BSC win over the MVFC in the first week of the two conference's challenge. UND gets another chance to pick up a victory for the BSC in the challenge with the visit to Vermillion this week in UND's final non-conference game.
2. (4)Weber State (1-1, 0-0)
Last week: Lost to FBS California 33-20
This week: at Sacramento State
The Wildcats showed that they might be a contender in the Big Sky race in the performance at the Pac-12's Bears last week. WSU lead the game going into the third quarter before giving up 16 points in the final quarter to fall in the game. WSU gets another trip to California this week as it visits Sacramento State in technically a non-conference game against its conference foe.
3. (8) Southern Utah (1-1, 0-0)
Last week: Beat Stephen F. Austin 51-14 on the road
This week: vs. Northern Iowa
The Thunderbirds looked very impressive and made the big move this week in the rankings with the blowout road win over the Southland's Lumberjacks. Now, SUU gets a traditional MVFC power in UNI to come to Cedar City in the T-Birds' home opener. We should know much more on this team after this week.
4. (2) Eastern Washington (0-2, 0-0)
Last Week: Lost to North Dakota State 40-13 at home
This Week: at Fordham
The Eagles looked to be a step below their usual high class in the loss to the MVFC Bison at home. Wast that just NDSU being that good or is EWU truly a step below? We will find out this week. Somehow EWU must regroup this week and go across the country to play in New York against Fordham this week–not an easy task.
5. (5)Portland State (0-2, 0-0)
Last week: Bye
This week: vs. UC Davis
The Vikings had two strong performances already against two FBS schools and had a by to prepare for its last non-conference game–although it is actually is against conference foe UC Davis for its home opener.
6. (3) Northern Arizona (0-2, 0-0)
Last week: Lost to Western Illinois 38-20 at home
This week: Bye
The Lumberjacks lost for a second consecutive time to the MVFC Leathernecks. Star wide receiver Emmanual Butler went out and this week's bye week hopefully will cure his ails as NAU prepares for its Big Sky opener at Cal Poly the following week.
7. (6) Montana State (0-2, 0-0)
Last week: Lost to South Dakota State 31-27 at home
This week: Bye
The Bobcats looked impressive against a Top 5 ranked foe in the Jackrabbits but couldn't quite get over the hump to defeat SDSU. MSU gets a bye this week to get ready for BSC favorite North Dakota on the road next week.
8. (7) Montana (1-1, 0-0)
Last week: Lost to FBS Washington 63-7 on the road
This week vs. Savannah State
The Grizzlies were blown out predictably by the Top 10 FBS ranked Huskies last week. Montana gets a breather in what should be an easy win over the MEAC's Tigers this week.
9. (11) Sacramento State (1-1, 0-0)
Last week: Beat Incarnate Word 56-22
This week: vs. Weber State
The win over the Southland's Cardinals was impressive and this was after a narrow loss at FBS Idaho the week before. This week's technical non-conference test at home against Weber State will really tell us how good the Hornets could be.
10. (10) Northern Colorado (1-0, 0-0)
Last week: CANCELED vs FBS Florida
This week: at FBS Colorado
The Bears' trip to Gainesville was canceled due to Hurricane Irma last week. The Bears face another FBS foe this week against the in-state Buffaloes this week.
11. (12) UC Davis (1-1, 0-0)
Last week: Beat San Diego 35-7
This week: at Portland State
The Aggies beat in-state non-conference foe San Diego rather easily. The road test against PSU will be a true test to see if UC Davis has turned the corner in this technically non-conference game.
12. (9) Cal Poly (0-3, 0-0)
Last week: Lost at Northern Iowa 45-38 (OT) on the road
This week: Bye
The Mustangs made a great comeback to tie UNI on the road last week to send the game to overtime but couldn't win the game in extra time This week, the Mustangs get a bye to try to regroup after three straight losses for what some thought were a potential BSC champion.
13. (13) Idaho State (1-1, 0-0)
Last week: Lost to Utah State 51-13 on the road
This week: at FBS Nevada
The Bengals lost to a Mountain West team last week and that is the likely result again this week as the Bengals go to another MWC team in the Wolfpack this week.
Originally from LaMoure, North Dakota, Kent is a 1996 graduate of North Dakota State University. His prior writing experience is over 15 years having previously worked with D2football.com, I-AA.org, and College Sporting News before coming to College Sports Journal in 2016. His main focus is college football is the Missouri Valley Football Conference within the Division I FCS. And in 2017, he began also to look at the FBS Group of Five conferences of the American Athletic, Conference USA, Mid-American, Mountain West, and Sun Belt.
Reach him at this email or click below: