CSJ's FCS Week 3 Game of the Week, Spotlight, And Fearless Predictions
FCS Game of the Week: No. 10 North Dakota vs. No. 23 South Dakota
When most FCS football fans think of North Dakota and South Dakota, they think of Bison and Jackrabbits, but this week, as longtime rivals North Dakota and South Dakota face off at the DakotaDome, it's all about Fighting Hawks and Coyotes.
Technically it isn't a rivalry with a name or a trophy, but these two current Top 25 teams have played each other 88 times, recently resuming their series last season after a five year hiatus. (My humble nomination for a rivalry name: The Battle for the Keystone.)
The Fighting Hawks have won 55 times in this long-standing series, but their victory last year had to be one of the strangest and was one of the defining moments of their season.
Last season, the Fighting Hawks made their name by having the top defense in the Big Sky, yielding the fewest points of any team. But defense was nowhere to be found last year at the Alerus Center, when North Dakota yielded 44 points to the Coyotes.
It was an epic game for the Fighting Hawks, who had started the season 0-2 and faced the prospect of their season going off the rails against their rival, who surged to a 34-14 lead midway thorough the 3rd quarter.
But North Dakota clawed their way back, scoring 2 field goals and 2 touchdowns, including an interception return for touchdown by Deion Harris that effectively tied the game.
In double overtime, North Dakota held on, and then rode the momentum of that win to a Big Sky-winning season, finishing they year 9-2, while the Coyotes, who limped to a 4-7 finish, were left wondering what could have been.
This week, South Dakota gets their chance at revenge for their tough loss last year – and also go into this weekend with an FBS scalp to their name, having shocked Bowling Green last week 35-27.
QB Chris Streveler, who threw the fateful pick versus North Dakota last year, threw for 306 yards, ran for 119 more and scored 4 touchdowns against the Falcons, three on the ground and one through the air.
This week, Streveler and head coach Bob Nielson downplayed last year's game, but there has to be some remaining burn.
"We watched the game from last year in our film study," Streveler said. "But we're both two different teams this season. It's going to be 0-0 when we start the game so we're not dwelling on that."
"We got a little less aggressive with some of our play-calling," Nielson said. "We didn't execute on a couple third downs. We blew assignments on a couple third downs, which is disappointing. We have to execute well against good teams."
The drama, the rivalry, and the outcome of last year sets the stage for a terrific Top 25 battle at the DakotaDome this weekend. It almost seems destined to go to overtime – and destined to be the scene for some Coyote revenge.
South Dakota 41, North Dakota 38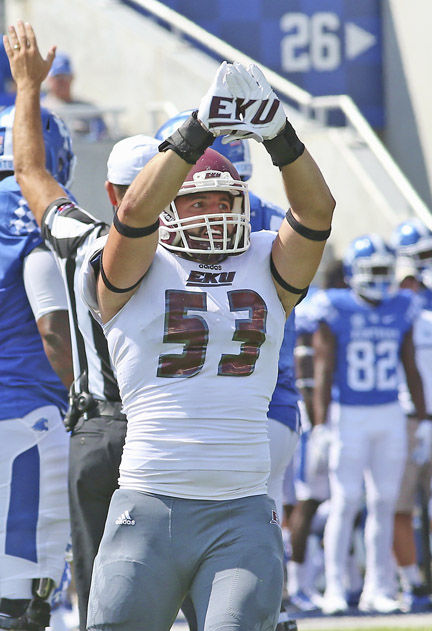 Spotlight On: Eastern Kentucky LB Jeffrey Canady
In his first two seasons at EKU, Jeffrey Canady appeared in every game as a reserve linebacker and was a solid, dependable contributor on defense.
He broke into the line-up full time last year and put together a remarkable breakout performance.
The Barbourville native had a team-best 123 tackles (46 solo, 77 assist), which was second-most in the Ohio Valley Conference and seventh-most among all Football Championship Subdivision players.
"He's a veteran guy," EKU coach Mark Elder said of Canady. "He's played a lot of football here. He made a bunch of plays last year."
Even more is expected from Canady this season.
Read More In the Richmond Register
Fearless Predictions This Week In FCS
Saturdayday, September 16th
No. 13 The Citadel at East Tennessee State. Here, Bulldogs, have another delicious tasty cupcake. Bulldogs 40, Buccaneers 16.
No. 12 Eastern Washington at Fordham. Back in August, if you said to me that Chase Edmonds would have only 1 rushing touchdown and Gage Gubrud would have only 1 touchdown pass going into this matchup, I'd have called you crazy. With a brutal couple of weeks and such a lengthy flight for Eastern Washington this week, I think Fordham's Chase Edmonds is the player more likely to bust through. Rams 44, Eagles 27.
No. 11 New Hampshire at Holy Cross. The Crusaders have represented themselves very well in these first few weeks, with a close defeat at the hands of FBS UConn and a resounding win over Bucknell, while all UNH did last week was dominate FBS Georgia Southern in Birmingham, 22-12. This could be a very sneaky trap game for the Wildcats, and a show-me moment for QB Pete Pujals and Holy Cross, but in the end I think the Wildcat defense will wear down the Crusaders. Wildcats 24, Crusaders 21.
Howard at No. 6 Richmond. Intrigue abounds in this matchup where former Richmond head coach Mike London revisits the school where he delivered the Spiders their lone FCS National Championship. Howard, vanquishers of FBS UNLV and led by QB Caylin Newton, will face yet another matchup where they're the underdogs, and against a tough Spiders team, they'll continue to perform exceptionally well, but just finish short. Spiders 34, Bison 32.
Central Connecticut State at No.5 Youngstown State. The Blue Devils, who took Fordham to the wire last week, picked a horrible time to have three starters suspended after getting arrested involving an off-campus party. Penguins 40, Blue Devils 16.
No. 14 Illinois State at Eastern Illinois. These bitter rivals go at it once again in Charleston, and the Redbirds have to have revenge on their minds, though the Panthers were close to turning the corner last year. Revenge game narrative wins. Redbirds 23, Panthers 20.
Norfolk State at No. 1 James Madison. The Spartans lost to a D-II school, the Dukes beat an FBS team – pretty much all you need to know. Dukes 66, Spartans 6.
No. 20 North Carolina A&T at Charlotte (FBS). The Aggies have a golden opportunity to add to the FBS upset ranks this weekend because of one simple fact – by any objective measure, they are simply more talented than the hapless 49ers. Aggies 34, 49ers 21.
UT Martin at No. 15 Chattanooga. A huge show-me game for both the Skyhawks and Mocs, who have both shown flashes of being a good team but getting overwhelmed by very strong competition. The Mocs, at 0-2, are the more desperate team. Mocs 27, Skyhawks 24.
No. 19 Charleston Southern at Elon. The Phoenix came up with a big win over Furman last week, but the Bucs, who were rained out of their game last weekend thanks to Hurricane Irma, are more than ready to smack into an opponent they need to beat. Buccaneers 31, Phoenix 13.
No. 24 Tennessee State vs. Florida A&M (Tampa Classic, Raymond James Stadium, Tampa, FL). The Tigers head to Tampa to face the Rattlers, who had a bye week through the Hurricane. FAMU will have a tough time keeping up with one of the best teams in the subdivision this week. Tigers 29, Rattlers 12.
Lafayette at No. 8 Villanova. Though Lafayette head coach John Garrett is looking for his first win as a Division I head coach, he'll be waiting at least one more week. Wildcats 27, Leopards 10.
Jackson State at No. 25 Grambling State. Though technically not a SWAC conference game, it won't make this white-hot rivalry any less intense. At home, a surprisingly good Grambling team I think will have the edge in a close game. GSU Tigers 23, JSU Tigers 17.
Drake at No. 4 South Dakota State. Drake already lost to South Dakota 77-7. What will the Jackrabbits do to them?. Jackrabbits 52, Bulldogs 10.
No. 17 Samford at Georgia (FBS). When I think of a possible narrative for a Samford Bulldogs win over Georgia here, "angry Georgia team returning home after a heartwrenching loss to Notre Dame" does not fit. Georgia Bulldogs 45, Samford Bulldogs 3.
No. 18 Northern Iowa at Southern Utah. Frankly, this is an interesting spot for two pretty good FCS football teams, both of whom lost to FBS schools. "This will be a true test to where we're at as a football team, going against somebody who is very equal to us and a team that a lot of momentum right now," UNI head coach Scott Farley said of his team, and he's right. At home, and the Panthers having some issues stopping people, I think the Thunderbirds have what it takes. Thunderbirds 34, Panthers 28.
Southeastern Louisiana at No. 16 Central Arkansas. The Lions suffered two heartbreaking losses in a row, first in their bid to upset UL-Lafayette (51-48) and then a surprising home loss to Bethune-Cookman (28-23). Righting the ship on the road on the purple turf of a nationally-ranked opponent? I don't think so. Bears 44, Lions 20.
No. 21 Weber State at Sacramento State. An intriguing Week 3 matchup that serves as an early test for both teams as to whether they might challenge for the Big Sky title (even though it's not officially a Big Sky conference game). The Wildcats, who gave Cal a run for their money last week, appear to have the edgr. Wildcats 31, Hornets 21.