Welcome to week 3 of the college football season and we've almost gotten to the point where we can separate the pretenders from the contenders. Week 3 provides us with several contests to see which teams are the real thing and which teams are fool's gold. The races to the Celebration Bowl and post season have just begun but there are a few teams who are already in must-win scenarios while the season is young. It may be still be September but we've already discovered that The Howard Bison are much improved, Prairie View isn't the Prairie View of old, and Rod Broadway of North Carolina A&T just may have been preaching the gospel when he called this year's edition of the Aggies his deepest team yet. We'll look at the 8 most intriguing games in the FCS HBCU football for week 3.
Tennessee State vs Florida A&M-September 16th-Raymond James Stadium-Tampa, FL
Florida A&M is trying to get back to a sense of normalcy as the players, staff, and students have been dealing with the effects of Hurricane Irma. FAMU returned to its regular practice schedule on Tuesday and it was announced on Monday that this game will go on as scheduled in Tampa. Tennessee State is eager to get back on the field after narrowly escaping an upset in Memphis at the hands of Jackson State. The Rattlers of FAMU are more than excited to get back on the field against their longtime rival and this team is eager to prove that FAMU is back. The Rattlers showed promise in their first game of the season by thumping Texas Southern 29-7 but now a TSU of a different hue is on the horizon. FAMU has not enjoyed the sweet taste of victory over Tennessee State since September 26, 2009 and dropped the last 5 meetings to the Tigers. Saturday's game will give Rattler fans a better indication of where this year's team is talent wise. Tennessee State is a solid team that is still trying to find their timing on offense with transfer QB Treon Harris and HBCU All American Patrick Smith. To this point, they've done enough to win ball games on the road. FAMU entered the season dedicated to Ryan Stanley at QB and looked pretty impressive in their win against Texas Southern. However Texas Southern has yet to win a game this season, which makes Tennessee State a better measuring stick.
Kennesaw State @ Alabama State-September 16th-Montgomery, Al
Alabama State has started the season about as bad as you could possibly start. The Hornets are 0-2 after losses to Tuskegee and FBS Troy and now the Owls from Metro Atlanta have come calling. Kennesaw State stared the season with a close loss to Samford in game 1 and then got a nice bounce back with against Tennessee Tech in game number 2. The Owls know that if they are to make their playoff dreams become a reality, then this game vs ASU is a must win. Alabama State is simply trying to get back on the right track at this point. The Hornets have dropped 3 of their last 5 games going back a season ago and now Coach Brian Jenkins has a record of 10-14 since taking over in Montgomery. Last week the Hornets could only muster 165 yards of total offense while giving up over 600 yards to FBS Troy which now have some of the Hornet faith asking is Brian Jenkins the man for the job. A win against Alabama State would be a feather in the cap for Kennesaw State, while the Hornets need this win in order to calm the fan base and turn things around.
Howard @ Richmond-September 16th– Richmond, VA
If I told you in early August that Howard/Richmond would be an intriguing game, you would've probably asked me if I was hallucinating. Howard has been the surprise team in all of FCS this season by beating one FBS squad and taking the second FBS squad down to the wire. Head Coach of the Bison, Mike London has taken the Spiders to heights that current coach Russ Huseman hopes to get them. London was the head coach at Richmond from 2008-2009 and compiled an impressive record of 24-5 and a FCS National Championship in just two seasons. On Saturday London returns to Richmond with a team that is more than capable of beating the Spiders. Howard true freshman quarterback Caylin Newton has been as good as advertised and now he brings a group of Bison into Richmond who expect to win come Saturday. This is a far cry from a season ago where Howard ended the season with a 2-9 record and a 10th place finish in the Mid-Eastern Athletic Conference (MEAC). Richmond's history is the total opposite of Howard's. The Spiders ended the 2016 season 10-4, ranked number 8 in the final polls, and made their third straight post season appearance. The Spiders sit at 1-1 on the season, after a narrow defeat against Colgate a week ago and a loss against Sam Houston State in week 1. Play off resume's will look better for the winner of this game as opposed to the loser which makes this game an early season must win. Howard can make a statement to the FCS world that they are a legitimate top 15 team with a win at Richmond and for Mike London that would make his return that much sweeter.
Prairie View @ Nicholls -September 16th-Thibodaux, La
Nicholls got the attention of everyone by upsetting in-state rival and conference foe McNeese State during week 1. Prairie View opened its season a week ago against then #3 Sam Houston State and gave the Bearkats all they could handle, while Nicholls had all of Aggie land praying while just falling short to Texas A&M. Neither the Panthers nor Colonels where expected to compete in their last games but both dude and came real close to pulling major upsets. Now the focus is on each other. Prairie View needs a win to avoid a 0-2 while Nicholls needs this win to build a playoff resume. The SWAC is currently 1-2 this season against Southland opponents so this game is also about conference bragging rights. Week ago Prairie View outgained the #3 Bearkats 499-412, won the 1st down battle 23-21, controlled time of possession 36:51-23:09, fell short on the most important stat on the box score. Prairie View if out to prove that they are a serious contender in the SWAC, while Nicholls is out to prove that they are a serious playoff and conference title contender.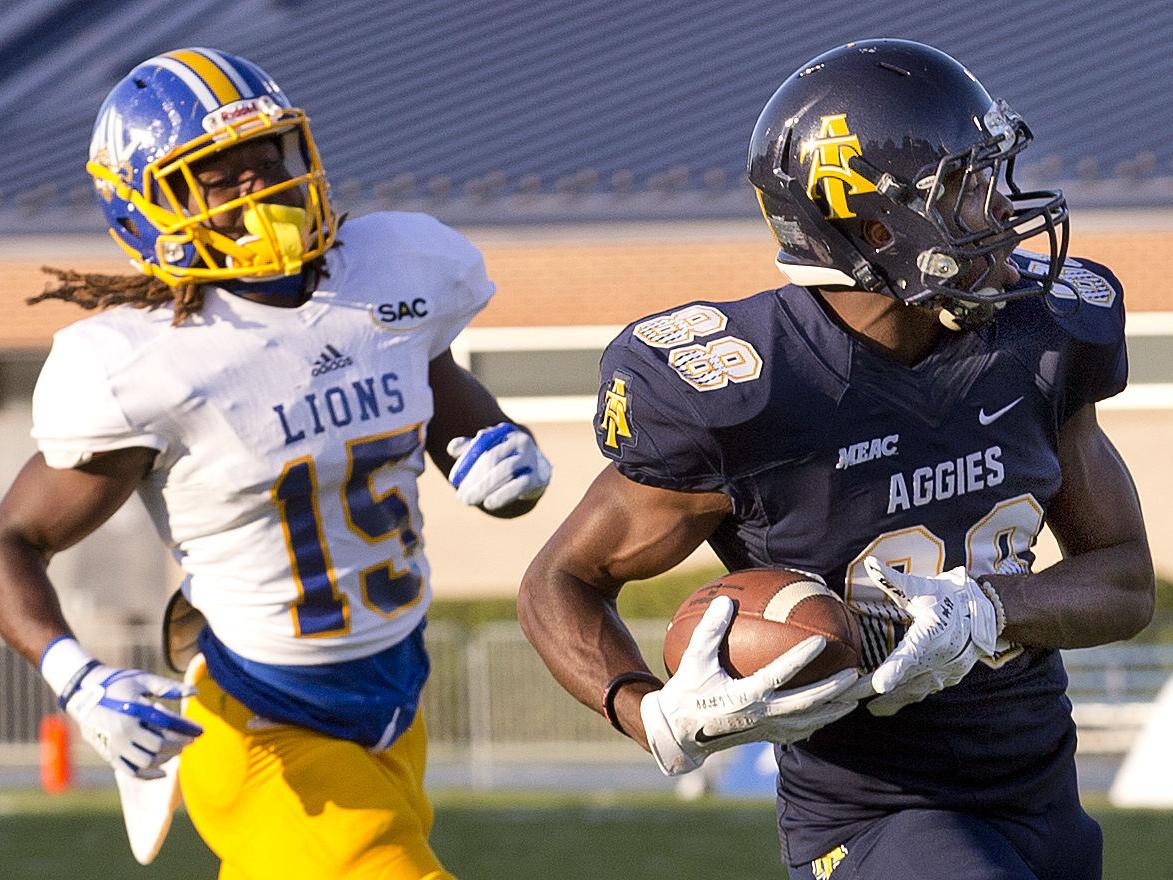 North Carolina A&T @ Charlotte-September 16th– Charlotte, NC
When Charlotte announced that football would return to the school for the first time since 1948 the 49er faithful had dreams of being a G5 powerhouse. Instead the 49ers are 16-32 overall and have yet to have a winning season. North Carolina A&T is looking to continue its winning ways and earn win number 2 over an FBS squad in as many years. The Aggies have looked almost unstoppable during the first two weeks of the season outscoring their first two opponents 101-3 while the 49ers come into the game 0-2 after being taken to the woodshed 55-7 by Kansas State. The Aggie defense has been as impressive as the offense only allowing 3 points all season and only allowing 3.3 yards per play. The Aggies will roll into Saturday's contest ranked #20 nationally with what Rod Broadway calls his deepest team yet which is concerning for any opponent that plays North Carolina A&T. The Aggies will get their toughest test of the season on Saturday but several key things look to be going in the Aggies favor. The A&T offense has been very explosive which is bad news for a 49er defense that's allowing an average of 443 yards per game and have allowed opponent to convert almost half of their third down opportunities. The 49er offense has also struggled this season only averaging 226.5 yards per game and Quarterback Hasaan Klugh has only completed 46 percent of his passes. This is a perfect opportunity for the Aggies to score The MEAC FBS win #2 on the season.
Jackson State @ Grambling State- September 16th-Grambling, La
Back in October of 2013 Grambling State's football news made national news for going on strike and refusing to play Jackson State in a game that was supposed to be Jackson State's homecoming. Since that time the programs have going in different directions. Jackson State is now on their third coach since that time and hasn't won more than 5 games since the 2013 season. Meanwhile Grambling has won two division titles, one conference title, and is the reigning HBCU Football National Champion. Grambling is 23-5 since 2015 and has beaten Jackson State each of the last 3 seasons. A week ago Jackson State was a missed kick away from upsetting #22 ranked Tennessee State in the Southern Heritage Classic, which excited fans about what could take place in Grambling on Saturday. Jackson State showed that they have a defense capable of keeping them in every ball game they'll play this year and that talented defensive line could cause problems for a Grambling team whose offensive line isn't all that stellar. Grambling bounced back with a win at home a week ago against Northwestern State but the offense still sputtered at times. Saturday's contest between these two rivals could either signify the reemergence of Jackson State or be reminder to the rest of the SWAC Grambling is still the team to beat!
McNeese State @ Alcorn State-September 16th-Lorman, Ms
A week ago McNeese was less than a minute from potentially pulling off an upset over FIU which would have given the Braves their first win over an FBS opponent and the SWAC's first win over an FBS opponent since 1985. The Cowboys of McNeese State started the season on a rough note with a loss to rival Nicholls State and a week ago they were in a late game battle with D2 Florida Tech. Alcorn State comes into the game 1-1 and looking forward to getting a win over the Cowboys. McNeese has struggled defensively this season allowing 366 total yards to Florida Tech and 37 points to Nicholls State. The Braves have shown that they can be explosive offensively but it's the defense which looks like could be the catalyst for a win on Saturday. In order for Alcorn to win on Saturday, quarterback Lenorris Footman must have a big day and limit turnovers. Alcorn also must get back to running the ball effectively the way they did in their opening game to keep the explosive McNeese State offense on the sidelines. Alcorn is currently one of the most successful runs that they've had since the mid-90s with Air McNair as the quarterback but the knock on the Braves has been the absence of non-conference wins vs FCS opponents. With a win at home on Saturday, Alcorn would silence their critics and give the SWAC a bragging rights win over its neighbor the Southland conference.
BJ Jones is an HBCU contributor to College Sports Journal.