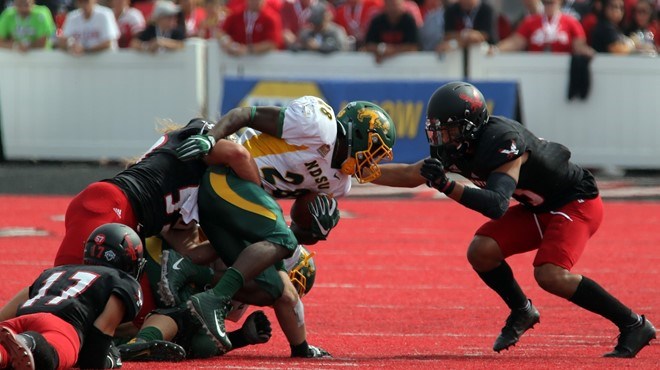 In an effort to publicize current match-ups and promote future non-conference scheduling between two of the premier FCS conferences, the Missouri Valley Football Conference and the Big Sky Conference have announced a Challenge Series between the two leagues. MVFC schools have a combined 4-1 record after the first five contests.
There are two more such contests this week and one more in October so the worst the MVFC can do in the challenge is to tie.
Below are my rankings for the MVFC following Week 2's action.
1. (1) North Dakota State (2-0 overall, 0-0 MVFC)
Last week: Beat Eastern Washington 40-13 on the road
This Week: Bye
After a very impressive road victory last week that included winning without star linebacker Nick DeLuca, the Bison get a bye this week before hosting Robert Morris next week in the last non-conference game next week.
2. (2) South Dakota State (2-0, 0-0)
Last week: Beat Montana State 31-27 on the road
This Week: vs. Drake
The Jacks struggled defensively against Chris Murray in a 31-27 victory. The defense will need to improve once SDSU gets into conference play but will play its last tune-up this week against the Pioneer League's Drake this week.
3. (3) Youngstown State (1-1, 0-0)
Last week: Beat Robert Morris 30-0 at home
This Week: vs. Central Connecticut State
The Penguins have looked impressive starting with the come back at FBS Pitt (which ended in an OT loss) but now have a shutout off the NEC's RMU and get another NEC squad with CCSU this week as its last tune-up before MVFC play.
4. (7) South Dakota (2-0, 0-0)
Last week: Beat FBS Bowling Green 35-27
This Week: vs. North Dakota
The Coyotes got an FBS win last week to volt them up the standings. To stay here though, USD will need to show it can win against a quality UND team from the Big Sky this week in its home opener.
5. (5) Illinois State (1-0, 0-0)
Last week: Bye
This Week: at Eastern Illinois
The Redbirds stay in the #5 following an early season bye week that followed an easy win over Butler in Week 1. IL State will get a big test this road opener at rival EIU from the OVC.
6. (6) Western Illinois (2-0, 0-0)
Last week: Beat Northern Arizona 38-20 on the road
This Week: Bye
The Leathernecks won impressively on the road over NAU and did it without star running back Steve McShane. WIU gets a bye week to prepare for yet another road non-conference contest against transitioning FBS Coastal Carolina next week.
7. (4) Northern Iowa (1-1, 0-0)
Last week: Beat Cal Poly 45-38 (OT) at home
This Week: at Southern Utah
The Panthers move down with an unimpressive 4th quarter against Cal Poly that allowed the Mustangs get the game to OT. Another Big Sky challenge awaits UNI this week on the road at SUU.
8. (8) Southern Illinois (1-0, 0-0)
Last week: Beat Mississippi Valley State 55-3 at home
This Week: at Southeast Missouri State
The Salukis looked impressive but was against the lowly Delta Devils. Now, SIU gets a rival on the road but just a slight up in competition in SEMO–who lost to the Pioneer League's Dayton last week.
9. (9) Missouri State (0-2, 0-0)
Last week: Lost at North Dakota 34-0 on the road
This Week: vs. Murray State
The Bears looked impressive at least on the offensive side in the opener at in-state foe in the SEC's Tigers to open the season but looked quite awful last week against the Fighting Hawks. Luckily for the Bears, lowly OVC Murray State visits Springfield in MSU's home opener this week.
10. (10) Indiana State (0-2. 0-0)
Last week: Lost to FBS Tennessee 42-7
This Week: at Liberty
The Sycamores likely lost its chance at a non-conference win in its close loss in its opener against Eastern Illinois. After the blowout at Tennessee last week, the Sycamores get Liberty, who is another team transitioning to the FBS ranks.
Originally from LaMoure, North Dakota, Kent is a 1996 graduate of North Dakota State University. His prior writing experience is over 15 years having previously worked with D2football.com, I-AA.org, and College Sporting News before coming to College Sports Journal in 2016. His main focus is college football is the Missouri Valley Football Conference within the Division I FCS. And in 2017, he began also to look at the FBS Group of Five conferences of the American Athletic, Conference USA, Mid-American, Mountain West, and Sun Belt.
Reach him at this email or click below: