New Mexico State looks to create some separation between itself and the rest of the pack when they tangle with Utah Valley and Seattle on the road this week in Western Athletic Conference men's basketball action.
NMSU crushed Chicago State 93-54 last week before slipping past Kansas City 74-71 to remain undefeated in WAC play this season. The Aggies play in Orem, Utah on Thursday before traveling northward to take on Seattle on Saturday in the Emerald City. A sweep of the two games would move the Aggies to 5-0 in conference play and in command of the league race in the early portion of the WAC schedule
Second-place California is currently 3-1 in the WAC, but plays just one game this week, a non-conference encounter with Bethesda on Friday at home.
Seattle, meanwhile, is still very much in the thick of things in the conference race. The Redhawks are tied with UT Rio Grande with 2-1 league records. Kansas City is fifth at 2-2 and Bakersfield, at 1-1, is currently sitting in sixth place.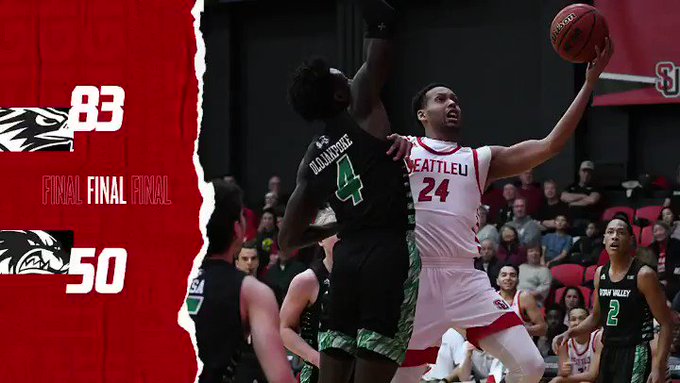 WAC Marquee Game of the Week
NEW MEXICO STATE at SEATTLE
When: Saturday, Jan. 18, 7 p.m. PST
Where: Redhawk Center (999)
Television: WAC Digital Network
NEW MEXICO STATE AGGIES: The WAC leaders are averaging 71.4 points per game and outscoring the opposition by more than 10 points per contest on the season.
NMSU is being led in scoring by guard Trevelin Queen (6-6, Sr.), who has started all 18 games and is averaging 14.8 points per game and pulling down 5.7 rebounds per contest. He has tallied 54 assists, 34 steals.
Teammate Jabari Rice (6-4, Rs., So.), another guard, is contributing 12.4 points and 4.7 rebounds per game. His 25 assists on the season ranks him third on the team in that category.
SEATTLE REDHAWKS: Seattle played brilliantly last week as the Redhawks swept Chicago State and Utah Valley. They downed CSU 86-54 before turning back the Wolverines by an 83-50 score to improve to 2-1 in the WAC after losing its conference opener to Kansas City.
Seattle is averaging 72.8 points per game this season and is being paced by a pair of sharp-shooting guards. Terrell Brown (6-1, Rs, Jr.) leads the team in scoring at 19.8 points per game. He is also averaging a team-high seven rebounds per game while being far-and-away the team leader in assists with 77.
Morgan Means (6-3, Sr.) is scoring at a 10.7 points per game clip and averaging 5.1 rebounds per outing.
2019-20 Western Athletic Conference Men's Basketball Standings
| Team | vs. WAC | Overall | Sagarin |
| --- | --- | --- | --- |
| New Mexico State | 12-0 | 21-6 | 85 |
| California Baptist | 7-3 | 18-7 | 179 |
| Grand Canyon | 7-4 | 12-13 | 216 |
| UT Rio Grande Valley | 7-5 | 11-14 | 217 |
| Seattle | 5-6 | 12-14 | 248 |
| CSU Bakersfield | 5-6 | 11-15 | 266 |
| UMKC | 5-7 | 13-14 | 222 |
| Utah Valley | 3-8 | 9-17 | 273 |
| Chicago State | 0-12 | 4-23 | 353 |
Click here to see the Top 25 Mid-Major Sagarin Ratings for this week.
Recent Results
Jan. 8
California Baptist 83, Bakersfield 75
Jan. 9
UT Rio Grande 76, Kansas City 64
New Mexico State 93, Chicago State 54
Jan. 11
California Baptist 61, Grand Canyon 57
New Mexico State 74, Kansas City 71
Seattle 83, Utah Valley 50
UT Rio Grande 87, Chicago State 63
This Week's Games (all times local)
Thursday, Jan. 16
Bakersfield at Kansas City, 6 p.m.
Grand Canyon at Chicago State, 6 p.m.
New Mexico State at Utah Valley, 7 p.m.
UT Rio Grande at Seattle, 8 p.m.
Friday, Jan. 17
Bethesda at California Baptist, 8 p.m.
Saturday, Jan. 18
Bakersfield at Chicago State, 11 a.m.
UT Rio Grande at Utah Valley, 2 p.m.
Grand Canyon at Kansas City, 6 p.m.
New Mexico State at Seattle, 7 p.m.
A native of Bismarck, N.D., Ray is a graduate of North Dakota State University where he began studying athletic training and served as a student trainer for several Bison teams including swimming, wrestling and baseball and was a trainer at the 1979 NCAA national track and field championship meet at the University of Illinois. Ray later worked in the sports information office at NDSU. Following his graduation from NDSU he spent five years in the sports information office at Missouri Western State University and one year in the sports information at Georgia Tech. He has nearly 40 years of writing experience as a sports editor at several newspapers and has received numerous awards for his writing over the years. A noted sports historian, Ray is currently an assistant editor at Amateur Wrestling News.