When: Saturday, September 28, 1:00 PM
Where: Yale Bowl, New Haven, CT
TV/Streaming: ESPN+(subscription required)
Maine Black Bears
The 2-1 (1-0, CAA) Black Bears are visiting the Yale Bowl for the first time since 1932, and Maine takes on the Bulldogs on Saturday afternoon.
Maine and Yale last met in 2015 in Orono, marking the first game of the series ever played in Maine. The Bulldogs defeated Maine, 21-10, in the 2015 meeting. The previous eight matchups all took place at the Yale Bowl.
Maine enters action with a 4-33-1 mark against Ivy League opponents. The Black Bears have played Harvard (11) more than any other Ivy team. Maine's last win against an Ivy League member school came in 1998, a 14-3 victory over Dartmouth. Maine's last road win against the Ivy came in 1988, a 37-10 victory at Brown. Maine is 2-3 against Brown, picked up a win at Dartmouth and defeated Princeton for its four Ivy League victories.
Key Player: This game could be a story of the unstoppable force versus the immovable object – the object, in this case being Maine's defensive front. Anchored by junior NT Charles Mitchell and junior DT Alejandro Oregon, Maine ranks 3rd in the FCS in rushing yards allowed (40.7 ypg).
Fantasy Bonus Baby: It's going to be a gametime decision as to who starts at QB for the Black Bears, but if you have to pick an offensive player, WR Micah Wright has 3 receiving TDs this year and is likely to be looked to around the end zone to punctuate Maine's offensive drives.
Yale Bulldogs
Yale Football is coming off a 30-24 Ivy League opening game win over Cornell last Saturday that evened its record at 1-1.
Three Yale seniors from the 2017 championship team were on NFL rosters over the summer and made it to the final cut. Foyesade Oluokun made the 53-man Atlanta Falcons roster, while Jaeden Graham is currently on the Falcons' practice squad. In addition, Matthew Oplinger played in multiple exhibition games and turned some heads.
Yale (8-0-1 overall) got its first win (37-0) at te Yale Bowl against Maine in 1915, two years after the first meeting (0-0 tie). The Yale defense didn't allow a point to be scored in seven of their games with the Black Bears. The teams played eight times between 1913 and 1937, but just once since then, a 21-10 Yale win at Orono in 2015.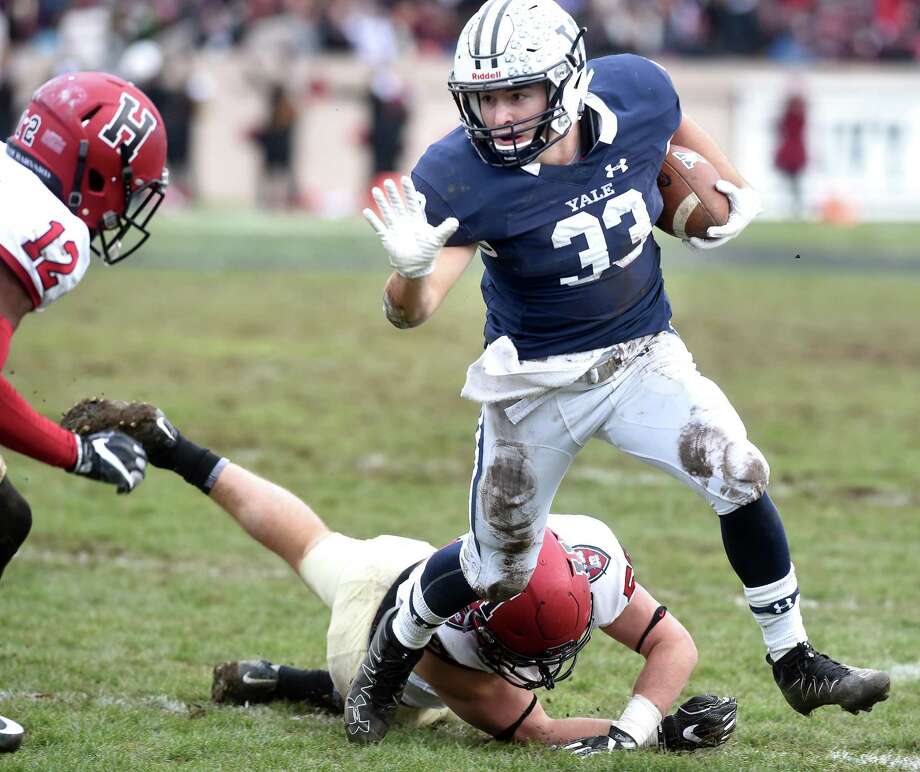 Key Player: RB Zane Dudek is the unstoppable force that Yale has on defense, with 250 yards in 2 games and 2 rushing touchdowns (both against Cornell last week). He'll have his work cut out for him against Maine's tough, aggressive front.
Fantasy Bonus Baby: WR Reed Klubnick might be the receiver that needs to have a big game if the Bulldogs have problems getting the run game going. He has 14 catches for 199 yards and 1 TD, and Yale might need to call his name to get offense going.
Fearless Prediction: The Black Bears are a really bad matchup for Yale. They will need to pass in order to keep this game close, but I think it's more likely that the Black Bears grind out their first-ever victory in the Yale Bowl. Maine 24, Yale 9