CSJ's FCS Week 2 Game of the Week, Spotlight, And Fearless Predictions
FCS Game of the Week: No. 2 North Dakota State vs. No. 6 Eastern Washington
Last week, it was about hurricanes. This week, it's about wildfires.
Last week was the rescheduled game between nationally-ranked foes, Sam Houston State vs. Richmond. This week's nationally-ranked matchup between FCS title contenders, North Dakota State and Eastern Washington, will go on as scheduled – but a haze might hang over the proceedings.
Literally.
On Tuesday, the air quality at Roos field was so bad due to wildfire smoke that head coach Aaron Best had his team practice inside the athletics fieldhouse instead of their red-turfed field.
This isn't just a problem for Eastern Washington football, of course – high schools and universities all across the region have been managing the unhealthy air levels, and wherever possible, practicing indoors.
And there's some question as to whether the game might be played, though the athletics director at Eastern Washington is hopeful.
We continue to monitor the smoke situation literally hourly but unless we announce otherwise our games this weekend are as planned! #GoEags

— Bill Chaves (@EWUeaglesAD) September 6, 2017
Assuming the game happens, it will be a clash of FCS titans on the red turf at Roos field – former FCS National Champions, and perennial Top 25 teams in the subdivision.
Football-wise, the Eagles are known for their breakneck passing offense, and the number of weapons they boast, while the Bison, as ever, are known for controlling, balanced offense and a ferocious defense that held hapless Mississippi Valley State under 100 yards of total offense.
It's also the tail end of a home-and-home, one that was a 50-44 thriller in the Fargodome last season, so both teams are very aware of each other's strengths and weaknesses.
"We've circled them on the calendar. We know what they are capable of," Bison senior linebacker Nick DeLuca said this week. "They have a lot of weapons. We're looking forward to getting back to the game plan."
I know it's on the road, and I know it will be a challenging game, but one thing you never want to see come to town is a focused, relatively fresh Bison team, and I think it will be too much for the Eagles to overcome.
North Dakota State 37, Eastern Washington 20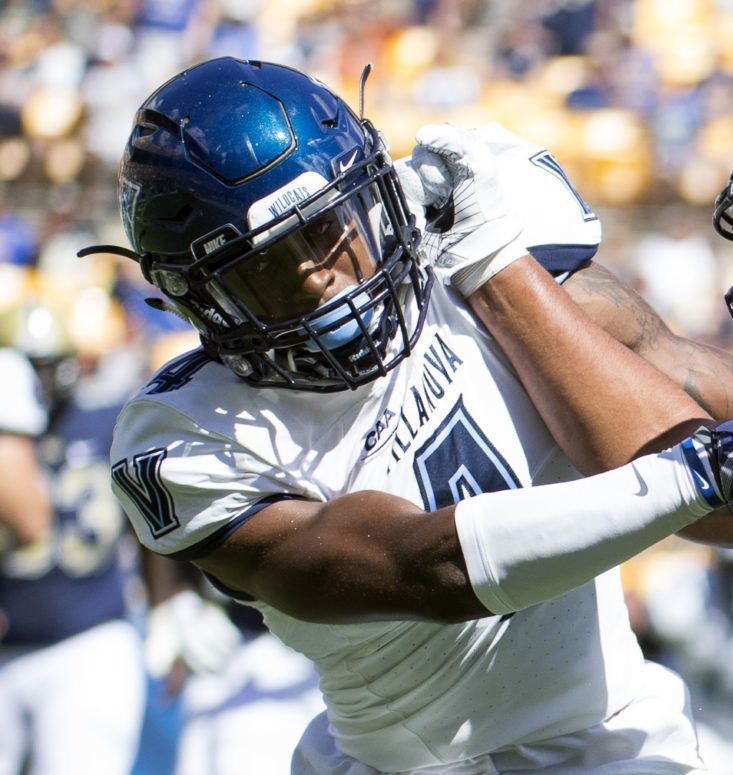 Spotlight On: Villanova S Rob Rolle
It looks like Villanova will have another great football team this season, and this year, Villanova has a big-time player with senior safety Rob Rolle, who was named the Colonial Athletic Association (CAA) Preseason Defensive Player of the Year.
Mark Ferrante has seen a lot of great Villanova players over the years, and he feels Rolle is a special player.
"Rob makes plays," Ferrante said. "He's that tall, rangy, athletic safety. He's our quarterback back there. He makes all the calls. If they change strength or come out unbalance. He's going to be the point guy to get all the secondary guys lined up.
"Rob's a great person. Rob is a great communicator He gives back a lot. I don't know where he finds the time to do as much as he does with the time that we ask him to put into the sport plus his studies and all the other things as far as his summer internships and his volunteering for things, but he's a preseason All-American. The coaches in our league picked him as preseason defensive player of the year."
Read More In the Philly Tribune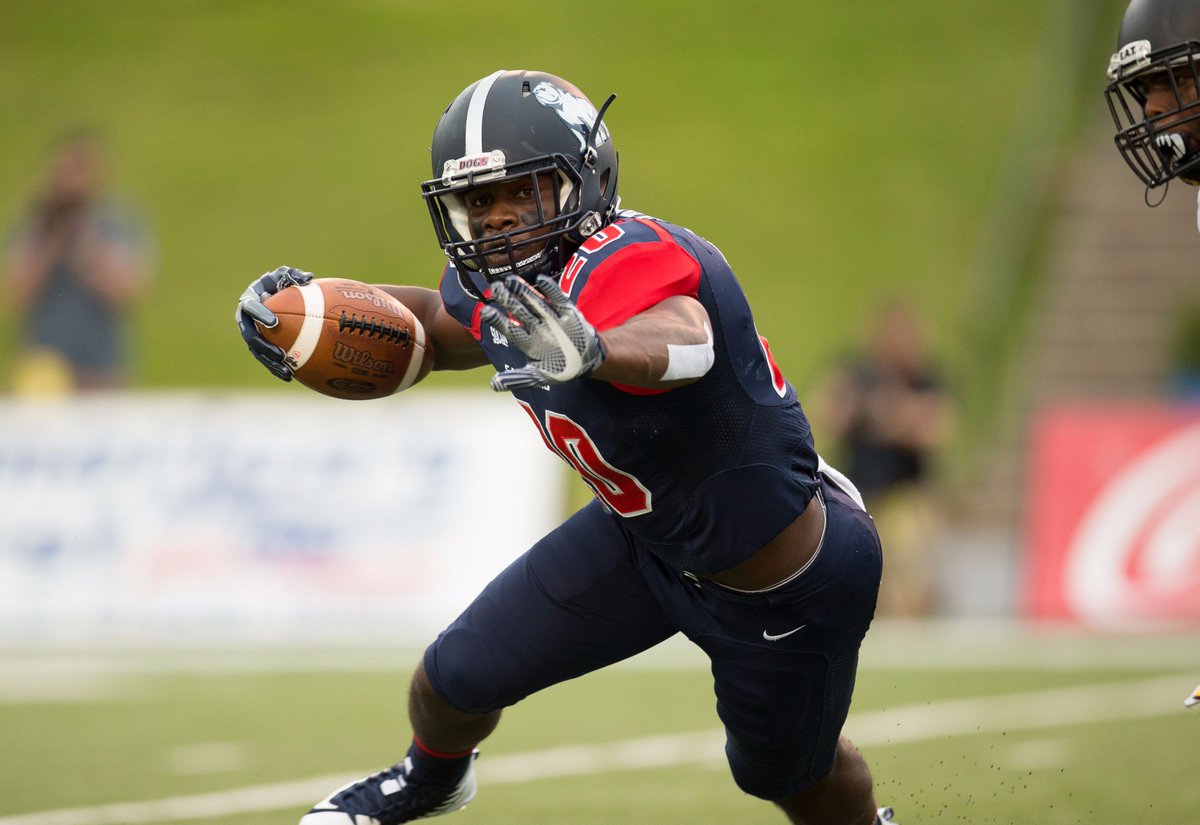 Fearless Predictions This Week In FCS
Thursday, September 7th
West Alabama (D-II) at No. 17 Samford. The Tigers, who are loaded with junior college players you may have seen playing in the Netflix series Last Chance U, are not your typical D-II pushover. However, Samford's no pushover, either. Bulldogs 27, Tigers 23.
No. 6 Sam Houston State at Prairie View A&M. The Panthers, who saw their Labor Day Classic game washed out and rescheduled for around Thankgsiving, now have the thankless task of hosting a team that should pulverize them in their home opener. Bearkats 52, Panthers 6.
Saturday, September 2nd
No. 5 Jacksonville State at Georgia Tech (FBS). The Gamecocks are one of the elite teams of FCS, and could give Tech a run for their money. But Tech should have enough to wear down Jacksonville State's defense by game's end. Yellowjackets 30, Gamecocks 20.
No. 9 Richmond at No. 25 Colgate. The Raiders come home after a huge 20-14 over Cal Poly a couple of weeks ago, while the Spiders come back from drenched Texas after their 48-34 loss to Sam Houston State. The key here will be how Colgate's defense does slowing down Richmond quarterback Kyle Lauletta and the Spider passing game – and if they can control the clock and the flow of the game. Spiders 34, Raiders 22.
No. 19 Lehigh at Monmouth. The Hawks, who opened up Kessler Stadium with a win over Lafayette last week, will have a tougher time containing Lehigh's vaunted passing offense on the same field this week, especially with the Mountain Hawks licking their wounds after a narrow loss to Villanova. Mountain Hawks 28, Hawks 24.
Robert Morris at No. 6 Youngstown State. Head coach Bo Pelini won't have any reason to raise his voice in this one. Penguins 33, Colonials 0.
No. 8 Villanova at Temple (FBS). Could another FCS over FBS be brewing here? A young Temple team got crushed by Notre Dame last weekend 49-16 in a game that was over in the first quarter, while quarterback Zach Bednarczyk was guiding the Wildcats to a gutty win against Lehigh. The conditions seem right for another FBS upset. Wildcats 27, Owls 23.
No. 10 Wofford at Mercer. If the Terriers win this game, they'll be 2-0 in SoCon play and it's only Week 2 of the season. Incidentally, the Bears could have the toughest schedule in the entire nation, not only having a challenging SoCon slate but also choosing to play Alabama AND Auburn, though thankfully not in consecutive weeks. Terriers 34, Bears 17.
No. 20 Weber State at California (FBS). No school in the nation takes a bigger step up in competition than the Wildcats: from hapless Montana Western to a Pac 12 team trying to get back to the upper bowl echelon. Weber State will find the going just a little bit more challenging. Golden Bears 40, Wildcats 10.
Missouri State at No. 11 North Dakota. One of the more surprising outcomes last weekend was Missouri State matching Missouri score for score until ultimately being overwhelmed 72-43. Fearless prediction: North Dakota will not put up 72 on the Bears, though the Fighting Hawks will also prove that their defense is much, much better than Missouri's. Fighting Hawks 27, Bears 7.
Cal Poly at No. 21 Northern Iowa. Two teams desperate for a win, the Mustangs (0-2) and Panthers (0-1) both need this game to get the ship righted before conference must-win games are in the mix. It will come down to strength vs. strength: Cal Poly's punishing run offense with running back Joe Prothroe vs. UNI's powerful defense. At home, Panthers seem too tough for an upset. Panthers 21, Mustangs 16.
Presbyterian at No. 13 The Citadel. At some point, the Blue Hose will win a football game in 2017, but it won't be this week. Bulldogs 56, Blue Hose 10.
No. 12 New Hampshire at Georgia Southern (FBS). If you are a FCS football geek, you may recall that New Hampshire and Georgia Southern met one and only one other time – in an instant classic I-AA playoff game in 2004, where the Wildcats would rally from a 21-13 deficit, with their legendary receiver, WR David Ball, in crutches, and deal Georgia Southern their first-ever first round playoff loss. (The whole game has been uploaded to YouTube and can be seen here.)
It's a cruel twist of fate that this I-AA playoff rematch will be recontested, not at Erk's house, the scene of the crime, but at a neutral site, thanks to the looming threat of Hurricane Irma. Eagles 37, Wildcats 17.
East Tennessee State at No. 1 James Madison. Will the Dukes take a knee at the one to keep from running up the score? That's about the only drama in the offing for this game. Dukes 63, Buccaneers 6.
Northwestern State at No. 23 Grambling State. This is one of those games where seeing the "23" next to Grambling's name might not be indicative of how this game might turn out. The Demons, who played Louisiana Tech tough last week, seem improved, while the Tigers, who fell to Tulane, looked somewhat sloppy. I think Grambling pulls it off in the end, but it might be a nailbiter. Tigers 24, Demons 23.
No. 24 Tennessee State vs. Jackson State (Southern Heritage Classic, Memphis, Tennessee). It's always a party when both sets of Tigers play, and it takes on added importance as Tennessee State, on the backs of their FBS upset of Georgia State last week, is looking to build their Top 25 resume. Jackson State will coem out blazing, I think, but Tennessee State is simply too talented. TSU Tigers 31, JSU Tigers 17.
No. 16 Central Arkansas at Murray State. Two teams face off at Roy Stewart stadium that are, frankly, somewhat of an enigma. How good are the Racers, who recently broke in their transfer quarterback from Old Dominion, Shuler Bentley, against D-II Kentucky Wesleyan in 70 point win? How good are the Bears, who got walloped by a Top 25 FBS program, Kansas State? This one will be close, and I think home advantage will help. Racers 29, Bears 26.
No. 14 Chattanooga at LSU (FBS). The Mocs' tour of the Deep South started with a loss in Alabama to Jacksonville State, and now this? Tigers 35, Mocs 14.
No. 4 South Dakota State at Montana State. I know Montana State has the potential to be a pretty good team in the Big Sky, but after facing off against one of the class teams of the Missouri Valley Conference seems like too tall an order. Jackrabbits 42, Bobcats 37.