Different Perspective As Lehigh Football Holds Their Brown/White Spring Game
This Lehigh football offseason, the athletics department made some changes to Murray Goodman Stadium, the home of Mountain Hawk football, moving the press area from the east-facing stands to the west-facing stands.
It meant that the familiar perspective on the Lehigh spring football game was switched, facing the bright, sunny, but damp field from the opposite side.
It was fitting, as head coach Tom Gilmore's first spring game as Lehigh football head coach, that the perspective on the regular game was different, as the former Holy Cross head football coach made some changes to the spring game that were a new take on Lehigh's traditional spring game.
There was no official scoring, but plenty of physical play and competition that made it a fun morning for players and spectators.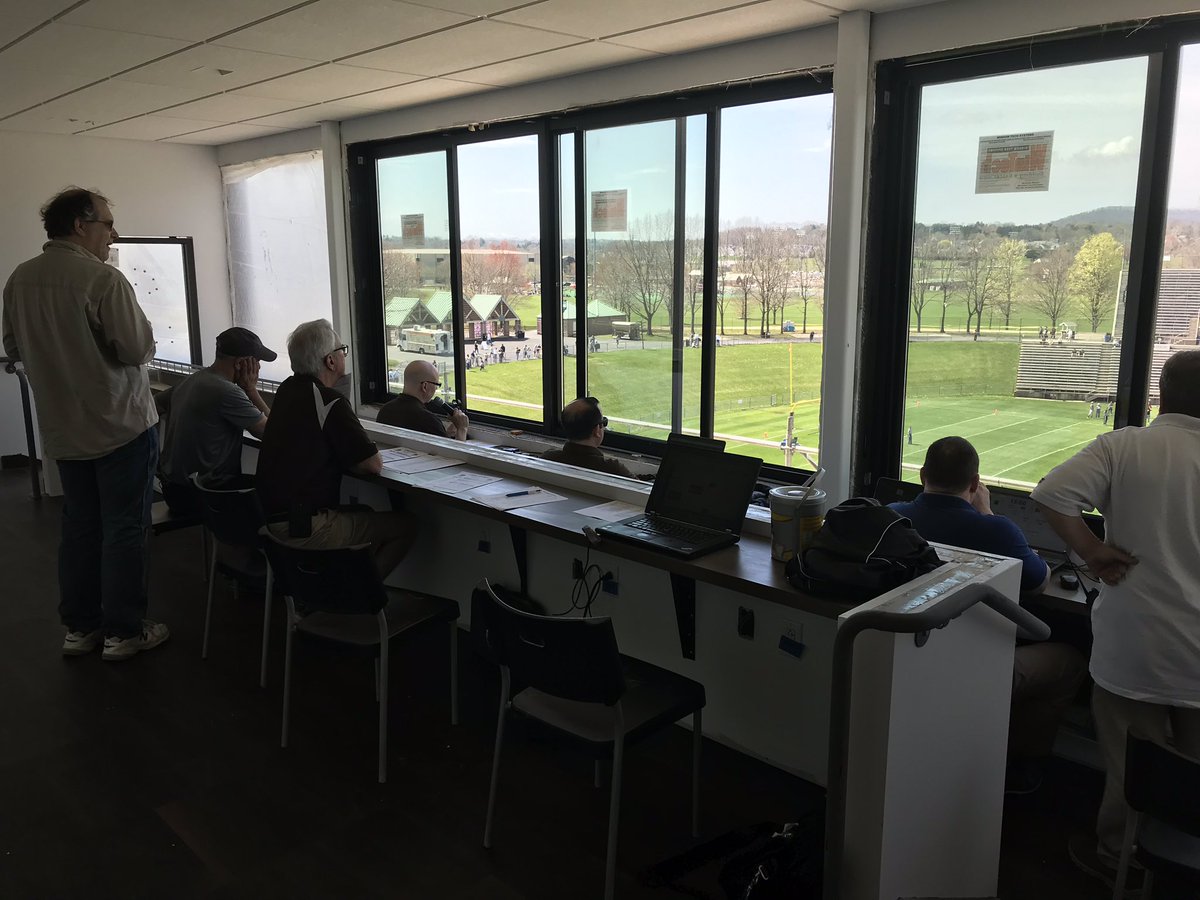 "As you know, I'm a very energetic guy," Gilmore said after the game. "You have to play with emotion, and we've done that at times this spring, and we've had some lulls. I have learned how to push some buttons with the team and I think the team has learned the expectations of what we're trying to do. This last week of spring has been awesome. It has been building. You see the energy and enthusiasm on the field. It's also a comfort level. Two weeks ago some of the guys didn't know some of the things we're doing. There's now a comfort level on top of that energy level."
Though there was no official depth chart for the game – unofficially, everyone is still playing to earn their position, just as Gilmore wants it – three different QBs led the White offense with an equal number of reps.
Under a lot of pressure from the defensive line, QB Alex Beesmer connected with a wide-open WR Austin Dambach for a 30 yard touchdown, and QB Addison Shoup connected with WR Dev Bibbens, who stretched to get a touchdown around the pylon – his only reception on the morning.
First TD pass of the afternoon from Addison Shoup to Dev Bibbens! pic.twitter.com/DW3QpZQwkE

— Lehigh Football Nation (@LFN) April 13, 2019
Overall, though, the defense impressed, providing some pretty big pressure on the three quarterbacks.
"The defense had a good day," QB Tyler Monaco said. "They jumped out on us early. They rolled with the momentum, and it showed. They really capitalized."
FS Riley O'Neil, DT Juwan Moore and DE Davis Maxie stood out on the afternoon.
Big hit by Riley O'Neil! pic.twitter.com/QqZI9f2fe7

— Lehigh Football Nation (@LFN) April 13, 2019
"This spring has been a lot more competition-based," Maxie said. "Every single day we've been developing new things, o-line vs. d-line drills, wide receivers vs. DBs, one on ones, just high energy drills that allow you to beat the guy in front of you."
Those one-on-one drills were brought to the fore during the game this Saturday, where there were mano-a-mano drills that everyone in attendance could see
One on one mini-competition Mano a Mano pic.twitter.com/ivMt7hzINp

— Lehigh Football Nation (@LFN) April 13, 2019
That included some offensive line vs. defensive line drills, when Maxie had the play of the spring practice.
Maxie with a great spin move! pic.twitter.com/OpfuTiDNtv

— Lehigh Football Nation (@LFN) April 13, 2019
"They've really come along," Gilmore said of the defensive line. "They're playing hard. They've gotten comfortable with the system. The defensive coaches are putting them in good positions to get that pressure, plus there were three or four times where we were tipping balls. We had some sacks, some tips and some pressures and it's good to see that we're getting that close. For our purposes at this point of the year, that's a good sign."