The big news was off field in the mid Atlantic last week rather than on the field. James Madison has accepted an invite to the Sun Belt conference. As a result, the conference where they competed before determined the Dukes could not participate in any further postseason conference tournaments. It was shortsighted decision based on an antiquated 20 year old rule.
The football playoff picture is still up in the air. Villanova controls its destiny. James Madison is a lock, William & Mary should be in line for an at large and Rhode Island is on the bubble.
Stony Brook went on the road and picked up a 22-17 win over Maine. Ty Son Lawson continued to lead the Seawolves with a rushing and receiving touchdown.
Karl Mofor ran for 222 yards and a touchdown to help Albany to their first win of the season over New Hampshire, 20-7 New Hampshire turned the ball over four times.
Delaware beat William & Mary 24-3 in a game where neither offense got going all game. The Tribe had 228 yards of offense; Delaware had 201.
Villanova overwhelmed Elon in all facets, winning 35-0. Daniel Smith threw for 238 yards and three touchdowns. Elon only amassed 163 yards of offense.
Richmond rode a 21-point second quarter to a 28-17 win over Towson. Overall, the game was sloppy with the two teams combining for five turnovers.
After losing three in a row, Rhode Island bounced back by trouncing FBS Umass 35-22. The Rams ran for 168 yards and three touchdowns in the win.
James Madison got four receiving touchdowns from Kris Thornton in a 51-14 defeat of Campbell. Caleb Snead had 11 catches for 198 yards and two touchdowns for the Camels.
Last Week: 3-4, Season: 55-16
Maine at FBS UMass Saturday November 13, 12:00 pm, FloSports
Maine had won three straight games and looked poised to knock on the playoff door. Then last week they lost at home to Stony Brook.Even if they knock off UMass this weekend, Maine's playoff hopes are officially gone. The Black Bears have had troubles moving the chains, converting only 34.8%. Derek Robertson has shown a lot of improvement after taking over for Joe Fagnano. His best attribute has been his ability to take care of the ball. His touchdown to interception ration is three to one – twelve touchdowns and four interceptions. UMass is a horrible FBS team and is coming off a loss to Rhode Island.
Maine has a shot to beat UMass who is one of the worst FBS teams in history. We will go ahead and pick that to happen
Fearless Prediction: Maine 28, UMass 25
Morgan State (MEAC) at Albany Saturday November 13, 1:00 pm, FloSports
Albany was able to finally pick up their first win of the season last week against New Hampshire. The Great Danes offense has been horrible all season scoring just 17 points per game. Jeff Undercuffler has underperformed to expectation through poor play and injury. The bright spot for Albany has been running back, Karl Mofor. He has run for 808 yards and seven touchdowns. Mofor also has one receiving touchdown. The offense as a whole has 17 touchdowns. Like Albany, their opponent this week, Morgan State, also picked up their first win of the season last weekend.
This is a battle of 1-8 teams. But always take a team from the bigger conference. Albany should easily be able to beat Morgan State this weekend.
Fearless Prediction: Albany 24, Morgan State 12
New Hampshire at Rhode Island Saturday November 13, 1:00 pm, FloSports
New Hampshire has been relegated to role of spoiler this weekend as they play out the string this season. It has been a struggle all season offensively where they gain only 285 yards per game. Bret Edwards has started at quarterback all season. He has 12 touchdowns and five interceptions. But there have not been enough big plays for this offense to get wins.
On the other sideline this week will be Kasim Hill of Rhode Island. Hill has been up and down but started hot to lead Rhode Island to a 5-0 start. He fell off and the Rams lost three straight games. Hill is smart runner. Last week in their win against UMass, Hill had two rushing touchdowns.
This is a game where New Hampshire is usually the team heading toward a potential playoff berth and Rhode Island is struggling and finishing out the season. But this year it's the other way around. Rhode Island still has a playoff shot. The Rams probably need to win both games. They keep their hopes alive.
Fearless Prediction: Rhode Island 30, New Hampshire 20
Stony Brook at #8 Villanova Saturday November 13, 1:00 pm, FloSports
Stony Brook will look back on their season and wonder what could have been. They have three conference losses by seven points or less. The Seawolves have won three straight. If they could have gotten one more score in those other games, this is a playoff team. But the offense struggles a bit. Ty Son Lawson has nine touchdowns and is the leading runner in the conference. Defensively, the Seawolves are solid.
Villanova is on track to get a seed despite their loss to William & Mary. The Wildcats have been dominant for most of the season. They ended James Madison's long home win streak. Daniel Smith has been exceptional at quarterback with nearly 1900 yards and 18 touchdowns. The defense will keep them in every game. They are tough to run against allowing just 88 yards per game. That number is inflated by the 234 they gave up to William & Mary.
Stony Brook has a shot to play spoiler here and pick up their fourth straight win. They are a bit forgotten because they dropped out of the picture early with a bad start. Don't over think it though, Villanova has higher goals and they need this win to get there.
Fearless Prediction: Villanova 37, Stony Brook 17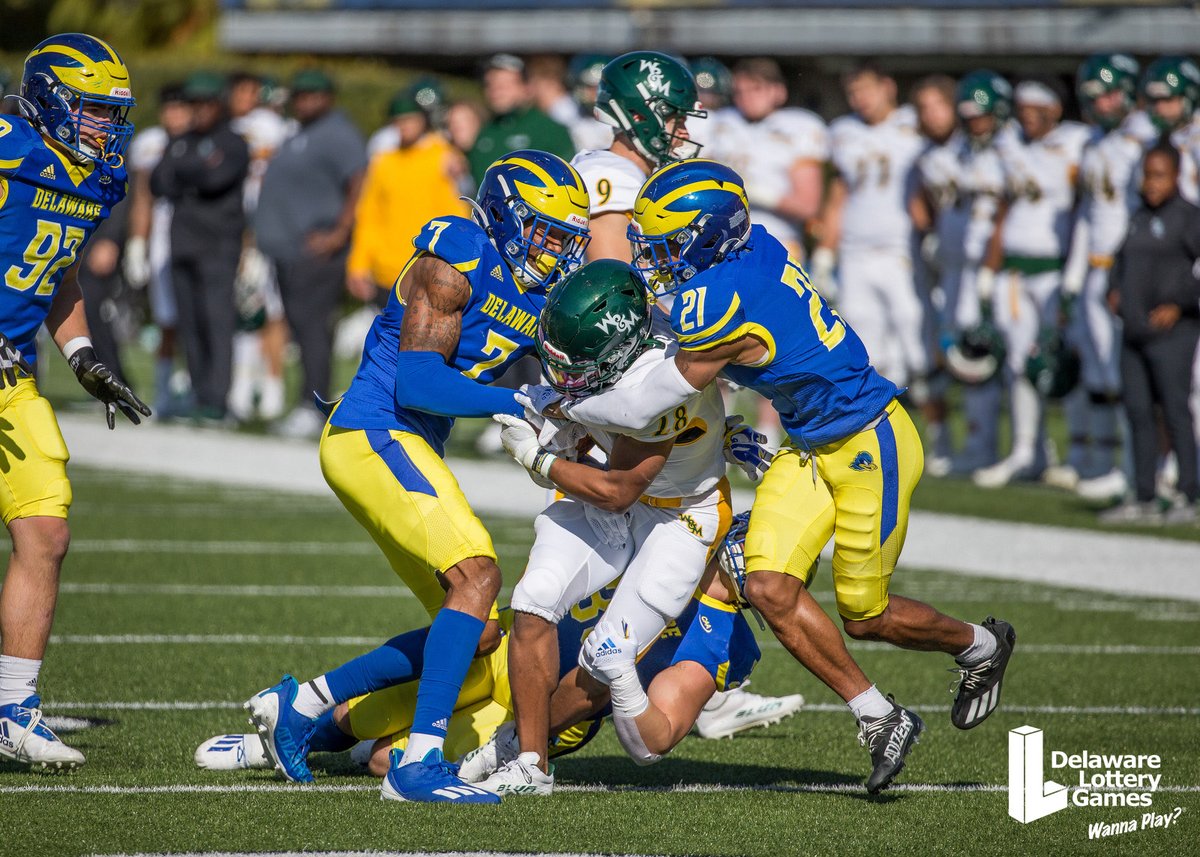 Delaware at Richmond Saturday November 13, 2:00 pm, FloSports
Delaware has badly missed Nolan Henderson this year. Its easy to think the Blue Hens would be heading toward a playoff berth if they had their quarterback. They aren't completely out of it, but the playoffs are a long shot. Zach Gwynn has not been able to get to the level needed to carry the team to the playoffs. Last week in a sloppy game, the Blue Hens picked up a big win against William & Mary. But that will most likely be their high point of the season. They don't score enough to be a threat.
Similarly, Richmond struggled when they lost their starting quarterback, Joe Mancuso. Its been a theme in the conference this season. The teams that have consistent quarterback play are at the top. Richmond has the defense to be a playoff team, but without Mancuso the offense struggle. He was back and the rust was off last week, and the Spiders picked up a win. Its too little too late for the playoffs, but Richmond knows what they have for next season. They'll want to finish the season strong and can end playoff hopes of both remaining opponents.
The decision in this game is easy. Richmond has their number one quarterback and Delaware doesn't. The Spiders also have a better defense.
Fearless Prediction: Richmond 24, Delaware 17
Elon at Towson, Saturday November 13, 2:00 pm, FloSports
If Elon could get anything out of their run game, they would be a dangerous team. They have struggled all year for that offensive balance. The good thing is that they have an exceptional quarterback, Davis Cheek who can carry the load. He has thrown for just under 2500 yards and has 15 touchdowns on the season with only five interceptions. The usually stout defense has been porous. The last two weeks the Phoenix have been humbled in games against the top teams in the conference. Cheek is a senior so these last two games will be bittersweet for him.
Towson challenged themselves in the non conference schedule hoping it would prepare them for the conference grind. But the Tigers sit at 3-3 in conference with no shot to make the playoffs. The offense is weak and turns the ball over too much and the defense is average. Chris Ferguson transferred in and was supposed to give the Tigers a veteran presence at quarterback, but he has struggled and been replaced in games. Overall they're not good enough this year.
Elon should be able to use Cheek's talents to win this game.
Fearless Prediction: Elon 26, Towson 18
#2 James Madison at #25 William & Mary Saturday November 13, 3:30 pm, FloSports
James Madison has bounced back from their earlier loss with four straight dominant wins. The defense is playing lights out and the offense is starting to get its stride back as well. The Dukes have the best defense in the FCS allowing just 244 yards per game and their run defense is second in the country. The scoring defense is seventh. They are top five in sacks and tackles for loss as well. Not to be out done, the scoring offense is eighth in the country and the total offense is 17th. All told this is an elite, championship level team. This is their last kick at the FCS playoffs as the Dukes will be off to the Sun Belt. Quarterback Cole Johnson was named to the Walter Payton watch list. It's a well deserved honor. Johnson completes over 68% of his passes and has thrown for 2256 yards and 25 touchdowns and just two interceptions.
William & Mary was cruising to a playoff berth but hit a huge speed bump last week. The Tribe lost 24-3 to Delaware and was never in the game. The health of running back Donavyn Lester is concerning. The Tribe have the top rushing offense in the conference but will need Lester if they are to throw their layers of run plays at the stout James Madison defense. The Tribe can probably still make the playoffs with a loss, but they'll want to avoid that at all costs. William & Mary has a strong attacking defense and takes the ball away a lot. They also have Buchanan Watch list player Nate Lynn who has 10.5 sacks on the year. If he can force Johnson into quick throws to cause turnovers, the Tribe will be where they need to be.
William & Mary will be a tough test, but James Madison is too tough. The Dukes will take this one on the road.
Fearless Prediction: James Madison 38, William & Mary 10
Jamie is a proud 2002 graduate of James Madison University. He's witnessed the growth of the program from no one in the stands in 1998, to the hiring of Mickey Matthews, to the 2004 National Championship, to the 2008 team, to the struggles in the early 2010s, and finally the rebuild under Mike Houston. He also allegedly really enjoys Washington, DC-based Stanley Cup winners.
Reach him at: