There are still four teams alive for the SoCon title, but for two teams – Mercer and Chattanooga – its simple: win both remaining games and win the conference. East Tennessee State is still in good shape for a playoff spot no matter what, and if they win their last two games, they may sneak into the seeding conversation. VMI needs two wins to stay on the bubble, but their earlier loss to The Citadel may keep them out. The other five teams are playing out the string.
East Tennessee got 161 yards and two touchdowns from Quay Holmes in their 27-21 win over VMI. Seth Morgan struggled for the Keydets, throwing two interceptions and no touchdowns.
Chattanooga ran for 270 yards and four touchdowns in their 35-10 victory over Wofford. The Terriers had only 136 total yards.
Western Carolina scored 12 fourth quarter points to come from behind and defeat Furman 43-42. The Catamounts have won three straight games. Furman running back Dominic Roberto ran for 196 yards and four touchdowns in the loss.
Samford, despite their worst passing game of the season, picked up a 35-14 win over The Citadel. It was the Bulldogs best defensive game of the season.
Last Week: 3-1, Season: 37-15
Samford at FBS Florida Saturday November 13, 12:00 pm, ESPN+
Samford is coming off its most impressive defensive performance of the season in their 35-14 win over The Citadel. Liam Welch struggled, throwing for just 118 yards in the game. The Bulldogs scored three rushing touchdowns but also scored on a fumble recovery and a punt return. On the season, they continue to be high event football scoring and allowing over 35 points per game and a turnover margin of 0; 18 for and 18 against. This week the Bulldogs travel to The Swamp to play Florida. The last time Samford played an FBS opponent in Florida, they put the fear of God into Florida State with a late lead; ultimately losing by 10. Liam Welch is going to have to get back to him previous form if the Bulldogs want to hang in this game.
No one expects Samford to win this game. If they do it's a bonus. They aren't playoff bound either way. Just hope for a respectable showing. The Gators will roll in this one.
Fearless Prediction: Florida 66, Samford 27
Wofford at The Citadel Saturday November 13, 2:00 pm, ESPN+
These two teams are again coming off of losses. Wofford lost for the eighth straight time last weekend. The Citadel has at least won a conference game. The Terriers have lost their last three games by an average of 25 points per game and are being outscored by 15 per game on average for the season. The Citadel is a little better, but not much. They are outscored by nearly 13 per game. Combined, these two teams have thrown the ball 270 times the entire season and only completed 48% of those. Both teams want to establish the run. For Wofford, they'll give the ball to Irvin Mulligan, who has been the only bright spot in an otherwise dark season. Mulligan averages 84 yards per game and 6.7 per carry and has scored eight of the team's 19 offensive touchdowns. For The Citadel, Jaylan Adams has steered the ship. He has nine rushing touchdowns and four passing touchdowns. This game could come down to which of these two guys can keep the chains moving more regularly.
These teams are playing for pride. The loser finishes last in the conference most likely. The Citadel has been a bit more consistent offensively, so take them is a low scoring, close game.
Fearless Prediction: The Citadel 19, Wofford 13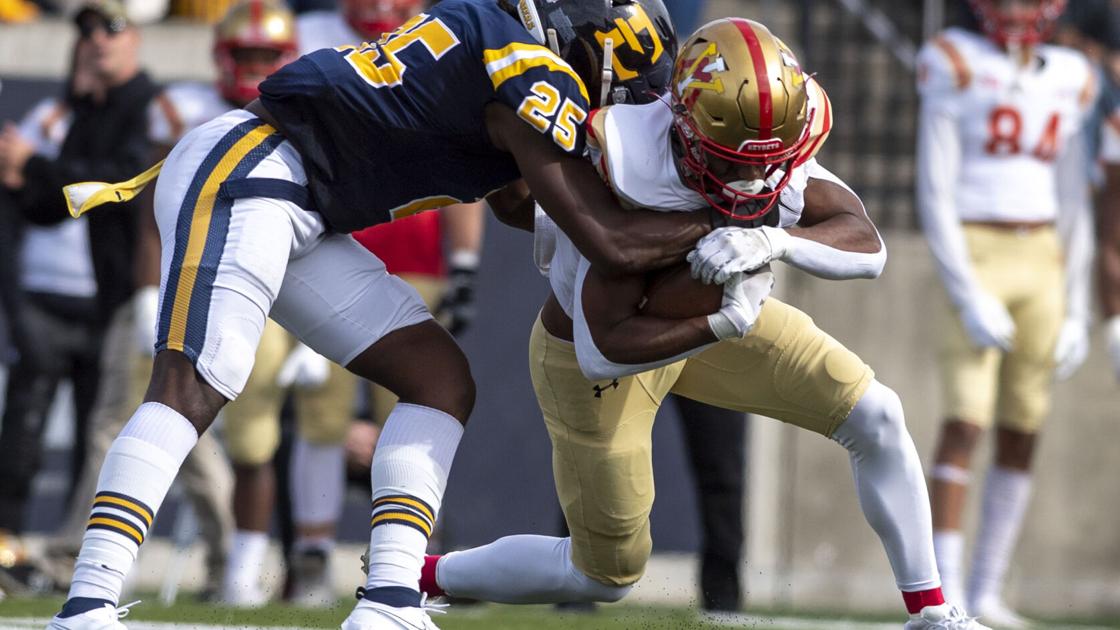 #21 VMI at Furman Saturday November 13, 2:00 pm, ESPN+
In the past, the fortunes of these teams have been reversed to what they are now. Usually, Furman is playing for a playoff spot and VMI is trying to play spoiler. But that script has flipped. With a more balanced offense and an improved defense, VMI won the Spring conference title and is just outside the lead this fall. VMI cannot afford anymore slip ups if they want to keep their playoff hopes alive. Furman has lost three straight after starting the season 4-2. Both teams allow about the same number of points as they score. Offensively, VMI is significantly more explosive, Furman has little passing game to speak of. Where Furman has an advantage is their defense's ability to take the ball away.
There is not one main thing that sticks out as the one single key in this game, rather many keys that will add up to ultimately wins the game. If VMI does get the passing game on track and can run effectively they will win. If Furman can get off the field on third down and use its run game to hold the ball, they can pick up the win. I have much more confidence in VMI at this point.
Fearless Prediction: VMI 31, Furman 17
#11 East Tennessee State at Western Carolina Saturday November 13, 2:00pm ESPN3
East Tennessee State is on a path that could see them seeded if things break right for them over the next two weeks. But to do that, they cannot overlook a Western Carolina team that has now won three straight games. The Buccaneers have what many think will be the conference player of the year, Quay Holmes. They'll need another big game from him and backfield mate Jacob Saylors. Western Carolina got Rogan Wells back from injury and have won three straight games. East Tennessee State has what those previous three opponents don't have: a strong defense. Western Carolina is trying to build momentum for 2022 so they are going to give all they have in these last two games.
East Tennessee State should be able to force a couple turnovers on defense and should run for well over 200 yards on offense. Rogan Wells will get his yardage and a couple touchdowns for the Catamounts. But the Buccaneers are clearly the better team in this game.
Fearless Prediction: East Tennessee Tate 30, Western Carolina 21
#22 Chattanooga at Mercer Saturday November 13, 3:00 pm, ESPN+
Chattanooga and Mercer both want to establish the run and use the pass to keep the defense honest. Chattanooga features a two headed running attack with Aylim Ford and Tyrell Price. The two have combined for nearly 1600 yards and have scored eight touchdowns. Ford is poised to go over the 1000 yard mark this weekend. Mercer features Fred Davis at running back. He has 751 yards and has scored 12 touchdowns. Defensively, Chattanooga stands heads and shoulders above Mercer. Devonnsha Maxwell was named to the Buchanan Award watch list on Wednesday and for good reason. His 9.5 sacks sit near the top of the FCS leaderboard. The key in the game may be which team can get the timely pass plays to keep the chains moving on third down; or which team can pick up a key interception.
Both these teams control their own destiny in the SoCon race. The winner enters the last week of the season just needing a win to take the conference title. The loser heads to the playoff bubble. In Mercer's case, their only playoff path may be the conference title. Chattanooga will be on the bubble but may lose out to another team. The stakes are high in this game. It's a coin toss.
Fearless Prediction: Chattanooga 20, Mercer 19
Jamie is a proud 2002 graduate of James Madison University. He's witnessed the growth of the program from no one in the stands in 1998, to the hiring of Mickey Matthews, to the 2004 National Championship, to the 2008 team, to the struggles in the early 2010s, and finally the rebuild under Mike Houston. He also allegedly really enjoys Washington, DC-based Stanley Cup winners.
Reach him at: