FCS Playoffs 'Til I Die: When Last Week's Bracket Goes Terribly Wrong
Remember when I had Villanova as a seed? Good times.
Harken back to when I had Delaware in my field? Yes, way back when – last week.
Do you recall the time that I had more than two Southland teams in my bracket? It's so long ago, why, when it happened, North Dakota State and South Dakota State were getting ready to play for the Dakota Marker trophy.
Every week, we get more clarity into the FCS Playoff field. Though nothing is set in stone yet in terms of autobids – I mean, I suppose James Madison could lose the rest of their games and qualify as an at-large team – there are some things we do know. Like, North Dakota State is – stop me if you've heard this – really good.
As the season rolls on, we live and die with the FCS Playoffs. Though we tear up our bad picks every week, we come back, getting just a bit closer.
Once again, a quick recap of the rules for the ability to qualify for the FCS Playoffs:
The field for the FCS Playoffs is determined at the conclusion of the FCS regular season, which is the Sunday before Thanksgiving.
There are 10 conferences that get autobids to the playoffs, the Big Sky, Big South, CAA, Northeast, Missouri Valley, Ohio Valley, Patriot League, Pioneer Football League, Southern, and Southland Conferences.
Two conferences, the SWAC and MEAC, choose to send their champions to the Celebration Bowl, a postseason event that's separate from the FCS playoffs. (Additionally, the SWAC also plays a championship game, and also have scheduled some games on Thanksgiving or beyond.) What this means is that their conference champions play in the Heritage Bowl and not the playoffs, though second-placed teams that don't have Thanksgiving or later games could be considered instead.
A third, the Ivy League, chooses FCS playoff irrelevance instead of participation in the greatest Division I playoff system ever created.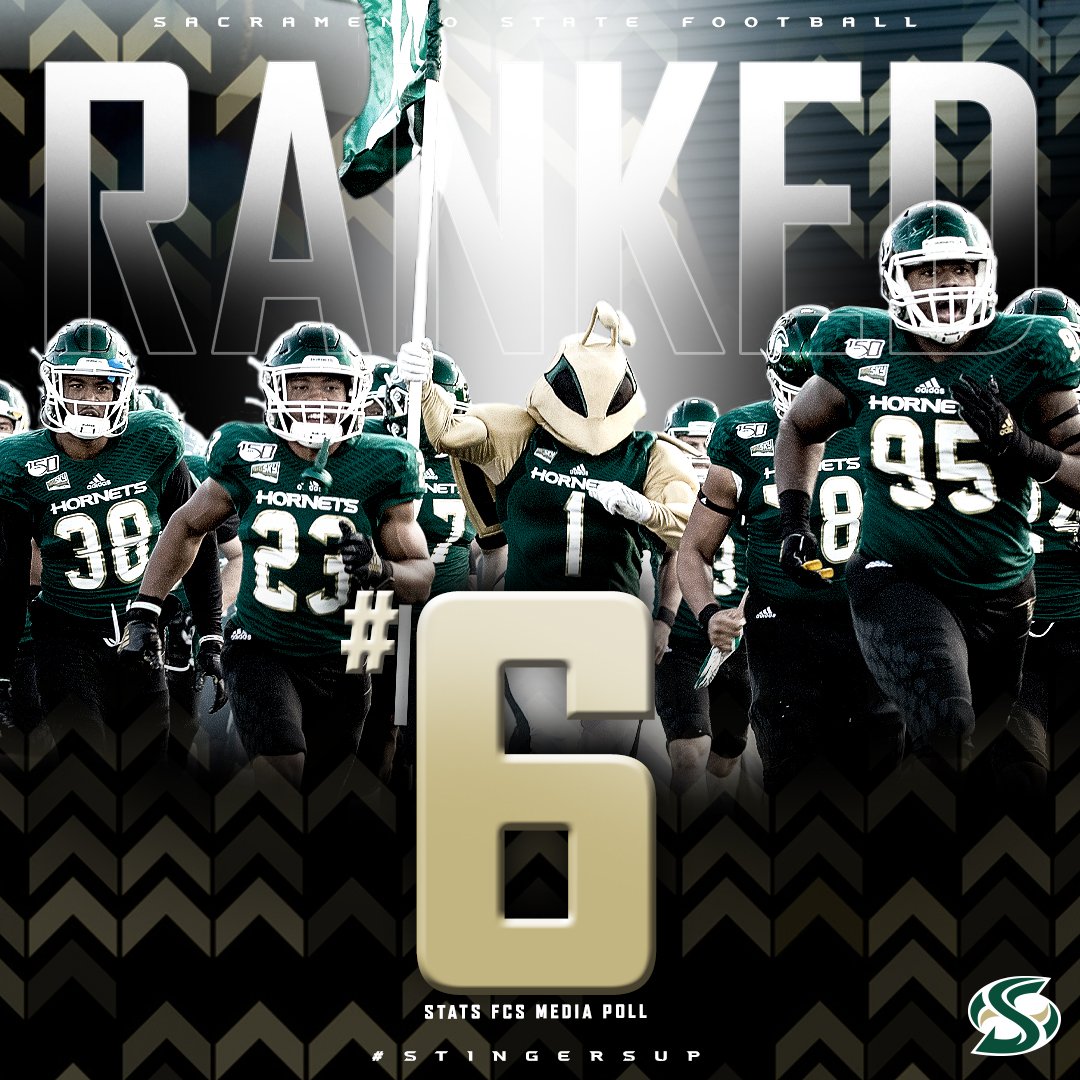 Projected Conference Champions/Autobid Winners
Big Sky
Folks keep looking at Sacramento State (6-2, 4-0) and keep looking to see if this is the week they come back to earth. The funny thing is – they're not. Last week, they took care of business against Cal Poly, setting up the best-ever game of #BigSkyAfterDark ever when the Hornets take on 6-2 (4-0) Weber State in a game that will have a championship feel. The winner of this weekend's game will have a huge leg up on the Big Sky title, autobid, and a probable seed. If defense wins championships, give me Weber State.
Big South
7-1 (3-0) Kennesaw State simply keep rolling through the Big South, though the perennial questions about "what would happen to Kennesaw State if they played against a halfway-decent FCS team" remain unanswered. To win the Big South, they'll have to knock out two very good FCS teams in the next month in 6-1 (3-0) Campbell and 6-2 (3-0) Monmouth. The battle between the Owls and Hawks takes place this weekend in Georgia.
Colonial Athletic Association
I'm not exactly sure about what fans of 8-1 (5-0) James Madison have to complain about – I mean, with all the winning, the fact that they are the only CAA team without a conference loss, and, of course, all the winning. The Dukes can clinch in two weeks if they beat 4-3 (3-1) New Hampshire in two weeks – one of the few teams with a chance to catch JMU – and 4-4 (3-1) Richmond and 5-3 (3-1) Albany both lose this week. That would put every team in the CAA not named after the fourth President of the United States having at least two conference losses to the Dukes' zero.
Missouri Valley
8-0 (4-0) North Dakota State, has beaten all the one-loss Missouri Valley teams that could catch them (Illinois State, Northern Iowa, and South Dakota State). Technically, it's not official, but if engravers want to get a head start, the conference trophy is in Patty Viverito's office (the commissioner).
Northeast
7-1 (3-0) Central Connecticut State has not stumbled against the weaker teams of the NEC, and have set up some potentially meaningful games in November, where contests against 5-2 (3-0) Duquesne and surprising 4-4 (3-0) Robert Morris await. A tricky game against Wagner, however, occurs this weekend.
Ohio Valley
Who will win the OVC? Your guess is as probably good as mine, with four teams with one conference loss (UT Martin, Austin Peay, Eastern Kentucky, Southeast Missouri State) and, looming with two conference losses, Jacksonville State, who need some help to win the OVC autobid if they win out but could very well get it, with a bunch of games left where the one-loss teams play each other. When you look at the upcoming schedules, 5-3 (3-1) Southeast Missouri State seems like the team best poised to emerge from the rubble, playing 3 OVC teams that are not contending for the title and hosting Eastern Kentucky.
Patriot League
4-4 (2-0) Holy Cross and 4-3 (3-0) Lehigh face off this weekend, and the winner will be the only remaining undefeated team in Patriot League play. That fact will make for a fun weekend at Murray Goodman Stadium, with a game on Stadium Network that should have a championship feel. Right now, Sagarin favors Holy Cross to prevail.
Pioneer
5-2 (4-0) San Diego won a big game against Dayton this weekend, putting the Toreros tied atop the Pioneer standings with 4-3 (4-0) Drake. As luck may have it, San Diego playes Drake this weekend, and the winner will most likely, barring a late-season collapse, be the PFL champions and receiver of the autobid. (Patty Viverito can have the PFL engravers come in after they're done with North Dakota State's trophy.)
Southern
Let's get this out of the way now: Wofford will lose this weekend to Clemson. Assuming the 5-2 (4-1) Terriers leave Memorial Stadium with pride and no injuries, they'll be extremely interested to see the results of the Furman/Chattanooga game, both teams with one conference loss. If that's Chattanooga, that helps Wofford a lot as the Terriers beat the Mocs already. It's still a messy situation, but Wofford can clarify things a lot if they win every game after this weekend.
Southland
Where to begin? Probably through process of elimination, 6-2 (4-1) Central Arkansas has to be considered the "frontrunner" if you can consider any team in this soup of hovering-around-.500 teams really a frontrunner of anything. In fact, you have to wonder whether the Southland will end up as a autobid-only conference with all the wacky results and .500 teams. If 5-4 (4-2) Sam Houston State runs the table, they might sneak in as the last team, but is the committee really going to give any Southland team, including the Bearkats, the benefit of the doubt if they are 6-5 or 7-5?
Seeding
North Dakota State (↔️)
James Madison (↔️)
Weber State (1 ⬆️)
South Dakota State (1 ⬇️ )
Illinois State (1 ⬆️)
Sacramento State (1 ⬇️)
Kennesaw State (1 ⬆️)
Wofford
Next Teams Up: Northern Iowa, Furman, Stony Brook, Villanova
Rest of the field:
Albany, Central Arkansas, Central Connecticut State, Elon, Furman, Holy Cross, Monmouth, Montana, Montana State, Northern Iowa, San Diego, Stony Brook, South Carolina State, Southern Illinois, Southeast Missouri State, Villanova
Last Four In:
Elon, Southern Illinois, South Carolina State, Monmouth
First Four Out:
Chattanooga, Austin Peay, Samford, Portland State
A word here on the MEAC. As mentioned earlier, the MEAC sends its champion to the Celebration Bowl to face off against the SWAC champions. But there is an opportunity for a second-placed team to qualify for the FCS Playoffs if they are not invited to the Celebration Bowl.
Currently, the situation around the MEAC is complicated. Florida A&M is competing in the MEAC, but they are under a self-imposed championship and postseason ban. So their games "count", but they cannot play in either the FCS playoffs or the Celebration Bowl, though they are undefeated in MEAC play.
Currently there are three teams with some excellent resumes: North Carolina A&T (5-2, 3-1), Bethune-Cookman (6-2, 4-1), and South Carolina State (5-2, 3-1). The Aggies have beaten a potential FCS Playoff team (Elon) while the Bulldogs have upset a potential FCS Playoff team as well (Wofford).
In our projections, we have North Carolina A&T doing what needs to be done to make the Celebration Bowl, with South Carolina State a close second. That's why the Bulldogs have our last at-large spot.
Potential 1st Round Matchups
Holy Cross at Villanova
Central Connecticut State at Albany
Elon at Montana
South Carolina State at Furman
Central Arkansas at Northern Iowa
Southern Illinois at Southeast Missouri State
Monmouth at Stony Brook
San Diego at Montana State
Potential 2nd Round Matchups
Central Arkansas/Northern Iowa winner at No. 1 North Dakota State
Central Connecticut State/Albany winner at No. 2 James Madison
San Diego/Montana State winner at No. 3 Weber State
Southern Illinois/Southeast Missouri State winner at No. 4 South Dakota State
Monmouth/Stony Brook winner at No. 5 Illinois State
Elon/Montana winner at No. 6 Sacramento State
South Carolina State/Furman winner at No. 7 Kennesaw State
Holy Cross/Villanova winner at No. 8 Wofford