The Lehigh Mountain Hawks (0-2) make a trip to Davis, California to take on the UC Davis Aggies (1-1). It's a game that promises to be an interesting clash of East Coast vs. West Coast in UC Davis Health Stadium – a Big Sky vs. Patriot League matchup, which is a rarity during the regular season.
It is not the first time these two teams have met.
Back in 1977, the Lehigh Engineers and UC Davis Aggies met in the "Knute Rockne Bowl", which was the official name of the Division II semifinals matchup. It was December 3rd, 1977, when Lehigh and UC Davis' paths crossed due to some come-from-behind wins by Lehigh.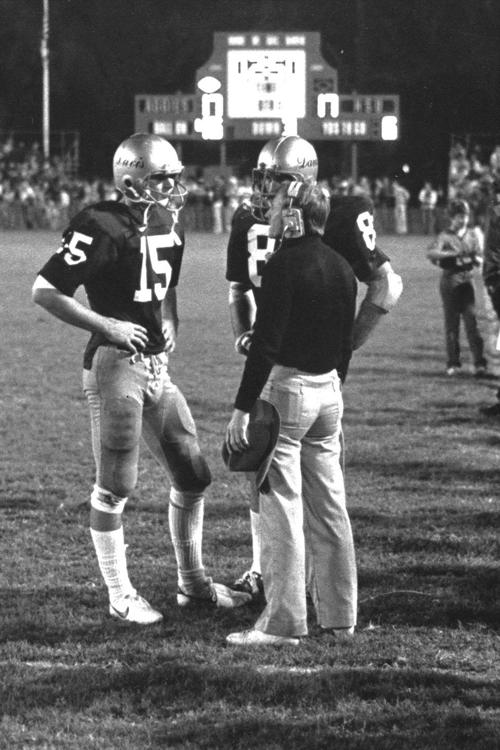 1977 Was a 10:00 AM Start
Earlier this offseason, the commissioner of the Pac 12 got roasted on Twitter by fans who thought his idea of early kickoff times to accommodate TV windows was a horrible idea.
Longtime UC Davis fans know something about early morning kickoffs, because that's in 1977, that's how things were done.
You have to go back to 1977, before the FCS existed and college football's TV contract consisted of national and regional broadcasts over a single national network. That's when UC Davis had to kick off their Division II semifinal game against Lehigh at 10:00 AM local time, in order for Ara Parseghian and Bill Fleming to have an east coast audience at 1:00 PM Eastern.
The early morning kickoff meant people heading to Toomey Field had to drive through a thick Bay area fog to get to the stadium. That included longtime UC Davis head coach Jim Sochor, whose car ran out of gas in the foggy morning and had to walk the final half a mile to the stadium.
It was a classic matchup, the type of game that can only be created through the magic of a playoff structure.
Lehigh's Greatest Team
Lehigh wasn't even supposed to be in the Division II playoffs, and wasn't supposed to be making the trip out to Davis, California that weekend. In fact, the Engineers had to win on the final day of the regular season just to make the 8 team field.
Thanks to their come-from-behind victory over their bitter Rivals Lafayette by a 35-17 score, head coach John Whitehead and his 9-2 Engineers were able to travel to the higher-ranked D-II team in the Eastern region, UMass, for the Division II quarterfinals. Up in Shuart Stadium in Amherst, Lehigh upset the No. 2-ranked Minutemen 30-23, and as a result won the Lambert Cup as the best team in the East.
The Engineers thus earned a shot to play against the best Division II team in the West, UC Davis.
Davis was a powerhouse that year, finishing the regular season 11-0 with a defense that didn't give up more than 22 points a game the entire season. It was one of Sochor's top teams, one of his very best.
It was also a thriller of a game, with the Engineers jumping out to a 14-0 lead and matching Davis score for score. It was 32-30 deep in the game, when finally Lehigh FB Mike Ford would bust through with the 25 yard TD that would give Lehigh a stunning 39-30 win.
Tomorrow, @LehighFootball plays at UC Davis in the first meeting between the two sides since the 1977 National Semifinals, a 39-30 Lehigh victory.

Check out some of the big highlights from the game 👇🏼 on the way to the Division II National Title.#FlashbackFriday pic.twitter.com/e7B3o5za68

— Lehigh Sports (@LehighSports) September 13, 2019
One more step remained for Lehigh to win their first, and only, national championship in football – a game against Jacksonville State in the Pioneer Bowl in Wichita Falls, Texas. With their dominating 33-0 win, the Engineers would cap off one of their most epic seasons in their history – a stretch that almost didn't happen.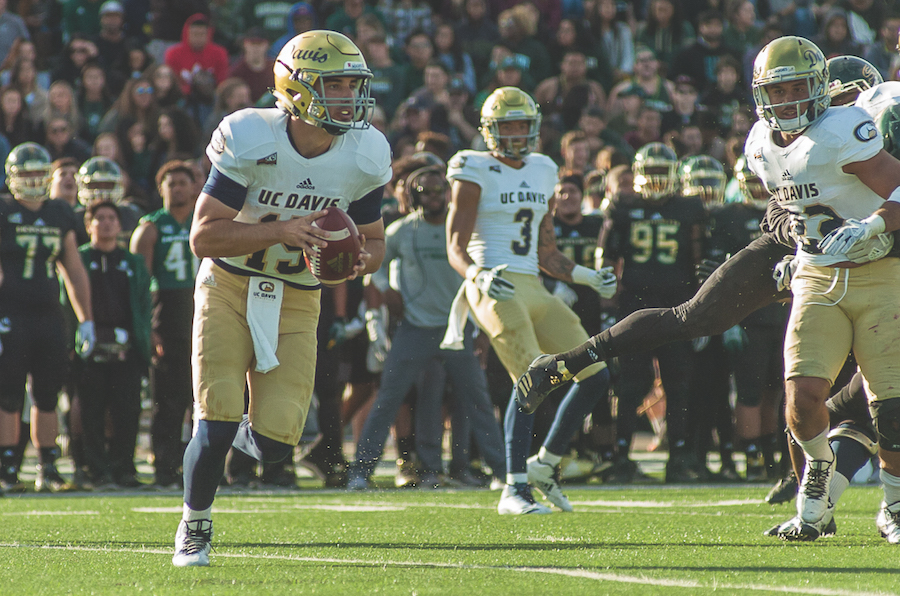 Lehigh And UC Davis Today
Current Lehigh head coach Tom Gilmore and current UC Davis head coach Dan Hawkins were teenagers when Lehigh and UC Davis met that December day. The game happened a few years before Hawkins would start for Sochor as a fullback for the Aggies, and more than two decades before Gilmore would join a legendary coaching staff at Lehigh that dominated the Patriot League.
This weekend, they meet under different circumstances in every way from the 1977 meeting.
The No. 4 ranked Aggies are, along with Eastern Washington, a real threat to win the Big Sky and host some FCS Playoff games this season. Their quarterback Jake Meier is one of the best signalcallers in all of FCS, and is on the watchlist to potentially win the Walter Payton Award, the FCS equivalent of the Heisman Trophy.
"We're looking forward to being home," he said this week. "We feel like we play better at home. Hopefully it will be a good experience for us. As long as we keep getting better every week, it doesn't matter who we play. You've got to win your home games."
The Aggies come home after experiencing a scare on the road in San Diego, very nearly going down against the non-scholarship Toreros 38-35. Mere inches prevented San Diego's final play from crossing the goal line, giving UC Davis their first win on the 2019 campaign.
"The more the young guys get their feet wet in these early weeks, the better off they will be," Maier said. "That USD game going down to the very end was truly a blessing in disguise, because we were able to execute at such a high level late in the game, which is really hard to simulate in practice. The fact that we got that in Week Two of the season is going to make us better."
Game 2️⃣ Recap vs USD 🏈 #goags #uncommonengineering #shredforce pic.twitter.com/bxOPVVwWNh

— #4 UC Davis Football (@UCDfootball) September 10, 2019
"They present a lot of challenges from a scheme standpoint," Lehigh head coach Tom Gilmore said this week. "They do some unique things that are innovative and enhance their personnel. It's a fast, athletic team. Their offense reminds us a little of ourselves ['Air Lehigh'] in some ways. It's a really good football program. Their national ranking is very much justified."
Mountain Hawk Challenge
On the Mountain Hawk side, head coach Tom Gilmore has a team who is looking to deliver him his first win as Lehigh's head football coach. Don't use the words "rebuilding" around this team, but a relatively young Mountain Hawk squad the last two weeks has been competitive but hasn't been consistent enough to deliver that first win.
"You want to keep getting better and improving regardless of the outcome," Gilmore said this week. "We know we need to make big improvements in every area. We're disappointed in the overall results, but we're seeing positive signs in all three phases."
Last week in a 38-10 loss to nationally-ranked Villanova, there were definite positives to take from that game on the Lehigh side. Start with the defense, led by S Sam McCloskey, who help Villanova to one first down on their first three offensive possessions.
"Everyone is really excited to hop on a plane and go out to California, but the key is to remain focused, especially the younger guys," McCloskey said this week. "After watching the film, we really think we can go out there and compete from a defensive perspective."
McCloskey too has been a true leader on special teams, something that was very evident in Lehigh's coulda, woulda, shoulda game against St. Francis (PA) to start the season. He recovered two fumbles – one returned for a highlight-reel touchdown – and downed a punt at the 1 yard line to cap off a Patriot League Special Teams Player of the Week award.
One thing that will be very interesting to watch in this game is how Lehigh's defense handles UC Davis' unpredictable and well-tuned offense, which is different than Villanova's more straightforward read-option and rushing-heavy offense last week.
"This will be a big challenge for us," Gilmore said. "But we're really looking forward to that challenge."