FCS Playoffs 'Til I Die: Your Near-Meaningless 2019 FCS Playoff Projection, Week of 9/7/2019
There truly is a never-ending search for content, a fact I was reminded of when I was politely and earnestly asked this week about coming up with an FCS playoff projection for the 2019 season.
In past seasons, I've generally waited until we know – well – anything about the 2019 FCS football teams before trying to put my name on an FCS playoff field. By the time mid-October rolls around, we know that an 0-6 team in the NEC with three conference losses is pretty unlikely to be in the conversation for a FCS playoff spot.
But picking an FCS playoff team in September is really tricky business. I can almost guarantee that there is an 0-2 team out there right now that is going to be playing playoff football Thanksgiving weekend or possibly even the weekend after. Even 0-2 Robert Morris, who lost to a winless NAIA school in Kentucky State, could theoretically run the table and win the NEC at this point.
In fact, the only teams that are truly out of the conversation is Florida A&M, who is serving a self-imposed postseason ban, and the schools of the Ivy League, who have chosen FCS playoff irrelevance.
So what is a person who loves the FCS to do? Why, pick a playoff bracket based on basically nothing, of course. This week, here's a FCS playoff prediction that will almost certainly be obsolete by dinnertime on Saturday.
Once again, a quick recap of the rules for the ability to qualify for the FCS Playoffs:
The field for the FCS Playoffs is determined at the conclusion of the FCS regular season, which is the Sunday before Thanksgiving.
There are 10 conferences that get autobids to the playoffs, the Big Sky, Big South, CAA, Northeast, Missouri Valley, Ohio Valley, Patriot League, Pioneer Football League, Southern, and Southland Conferences.
Two conferences, the SWAC and MEAC, choose to send their champions to the Celebration Bowl, a postseason event that's separate from the FCS playoffs. (Additionally, the SWAC also plays a championship game, and also have scheduled some games on Thanksgiving or beyond.) What this means is that their conference champions play in the Heritage Bowl and not the playoffs, though second-placed teams that don't have Thanksgiving or later games could be considered instead,
A third, the Ivy League, chooses FCS playoff irrelevance instead of participation in the greatest Division I playoff system ever created.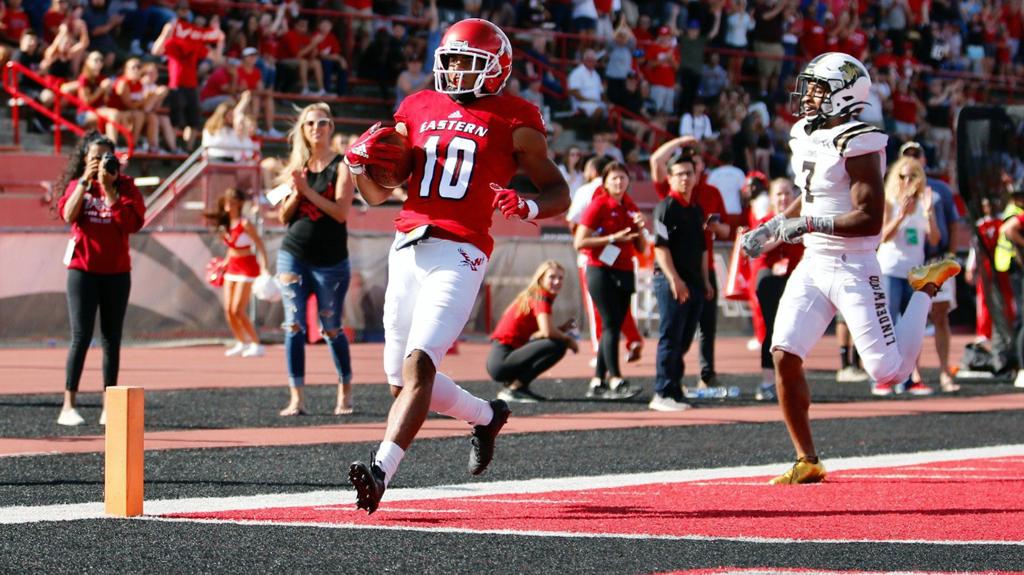 Projected Conference Champions/Autobid Winners
Big Sky
This week, in the absence of a lot of data, I will lean heavily on two different pieces of data: the way-too-early FCS Sagarin ratings and our preseason picks of who CSJ thinks the conference champions might be. In the case of the Big Sky, it's a three-way choice between Eastern Washington, UC Davis, and Weber State. As of now, let's choose 1-1 Eastern Washington as our Big Sky representative.
Big South
With Monmouth struggling against Lafayette, the only real choice here so far is 1-1 Kennesaw State, who crushed a non D-I in Week 1 (Point) and took FBS Kent State to overtime last week. This is consistent with who CSJ picked to win in the preseason as well.
Colonial Athletic Association
The last two choices make things easier from the projection standpoint. Rather than go through something hard, like analyzing quality wins/losses, projecting possible W/L records, comparing margin of victory, I can just go back to our original predictions and see who we chose to win the CAA. James Madison (1-1). There, that wasn't hard at all.
Missouri Valley
Until proven otherwise, 2-0 North Dakota State has amply earned the right to be our hypothetical conference winner. Not that you needed to know this, but they were also No. 1 in Sagarin this week and No. 1 in our Missouri Valley preview as well.
Northeast
Very little to go on here, but 1-0 Duquesne was our pick in the preseason to win the conference and the Dukes have done nothing to disqualify themselves from consideration. A 44-3 win over D-II Walsh didn't really prove much one way or another.
Ohio Valley
So here, finally, is where things get interesting. Our preseason pick to win the autobid, 1-1 Jacksonville State, was throttled by Southeast Louisiana to start the season. And our second-placed team, 1-1 Southeast Missouri State, lost last week to a very tough Montana State team on the road. Judging by these two games, give us SEMO.
Patriot League
Colgate may be 0-2, but their two losses, to powerful Villanova in Week 0 and FBS Air Force in Week 1, aren't really enough to sway us from our original predictions for the Patriot League. 1-1 Holy Cross is a team to watch after their upset win over 0-1 New Hampshire last week, but we'll keep a wait-and-see attitude.

Pioneer
Our preseason pick to win the PFL was San Diego, and certainly their 0-2 record against Cal Poly and UC Davis of the Big Sky certainly shouldn't be held against the Toreros. (San Diego came inches away from upsetting the Aggies last week.) But Dayton, with their 42-35 upset win over nationally-ranked Indiana State, was an announcement that the Flyers are for real in the Pioneer this year. Tentatively, let's put the Flyers in the autobid spot.
Southern
0-1 Wofford was our pick in the preseason to win the SoCon, but a stunning loss to South Carolina State makes it an easy handoff to 1-1 Furman to be our early SoCon autobid pick after an impressive game against Georgia State, 48-41.
Southland
It's already Week 2, and… already we're having problems figuring out who's going to win the Southland? With Southeastern Louisiana, Houston Baptist and other teams already looking like they will be in contention all year, we could have gone with our preseason pick, 0-1 Nicholls, but after Central Arkansas upset Western Kentucky to begin the year – have to pick da Bears at the moment.
Seeding
Seeding? SEEDING? You want seeding? This is where Sagarin will shine for us. It won't be exactly what Sagarin is telling us, but it's a pretty good indictor.
North Dakota State
South Dakota State
James Madison
Weber State
Eastern Washington
Central Arkansas
Furman
Maine
Next Teams Up: UC Davis, Illinois State, Delaware, Nicholls
Rest of the field:
Colgate, Dayton, Delaware, Duquesne, Mercer, Illinois State, Kennesaw State, Jacksonville State, Montana State, Nicholls, Northern Iowa, Southeast Missouri State, Southeastern Louisiana, Towson, UC Davis, Wofford
Last Four In:
Southeastern Louisiana, Jacksonville State, Villanova, Towson
First Four Out:
Chattanooga, Sam Houston State, Montana, Mercer
Potential 1st Round Matchups
Duquesne at Delaware
Colgate at Towson
Dayton at Villanova
Jacksonville State at Illinois State
Nicholls at Northern Iowa
Southeast Louisiana at Wofford
Southeast Missouri State at Kennesaw State
Northern Iowa at Montana State
Potential 2nd Round Matchups
SE Louisiana/Wofford winner at No. 1 North Dakota State
Dayton/Villanova winner at No. 2 South Dakota State
Duquesne/Delaware winner at No. 3 James Madison
Jax State/Illinois State winner at No. 4 Weber State
UNI/Montana State winner at No. 5 Eastern Washington
Nicholls/UNI winner at No. 6 Central Arkansas
SEMO/Kennesaw State winner at No. 7 Furman
Colgate/Towson winner at No. 8 Maine