Northeast Conference Predicted Order of Finish
The Northeast Conference welcomes two new members in 2019 in LIU and Merrimack, two teams that should bring some juice to the league in future years. That newness extends to many of the existing teams of the NEC, many of whom are headed by first or second year head coaches. In such an environment, Duquesne's returning talent and longtime head football coach really stand out.
1. Duquesne
With so many questions with the other teams in the NEC, Duquesne returns their long-time head coach Jerry Schmitt, and key offensive players like RB A.J. Hines. They have the returning talent to not only repeat as NEC champs but to also put together another FCS playoff run. If they can knock out New Hampshire and Youngstown State to start the year, they won't be well-kept secrets nationally for long.
Read our full Duquesne team preview here.
2. Central Connecticut State
With head coach Pete Rossomando being hired away by Rutgers in the offseason, interim head coach Ryan McCarthy was promoted from offensive coordinator to take over in New Britain. Rossomando left a cupboard full of great players for McCarthy, most notably all-league OL J'Von Brown.

Read our Central Connecticut State team preview here.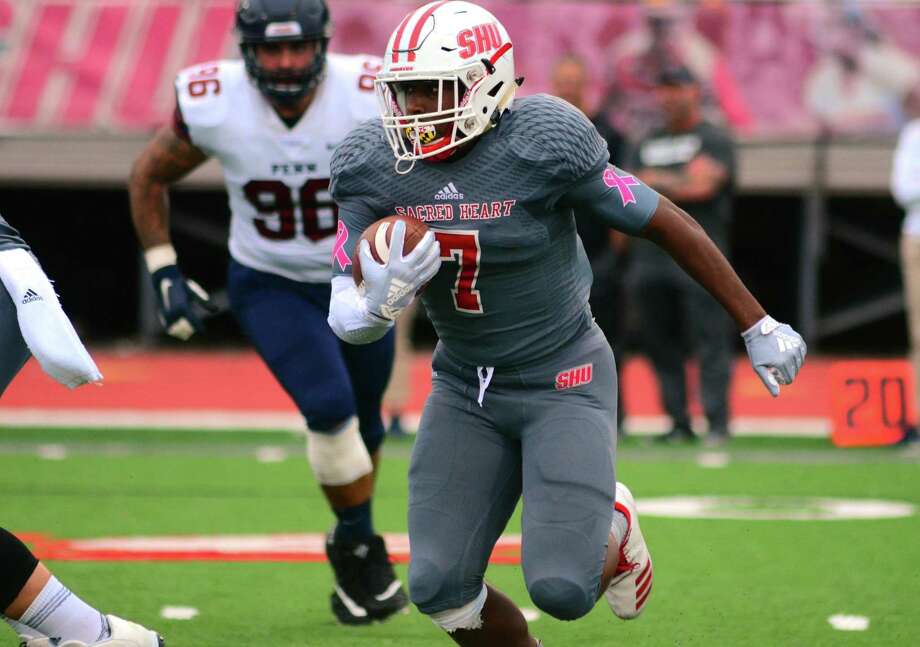 3. Sacred Heart
Even though they lose their experienced QB Kevin Duke, the Pioneers have more than enough talent to make another run at the NEC title if they can find a quarterback to replace Duke. They are set at the running back position with the perfect 1-2 combination of senior RB Jordan Meachum and sophomore RB Julius Chestnut.
Read our Sacred Heart team preview here.
4. Wagner
Despite a 4-7 record last year, hopes are high that new transfer QB Christian Alexander – last seen by many guiding Florida International to a Bahamas Bowl win in 2018 – can transform the Seahawks offense into a title contender. The Seahawks defense isn't in question, with all-league LB Cam Gill returning.
Read our Wagner team preview here.
5. Bryant
Early against Central Connecticut State, the 4-1 Bulldogs were up 14-0 on the Blue Devils, and seemed to be on their way towards a NEC championship. Then CCSU scored 48 straight points in a 34 point loss, and the Bulldogs never seemed to fully recover, dropping three of their last five games and squeaking by both Fordham (42-41) and Howard (56-55) by a single point each. After the season, head coach James Perry was hired away by his alma mater, Brown, and assistant Chris Merritt was hired in his place.

Read our Bryant team preview here.
6. St Francis (PA)
The story of the Red Flash in 2018 was an incredible number of second half collapses and improbable clutches of defeat from the jaws of victory in a 4-7 season. It seems even more improbable that St. Francis (PA)'s bad luck repeats itself in 2019, but they have some big questions to answer going into the season.

Read our St Francis(PA) team preview here.
7. Long Island
Through a quirk of the merger of the athletic departments of LIU-Post and LIU-Brooklyn, the Division II program that was called the Pioneers is now Division I, eligible for the NEC title, and called the Sharks. They'll need to have some time to adjust to life at the Division I level, but the long-term future looks very bright.
Read our Long Island team preview here.
8. Robert Morris
Last year the Colonials struggled mightily under first-year head coach Bernard Clark, struggling to a 2-9 record and not winning any games against Division I opponents. They'll look to improve behind one of the great TE talents at the Division I level, TE Matthew Gonzales.

Read our full Robert Morris team preview here.
*. Merrimack
FCS newcomer Merrimack joins the NEC this season while still in transition from Division II. Though they're ineligible for the official NEC title and the FCS Playoffs (thanks to the fact that they don't play a full conference schedule), that's not to say that they will be pushovers. QB Christian Carter had a great season last year as a freshman in the Warriors' final season in Division II, with a 57.32% completion percentage, 465 yards rushing, 1,681 yards passing, and 18 TDs in only 10 games.

Read our full Merrimack team preview here.
5 Big Conference Games to Watch
1. Duquesne at Sacred Heart 10/19
2. Wagner at Duquesne 10/26
3. Wagner at Sacred Heart 11/9
4. Central Connecticut at Duquesne 11/23
5. Merrimack at LIU 11/23
Ten Players to Watch from the NEC
Offensive Players to Watch
1. RB – A.J. Hines, senior, Duquesne
2. RB – Jordan Meachum, sophomore, Sacred Heart
3. QB – Daniel Parr, senior, Duquesne
4. TE/HB – Matthew Gonzales, junior, Robert Morris
Defensive Players to Watch
1. LB – Cam Gill, senior, Wagner
2. DB – D.J. Exilhomme, junior, Central Connecticut State
3. DL – Chris Ageyemang, senior, Sacred Heart
4. DL – Tomas Wright, senior, Bryant
Special Teams Players to Watch
1. DB/KR – Nick Rinella, senior, St. Francis (PA)
2. K – Mitch MacZura, senior, Duquesne