BYU at Boise State
When: Friday, Nov. 6th, 9:45 PM EST
Where: Albertson Stadium, Boise, Idaho
TV/Streaming: FS1/Fox Sports App (subscription req'd)
A couple of weeks ago, we saw two American Athletic Conference foes ranked in both the AP and Coaches Top 25 poll and we now get to see one out West with Boise State hosting BYU.
Boise State is just getting started on their season as its conference of the Mountain West decided to start its season back on Oct. 24th. The conference decided to play a mostly conference only schedule but with the excection of Air Force playing its two service accademy rivals in Army and Navy. This led two Boise State and San Diego State having one fewer conference game, along with Air Force's two to be out of conference.
BSU has gotten off two a 2-0 start and are ranked 21st and 23rd respectively in the AP and Coaches polls. The Broncos have easily defeated Utah State and Air Force to start their season.
Both Boise State and San Diego State will play a former MWC foe in BYU.
The Cougars got their start at the traditional Labor Day weekend and sit currently at 7-0 and ranked #9 in both the AP and Coaches polls. The Cougars had its biggest win likely thus far in its season opener at Navy with a blowout win on Labor Day evening. BYU only other road game so far was three weeks ago at another AAC team in Houston and BYU erased a second half deficit to defeat the other Cougars fairly easily in the end.
These two schools are seperated by just 380 miles and will play for the 11th time all-time. Boise State leads the series 7-3 and are a perfect 5-0 at home against BYU.
But last year, BYU spoiled Boise State's perfect season to that point with a 28-25 victory in Provo. See the highlights from that game below:
Six of the 10 games in the this contest have come down to the final minute of play, with four of those being decided on the game's final play. But even with all the classics in this rivalry, there likely has never been more at stake in this newfound rivalry with both schools looking to make their claim towards a New Year's Six bowl game and potentially even College football playoff berth if all falls in their favor.
Here are some of the key statistics coming into this year's clash.
BYU Cougars (7-0 overall)
The Cougars so far are outscoring opponents by 31 points per game, and QB Zach Wilson has proven to be one of the best signal callers in the game this year.
Wilson can burn the defense with the passing game but BYU can also do it with the run game. The evidence is with the two AAC games the Cougars played this year.
BYU rushed for 301 yards on the ground in the season opener at Navy as the Navy defense played the pass in that game. Houston, on the other hand, stacked the box, but Wilson maded them pay with 400 yards through the air.
The Cougar defense has been outstanding also as it has averaged less than 100 yards on the ground so far this year and just over 280 yards per game overall. Boise State will be the best team it has played so far but it has done its job against a wide variety of opponents from the Navy option run game to the Houston pass game.
Key Player: QB Zach Wilson
Wilson is hitting 75% of his passes for 2,152 yards with 19 touchdown and just two interceptions to go along with seven rushing scores. He is definitely in the Heisman Trophy talk and this game will be his biggest test of the season to show why he is worthy. But with the hype and likely a Boise State defense that will be geared to stop his passing attack, he will need to take what the defense is giving him and change plays at the line of scrimmage to a run. The key will be for the Cougars offense will be to use what the defense gives them and for Wilson to make the right adjustments.
Boise State Broncos (2-0 overall, 2-0 MWC)
The big question for the Broncos this week will be at its starting quarterback position. Hank Bachmeier started the season opener at home over but did not make the trip to Air Force last week. Instead Jack Sears started his first game for Boise State after transferring from the Pac-12's USC.
Both quarterbacks performed well in their two starts so it might not matter too much as both appear to have similar abilities. Plus, the Broncos have a very strong run game with RBs George Holani and Andrew Van Buren. Holani was limited last week against Air Force due to a early game injury but Van Buren proved he can also take the carries.
The Boise State defense has shown some vulnerability to the run game but of course this might be due to its opponent last week in Air Force, which runs a triple option attack. But with BYU's strong passing game this could be a key as BYU can also run the ball well.
Key Player: QB Hank Bachmeier or Jack Sears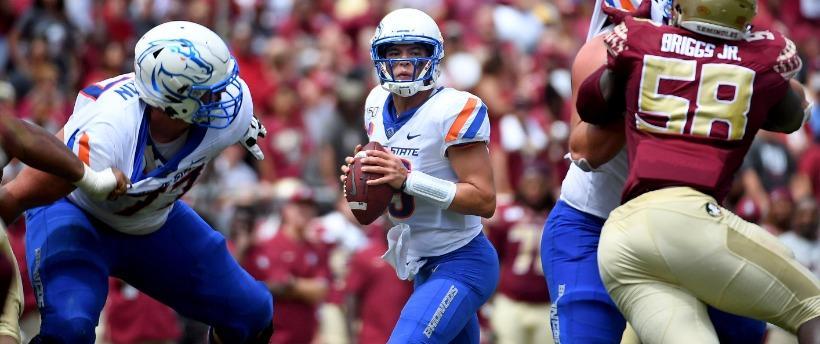 With BYU likely to get its share of points, the key for whichever Boise State signal caller plays, he will need to keep up with the Cougars scoring. The key for the Broncos to score touchdowns and not settle for field goals when they get into the red zone. With a strong run game behind them, the BSU QB will also need to make the right reads at the line to get the right play to keep first downs rolling and to keep the BYU offense on the sidelines.
Fearless Prediction:
As mentioned, this game has been close in six of the 10 meetings and I expect this one also to come down to the wire before a winner is known in a high scoring contest. Boise State is allowing 1,000 fans in this game so it will be interesting if the home "Smurf Turf" will have the advantage swing towards the Broncos. But from what I have seen so far, I think BYU will be able to win this game and continue its magical season and get its fourth ever 8-0 start (and first since 2001). BYU 38 Boise State 35
Originally from LaMoure, North Dakota, Kent is a 1996 graduate of North Dakota State University. His prior writing experience is over 15 years having previously worked with D2football.com, I-AA.org, and College Sporting News before coming to College Sports Journal in 2016. His main focus is college football is the Missouri Valley Football Conference within the Division I FCS. And in 2017, he began also to look at the FBS Group of Five conferences of the American Athletic, Conference USA, Mid-American, Mountain West, and Sun Belt.
Reach him at this email or click below: