Louisiana Tech at BYU
When: Friday, Oct. 2nd, 9:00 PM EDT
Where: LaVell Edwards Stadium, Provo, Utah
TV/Streaming: ESPN2/WatchESPN (subscription req'd)
Louisiana Tech and BYU meet for the first time this Friday in a match-up of two undefeated 2-0 teams. The two schools do share a history with a common historical head coach in Gary Crowton. He was at Louisiana Tech from 1996 to 1998 and then at BYU from 2001 to 2004.
The two teams also have two high powered offenses. Lousiiana Tech has averaged over 48 points per game, while BYU has over 51.
The difference though looks to be in the defense. The Cougars have allowed just five points per game thus far, while the Bulldogs have given up 34 per game.
Both teams are coming off big wins last week with Louisiana Tech easily taking down FCS Houston Baptist 63-38 and BYU took down Troy 48-7.
This game will take place with no fans in attendance. Before last week's home game for BYU versus Troy, the state of Utah announced that the city of Provo moved from from low (yellow) to a moderate (orange) risk COVID-19 designation. This designation prohibits fans at sporting events. The state's announced designation for Provo covers a 14-day period, which means that the re-evaluation would occur next week.
Louisiana Tech Bulldogs (2-0 overall, 1-0 C-USA)
Senior QB Luke Anthony tied a career-high with five touchdown passes while rushing for another score,in the win last week. Anthony, a grad transfer from FCS Abilene Christian, completed 56.7% of his passes for 314 yards and one interception against Houston Baptist.
Being able to run the ball will be crucial against a stoudt BYU defense and also to keep the ball away from the Cougars powerful offense. The Bulldogs have a talented backfield to extend drives and take some pressure off Anthony. RB Israel Tucker is averaging 6.4 yards per carry while fellow RB Justin Henderson is averaging 5.0 yards per attempt. Both players have rushing for more than 60 yards in each game to this point.
The key in this game will likely be how well the Bulldog defense does against the Cougar offense. Statistically, the defense looks to be the weaker side of the ball this year thus far. Out of the 72 FBS teams that have played at least one game thus far this season, they rank 63rd in passing yards allowed (335.0 per game) and 52nd in points allowed.
Key Player: QB Luke Anthony
Anthony is tied for second in the country with eight touchdown passes, and he has thrown for 463 yards in his first two games. For the Bulldogs to stay in this game, he will need to keep the firepower on offense in what looks to be a high scoring game. He will also need to change up the play calls to mix in the running game to keep the Cougars defense guessing.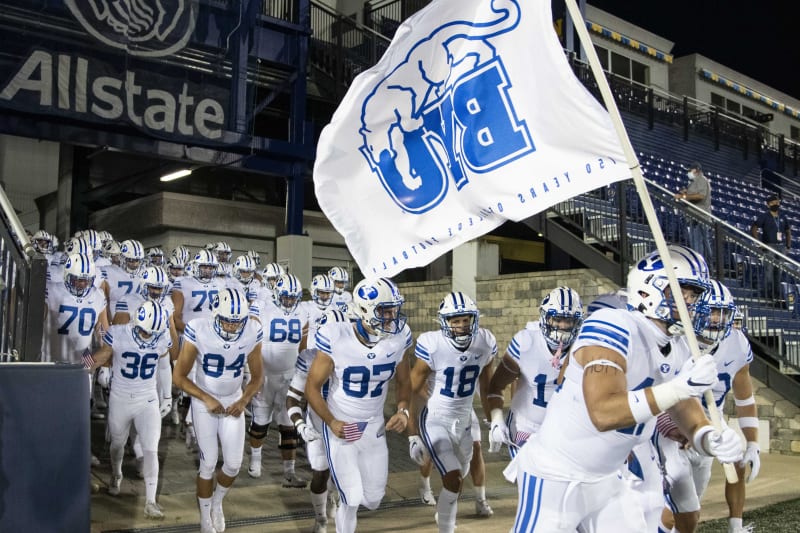 BYU Cougars (2-0 overall, FBS Independent)
The BYU team this year just seems to have a different feel. Yes, BYU has had some impressive wins in recent past seasons with wins at Wisconson and Nebraska this past decade but this year's team seems more in line with the teams of the 1980s and 1990s.
Last week, the Cougars dominated the Troys in every aspect of the game. BYU outgained them 664-181 for the game, had 32 first downs to Troy's eight, and they held the ball for more than 40 minutes of game time.
QB Zach Wilson was phenomenal for the second game in a row. He completed 82.1% of his passes (23-28) for 392 yards and two touchdowns just one game after completing 72.2% against Navy. WRs Dax Milne(seven catches, 140 yards, one touchdown) and Gunner Romney (five catches, 138 yards) both averaged at least 20 yards per catch, while RB Lopini Katoaled the rushing attack with 11 carries for 76 yards.
The defense for BYU has been just as impressive. The Cougars currently lead all FBS teams in passing defense, allowing just 96.0 yards per game. Their opponents are completing only 56.8 precent of their passes.
Key Players BYU Defense
The defense will be key in this game for BYU to keep the momentum going for this team. The Cougars look right now given its current schedule and how this team has performed thus far has a very good chance to finish undefeated and very well could be in the running for a New Year's Six Bowl game. Louisiana Tech brings in likely the best offense this team has faced thus far this year and will need to keep the strong game especially against the passing game.
Fearless Prediction
BYU looks like a huge favorite in this game. If there was a crowd at LaVell Edwards Stadium this might be a landslide but being more of neutral site, I think Louisiana Tech will hang around in the first half but BYU will put the game away early in the second half. Look for some more impressive offensive numbers out of this BYU squad and for another easy victory. BYU 41 Louisiana Tech 17
Originally from LaMoure, North Dakota, Kent is a 1996 graduate of North Dakota State University. His prior writing experience is over 15 years having previously worked with D2football.com, I-AA.org, and College Sporting News before coming to College Sports Journal in 2016. His main focus is college football is the Missouri Valley Football Conference within the Division I FCS. And in 2017, he began also to look at the FBS Group of Five conferences of the American Athletic, Conference USA, Mid-American, Mountain West, and Sun Belt.
Reach him at this email or click below: