This Friday, one game stood out but a second game came to light that a week ago looked like a walkover type game in the Group of Five. The highlight game Friday for sure is Marshall visiting Boise State. But the second game came to light with the typically low ranked Rice played a 11-win Army team very tight before losing late to the Black Knights as the Owls host the ACC's Wake Forest. The Demon Deacons are coming off a narrow victory at home against Utah State.

Game 1 of the Night:
Wake Forest (1-0) at Rice (0-1)
When: Friday, September 6th, 8:00pm EDT
Where: Rice Stadium; Houston, TX
TV/Streaming: CBSN/CBS Sports App (subscription required)
Wake Forest Demon Deacons
The Demon Deacons did nt show much on the defensive side in the season opening 38-35 win over Utah State, but the offense looked nearly unstoppable. RB Cade Carney ran for 105 yards, while QB Jamie Newman threw for over 400 yards and three scores and WR Sage Surratt caught seven balls for 158 yards. In total, the Wake offense totalled a whopping 579 yards.
Wake Forest routed Rice, 56-24, last year in Winston-Salem. In the game, they scored two touchdowns on defense and raced out to a 42-3 lead at the half and cruised to victory. Their 56 points set a record for most points scored at BB&T Field.
Key Player: RB Cade Carney will be the key for the Demon Deacons as the Owl defense showed promise last week in giving up just 231 yards on the ground to the option Army squad. He will need to break some tackles and make good on close yardage plays to open up the potent WF passing game.
Rice Owls
The Owls have been poor performers over the last several seasons but showed some signs especially on defense last weekwith its road performance at Army that this team might turning the corner.
Rice will try to earn their first win against a Power Five program in six years. The Owls (0-1) haven't beaten a team from one of the top five conferences since defeating Kansas, 23-14, on Sept. 14, 2013. The series is tied 1-1-1 against Wake Forest with the Owls winning the meeting in 1990, tied in 1989 and lost last year.
Key Player: RB Nahshon Ellerbe rushed for 103 yards on just nine carrries (11.4 average) and scored on a 54-yard run, the longest of his career last week. He began training camp in limited action while he was recuperating from a second knee surgery and had not been expected back before the middle of the season, but was cleared for full action in the later stages of camp. He was first injured in the final game of the 2017 season, two weeks after rushing for a career-best 159 yards vs. Southern Miss and saw only limited action on special teams after his return last fall. He underwent a second surgery on the knee after the season which put is 2019 availability in question. He will need to help the Owls with their ball control offense to keep the Wake Forest offense on the sidelines.
Fearless Forecast: With this being the home opener for the Owls, they will have some energy to start this game and should get out to an early lead. But the Deacons are too talented for the Owls and Wake Forest will out play Rice in the final three quarters for an easy but closer win than it saw last year. Wake Forest 38 Rice 24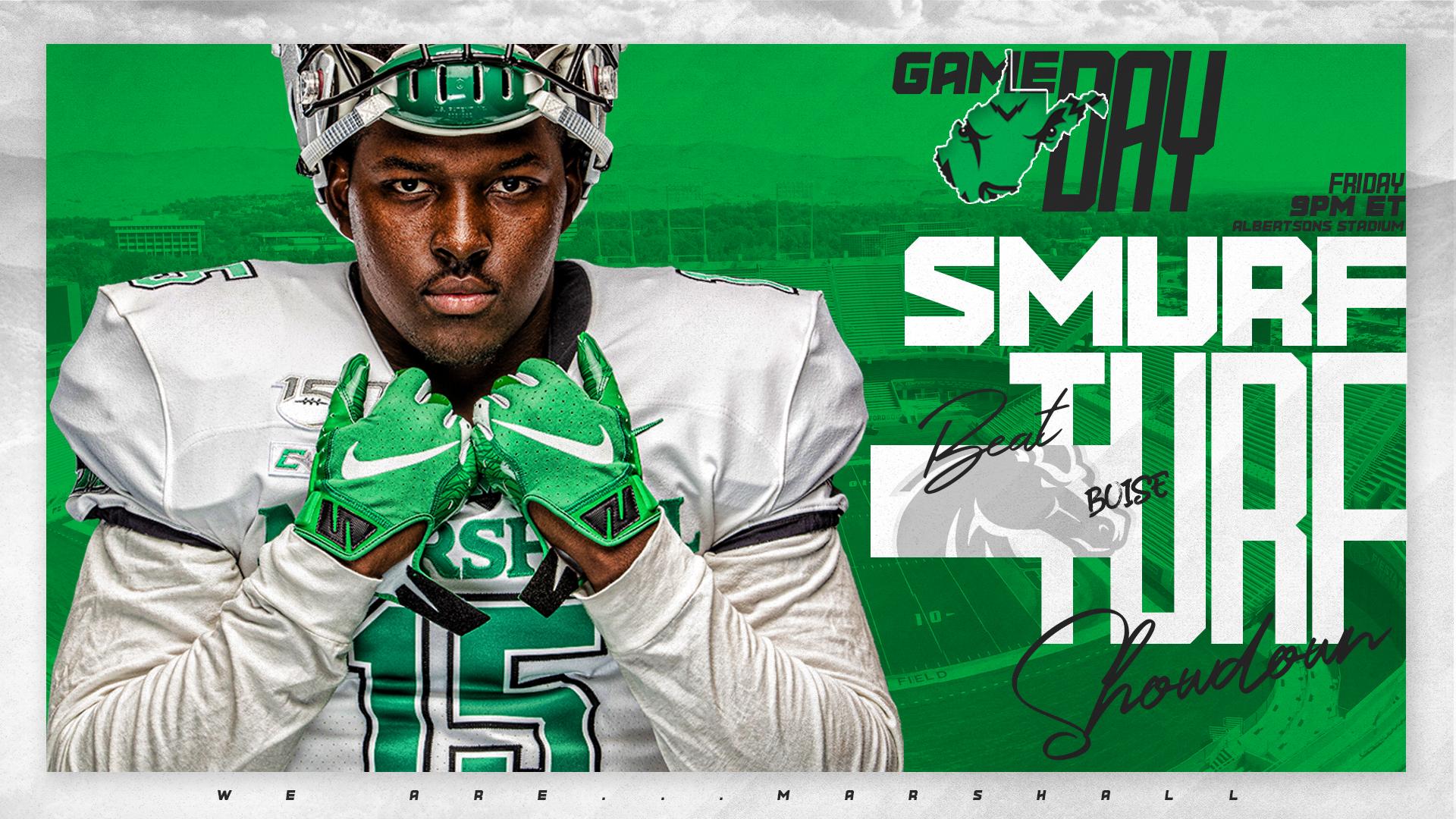 Game 2 of the Night:
Marshall (1-0) at Boise State (1-0)
When: Friday, September 6th, 9:00pm EDT
Where: Albertson Stadium, Boise, ID
TV/Streaming: ESPN2/Watch ESPN
Marshall Thundering Herd
Marshall opened with a 56-17 thumping of VMI. Sophomore QB Isaiah Green threw a career-high four touchdowns while the Thundering Herd compiled 620 yards of offense, including 280 on the ground. The Thundering Herd has had a winning record in five of the last six seasons and qualified for bowl games in seven of the past 10 years.
Marshall has only played Boise State once before in its history and happened when both were I-AA (FCS) teams. The two met in the 1994 national playoff semifinals. The Broncos pulled out a 28-24 win at home and faced Youngstown State in the national title game played on Marshall's home field. The Broncos fell in the title game 28-14.
Key Player: QB Isaiah Green completed 18-of-28 passes for 238 yards with the four touchdowns last week. He had a QB rating of 175.7. For his career, he has completed 205-of-358 attempts for 2,459 yards and 19 scores. He will need to continue or perhaps surpass these types of numbers to pull off the upset in Boise.
Boise State Broncos
The key in last week's road come-from-behind 36-31 win at the ACC's Florida State for the Broncos were how efficient the team was on third downs and how well its defense defended the third downs. The Broncos were 10-for-19 on third down themselves, and the Seminoles were a miserable 1-for-12.
The Broncos got a huge boost from a pair of wide receivers in their season-opening win. Sophomore Khalil Shakir caught eight passes for 78 yards and one touchdown, while junior CT Thomas reeled in five passes for 103 yards, including a 36-yarder. RB Robert Mahone also rushed for 142 yards and two touchdowns and averaged nearly 6 yards per carry. The real offensiv key was the QB Hank Bachmeier, who completed 30 of 51 passes for 407 yards and a touchdown. It was the best passing debut by a Boise State quarterback since the school went to the FBS level in 1996 and the 407 yards nearly cracked the top 10 performances all time in school history.
Key Players: All offensive players who handle the ball are the key for the Broncos. Boise State dodged several bullets last week against Florida State. The Broncos lost the turnover battle 3-2, and recovered two of their own fumbles in some key situations . QB Bachmeier lost two of the fumbles will be the first key offensive player to make sure he takes care of the ball.
Fearless Forecast: Boise State is definitely more talented, but the emotional let down from a big P5 road win and travel fatigue could affect the Broncos despite this being its home opener. Marshall really has nothing to lose as it is expected to lose this one so they might take a few more risks and chances. But in the end, the Broncos will find a way to win this one but should be closer than many experts think. Boise State 31 Marshall 23
Originally from LaMoure, North Dakota, Kent is a 1996 graduate of North Dakota State University. His prior writing experience is over 15 years having previously worked with D2football.com, I-AA.org, and College Sporting News before coming to College Sports Journal in 2016. His main focus is college football is the Missouri Valley Football Conference within the Division I FCS. And in 2017, he began also to look at the FBS Group of Five conferences of the American Athletic, Conference USA, Mid-American, Mountain West, and Sun Belt.
Reach him at this email or click below: