The undefeated teams just stay that way in the Group of Five this week. Cincinnati, Liberty, and Marshall all picked up easy victories this week. BYU and Coastal Carolina were off this week. BYU had a scheduled off week, while Coastal Carolina's game with Troy was postponed due to a COVID-19 outbreak within the Troy team.
Cincinnati started off the group of undefeated teams this week on Friday dismantling East Carolina 55-17. QB Desmond Ridder passed for 327 yards and ran for 75 yards while totaling four touchdowns. The Cincinnati defense also forced three turnovers in the rout. The Bearcats now sit at 7-0. Cincinnati next might get its biggest test thus far on the season when it visits UCF next week. And later on versus the only other undefeated AAC team in Tulsa, who got a huge come-from-behind win versus SMU this week.
Liberty joined BYU at 8-0 this week after its easy win over FCS Western Carolina 58-14. Flames QB Malik Willis accounted for 403 yards of total offense including 306 yards on 14-of-19 passing with three touchdowns and 97 rushing yards and two scores in the winning effort. Liberty finished with 633 yards of total offense while its defense created three turnovers including two interceptions and a fumble. The Flames also get possibly its biggest test next week at the Power Five ACC's North Carolina State.
Marshall also remained undefeated in an emotional day in Huntington, West Virginia. Saturday marked the 50th anniversary of the tragic plane crash that took 75 members of the Thundering Herd team members, coaches, and boosters. The Herd took it out this week on Middle Tennessee State with 42-14 victory to remain the lone undefeated team overall and league play of Conference USA in improving to 7-0 overall. Freshman QB Grant Wells threw for 336 yards and five touchdowns on 25 of 37 passing. WR Willie Johnson caught eight passes for 137 yards and two touchdowns. The Herd defense also recovered three fumbles in the blowout win.
Two Mountain West Schools Also Undefeated
The Mountain West is very surprising so far after four weeks. The two undefeated teams are Nevada and San Jose State with both picking up nice wins this week.
Nevada got by New Mexico Saturday 27-20 in a game played in Las Vegas, which is looking like now the home for the Lobos this season. COVID-19 protocols in the state of New Mexico are barring games at home. The Lobos are planning to stay in Las Vegas indefinitely unless state regulations change. If they play their entire season in Las Vegas, they would be the first team in college football history not to play a single game in their home state.
Nevada was led by QB Carson Strong, who threw three touchdown passes to WR Romeo Doubs. Doubs had his second consecutive game with three receiving touchdowns. The last touchdown with just over 6:00 to play in the game put the Wolfpack up by 14 and Nevada held on for the one touchdown victory.
San Jose State had an easier time with Nevada's other school in UNLV. The Spartans won at home over the Rebels 34-17 to get to 4-0 for the first time since 1955. QB Nick Starkel was back in the line-up after missing last week with an injury. He went 17 of 28 for 274 yards and touchdown passes of 41 and 2 yards to WR Bailey Gaither, who caught six passes for 94 yards. Starkel was intercepted once, by Tre Caine on an overthrown deep ball. Last week's starter in Nick Nash also received time at quarterback and was the Spartans' leading rusher with 94 yards on eight carries.
The other undefeated team in conference play is Boise State. The Broncos rebounded from last week's blowout loss at home in out-conference play in BYU with an easy win at home over Colorado State 52-21 on Thursday. Boise State led 42-7 at halftime and cruised for the win. The BSU special teams were very special in this game as the group returned three blocks kicks (two punts and a field goal attempt) for touchdowns to lead the charge for the Broncos.
Sun Belt West Champions Again
Louisiana is the first Group of Five team to secure its bid for a conference championship game. The Ragin' Cajuns recorded its most descive win this season with a 38-10 victory at home over South Alabama.
QB Levi Lewis passed for 252 yards and three touchdowns and Louisiana added 254 yards on the ground to clinch its third straight Sun Belt Conference West Division title. Louisiana improved to 7-1 overall and 5-1 in league play. Remember, its only loss was at home to current East Division leading Coastal Carolina.
The Ragin' Cajuns outgained South Alabama 506-268 in total yards en route to their most lopsided victory this season. The Cajuns now have three games to continue to build momentum before they'll appear in the Sun Belt championship game on Dec. 19.
The Cajuns opponent in the East Division is up in the air as is the location of the championship game. As mentioned, Coastal Carolina is undefeated and is currently tied in the Sun Belt East standings with Appalachian State.
Coastal Carolina, as mentioned had its game with Troy postponed this week. Appalachian State was able to pull out a gritty 17-13 win at home over Georgia State this week. The win may have been costly though as former Sun Belt Offensive Player of the Year QB Zac Thomas left the field on a stretcher in the fourth quarter. Thomas broke the pocket and scrambled right, heading towards the Mountaineers sideline, but he took a shot as he made it out of bounds. Thomas ran into one of his teammates deep in the sideline and fell hard, laying there for several minutes. Before the injury, Thomas finished with 146 yards and one touchdown and interception.
Coastal and App State will face each other in Conway next week in what looks to be the big decider game on who will play Louisiana in the Sun Belt title contest.
MAC Undefeateds
Through two games, the Mid-American Conference has four undefeated teams with two in each division. Buffalo and Kent State remain unscathed in the East, while Western Michigan and Central Michigan are 2-0 in the West.
The weekday games continued this week for the conference with three games each this past Tuesday and Wednesday.
The game of the week though had to be Western Michigan's comeback win at home over Toledo. The Broncos trailed the Rockets 38-28 with just under three minutes to go in the game. But WMU was able to get a touchdown and then recover an on-side kick in that time to get the win.
Toledo took what looked at the time to be an unsurmountable lead of 38-28 lead on a 4-yard score from RB Bryant Koback.
Western Michigan responded by going on an 11-play, 70-yard drive that ended with a 1-yard touchdown run by QB Kaleb Eleby with 45 seconds to play. The Broncos then went for the on-side kick, which was recovered by Nick Mihalic, on their own 49-yard line.
From there, Eleby was perfect. He completed passes for 11, 13, and 18 yards, before faking the spike and finding WR Jaylen Hall to get the lead with just 17 seconds left. Toledo had one final shot at a Hail Mary, but their final offensive play of the game was a QB Eli Peters pass that was intercepted.
College Football Playoff chances
ESPN has put out a playoff chance predictor and right now, there are two Group of Five teams considered. BYU and Cincinnati right now are the only ones on the list.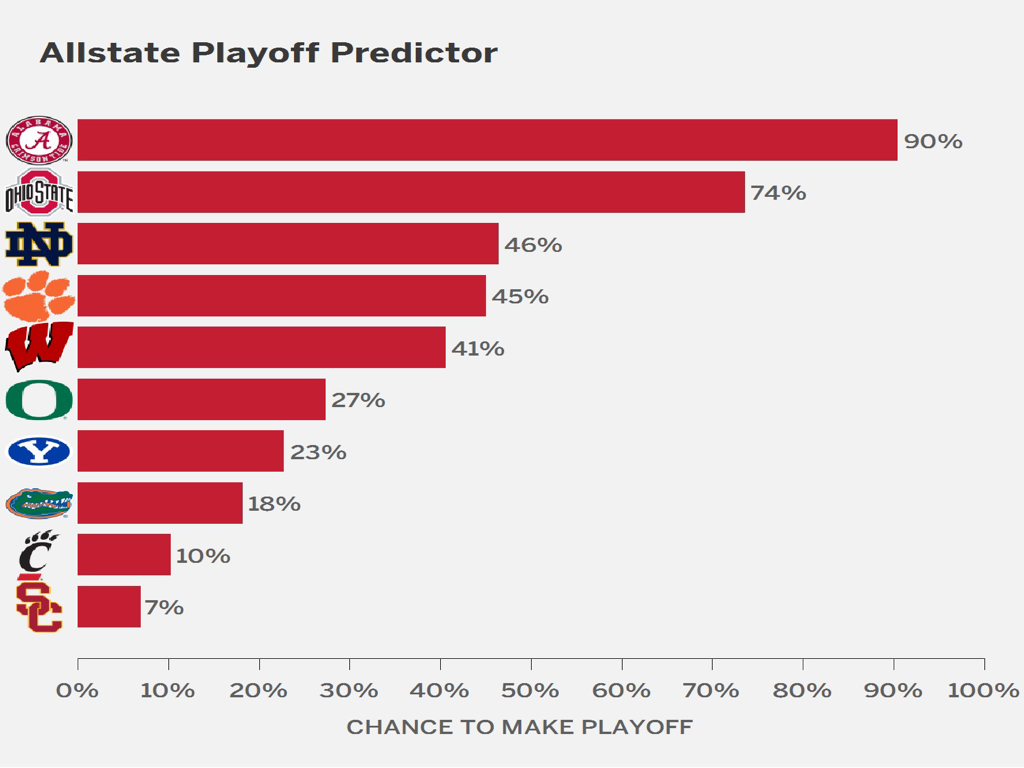 What this means that Group of Five fans really need to hope Power Five teams lose a game. Alabama, Ohio State, Notre Dame, Clemson, Wisconsin, Florida, Oregon, and Southern California are schools listed amongst the two Group of Five teams. Losses by three of four of these schools will dramatically increase a Group of Five team getting into the Final Four should that G5 school stay undefeated.
COVID 19 Postponements and Cancelations
As the number of COVID-19 cases are running rampad around the country, the number of games lost due to the virus is also growing. I already mentioned the Coastal Carolina-Troy earlier but a total of 15 games involving FBS were either postponed or canceled this week. Seven of these contests involved Group of Five squads. Below is a list of all the games this week affected (NOTE: the Pac-12's California and UCLA will be playing Sunday as their two opponents had COVID-19 outbreaks this week.)
GAME ORIGINAL DATE NEW DATE
Air Force at Wyoming Nov. 14 Canceled
Auburn at Mississippi State Nov. 14 Dec. 12
Memphis at Navy Nov. 14 TBD
Texas A&M at Tennessee Nov. 14 Dec. 12
Alabama at LSU Nov. 14 TBD
Louisiana-Monroe at Arkansas St. Nov. 14 Dec. 12
Missouri at Georgia Nov. 14 TBD
Ohio State at Maryland Nov. 14 Canceled
Pitt at Georgia Tech Nov. 14 Dec. 12
Rice at Louisiana Tech Nov. 14 TBD
North Texas at UAB Nov. 14 Canceled
Coastal Carolina at Troy Nov. 14 TBD
Cal at Arizona State Nov. 14 Canceled
Gardner-Webb at Charlotte Nov. 14 Canceled
Utah at UCLA Nov. 14 Canceled
Top 5 Games of the Week
Here are my top five games of the Group of Five games with highlights for this week. The top game had to be the Western Michigan come-from-behind win at home against Toledo. I added four more nail bitters to the list this week as well. Click on the score link for the full game story.
Originally from LaMoure, North Dakota, Kent is a 1996 graduate of North Dakota State University. His prior writing experience is over 15 years having previously worked with D2football.com, I-AA.org, and College Sporting News before coming to College Sports Journal in 2016. His main focus is college football is the Missouri Valley Football Conference within the Division I FCS. And in 2017, he began also to look at the FBS Group of Five conferences of the American Athletic, Conference USA, Mid-American, Mountain West, and Sun Belt.
Reach him at this email or click below: