One is down but did not go down with out a fight.
That one team is Liberty, who looked as if it would again pull off another ACC road win at North Carolina State. After Liberty QB Malik Willis had an off game in throwing three interceptions, including what lead to the game winning touchdown for NC State, Willis did seem to have another gear in in the waning minutes of the game.
Willis drove the Flames down to the NC State 22-yard line with 1:18 when the Flames drive stalled there. Enter kicker Alex Barbir, who had used his leg to send the Flames to a 38-35 win at another ACC in Virginia just a couple of weeks ago with a 51-yard field goal. The setting was there for the Flames to do it again, but the 39-yard attempt got blocked by NC State's Levi Jones. NC State was then able to run out the clock to send Liberty to its first loss.
Willis threw for 172 yards and two touchdowns for Liberty but also had those three costly interceptions, two coming in the fourth quarter. He also ran for 44 yards as the Flames managed just 279 total yards.
Cincinnati and Coastal Carolina Keep Winning
While Liberty got its first loss, two other Group of Five teams kept winning. In what might have been the top competitors that both Cincinnati and Coastal Carolina had faced this year, both were able to keep it going.
The Chanticleers were down 23-21 to Appalachian State at home when RB Reese White ran for a 3-yard touchdown to put the team back up four points with 2:24 remaining in the game.
The four-time Sun Belt champion Mountaineers still had time to pick-up a late game drive and keep the Sun Belt championship in site. But App State QB Zac Thomas could not come up with a late drive and in fact was intercepted by D'Jordan Strong, who returned it 38 yards for what would be the final margin of 34-23. It was the third pick for the Chanticleers of the All-Sun Belt signal caller.
Coastal freshman QB Grayson McCall was not spectacular in this game as he went threw for just 12-for-21 with 200 passing yards and two touchdowns. But he added 69 rushing yards and a rushing touchdown. Isaiah Likely led all receivers with three catches for 118 yards and a touchdown.
Coastal Carolina is 8-0 for the first time in school history and now has the inside track in winning the Sun Belt East Divison.
Cincinnati started its game at UCF possibly with its worst quarter of the year. That quarter led to a 11-point deficit. But the Bearcats were able to rebound to win a close contest with the Knights 36-33.
The margin probably could have been more, but Cincinnati attempted to just run the clock out in the waning minutes of this game and left UCF with one second left to go 90 yards but the lateral play went for not.
QB Desmond Ridder was again spectacular in the win. He finished 21-32 for 338 passing yards, which was the second-highest passing yard total of his career. Ridder added 57 rushing yards and helped run the clock out in the fourth quarter.
Cincinnati is 8-0 for the fourth time in school history with the last coming in 2009 when the Bearcats finished that season undefeated with a trip to the Sugar Bowl that year.
BYU also stays undefeated
The Cougars did not have a tough game like the other G5 undefeated teams coming into this week. BYU was in control from the start and finished off FCS North Alabama 66-14.
BYU scored touchdowns on all six first-half drives. The Cougars rolled up 394 total yards and averaged 11.3 yards per play before halftime.
RB Tyler Allgeier had his fourth 100-yard game of the season and totaled 141 yards. QB Zach Wilson threw for 212 yards and four touchdowns before halftime and added 33 yards rushing.
The win moves the Cougars to 9-0 on the season. BYU right now has just one game left on its schedule with a home contest with San Diego State on Dec. 12th.
But there is speculation with the announcement of the Pac-12 this week announcing that it will allow for out-of-conference games should any school's opponent not be able to play due to COVID-19 reasons. BYU with two openings of next weekend and the following, as well as Dec. 19th could fill for one of those weekends.
Hurricane of a Finish
The wildest finish of the year in all of college football just may have happened this past Thursday. Tulsa, won along with Cincinnati, remains the only undefeated teams in American Athletic Conference.
It looked like Tulsa would get its first loss at home against Tulane even with just seconds left on the clock with the Golden Hurricane trailing 21-14.
Third string QB Davis Brin threw a Hail Mary to Juan Carlos Santana as time expired to send the game to overtime at 21-21.
Brin was in the game for Tulsa as starter Zach Smith was injured in the first half with a torso injury. Smith was replaced by Seth Boomer, who was 7 of 13 for 60 yards and an interception before he was injured in the third quarter.
Tulsa would win the game in overtime in what might be an even more miraculous play. Zaven Collins picked off Tulane QB Michael Pratt and ran the ball back 96 yards for the winning score to keep the Golden Hurricane for the 30-24 win and keep Tulsa undefeated in AAC play.
Brin was not just specectuar in the last play of the game. He also helped lead the team back from a 14-0 deficit in the last ten minutes of play. He finished 18 of 28 for 266 yards and threw two scores.
Tulsa has made a habit of coming back in games this year. This was the third game the Golden Hurricane trailed by 14 or more in the second halves of games to only come out victorious. Tulsa trailed East Carolina 17-3 at halftime on Oct. 30 before scoring 14 points in the fourth quarter to win 34-30. And just a week ago, Tulsa scored 21 consecutive points in the second half to defeat SMU 28-24.
Nevada keeps rolling
With the CBS SEC game of Texas A&M-Mississippi State game postponed this week due to COVID-19 reasons, the network decided to showcase the Mountain West clash of San Diego State visiting Nevada on that normal late afternoon time slot.
The game did not disappoint as Nevada came back after trailing 21-16 at the half. Nevada QB Carson Strong threw two touchdowns and 288 yards overall and the Wolfpack defense made-up for what could have been a critical Strong mistake.
San Diego State's Darren Hall intercepted Strong with just over three minutes to play. The Aztecs reached the Nevada 6-yard line but the Wolfpack stopped SDSU on four plays to preserve the win.
Nevada moved to 5-0 for the eighth time in program history with the last time being in 2010.
The Wolfpack and San Jose State remain the only undefeated teams in the Mountain West overall and Boise State is also undefeated in league play.
San Jose State had its game cancelled this week against Fresno State due to COVID-19 reasons, while Boise State held on to defeat Hawai'i on the road.
In the MAC
The MAC has three undefeated teams left with Kent State and Buffalo in the East Division and Western Michigan in the West Division.
Both Buffalo and Kent State had easy wins this week. The Bulls defeated Bowling Green 42-17, while the Golden Flashes defeated Akron 69-35.
Western Michigan though had a tougher time against previously undefeated Central Michigan. The Broncos held on to a 52-44 win after allowing two touchdowns in the fourth quarter but did secure the CMU on-sides kick to preserve the win.
College Football Playoff Chances
This Tuesday, the College Football Playoff committee will release its first rankings. BYU and Cincinnati look like the best chances but undefeated Marshall and Coastal Carolina, along with Nevada will likely be in their Top 25 rankings.
Below is what ESPN thinks with their playoff chances per conference: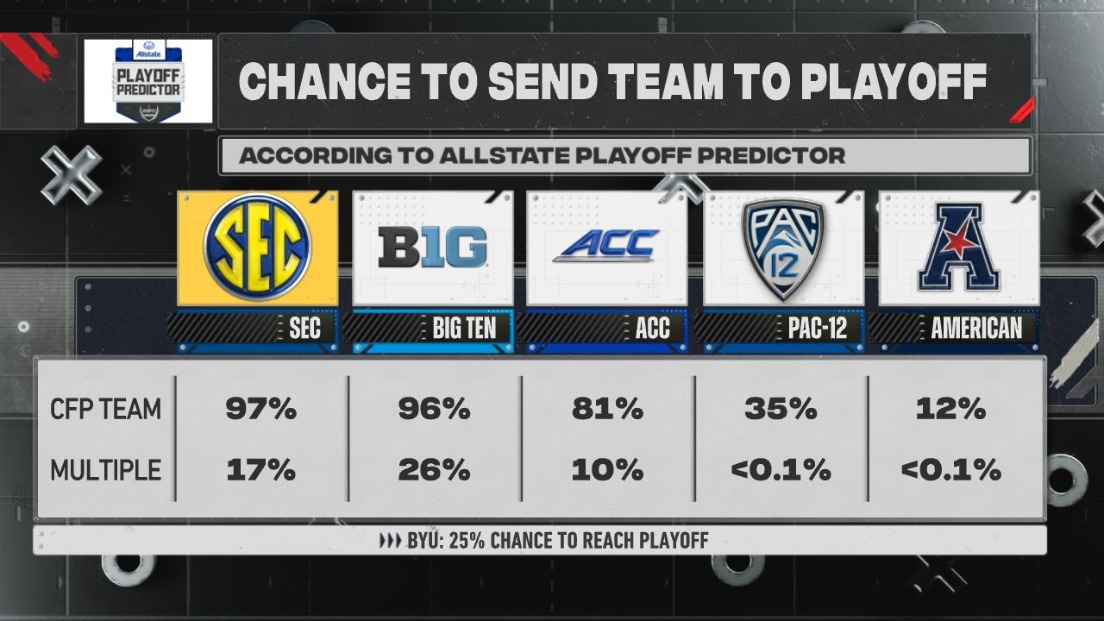 Since the CFP inception, there has not been a Top 10 team in the committee's initial rankings outside of the Power Five schools. All the undefeated G5 teams look to break that selection this year.
COVID-19 Postponements and Cancelations
This week as the COVID-19 numbers continue to spike throughout the country, had the worst week of college football cancelations. This week, 18 total games in the FBS were cancelled or postponed. This number includes 10 that involved G5 squads.
Here is a list of all the games this week and if the game as canceled or just postponed:
Texas at Kansas — Postponed
Ole Miss at Texas A&M — Postponed
Houston at SMU — Postponed
Navy at USF — Postponed
Wake Forest at Duke — Postponed
Georgia Tech at Miami — Postponed
Arizona State at Colorado — Canceled
Washington State at Stanford — Canceled
Maryland at Michigan State — Canceled
Ohio at Miami (OH) — Canceled
UAB at UTEP — Canceled
UL Monroe at Louisiana Tech — Canceled
Charlotte at Marshall — Postponed
Central Arkansas at Louisiana — Canceled
Utah State at Wyoming — Canceled
UNLV at Colorado State — Canceled
San Jose State at Fresno State — Canceled
Top 5 Games of the Week
Here are my top five games of the Group of Five games with highlights for this week. The top game had to be the wild victory for Tulsa over Tulane. I added four more nail bitters to the list this week as well. Click on the score link for the full game story.
Originally from LaMoure, North Dakota, Kent is a 1996 graduate of North Dakota State University. His prior writing experience is over 15 years having previously worked with D2football.com, I-AA.org, and College Sporting News before coming to College Sports Journal in 2016. His main focus is college football is the Missouri Valley Football Conference within the Division I FCS. And in 2017, he began also to look at the FBS Group of Five conferences of the American Athletic, Conference USA, Mid-American, Mountain West, and Sun Belt.
Reach him at this email or click below: