Highlights: CSJ FBS Group of Five Top Five Games and Recap of Week 13
Week 13 was the end of the regular season for most teams in the Group of Five (with the exception of two games–Akron @ Buffalo & Army vs. Navy). For ten teams though in the G5, they get at chance at winning their conference championship.
This week, there were a few open possibilities in the five leagues of the G5 and there was one new G5 team that had a chance to end their season as a division champion despite not being able to play next week due to the transition rule from FCS to FBS for postseason play.
I will start this week with that team. James Madison is that team and the Dukes had a chance to win the Sun Belt East Division in hosting Coastal Carolina, who because of the Dukes inability to play any postseason games had already wrapped up a spot in the SBC title game.
JMU, who were an FCS power with two national titles and two other FCS title game appearances, did not seem to have much trouble moving from an FCS power to contending in one of the best G5 leagues this year. The Dukes started their season at 5-0 and were even ranked in the AP Top 25 poll but then three losses came in a row to Georgia Southern, Louisville, and Marshall. But the Dukes righted the ship in the two prior games coming into this season finale with two wins over Old Dominion and Georgia State.
This game with Coastal Carolina would decide who won the regular season title and the Chanticleers were playing without All-SBC QB Grayson McCall, who was sidelined for three to six weeks after suffering a foot injury in last week's win over Appalachian State for Coastal. But CCU held the lead 7-3 in the first quarter after the Chanticleers back-up QB Jarrett Guest found WR Tyson Mobley from 39-yards out for the game's first touchdown.
That would be the lone highlight for the Coastal as JMU would rattle off the next 44-points of the game for the 47-7 victory to end the Dukes first FBS season with their eighth win and a share of the East Division crown but would have the tie-break over Coastal due to this win.
Duke QB Todd Centeio combined for five touchdowns and 312 total yards in his final collegiate game, throwing 17-of-32 for 287 yards and four touchdowns while adding 25 rushing yards and a score on the ground.
WR Devin Ravenel saved his best for last on Senior Day, making five receptions for 102 receiving yards and two touchdowns for his first career 100-yard game. Kris Thornton made a game-high six catches for 93 yards, as he became JMU's first two-time 1,000-yard receiver. Reggie Brown returned this week, going for 55 receiving yards and a touchdown on a pair of grabs, while Drew Painter scored on a 15-yard catch in his final game.
JMU rushed for 215 yards, led by Percy Agyei-Obese's 79 rushing yards on just seven carries (11.3 avg.). Agyei-Obese finished his career ranking third with 3,503 rushing yards. Latrele Palmer had a big second half, accruing 61 rushing yards and a score, while Kaelon Black added 50.
Here are some highlights of this game:
The other Sun Belt title team for the West Division was decided with Troy needing a win at Arkansas State to get their first appearance in the game. The Trojans used a strong fourth quarter to get the road win over the Red Wolves.
Troy trailed 19-14 after three quarters, but took the lead for good on RB Kimani Vidal's 7-yard touchdown run on the first play of the fourth quarter. A 56-yard pass from QB Gunnar Watson to WR Rajaé Johnson set up the score.
A two-point conversion failed to keep Troy's lead at 20-19, but the Trojans' defense scored soon after to make it an eight-point game. Reddy Stewart's 67-yard interception return for a touchdown put the Trojans up 27-19 with 12:53 left.
After Arkansas State (3-9, 1-7) punted, Vidal ran for a 12-yard touchdown to make it 34-19. The Red Wolves then turned the ball over on downs with 5:31 to play, and Vidal scored again on a 39-yard run.
Troy tacked on the game's final points with 1:02 left on Damian Taylor's 3-yard run. The Trojans rushed for 110 yards in the fourth quarter and limited the Red Wolves to minus-14.
With Coastal losing, Troy will host the Chanticleers in the Sun Belt title game next Saturday.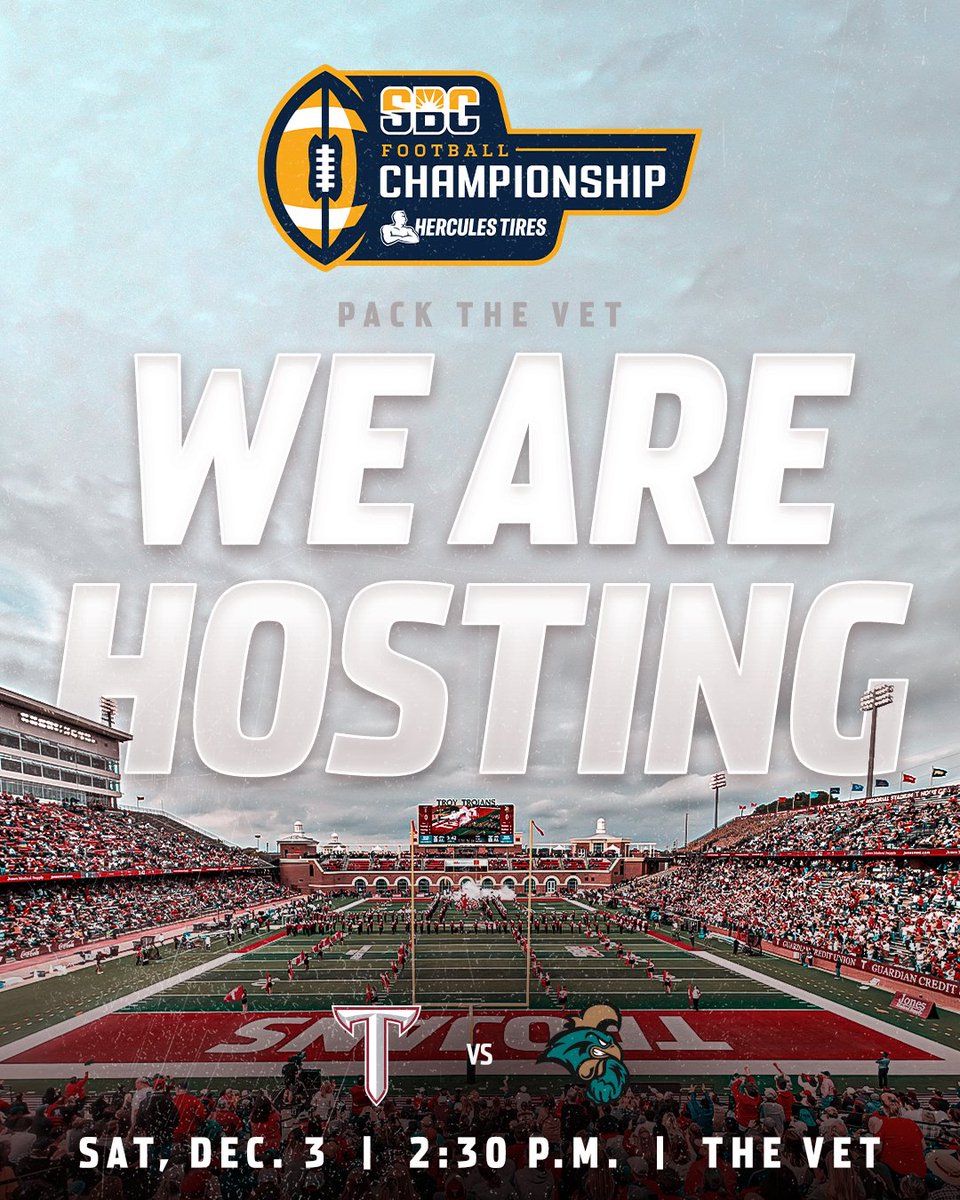 Other G5 Title Games
In the other four G5 conferences, we already knew that Boise State would host Fresno State in the Mountain West but both teams finished off their regular seasons with rather comfortable wins. Boise State took down Utah State, while Fresno State shutout Wyoming. See highlights of these games below:
In the MAC, Toledo already had captured the title game spot three weeks ago in the West Division but the East Division, Ohio needed a win over Bowling Green to get the trip to Detroit. The Bobcats did just that with an easy win over the Falcons 38-14. Meanwhile, Toledo limbs into the title game after losing its last two games to Bowling Green and to Western Michigan this past week. Highlights of these two games are below:
In Conference USA, UTSA already had a spot in the title and knew it would host the game. UTSA finished off the season with a narrow win over UTEP 34-31 on a late field goal as the final margin. Their opponent of North Texas needed a win over Rice and the Mean Green did just that in a tight home match with the Owls, 21-17 that ended on a KD Davis interception, the fifth year senior's first career interception. See highlights of these two games below:
In the American, the biggest game of the season was Tulane playing Cincinnati. The winner would host the AAC title game. The Green Wave ended ending the Bearcats' 32-game home winning streak in Cincinnati and earning the right to host the league championship game with a dramatic 27-24 victory. RB Tyjae Spears rushed for 181 yards on a career-high 35 carries with two touchdowns while playing all 70 offensive snaps. QB Michael Pratt threw a 30-yard touchdown pass to WR Duece Watts to cap a four-play, 75-yard touchdown drive with 5:10 left in the game immediately after Cincinnati went ahead for the first time and the Tulane defense held the Cincinnati offense twice in the remaining time to get the 27-24 win.
UCF would need a win to get the trip to New Orleans but a loss against rival USF on the road would send a rematch of the Cincinnati-Tulane game for the AAC crown. The Knights and Bulls provided possibly the best game of the week. The Knights converted turnovers into an early lead as the Bulls turned the ball over on three of their first five possessions and the Knights were up 28-0 but USF battled back to take a 39-38 lead to set-up the late UCF drive to get a late 46-39 lead that would be the final.
See highlights of these games to set-up what likely will be not only the AAC title but also a battle to see who the G5 will send to a New Year's Six bowl game:
Bowl Bound
There are 41 bowl games overall in the FBS so that means there will be 82 schools that can reach the postseason. As the season end, there are just 79 overall teams eligible but an 80th could happen on Friday in the last regular season game for Buffalo, who had their game with Akron canceled. Not counting Buffalo, there are 34 Group of Five teams that are eligible for a bowl bid and all should receive a bid and if Buffalo wins their last game that would make 35 of the 80 teams. See the full list of FBS teams eligible below with the G5 squads bolded.
CONFERENCE
ELIGIBLE
TEAMS
AAC
7
Cincinnati, East Carolina, Houston, Memphis, SMU, Tulane, UCF
ACC
9
Clemson, Duke, Florida State, Louisville, NC State, North Carolina, Pittsburgh, Syracuse, Wake Forest
Big 12
8
Baylor, Kansas, Kansas State, Oklahoma, Oklahoma State, TCU, Texas, Texas Tech
Big Ten
9
Illinois, Iowa, Maryland, Michigan, Minnesota, Ohio State, Penn State, Purdue, Wisconsin
C-USA
5
Middle Tennessee State, North Texas, UAB, UTSA, Western Kentucky
Indp.
4
BYU, Liberty, Notre Dame, UConn
MAC
5
Bowling Green, Eastern Michigan, Miami-Ohio, Ohio, Toledo
MWC
7
Air Force, Boise State, Fresno State, San Diego State, San Jose State, Utah State, Wyoming
Pac-12
7
Oregon, Oregon State, UCLA, Utah, USC, Washington, Washington State
SEC
11
Alabama, Arkansas, Florida, Georgia, Kentucky, LSU, Mississippi State, Missouri, Ole Miss, South Carolina, Tennessee
Sun Belt
7
Coastal Carolina, Georgia Southern, Louisiana, Marshall, South Alabama, Southern Miss, Troy
Total teams
79
Top 5 Games
Outside of the games already mentioned above, here are my other Top 5 games of the week as some teams ended their seasons and others advanced to get to bowl eligibility. Two overtime games had to be the top two this week with Western Kentucky and Kent State picking up extra time victories.
Originally from LaMoure, North Dakota, Kent is a 1996 graduate of North Dakota State University. His prior writing experience is over 15 years having previously worked with D2football.com, I-AA.org, and College Sporting News before coming to College Sports Journal in 2016. His main focus is college football is the Missouri Valley Football Conference within the Division I FCS. And in 2017, he began also to look at the FBS Group of Five conferences of the American Athletic, Conference USA, Mid-American, Mountain West, and Sun Belt.
Reach him at this email or click below: