Predicting with any certainty that a 2020 college football season will or will not happen is a fool's errand. The novel coronavirus is still so new, and the mitigation efforts and strategy still very much a work in progress.
But that very question is what faces not only college football administrators and athletic directors across the country, but anyone running sports competitions everywhere on the planet.
Though it might not be the time to make definitive plans to tailgate at Michigan/Ohio State this November, the latest news on mitigation strategies for COVID-19 inform potential strategies on trying to form answers some of the big questions still out there.
So many big questions still remain. Will it be safe for undergraduates to show up on campus in the fall? Can normal practices happen at some piont? Will games happen on schedule, after a delay, or not at all? And is there any way for bands, fans, and tailgaters to enjoy college football in any sort of way?
COVID-19's Impact on Affected Students And Athletes
Too often college athletics sportswriters treat athletics as separate from the day-to-day beats of the college campus. But all questions on resuming any sort of college football are linked to the safety of students coming back and congregating on campus.
It's hard to understate how disruptive and untethering it has been for anyone attending college right now. Senior weeks, wrapping up classes, final exams, and graduations are nothing like what these students dreamed about when they were accepted as undergraduates – and they still don't really know if they'll be able to have graduation ceremonies at some point.
Questions about games and athletic competitions pale in comparison to the effect on higher learning in general.
For senior athletes, it's doubly untethering as a lifetime of preparation for a shining moment in a spring sport, a conference tournament or the NCAAs has been taken away from them through no fault of their own.
"Most of us have been playing softball for like 15 years, and it was a huge part of our identity and who we were, so having that ripped away was devastating," Lehigh softball senior Reva Alderman shared with Lehigh's student newspaper, The Brown and White. "Going into the season, we realized that it was our last season and that our softball careers inevitably were going to end soon, it's just the way that it did end. I think it gave us all a perspective to appreciate everything you have and not let anything go for granted."
These common beats, for both academics and athletics, have been majorly disrupted, and either a new beat, or a resumption of the old beat, will be necessary in order to think about what the 2021 academic and athletic seasons will need to look like.
For college football, the question becomes one of expectations. Would a changed college football season be worthwhile in terms of an athletics experience, especially for college seniors? Would it be better for the athletes than cancelling the season outright? Would preparing for a season in a COVID-19 world be possible and safe? Such questions would need to be answered first.
Flattening The Curve And Its Impact On College Football
This weekend, a series of white papers have been published about what a national coronavirus response might look like. Published by the American Enterprise Institute, it is an objective health-policy paper that offers a broad, 10,000-foot roadmap on reopening the country.
The authors of the plan detail a phased approach that can take place "as epidemic transmission if brought under control in different regions," the report says.
Currently, the nation is in "Phase I", where the goal is to slow the spread of COVID-19. This involves social distancing, providing adequate protective gear for first responders, and ramping up coronavirus testing, among other things. (Of course, as long as the nation is in "Phase I", higher education, never mind athletics, cannot resume as normal.)
Where the nation could think about re-opening higher education and possibly resuming athletics is during "Phase II" of the author's plan.
"In Phase II," the report states, "the majority of schools, universities, and businesses can reopen. Teleworking should continue where convenient; social gatherings should continue to be limited to fewer than 50 people wherever possible."
The report recommends easing restrictions on a state-to-state basis, but it is all predicated on states having a "sustained reduction in coronavirus cases for at least 14 days," adequate testing measures, and adequate monitoring.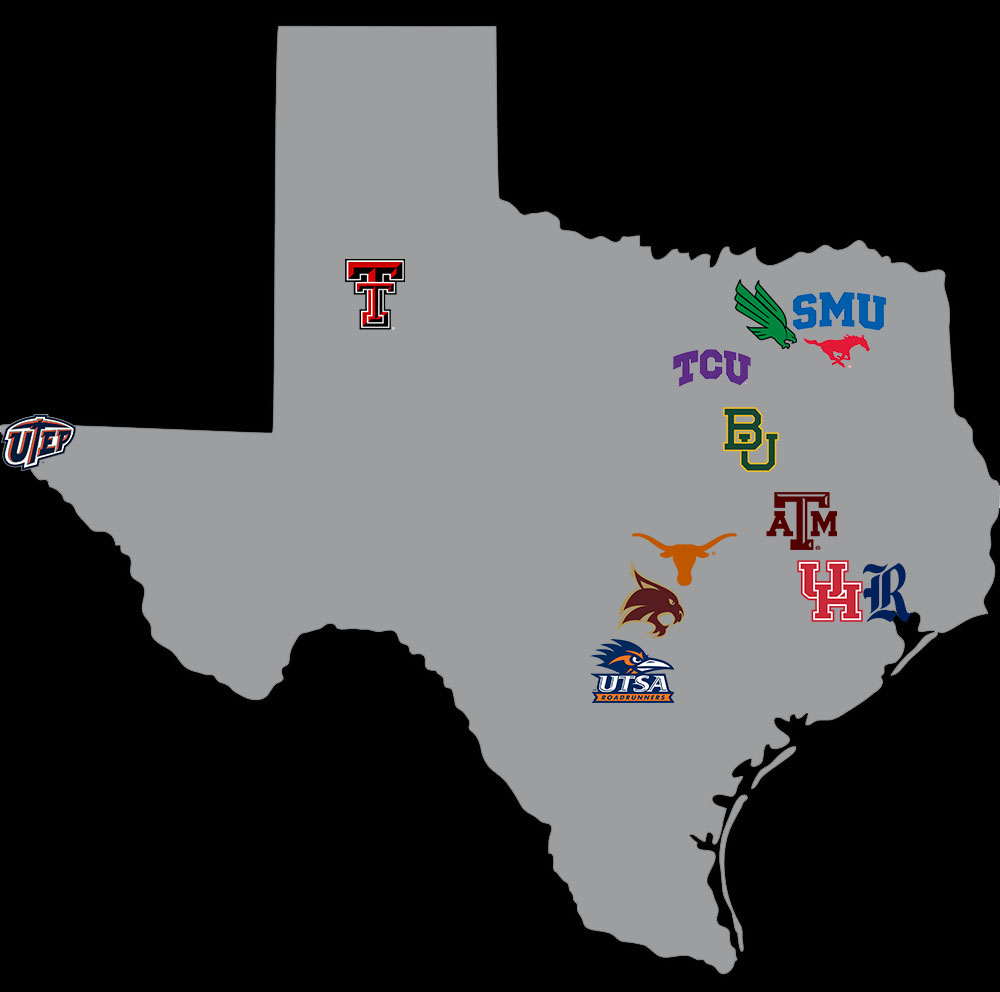 Football-Related Issues
These measures to some obvious issues when it comes to football if "Phase II" is what is commonly adopted and that reality exists well into football season.
By definition, football practices consist of more than 50 athletes, and football games, even without spectators, would involve at least 150 people, including coaches, referees, broadcast, and support staff.
If football were to resume, an exception would have to be made to allow such "gatherings" to happen. It's possible some states might be better situated than others to have them happen as well.
However, what if it were possible to play a hyper-localized schedule as a part of a mitigation effort?
During World War I, schools like Lehigh University, faced with schools cancelling games and possibly not fielding a team, came up with abbreviated schedules of mostly hyper-local teams. Could games still be played in this scenario?
For example, take the state of Texas. The University of Texas could come up with a hyper-local schedule easily with Rice, Texas State, Houston, and others. Such a schedule without spectators would still limit possible virus spread and would offer some level of competition.
A different example might be a school like Lehigh in Pennsylvania, who has Lafayette College, Villanova, Penn, D-III Moravian, D-III Muhlenberg, and D-III Delaware Valley nearby as well.
Perhaps a late 8, 9, or 10 game "mitigation schedule" could be created in this way, with the final regular season game of the year perhaps being a November road trip with fans, if public health warrants.
To me, that seems like a better idea than some of the others that have been floated around, like accelerating the college football schedule to play games in mid-Summer.
Keys to Resuming College Football
No college football will happen unless COVID-19 can be adequately tested state-wide and its effects contained to some degree. It also seems fair to say that any start to a football season would have some lingering measures in place to prevent and accidental spread and other outbreaks of the coronavirus.
But as long as you can secure a venue and the measures would allow an outdoor gathering about 150 people, it seems like college football could be possible in some states. I don't see fans returning to tailgates anytime soon, but at least some of those beats that might otherwise be missing during the fall on a college campus could still be there, even though it will have to adapt to circumstances.
It might require some creativity in scheduling and in working with state by state mitigation efforts, but it's not insurmountable. If there's a will, and a willingness to play without fans for a significant amount of time, I think there could be a way.