If the first week of MVFC play is any indication on how the 2021 season is going to go, we are in for a wild season to go on.
The first week of play last week, saw some wild games in the four contests played. One thing is clear though that South Dakota State is just as good or possibly better than the team that went to the national title game this past spring. The Jacks showed in their MVFC opener at Indiana State last week why they were chosen as the preseason favorites in the league with an easy 44-0 win over the Sycamores.
But that game was the outlier of Week 4 in the MVFC as the three other games in the league were much more competitive.
The top game of the week for me was the Western Illinois win over Youngstown State that saw the Leathernecks come from 28 points down to win the game on a last second field goal 38-35.
Southern Illinois was another team that came from behind to win but wound up winning easily. After spotting Illinois State the game's first 17-points, SIU used a long kickoff return by Izaiah Hartrup that seemed to turn the momentum the Salukis way. SIU scored later in the drive after that Hartup return and wound up scoring the game's next 35 points to get the win.
Missouri State also used the come-from-behind mode to get its first MVFC win of the season against South Dakota. The Bears trailed 23-14 at the half but wound up scoring the games final 17-points to get the 31-23 win.
This week, the MVFC action should see several other key games. The biggest is what used to be known as the "Nickel Trophy" game in the state of North Dakota between NDSU and UND. That trophy has been retired after North Dakota changed their nickname to the Fighting Hawks from the Fighting Sioux. NDSU and UND have played just three times over the past 17 years but will face off in Grand Forks for the first time since 2003–the last victory by UND in the series.
There are four other MVFC clashes this week, as well as South Dakota State facing off in a non-conference contest.
Here are my previews for each of the games this week.
Missouri State at Illinois State, 1 p.m. CT (Marquee/ESPN+)
Missouri State is seeking its first 2-0 start in league play since 1997 and shooting for its first win at Hancock Stadium since 2012. The two teams have split the last two meeting with the last meeting coming in the 2019 season. This year's game seems to favor the Bears but think these two squads are fairly close. Illinois State though has the younger talent and think we learned a lot from the Bears last year so I will pick them to get a close road victory. Missouri State 27 Illinois State 21
North Dakota State at North Dakota, 2 p.m. CT (ABC ND/Midco/ESPN+)
I already picked this game in our weekly roundtable but this should be a dogfight that each team had two weeks to prepare as both squads had byes last week. UND has not shown it can compete with their Peace Garden state rivals with NDSU winning easily this past spring 34-13. This was a Bison team that seemed down from its normal past decade dominate self but the early signs this fall through three games seem to show that the Bison are nearly back with solid wins over CAA foes Albany and Towson, as well as the PFL's Valparaiso. UND lost its FBS game at Utah State in Week 2 of the season but dominated both FCS non-conference foes in Idaho State and Drake. The home field will make a difference for this game but I think it will only mean a smaller margin of victory for the Bison. North Dakota State 28 North Dakota 24
Indiana State at South Dakota, 2 p.m. CT (ESPN3)
Indiana State opened up the season with alternating wins and losses to start the 2021 year with a 2-2 record including the loss at home to the other South Dakota school, SDSU. South Dakota also dropped its game last week but won their only home game of the season so far against Northern Arizona. The Coyotes won the last meeting between these two schools in 2019 38-0 also in Vermillion. I don't think the margin will be that big this year but USD will use the DakotaDome to help get this win. South Dakota 31 Indiana State 17
Southern Illinois at Western Illinois, 3 p.m. CT (ESPN+)
WIU is coming off the thrilling come-from-behind win at Youngstown State, while SIU defeated Illinois State also in come-from-behind fashion. These two teams did not play this spring but SIU won the most recent contest 45-21 also in Macomb. SIU is just the stronger team here and will likely win by a similar margin as their last meeting. Southern Illinois 41 Western Illinois 21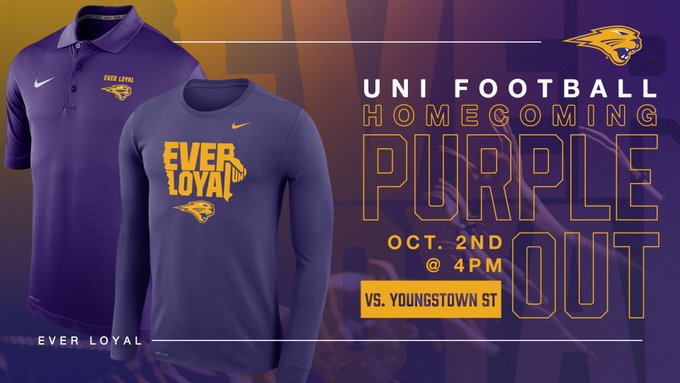 Youngstown State at Northern Iowa, 4 p.m. CT (Panther Sports Network/ESPN+)
The Panthers open their first MVFC game against the Penguins, who are likely hungry for a win after last week's second half meltdown at home versus WIU. UNI had a bye last week so the Panthers should be fully ready to play this week and based on their last two games (at Sacramento State and home vs. St. Thomas) are starting to fire on all cylinders. It is also homecoming this week in Cedar Falls so there should be plenty of fans inside the UNI-Dome to get their team fired up. UNI defeated YSU 21-0 in a defensive game. UNI has a stronger offense now and will likely show it off in this game. Northern Iowa 31 Youngstown State 10
Dixie State at South Dakota State, 6 p.m. CT (Midco/ESPN+)
The Jackrabbits host one of the newest Division I schools in a non-conference match this week in the Dixie State Trailblazers. SDSU seems to be possibly an even better squad this season than the one that went to the national title game this past spring. DSU, on the other hand, has lost its first three games to Big Sky foes and all by double digits. This will be an easy win for the Jackrabbits. South Dakota State 41 Dixie State 7
Originally from LaMoure, North Dakota, Kent is a 1996 graduate of North Dakota State University. His prior writing experience is over 15 years having previously worked with D2football.com, I-AA.org, and College Sporting News before coming to College Sports Journal in 2016. His main focus is college football is the Missouri Valley Football Conference within the Division I FCS. And in 2017, he began also to look at the FBS Group of Five conferences of the American Athletic, Conference USA, Mid-American, Mountain West, and Sun Belt.
Reach him at this email or click below: