COLLEGE SPORTS JOURNAL: What was the game of the week last week?
Chuck Burton: I didn't think much of UT Martin's chances against Jacksonville State this week because…. well… UT Martin never beats Jacksonville State at Jacksonville State. They didn't only give the Gamecocks all they could handle – they won the damn game, 34-31, impressively holding the ball for the last 5:34 of the game to seal the deal. RB Peyton Logan (67 yard rushing) and QB Keon Howard (19-24 passing, 255 yards, 3 TDs) just ground out the yards and the clock to win the game. Considering they hadn't beaten Jacksonville State at Burgess-Snow field in 34 years, that was an incredible performance.
Jamie Williams: The SoCon shootout between ETSU and Samford was a big one. For ETSU to be able to produce that type of offense – that may solidify them as the best team in the SoCon. Quay Holmes continues to be amazing with another 168 yards and two touchdowns.
Rob Butler: Easily ETSU over Samford in OT – there were six touchdowns in the fourth quarter, three by each team, before the ETSU kicker nailed a 27-yard field goal as time expired to force overtime.
Ben Schleiger: UC Davis and Weber State put on a nail biter as the Wildcats stumbled yet again. Weber State was touted as such a power to come into the season but I think this is the eye opener for many folks that my preseason preview prediction was right that Weber is not the best team in the big Sky.
Kent Schmidt: Western Illinois coming back on Youngstown State to get their first win of the season was my game of the week. Leatherneck QB Connor Sampson threw four touchdown passes and K Mason Laramie kicked a 20-yard field goal as time expired to cap a rally from a 28-point deficit–the largest comeback in MVFC history.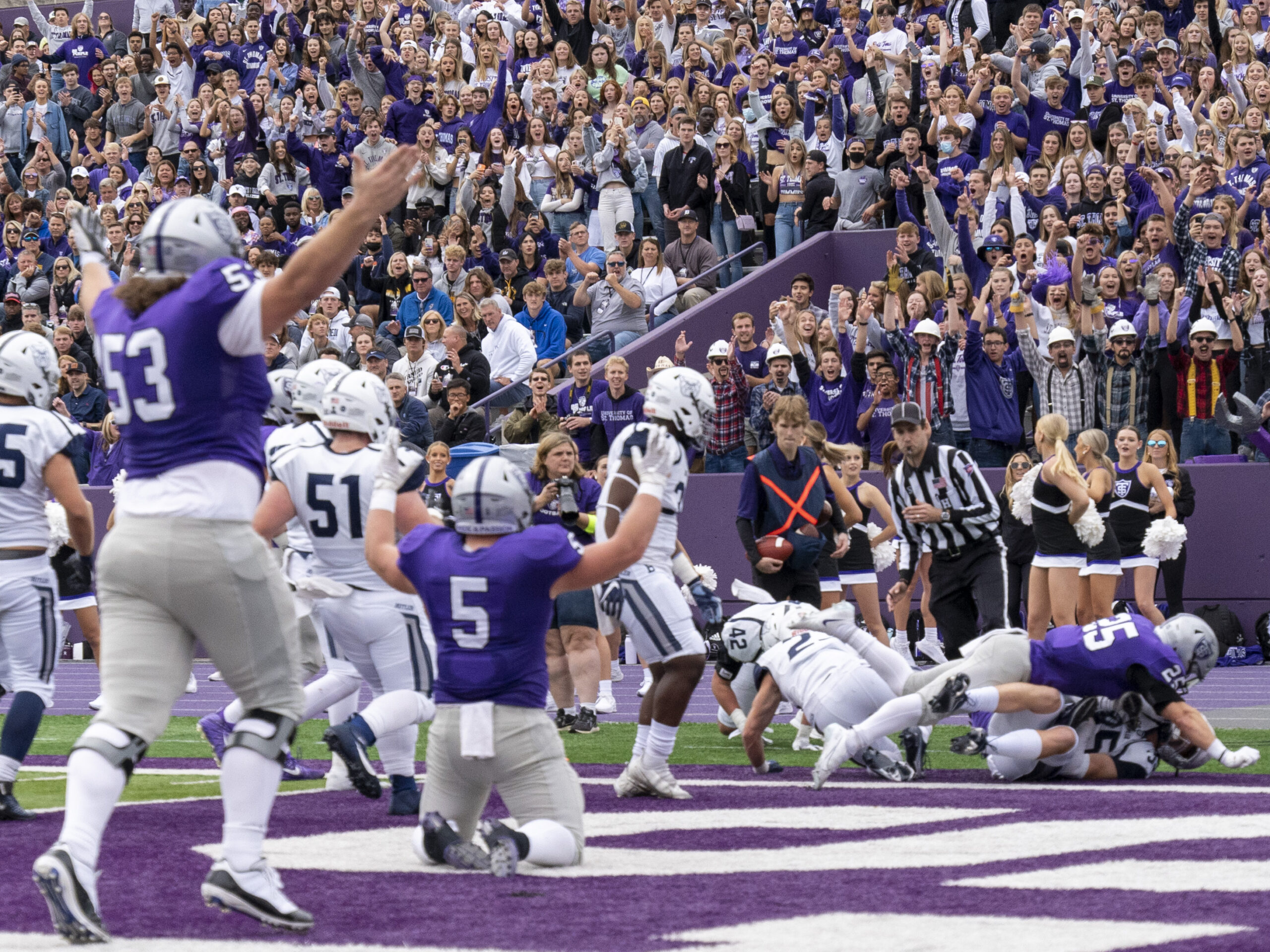 CSJ: Who was the Team of the week?
Kent: St. Thomas — The Tommies won their Pioneer League opener against Butler 38-0, and it was their first ever win over a Division I school. The former D-III school (and first ever to transition their athletic program directly from D-III to D-I) not only won this game, but blew them out. QB Cade Sexauer made the most of his first career start, as he threw for 194 yards and two touchdowns and added 31 rushing yards to pace the St. Thomas victory. This kind of win for the former D-III power showed me that they very well could be a team that could win the PFL in the future.
Chuck: Holy Cross' 45-15 beatdown of Monmouth was as impressive as it was comprehensive – cruising to a 28-0 lead and then relying on backup quarterback Marco Siderman (!) to guide them the rest of the way. The Crusaders announced they were going to be a force to be reckoned with nationally when they upset FBS UConn in a major surprise, suffered a letdown against a Merrimack team that is surprisingly good, then reasserted themselves with wins against Yale and now Monmouth.
Jamie: UC Davis going into Weber and winning a defensive battle was very impressive. The Aggies look to be that team knocking on the door to let the top 5 tier of teams know they are there.
Rob: I'm going with Incarnate Word – they blanked McNeese 31-0 and they've proven that they can contend for the Southland title.
Ben: Again, not trying to be a homer to any degree, but for parity's sake UC Davis needs to be a name people are talking about. Every three to four years Dan Hawkins puts out a powerhouse of a team that stampedes through top competition. It looks like the Davis Alum is on track again to upset many opposing Big Sky teams.
Ray Maloney: The team of the week has to be UT Martin… and for all the reasons Chuck mentioned. Plus, whenever snapping a losing streak against a familiar foe can be a nice thing, snapping a long losing streak to that same school that has spanned five U.S. presidents is cause for even added celebration.
CSJ'S Top Perfomers on Offense, Defense, and Special Teams (as determined by the staff)
Offense: RB Pierre Strong Jr., South Dakota State. Strong did a little bit of everything in South Dakota State's 44-0 victory over Indiana State, rushing 20 times for a season-high 150 yards, catching two passes for 23 yards and throwing a 22-yard touchdown pass. His touchdown pass to quarterback Chris Oladokun was the first score of the game for the Jackrabbits, who improved to 3-0. A Walter Payton Award candidate, Strong has now topped the 100-yard mark in all three games this season and 13 times in his career.
Honorable Mention: Liam Welch, QB, Samford, Stone Earle, QB, Abilene Christian, Quay Holmes, RB, East Tennessee State.
Defense: Lafayette LB Billy Shaeffer had an outstanding defensive performance this weekend, finishing with two interceptions, including a 41-yard interception return for a touchdown in the Leopards' 24-14 win over Penn.
Honorable Mention: Xander Gagnon, LB, Northern Colorado, Rayshad Nichols, DT, Stephen F. Austin.
Special Teams: Columbia P/K Chris Alleyne had a banner day kicking, going 3-for-3 on field goals and 2-for-2 on PATs in Columbia's 23-15 win over Georgetown. He made a career-high three field goals of 46, 36 and 33 yards, and the 46 yarder was a career-long. His 11 points was the difference in the game for the Lions.
Honorable Mention: Izaiah Hartrup, KR, Southern Illinois.
CSJ: FCS realignment talk simply won't go away, as there seems to be a lot of maneuvering with the Big South, Southland, Missouri Valley, OVC, Atlantic Sun, and WAC. What's up with all of this? What is the future of all of these conferences?
Chuck: Four Southland members left for the WAC, while TAMU-Commerce has just announced they are transitioning from D-II to join the Southland. Just these past two weeks saw OVC members Austin Peay announce their eventual move to the Atlantic Sun, and Belmont (which doesn't play football) leaving for the Missouri Valley.
Poaching is always a way of life in FCS, even though we may not want to admit it. There will always be zombie conferences like the Sun Belt begging for relevance, and there will always be schools that, rightly or wrongly, want to explore life in FBS. Every FCS conference needs to be prepared to possibly have teams move, and every FCS conference needs contingency plans to add new members. It's a never-ending process.
What I'm really having a hard time wrapping my head around is why these schools are jumping onto the Atlantic Sun and WAC.
I get the impression the former Southland schools finally had enough with how the Southland Conference's leadership has represented the schools, which makes some sense. But when you expand your view to look at all sports, the WAC looks like it's making the exact same mistake it made in the late 90s, expanding with a bunch of schools with no institutional similarities and a travel budget in Olympic sports that will be staggering. Those flights to Seattle and California Baptist will add up, and if you think a big TV contract is going to come to this conference, I have a bridge I want to sell you. Perhaps the former Southland schools bonded together will succeed where others have failed, but I have serious doubts.
The Atlantic Sun seemed to get ahead of its skis when it secured five football-playing members, but didn't get a sixth to be able to qualify for an FCS Playoff bid. This week they finally got Austin Peay to put them at six football-playing members, but like the WAC, when you look at all sports the conference looks like a random grouping of schools as disparate and dissimilar as Liberty, Florida-Gulf Coast, Lipscomb, and Eastern Kentucky. And like the WAC, there's no obvious revenue source. Football won't be it.
Without some sort of seismic change in revenue distribution, let's just say I have questions about the WAC and Atlantic Sun sustaining national interest in the long term. There is a reason why the AAC and Conference USA are struggling, and the reason is TV money. The WAC's and Atlantic Sun's moves don't really do much to move the needle in that area.
As for the OVC and Southland, I get the impression they will do what they have always done and get new members and do just fine. TAMU-Commerce is an excellent D-II add for the Southland, and I suspect the OVC will also be able to add some local schools, too – or maybe poach a school from another sprawled-out conference, the Big South – to make up the difference. The OVC and Southland haven't lasted this long in Division I without having very good survival instincts.
Kent: In a non-football move, the Missouri Valley added Belmont this week, further damaging the Ohio Valley. The Southland added Texas A&M-Commerce, the 2017 D-II national titlist to its line-up. I formerly covered the Lions when I covered D-II football so I know that they will be a good addition and likely will be able to compete right away in the SLC.
These moves will continue to happen due to the trickle-down issue with the FBS leagues.
I could very well see some FCS teams move to FBS. The top of the list likely is James Madison, who as mentioned is not keen with its current conference of the CAA right now. I know there have been some reporting thinking the Sun Belt is not good enough for JMU but covering G5, the SBC is actually a stronger league right now than Conference USA so I very well could see JMU heading there as it is a very geographically close conference and is a conference that has shown that very good FCS schools that want to move-up get a great start in this league such as what happened with Appalachian State, Coastal Carolina, and Georgia Southern.
A move by the American Athletic Conference to adding two Mountain West schools (reports stating Air Force and Colorado State is very close to a done deal) might open the door for schools like North Dakota State, South Dakota State, and both Montana schools potentially if they so desire to move.
Ray: I am growing increasingly tired of all the realignment talk. Yes, I understand that money, and especially football money, is the driving force behind the popularity of movement among schools. But, I prefer to look at the bigger picture and how moves impact the other sports at schools.
Oklahoma to the SEC, for example. What will that mean for wrestling at Oklahoma? Will the Sooners look to join the Mid-America Conference in wrestling like Missouri did when that school left the Big 12 to join the SEC? Yes, Missouri is returning to the Big 12 in wrestling this season, but OU leaving the conference has to come with some retribution. Plus, it's wrong to ask the MAC to become a babysitter for a wayward Big 12 wrestling program.
At the FCS level, the talk for years has been about NDSU moving up. I love NDSU and treasure my time there as a student with a sense of pride unmatched. The multitude of reasons for that sense of pride would take volumes to explain… but others who have lived it clearly understand where I am coming from.
NDSU football has dominated FCS like no other program in history. A record of 139-11 in the last 150 games in a testament to that. The men's basketball team has done well with a few NCAA tournament berths in recent years and an upset of Oklahoma a few years ago. The baseball team made it to the NCAA tournament this past season and the women's softball team made it to the Super Regional several years ago. James Madison even advanced to the WCWS this past season.
While the success of sports at other schools is nice and all, I would prefer to have an entire athletic program in a position to compete for conference championships on a regular basis.
Ben: The future is dependent on the time of day and who talks to who because it seems to change constantly. The WAC was going to be a bunch of D-II Texas teams and some outcasts from other conferences, but now they look powerful and other conferences are ravaged. I expect 129 is not the final number of FCS teams by the end of the year. Keep an eye on Division II schools West Texas, Angelo State, and CSU-Pueblo.
CSJ: Upcoming game of the week, and fearless prediction?
Kent: Mine has to be the North Dakota State at North Dakota game. Growing up in this state, this was the game of the year and was usually the last game of the season. To have this as both team's MVFC opener seems off but still it is a huge game not just for the state of North Dakota but also nationally. The Fighting Hawks lost in Fargo this past spring in a big way but now they get to host the Bison in Grand Forks for the first time since both teams were at the D-II level (2004). It will be a packed house in the Alerus Center and home field came be a big factor in these rivalry type games but so far what I have seen from NDSU, it is a different team than the one it showed in spring ball. I like the Bison to get the win on the road but in a very tightly contested game. North Dakota State 28 North Dakota 24.
Ray: It's Sioux Week. 'Nuff said. While the Nickel Trophy, the target of a multitude of late-night raids in years past, is no longer a part of the picture with the name change at the school up north, the disdain for green and white never dies. But the hopes of the Hawks will: North Dakota State 42, North Dakota 11.
Jamie: ESPN2 on the Inferno. The Big Sky after dark. Montana goes to Eastern Washington. This game should be a classic. The high powered Eagle Offense against the stalwart Griz Defense. Who comes out on top? EWU doesnt lose on the red. Give me the Eagles in a fun one. 31-30.
Chuck: This is way out of the box, I admit, but Duquesne/Merrimack pits the two best teams in the NEC by a wide margin, and the winner will certainly be the frontrunner to win the autobid for the conference. With the caveat it's still early, and much can happen, this game is a huge proving ground for both schools – and Merrimack will come away with it. Merrimack 35, Duquesne 32.
Ben: There are so many close contests happening this week that FCS fans will be in heaven. NDSU/ UND, Merrimack/ Duquesne, J'Ville State/ Kennesaw State, JMU/ New Hampshire, EWU/Montana. I have to say just based off the top 25 that EWU/ Montana is the most intriguing and likely the closest contest outside of Merrimack. Plus, why the heck are none of the others night games!! It's a damn shame to play a huge marquee game at 1pm MT. If you have the capability play at night. EWU 42, Montana 38
Rob: The Battle of the Piney Woods at NRG Stadium – Sam Houston and Stephen F. Austin. The rivalry is one of the longest in the FCS and this game could have playoff implications. I love SFA's offense with QB Trae Self and WR Xavier Gipson. And Sam Houston is loaded with playmakers on both sides of the ball – the Bearkats win this one 35-20 over SFA.
CSJ Highlights of the Week
East Tennessee State 55, Samford 48 (OT)
2. UC Davis 17, Weber State 14
3. UT Martin 34, Jacksonville State 31
4. Sam Houston 45, Central Arkansas 35
5. Western Illinois 38, Youngstown State 35