There were three conference games in the Southern Conference last week with Western Carolina playing an out of conference game as well. There were some big scores on offense – but one team, Mercer, played exceptional defense. Outside of Furman, every team scored at least 23 points. As usual, we will take look back at last week before we look forward at this week.
VMI survived a stiff test at home to beat Wofford by eight. While the yardage numbers weren't huge for Collin Ironside, the Keydet quarterback was efficient completing 18 of 22 with two touchdowns. Running backs were the stars on both sides of the ball. For Wofford, Irvin Mulligan ran for 134 yards and a touchdown while VMI's Korey Bridy ran for 172 yards and two touchdowns.
In a mild surprise, Mercer dominated Furman in a 24-3 win. The Bears forced four Paladin turnovers; all of which were interceptions. Brandon Marshall scored two touchdowns on the ground. Along with the turnovers, the Paladins couldn't run the ball averaging just 2.8 yards per carry. Mercer looks to be on the way up while Furman has lost two straight after a good start to the season.
In the SoCon game of the week, East Tennessee outlasted Samford 55-48 in overtime. The Buccaneers amassed 531 yards while the Bulldogs put up 728. But Samford turned the ball over three times to just one by ETSU. Tyler Riddell threw for 291 yards and three touchdowns. But as usual the star for the Buccaneers was RB Quay Holmes. The leading back in the FCS by yardage had 168 yards and two touchdowns including the game winner in over time. For Samford. Liam Welch had a huge game with 582 yards passing and 73 yards rushing.
It looked like Western Carolina was going to get their first win of the Kerwin Bell era as the Catamounts were up 34-24 Gardner-Webb mid way through the third quarter. But it wasn't meant to be as Gardner-Webb rattled off four straight touchdowns to provide a final 52-34 margin. Rogan Wells continues to drive the offense for the Catamounts with 427 yards passing and 113 yards rushing and three total touchdowns. As usual, the Western Carolina defense could not keep up.
This week brings four conference matchups with Furman sitting this week out on bye.
Last Week: 2-2, Season: 20-8
Western Carolina at Chattanooga Saturday October 2, 1:30pm ESPN3
Western Carolina looks exactly like you would expect for a team building under a new head coach. They have a transfer quarterback to lead the offense, but the defense is woefully ineffective. Rogan Wells has thrown for 1109 yards in four games with six touchdowns. However, he has thrown seven interceptions. Wells is also the leading rusher with 277 yards and two touchdowns. But the defense is not just bad, its horrendous. The Catamounts are giving up 50 points per game and over 500 yards per game. The Catamounts have a long way to go to become relevant again.
Chattanooga comes off their bye week 1-2 after giving Kentucky all they could handle. The Mocs are led by their talented defense, headlined by Devonnsha Maxwell's 3.5 sacks. Overall the Mocs have 10 sacks in their three games. Offensively, the Mocs lean on running back Aylim Ford with exactly 300 yards and two touchdowns. They have yet to settle in on a quarterback between Cole Copeland and Drayton Arnold, but it looks like Copeland will get the next chance to take the job. Luckily for him, he gets to start a stat pad game against a terrible defense.
These teams are at the opposite end of the SoCon spectrum, and the game will play out as such.
Fearless Prediction: Chattanooga 48, Western Carolina 24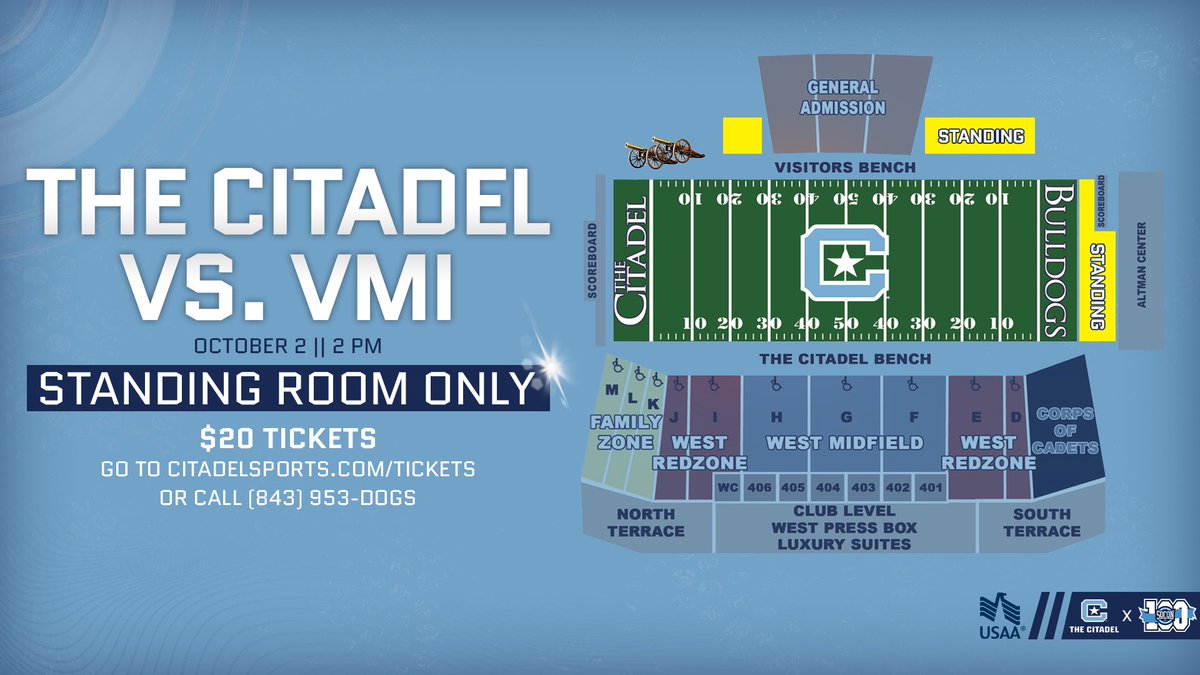 #18 VMI at The Citadel Saturday October 2, 2:00pm ESPN+
In FCS competition so far this season, VMI is unbeaten. Their loss against FBS Kent State makes their stats look skewed, but VMI has played well overall. They have had to endure another quarterback injury, this time to Seth Morgan. But Collin Ironside has stepped in and played admirably, completing 70% of his passes. Korey Bridy has been healthy at running back to help the Keydet offense. So far, he has 364 yards and four touchdowns. Jakob Herres has four touchdown catches. Defensively, the Keydets aren't getting to the quarterback as much as they would like but they have forced six turnovers so far and are only allowing 170 yards per game passing.
The Citadel has only played one FCS opponent so far this year, a 38-21 loss to Charleston Southern. Their other two games have been against non FCS opponents, one FBS and one DII. The Bulldogs defense continues to struggle, giving up 34 points and 441 yards per game. Offensively, the Bulldogs are putting up 27 points per game. Their usual triple option has produced 256 yards per game on the ground led by QB Jaylan Adams with 220 yards and two touchdowns. Six different players have scored a rushing touchdown for The Citadel already this fall. When they do pass, they look for Raleigh Webb who has 168 yards on nine catches. They will want to try to grind this game out on the ground
This is a huge rivalry so don't expect a blowout. But don't expect an upset either.
Fearless Prediction: VMI 30, The Citadel 23
Wofford at #13 East Tennessee State Saturday October 2, 3:30pm ESPN+
Wofford has been the best team in the Southern Conference for the last half decade. But, in the spring they showed some cracks and started to fade. That fade has continued into the fall. The Terriers are 1-2 with their only victory on a late field goal. They got handled by Kennesaw State and seemingly passed the SoCon torch to VMI last week. The Terriers have attempted to go to a more pass focused offense, but Jimmy Weirick has not been the answer there. Neither Weirick nor Peyton Derrick have thrown a touchdown pass this season, but they have combined for four interceptions. The lone bright spot on an offense only averaging 19 points per game has been running back Irvin Milligan with 289 yards and three touchdowns. Defensively the Terriers have kept themselves in games by forcing six turnovers. But it hasn't been enough. It looks like its going to be a long season for Wofford
On the opposite end of the spectrum is East Tennessee State. The Buccaneers have started the season 4-0 including a win over FBS Vanderbilt. Granted; before last week's game against Samford they had played a bad MEAC team and a DII team. But ETSU is averaging 40 points per game and allowing just 18, and that includes giving up 48 last week. The Buccaneers have been led by the top back in the FCS and potential Walter Payton candidate Quay Holmes. Homes has 536 yards and six touchdowns already this season. And when Holmes needs a breather, no big deal, Jacob Saylors has 243 yards and four touchdowns. Quarterback Tyler Riddell has played great complimentary football to the run game with 7 touchdown passes and only one interception. Defensively the Buccaneers have 25 tackles for loss. They gave up big numbers last week but scored enough and forced enough turnovers to win.
These teams are heading in opposite directions and this result won't change that
Fearless Prediction: East Tennessee State 27, Wofford 10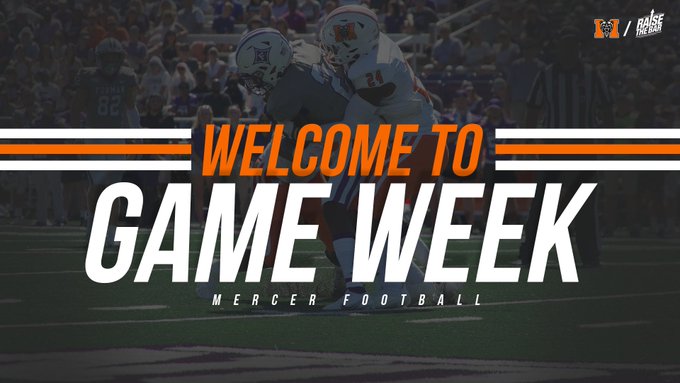 Samford at Mercer Saturday October 2 6:00pm ESPN+
As usual, Samford's offense is among the highest powered in the FCS. As usual, Samford's defense is one of the leakiest in the FCS. That leads to a lot of high scoring games and a .500 record, which is exactly where the Bulldogs sit right now. Liam Welch is averaging 380 yards passing per game and has thrown nine touchdowns. That sounds great until you see that he has also thrown seven interceptions. Welch has to be more careful and not give away possessions. The Bulldogs will score. But if they keep giving short fields to their opponents and throwing away opportunities, they will continue to lose games. Defensively, the Bulldogs give up a lot of points, but they have also forced 12 turnovers with seven interceptions and five fumble recoveries. This is a high event team all around.
As high event as Samford is, Mercer is the exact opposite. They aren't flashy, they spread out the production on both sides of the ball and just work hard play after play in the trenches. The Bears have only played on FCS opponent so their numbers on both sides are a little skewed. IN their one game against an FCS foe, they defeated Furman 24-3 forcing four turnovers and committing none. The Bears have 9 rushing touchdowns, but no back has more than 156 yards despite averaging 270 per game. Four receivers have between five and seven catches, although the top option is Ty James with four touchdowns. Fred Payton seems to have won the starting quarterback job. Defensively, the Bears are led by linebacker Isaac Dowling, a freshman. 15 players have been credited with at least a half tackle for loss among their 14. This is the true definition of a team.
Does Mercer have enough fire power to get past Samford if they need to ramp up the offense? I am not sure about that. They didn't in the spring. Samford won this matchup 44-0. As much as it seems like Mercer should bring their lunch pail and grind this game out, I am going to go with Samford.
Fearless Prediction: Samford 38, Mercer 28
Jamie is a proud 2002 graduate of James Madison University. He's witnessed the growth of the program from no one in the stands in 1998, to the hiring of Mickey Matthews, to the 2004 National Championship, to the 2008 team, to the struggles in the early 2010s, and finally the rebuild under Mike Houston. He also allegedly really enjoys Washington, DC-based Stanley Cup winners.
Reach him at: