BETHLEHEM, PA – This weekend, at Murray Goodman Stadium, Lehigh (1-3, 1-0 Patriot) will be facing off against Monmouth (2-2, 1-1 CAA) in yet another challenging out-of-conference game for the Mountain Hawks.
In many ways, Lehigh facing off against Monmouth is a natural – so much of a natural, in fact, that for many years, speculation was Monmouth was trying to join the Patriot League in all sports.
West Long Branch, New Jersey is a short two hour drive from Bethlehem, and geographically would have been an ideal Patriot League conference member, especially in football, all very doable day trips for six of the seven football-playing members. Competition-wise, it was never a debate.
But the Hawks never got into serious consideration for membership, even though they excelled in the limited-scholarship NEC with some genuine NFL-caliber talent like Dallas Cowboys WR Miles Austin.
What might have happened to the Patriot League had the Presidents genuinely gave a fair hearing, and accepted, Monmouth as a member? We will never know the answer to that question.
But we can analyze what really happened – and how now, in 2022, it worked out so much better for Monmouth, and leaves Patriot League fans wondering what could have been. It also shows how the narrow-minded view of Monmouth then might have hobbled the Patriot League for now and for years to come.
I am old enough to have experienced the entirety of the Lehigh/Monmouth rivalry.
The record officially reads that Lehigh is leading the all-time series 5-3.
In 1999, Monmouth, as a member of the limited-scholarship NEC, was invited as Lehigh's season-opening opponent. In all senses, the arrangement made sense.
The nationally-ranked Mountain Hawks were coming off one of their greatest seasons in history and were in the middle of one of the longest regular season winning streaks in Division I football at the time. Monmouth had a tiny stadium, and Murray Goodman gave the Hawks a nicer venue for a football game.
QB Phil Stambaugh and the rest of the Mountain Hawks did as expected that season, walloping Monmouth 56-10.
By the second invitation, it was clear that Monmouth was starting to build something in West Long Branch. That was when they had Miles Austin, and while Lehigh still won 54-26, he caught 7 passes for 126 yards and a 66 yard touchdown strike.
In 2011, Monmouth and Lehigh played each other almost yearly, alternating between Murray Goodman Stadium and Kessler Field, which was to undergo a large renovation to make it a more modern stadium, but still smallish in terms of Division I FCS standards.
At first, coinciding with a strong streak of FCS Playoff teams, nationally-ranked Lehigh kept their streak against Monmouth alive, though it was clear the gap was narrowing.
In 2012, a 27-17 win by Lehigh was very much in doubt until the last play. Monmouth had the ball trying to score, and it was only a fumble recovered for a touchdown that made it a 10 point Lehigh victory. It was extremely easy to picture that game possibly going the other way.
This set the tone for the next three meetings, where Lehigh would go 1-2 against Monmouth in three extremely competitive games settled by one score or less. A 23-21 game where Lehigh gave up a late touchdown on a turnover emphasized how close these teams were competitively.
But then again, as Lehigh was trying to figure out how they were going to navigate in a world with 60 football scholarships, Monmouth, by now having joined the MAAC in all sports and parked their football program in the Big South conference as a placeholder, the Hawks were enjoying unfettered access to football scholarships, redshirting, and other advantages over Patriot League football teams.
Inadvertently, Monmouth became the test subject of what Lehigh and the rest of the Patriot League could have been, had they made the decision to allow redshirting, not put any restrictions on roster sizes, and had not put any academic index restrictions on recruits.
Monmouth to this day has a similar institutional profile as the other Patriot League schools. Lehigh has 5,100 undergraduate students; Monmouth about 4,600. Both are private universities. Although still not totally in alignment in, say, median SAT scores, Fordham (1230) and Monmouth (1130) aren't all that far apart.
But in 2011, the Patriot League decided not to take their bid for membership seriously, and they went on their own path about football scholarships, while Monmouth went their own way.
It's tempting to say the entirety Patriot League was passed by the Hawks, but the truth of the matter is Monmouth's record is mixed.
The Hawks beat Holy Cross 44-27 in the first round of the FCS Playoffs in 2019, but lost the rematch 45-15 last September.
Monmouth went 1-1 against Fordham in 2021 and 2022, losing a barn-burner in the Bronx 52-29 a few weeks ago.
However, it's probably fair to say that had Monmouth joined the Patriot League, under Big South rules, they'd be in contention for the FCS Playoffs every year, and the Patriot League probably could make a good case to be a two bid league many years.
That's borne out by four FCS playoff appearances in six years by the Hawks – the same as Holy Cross.
And the best part of Monmouth's dream is that now, instead of the placeholder conference the Big South, the Hawks are competing in the premier FCS football conference in the East – the CAA, former home of James Madison.
Not bad for a school that, at one time, thought their highest aspiration might be the Patriot League.
As for Lehigh, their last meeting against Lehigh was in 2017, a 46-27 blowout that started to show that the gap between the Hawks and the Mountain Hawks that had become quite a ravine.
With the headline "Monmouth Beats Up Lehigh And Takes Their Lunch Money, Win 46-27", I wrote: "The Hawks started out behind the eight-ball early, falling behind by two scores, and then rallying to take a 27-21 lead relatively early in the third quarter. But the physical beating, slowly and surely, took its toll, eventually knocking the offense out of kilter and the pushing the defense out of the way for their powerful running game. In the end, Lehigh only could be punched in the mouth so many times, and fell, 46-27."
If Lehigh is to indeed be "back", they need to be able to say they are not going to be punched in the mouth too many times and lose the physical battle. It wouldn't just be a win against Monmouth – it would be a win to announce that Lehigh is ready for the challenges of beating Fordham, Holy Cross, and everyone else on their schedule.
In that sense, this game is critical for Lehigh, who needs to establish themselves before Patriot League play.
LFN's Drink of the Week
I think it's time to unveil one of the hottest drinks on the planet here this week. Sweeping the world has been the Aperol Wine Spritzer, and it's specifically swept through the Lehigh Nation household, as my wife has insisted I make it ever since we bought that bottle of Prosecco. (This recipe, which is the one I make for her, is #LFNSignificantOtherApproved.) You can find the full recipe here.
LFN's Tailgate Dish of the Week
I thought I'd share one of our family favorites here, which happens to coincide with fig season. Every fall, my mother and father (and now, us as well) enjoy figs from several fig trees on our properties. It means every year in late fall, we get delicious figs and can use them in a lot of different dishes (cook them with chicken, make fig spreads, etc.). Our favorite application of this is a goat cheese, carmelized onion and fig dip that will certainly be a hit at your next tailgate. At this time of year, we make loads of the stuff for friends, family… or sometimes, just us. And it's easy to make beforehand and keep on a hot plate for your tailgating needs! You can find the recipe here.
Lehigh Game Notes and Injury Report
Lehigh's game notes this week show the Mountain Hawks' fifth different look in the secondary in five games. This week true freshman CB Michael Jordan gets his first-ever start at corner, filling in for DB DJ Lawrence, who didn't play last week and whose status is uncertain for this week.
Jordan joins DB TyGee Leach, DB Logan Jones, DB Spencer Roof, and DB LaTreil Wimberly in the secondary this week. On the official depth chart, backing up MJ is a sophomore, CB Andrew Worthy.
I'd be remiss if I didn't address the fact that QB Dante Perri is listed as QB1 on the depth chart after being taken out for a few series against Princeton last week. We saw true freshman QB Brayten Silbor get his first Division I game action, but after talking to coach Gilmore after the Princeton game, although nothing was confirmed, I was quite confident Perri would be listed as QB1 for Monmouth week.
Although the final score vs. Princeton isn't what Lehigh Nation wants to see, the fact remains that Lehigh did see quite a bit of improvement from the Richmond game, especially in the first half. The inconsistency and team breakdowns of the second half were aggravating and were why Lehigh lost the game, but there was a viral bright spot – a "Thicc Six" interception by DE Dean Colton, shared on the ESPN+ Twitter account, that got a lot of visibility. The hope is that more of that improvement will be seen this weekend – and hopefully a W.
Scouting Monmouth
"Coach (Kevin) Cal (Callahan) said every week is like a playoff game now, so we have to treat it and prepare like it's a playoff game," Monmouth right guard Greg Anderson said. "I don't think there will be a letdown. I think guys know that the focus has to be this week and how big it is."
This was a part of several excellent pieces hyping the game from The Asbury Park Press (also available from Yahoo! News).
In fact, although there's been a lot of ink spilled on two possible NFL players (and Walter Payton award contenders) in junior QB Tony Muskett and sophomore RB Jason Shirden what could be even more impressive is Monmouth's offensive line.
Including TE Justin Marcus, there are three seniors one fifth-year senior, and two graduate students on the Monmouth front. Take away the 235 lb receiving threat, the offensive line averages more than 310 lbs across.
Monmouth leads the CAA in total offensive yardage per game (501.0 yards) and scoring (41.0 points per game) and are third in rushing yardage per game (243.8 yards) and fourth in passing yardage per game (257.3). Shriden leads the FCS in rushing yards (453) and rushing yards per carry (12.58), while RB back Owen Wright leads the FCS with nine rushing touchdowns. As Jersey Sporting News might say, that's due to the offensive line, which might be the toughest and most physical Lehigh will face all year.
"We talk about the standard of what we've set here all the time and we're never going to dip below that standard," OL coach Brian Gabriel told them. "We recruit and develop. We don't bring in transfers or guys for the short term or quick fix. The guys come in our program as freshman and develop, they come in as sophomores and develop so then you just have continuity and you're never really rebuilding. You always have that group of next guys up and their ready to go."
The offensive line allows the powerful running game to get going, and just when you try to prevent Shirden from breaking away for long touchdown runs, that's when Muskett is most deadly, completing more than 60% of his passes. He's already at 1,000 yards passing and he can get the ball to his receivers in single coverage. He spreads the ball around, but WR Alex Bryant (14 catches, 162 yards, 2 TDs) might be his favorite target.
Also worthy of mention is the speed at which Monmouth plays. Despite the big guys on the line, they want to play fast, and simply overwhelm you physically and beat you at the line. And that approach has worked quite well against all their opponents despite the 2-2 record.
Defensively, Monmouth has been giving up more than 32 points a game (though two weeks ago, they gave up only 6 points to Georgetown, a common opponent). Aside from the 52 allowed to Fordham, they allowed 42 to Villanova… though they did ultimately win the game after DB Mike Reid intercepted Villanova QB Connor Watkins' heaved Hail Mary to end the game.
It's worth mentioning that Villanova was able to move the ball well on the ground against the Hawks, as was Fordham. However, that's not to sat Monmouth's defensive front can't get pressure as they've averaged more than 4 tackles for loss a game. LB Da'Quan Grimes (31 tackles, 1 1/2 TFL) leads this unit that frankly has suffered some level of injury this year already. It might mean an opportunity for Lehigh's offense to catch fire.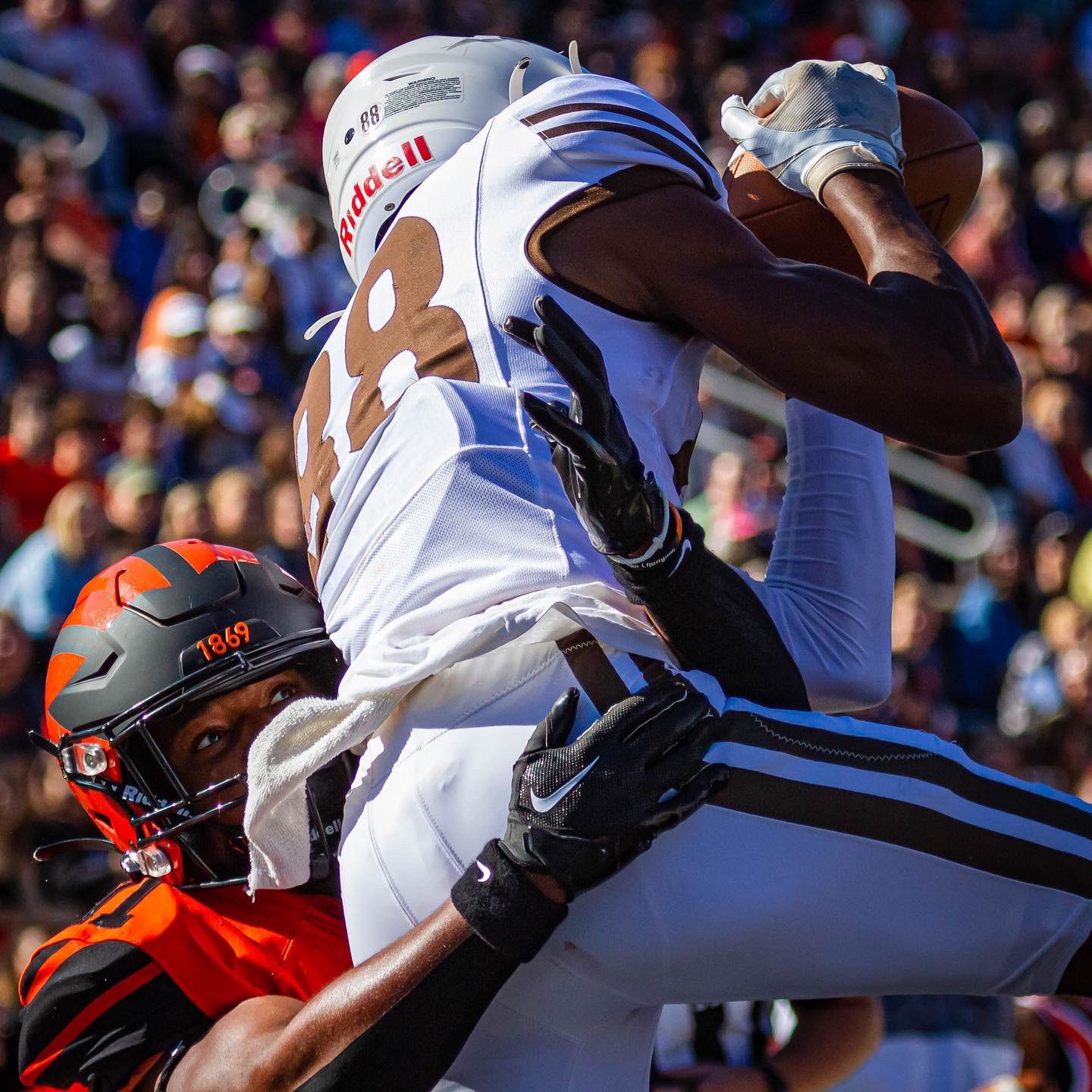 LFN's Keys to the Game
Patience. In three Lehigh losses, the offense has gone against some fairly tough defenses and had issues running the ball. Against Monmouth, the possibility is there to get some yardage blocks in chunks and keep the ball moving, especially with the "stable" of running backs. I think Lehigh will be able to move the ball with QB Dante Perri, RB Zaythan Hill and the rest of the Stable – the key will be to be patient and to play disciplined. They can do it. I've seen it happen. But in order to have a chance, they need to be consistent and patient.
Take Away the Big Play. Monmouth is going to get yards with their defense and their offensive line. What's going to be critical is tackling and preventing yardage plays from being big yardage plays. Watching some of Monmouth this year, I'm struck by the number of explosive big plays they have, and how it's killed teams – a 56 yard Shirden run last week was especially killer to Villanova. If they get yards – but not big scoring plays – Lehigh has a chance.
Physicality. Lehigh needs desperately to match Monmouth in terms of physical presence. The Hawks depend on beating foes into submission, and it's there where Lehigh will have to be at their best. Winning that physical battle – maybe aided by some long offensive drives – will be a huge help.
Fearless Prediction
It's Dog Day at Murray Goodman, and while it might not rain, the field might be wet from overnight rain, which won't disadvantage two teams that like to run the football.
Lehigh has played the most brutal schedule that I can remember in these last five games. Monmouth will be the third CAA team they've played this season, after nationally-ranked Villanova and nationally-ranked Richmond. It's not at all out of the realm of possibility that Monmouth will find its way into the Top 25 eventually as well, considering they already upset Villanova last week.
I feel very strongly that the more physical team – the one that doesn't mind hopping around in the mud and showcasing their talents in the trenches – will win this game. That means I don't think it will be as high scoring – or as much as a blowout – as people think.
Fearless Prediction: Monmouth 35, Lehigh 32