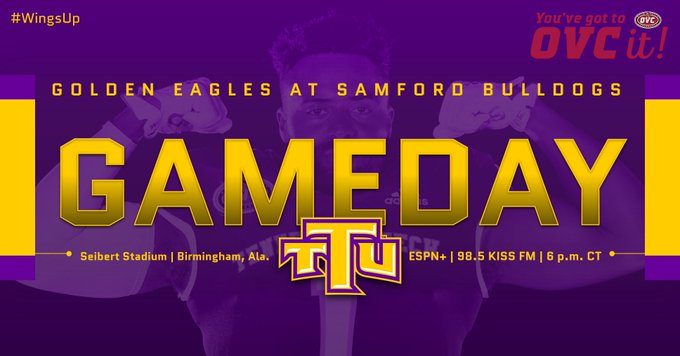 Tennessee Tech (0-0, 0-0) at Samford (0-0, 0-0)
Where: Seibert Stadium (6,700)
Homewood, Ala.
When: Thursday, Sept. 2 (6 p.m. CT)
TV/Streaming: ESPN+ (subscription req'd)
Radio: 98.5 KISS FM (Tennessee Tech)
First Meeting: 1934
All-Time Series: Samford leads 12-11
Last Meeting: Samford 59-58 (2-OT) In
Tennessee Tech Golden Eagles
While every season begins with plenty of optimism, question marks also surround every collegiate football team.
And Tennessee Tech is no exception.
Just days before traveling to suburban Birmingham to take on Samford to open the 2021 season the Golden Eagles have yet to settle on a starter at the always-important quarterback position. But don't feel too sorry for Tech coach Dwayne Alexander for the dilemma he is faced with. After all, he has two quality players to choose from who should be able to step in and perform admirably.
Willie Miller (6-0, 178, So.) may have a slight edge to get the nod based on his recent experience. He completed 80 of 149 passes during the spring season for 879 yards and five touchdowns (eight interceptions) as the Golden Eagles posted a 2-5 record. He also added 243 yards rushing on 61 carries (4.0 ypc) and four more touchdowns.
Davis Shanley (6-2, 204, Grad) is in his final collegiate season and could also find himself under center for Tech in the season opener. He has seen limited action in recent years and sat out the 2021 spring season after transferring from Western Kentucky.
Shanley played in nine games (four starts) for the Hilltoppers in 2018 and completed 91 of 141 passes for 992 yards and three touchdowns that season and added 91 rushing yards on 38 carries (2.4 ypc) that season. He appeared in just one game the following season and logged a 16-yard run against Arkansas.
Whichever player gets the nod from Alexander to start the season will likely look to a trio of quality receivers to open up the Golden Eagle offense.
Quinton Cross (5-11, 175, RS-So.), Brad Clark (6-0, 208, RS-So.) and Justin Oden (6-3, 175, So.) all return at wide receiver for TTU after combining for 47 catches and more than 600 yards during the abbreviated spring season.
Cross led that trio with 23 catches for 255 yards and one touchdown while Clark and Oden hauled in 13 and 11 passes, respectively, on the season. Clark finished the year with 176 yards and one touchdown and Oden was not far behind with 175 receiving yards of his own.
Tight end Hunter Barnhart (6-3, 230, Fr.) also returns for the Golden Eagles and figures to become a more viable target this season. He caught seven passes for 72 yards during the spring season.
The Tech defense, which allowed opponents and average of 294.3 yards per game last season, has the potential to become one of the top defensive units in the OVC this season thanks to the return of the top five tacklers from last season, including a pair of young linebackers who are among the most active and physical players in the league at their position.
Seth Carlisle (6-0, 225, Jr.) and Jack Warwick (6-0, 224, RS-So.) both return at linebacker after bursting onto the scene this past spring. Carlisle, a standout quarterback while in high school before moving to linebacker after arriving at TTU, led the team with 50 (23 solo) tackles, including 1.5 tackles for loss and one interception. Warwick, meanwhile, finished the year with 45 (17 solo) tackles to rank third on the team charts in total stops. He added 3.5 tackles for loss, two sacks and one interception.
The other three top defenders returning are all entering their final collegiate seasons after having already earning their degrees from TTU.
Marcus McMeans (5-11, 200, S) finished second on the team with 48 (29 solo) tackles and five TFLS during the spring and his teammate in the secondary, Josh Reliford (5-10, 200, SS) added 41 (17 solo) tackles of his own. He also added a pair of interceptions.
Talented defensive end Chris Tucker (6-2, 270) will anchor the defensive front for the Golden Eagles this season. He tallied 34 (16 solo) tackles last season and paced the team in both TFLS (7.0) and sacks (3.0) while adding one interception
Samford Bulldogs
Samford, which was a member of the Ohio Valley Conference (2003-08), is one of the early favorites in the Southern Conference as the 2021 season prepares to get underway. The Bulldogs, who went 4-3 during the spring season, were picked to finish second in preseason conference poll and return a number of talented players on both sides of the ball to make that prognostication a valid one.
Headlining that list of veterans is quarterback Liam Welch (6-2, 208, Grad., QB) who completed 161 of 236 passes last season for 2,242 yards and 15 touchdowns. He was intercepted five times on the year. The athletic signal caller also rushed 71 times for 301 yards (4.3 ypc) and four additional scores for the Bulldogs.
Look for Welch and the rest of the Samford squad to rely heavily on passing again this season with the return of three quality wide receivers and a tight end who has proven to be among the best in the conference at that position.
Ty King (6-0, 165, Jr.) is the leader of that group after catching 33 passes for a team-high 609 yards last season and scoring three times. Montrell Washington (5-10, 170, Sr.) also returns after racking up 406 yards on 27 receptions during the spring and scoring four touchdowns.
Kendall Watson (5-10, 183, Jr.) rounds out that trio of talented pass catchers after securing 16 receptions last season for 229 yards and one TD.
The Bulldogs also return a solid nucleus of starters on the defensive side of the ball which should help Samford challenge for the conference crown this season.
Nathan East (6-2, 228, Grad., LB) highlights the return of the team's top seven tacklers from a year ago. He had 68 (32 solo) tackles on the year, including 3.5 tackles for loss. Teammates Trimarcus Cheeks (6-2, 222, Jr.), another linebacker and Chris Edmonds (6-2, 214, Jr. FS) also return after collecting 48 and 40 total tackles, respectively, last season. Cheeks tallied 23 solo tackles along with five TFLs and 2.5 sacks. An active player at his position, Cheeks also intercepted one pass, recovered one fumble and recovered fumbles on the season.
Ty Herring (6-2, 191, Sr., FS), and Noah Martin (6-1, 243, So., LB) finished with 36 and 35 total tackles while Seth Simmer (6-4, 302, Grad., NT), a transfer from Dartmouth, and Armond Lloyd (6-3, 306, Grad., DT) both chipped in with 33 total tackles a year ago,
Fearless Prediction: Tennessee Tech must control the line of scrimmage and provide whoever starts the game under center with enough protection to operate the Golden Eagle offense. The longer they can do that will put TTU in position to win the game at the end. But, when all is said and done: Samford 24, Tennessee Tech 22
Southern Illinois (0-0, 0-0) at Southeast Missouri (0-0, 0-0)
Where: Houck Field (10,000)
Cape Girardeau, Mo.
When: Thursday, Sept. 2 (6:30 p.m. CT)
TV/Streaming: ESPN+ (subscription req'd)
Radio: WCIL FM 101.5 (SIU), Real Rock 99.3 FM (SEMO)
First Meeting: 1909
All-Time Series: SEMO leads 42-38-8
Last Meeting: SIU 20, SEMO 17
Southern Illinois Salukis
The two rivals separated by just miles will meet for the 89th time when the Salukis make their trip to the boot hill of Missouri to tangle with the Redhawks in the annual bash dubbed "War for the Wheel."
SIU slipped past the Redhawks 20-17 on a field goal in the closing seconds of the 2020 game before the school halted its season and returned to play a spring schedule on the way to finishing 6-4 on the season, including a 1-1 record in the FCS playoffs.
The Salukis defeated Weber State 34-31 in the opening round before dropping a 31-26 game at South Dakota State to close their season.
SIU, ranked No. 10 in the recent FCS Coaches Poll, and got a lot of attention at the end of preseason drills when coach Nick Hill announced Nic Baker (5-9, 194, So.) would be the starting quarterback this season.
Baker was one of three QBs who drew starting assignments during the spring season in which the Salukis fashioned a record. One of the other former starters entered the transfer portal after the spring season and the other left the program following Hill's decision on this year's starter.
Baker was the starter in SIU's upset of top-ranked North Dakota State to begin the spring season and went 3-0 as a starter before being injured in a game against Northern Iowa and missing the rest of the season.
An accurate passer, Baker finished with 50 completions on 74 attempts for 637 yards and three touchdowns. He was intercepted four times in those three games.
The Salukis return a pair of quality running backs to help fuel their bid for a return to the playoffs this season.
Javon Williams (6-2, 245, So.) is a mix of power and speed. He rushed 122 times last season for 532 yards (4.4 ypc) and scored seven times despite being hampered with a foot injury throughout the season.
The talented Williams enters this season in 19th place on the career rushing list at SIU with 1,685 yards. He could move into sixth place on that list if he can get to 1,000 yards this season and would have two years of eligibility remaining to climb even higher on the charts.
Romier Elliott (5-6, 190, So.) is the other quality runner returning for the Salukis. He matched Williams with 122 carries of his own and ended the season not far behind with 492 yards (4.0 ypc) and scored four TDs.
Avante Cox (5-10, 170, Jr., WR) figures to be Baker's go-to target, at least in the early going while the Salukis find other pass catchers to complement Cox at the position. Cox caught 66 passes last season for 838 yards and five touchdowns.
The SIU defense is expected to be led by the return of two quality linebackers in the form of Bryson Strong (5-10, 230, Jr.) and Bryce Notree (6-3, 225, Sr.). Despite being polar opposites in height, both are among the most physical players at that position in the Missouri Valley Football Conference.
Strong led the team in tackles last season with 72 (44 solo), including four tackles for loss. He added two sacks and two forced fumbles on the year. Notree, meanwhile, the more prototypical linebacker in terms of height, matched Strong with a team-high 44 solo stops and ended the year with 63 total tackles, two of which resulted in negative yardage for the opponent.
Three other Salukis tallied at least 40 total tackles during the 2020-21 season.
Southeast Missouri Redhawks
Plenty of optimism surrounds SE Missouri at it prepares to get the 2021 season started on Sept. 2 when the Redhawks tangle with familiar foe Southern Illinois. The game also gives SEMO a chance at a bit of redemption after falling to the Salukis to initiate the 2020 season before everything went haywire across much of college football.
It will be 16th time since 2004 the Redhawks have tangled with a top-10 ranked team and will looking for just its fourth victory in those contests. Seven of those setbacks came against former OVC member Jacksonville State which left the league following the 2021 spring season. SEMO has dropped all four games when SIU was ranked at the time of kickoff.
SE Missouri, ranked second, along with Austin Peay, in the OVC preseason poll, won its final three games of the 2021 season and carries plenty of optimism into the season opener against the Salukis.
There is so much optimism running rampant in and around the SEMO program this season that caused coach Tom Matukewicz to predict his team has enough talent to "run the table," during league play this season.
The outcome of Thursday game will go a long way in determining if the Redhawk coach, who has led his team to an OVC-best 22 wins over the last three seasons, may be onto something.
One of the big keys to what kind of success SEMO enjoys this season depends on the play of transfer QB CJ Ogbonna, who will be making his first NCAA start against the Salukis. He played the last two seasons at Hutchinson (Kan.) Community College and helped the Blue Dragons to the junior college national championship. He completed 57 of his 92 pass attempts for 736 yards and eight touchdowns in his final season at HCC.
The focal point of the SEMO offensive attack this season is expected to be all-everything running back Geno Hess (5-8, 209, Sr.). A first-team All-OVC selection this past season, Hess led all of FCS with 12 rushing touchdowns after carrying the ball 137 times for 666 yards (4.9 ypc) on the year. He ranked fourth in the league in rushing and was 15th in the nation in that department.
Hess, who has rushed for 1,305 yards and 18 touchdowns in his career at SEMO, was named a third-team All-American this past spring and was recently added to the Walter Payton Award Watch List as the 2021 season prepares to get underway.
Zion Custis (5-8, 190, Sr., RB) provides a potent second option for the Redhawks in the backfield. He accounted for 184 yards last season on 50 carries (3.7 ypc) and scored four times. He has 1,209 yards and 13 touchdowns in his career at the school.
Zack Smith (5-9, 200, Grad., WR) leads a deep and talented receiving corps for the Redhawks.
Smith, a first-team all-conference pick this past season, caught 38 passes for 403 yards and four touchdowns. Teammates Johnny King (6-4, 180, Sr., WR) and Aaron Alston (6-4, 210, Sr., WR) also return after productive seasons. King ranked second on the team with 31 catches for 392 yards and a pair of scores while Alston ranked third with 18 receptions for 256 yards of his own.
The Redhawks return seven starters, including their top four tacklers, on the defensive side of the ball which gives them the potential for one of the best units in the league.
Lawrence Johnson (6-0, 194, Sr., DB) led the team with 55 (36 solo) tackles while Mike Matthews (6-1, 236), Jr., LB) and Brandon Mincey (6-0, 242, Sr., LB) finished with 45 (24 solo) and 42 (20 solo) stops. Teammate Bryson Donnell (6-1, 293, Sr., DL) chipped in with 41 (27 solo) stops, including 3.5 TFLS while recording one sack and one fumble recovery.
Fearless Prediction: The close series between the two schools figure to have another nail-biter in 2021. But SEMO, thanks to the home-field advantage, gets revenge on the Salukis this time around: SEMO 27, SIU 24.
Austin Peay (0-0, 0-0) at Chattanooga (0-0, 0-0)
Where: Finley Stadium (20,412)
Chattanooga, Tenn.
When: Thursday, Sept. 2
TV/Streaming: ESPN+ (subscription req'd)
Radio: ESPN Clarksville 104.1 FM (APSU), WFLI 97.7 FM/1070 AM (Chattanooga)
First Meeting: 1958
All-Time Series: Chattanooga leads 6-0
Last Meeting: Chattanooga 42, APSU 6 (2014)
Austin Peay Governors
Scotty Walden inherited a program with plenty of uncertainty when he took over the Austin Peay program after the Govs played three games in 2020 before having the season halted because of even more uncertainty.
But in the end, Walden, the young D-1 coach in the nation at just 31 years of age, managed to calm the waters in Clarksville by leading his team to a 4-2 record during the spring portion of the schedule. That only heightened expectations as he heads into his first full season at APSU.
And the expectations and optimism is not without reason.
Draylen Ellis (6-1, 175, So., QB) and Kordell Jackson (5-10, 195, Grad., DB) were both tabbed as the OVC preseason player of the year on offense and defense, respectively.
Ellis, the league's newcomer of the year following the spring season, completed 104 of his 201 passes for 1,270 yards on 14 touchdowns on the year. He threw just four interceptions on the year and was picked off twice over the final four contests in the spring.
Expect Ellis, one of the most dynamic players in the league, to continue to throw the ball in 2021. After all, the Gov return three players who have shown a penchant at catching the ball and making things happen on the field.
Baniko Hartley (6-1, 181, Grad., WR), who played a huge role in Austin Peay's share of the OVC championship in 2019, continued his impressive performance by catching 28 passes for 387 yards and five touchdowns in 2020-21. Teammates CJ Evans (5-8, 180, So., SB) and Eugene Minter (6-4, 225, WR), another Gov who has already completed his undergraduate degree, also return after solid seasons. Evans caught 26 passes for 201 yards and one touchdown, while Minter hauled in 21 throws for 253 yards and four touchdowns.
The APSU running attack is expected to be handled by Ahmaad Tanner (6-0, 205, Grad.) who rushed 55 times for 283 yards (5.1 ypc) and three touchdowns a year ago.
Jackson, who has earned consensus All-America honors each of the past two season tallied 53 (31 solo) tackles last season, including an impressive 9.5 tackles for loss from his secondary position.
He is not alone in a talented defensive unit for the Govs. Jack McDonald (6-0, 210, Grad.) and Troy Henderson (5-11, 222, Grad.), a pair of linebackers, also return for another season at Austin Peay.
McDonald tallied a team-high 70 (37 solo) tackles, including nine for loss, last season, while Henderson added 57 (23 solo) tackles, including five TFLs.
Chattanooga Mocs
Chattanooga returns a number of talented players on both sides of the ball that warrant the Mocs being atop the Southern Conference preseason poll as the 2021 season prepares to get underway.
But the Mocs' perch atop the poll is not without some question marks.
Drayton Arnold (6-0, 196, Sr., QB) appears to have won the battle start the season under center. He completed 50 of 104 passes for 783 yards and three touchdowns. He was intercepted three times.
Now for the good news.
Chattanooga returns one of the top rushers in the league in the form of Ailym Ford (5-9, 210, So., RB) who gained 1,173 yards on 231 carries (3.9 ypc) last season on his way to earning freshman All-American honors. He is currently on the watch list for the Walter Payton Award for 2021 as the nation's top offensive performer.
Also returning is standout Reginald Henderson (6-4, 206, Sr., WR) who caught 36 passes for 666 yards last season and providing Arnold and the Mocs with a threat both on the ground and through the air.
Finding complementary pieces to surround Ford and Arnold will go a long way in determine whether preseason prognosticators were accurate in their assessment of the Mocs' prospects for a high conference finish this season.
The Chattanooga defense is expected to be centered around the return of Devonnsha Maxwell (6-2, 296, Jr., DL), a Butkus Award candidate this season. Maxwell, a two-time all-SoCon performer, tallied 19 (11 solo) tackles last season, including seven tackles for loss that increased his total to 26.5 TFLs in his career.
Kam Jones (6-0, 220, Jr., LB) and Chris Snyder (6-3, 221, Jr.), another linebacker, finished the season with 34 and 28 total tackles, respectively, for the Mocs. Another linebacker, Jay Person (6-4, 229, So.) provides added depth at the position after tallying 19 (10 solo) tackles last season while a pair of defensive backs also return to provide a solid foundation at that area of the field.
Jerrell Lawson (6-2, 204, Sr.) and Brandon Dowdell (5-9, 195, Sr.) each tallied 24 total tackles last season.
Fearless Prediction: Austin Peay has enough talent on both sides of the ball to compete with the Mocs, take matters late into the game and make this one of the top FCS games this week. Austin Peay passes the test, but comes up a tad short in the end: Chattanooga 31, Austin Peay 24
UT Martin (0-0, 0-0) at Western Kentucky (0-0, 0-0)
Where: Houchins-Smith Stadium (22,113)
Bowling Green, Kent.
When: Thursday, Sept. 2 (7 p.m. CT)
TV/Streaming: ESPN+ (subscription req'd)
Radio: WCMT 100.5/ 1410 AM (UT Martin), Hilltopper Sports Network 1450 AM/100.7 FM (Western Kentucky)
First Game: 1997
All-Time Series: WKU leads 4-0
Last Meeting: WKU 71, UT Martin 0 (2000)
UT MARTIN SKYHAWKS
UT Martin caught the eye of many college football followers during the recent abbreviated spring season. Despite finishing 3-4 in a conference-only schedule of game, the Skyhawks were competitive in all four losses.
They hope to make that final assent and reach greater heights in 2021 and have a golden opportunity this week against Western Kentucky.
But it won't be easy.
Despite a roster that is littered with six preseason all-conference performers, the game is being played on the road in Bowling Green, Kentucky. If the Skyhawks can overcome the jitters of opening a new season in a hostile environment will only set the stage for what figures to be one of the most competitive years in the OVC in the coming weeks.
Former starting quarterback John Bachus, who threw for 1,697 yards last season, has graduated and has yet to land at another school after entering the transfer portal.
That leaves Keon Howard (6-1, 2015, Grad.) as the starter for the Skyhawks as the season gets underway. A graduate transfer by the way of Tulane, Howard joins the UT Martin program after completing 38 of his 76 passes for 522 yards and three touchdowns for the Green Wave last season after playing two season (2016-17) at Southern Miss.
The Skyhawks return a pair of other standouts to anchor the other skill positions that should help the team to a 3-4 overall record during the spring season. Three of those loses came by a combined 10 points.
Peyton Logan (5-8, 190, Sr., RB) rushed for 340 yards on 84 carries (4.0 ypc) carries last season. Logan, a versatile athlete, also caught 30 passes for 223 yards and another score for the Skyhawks.
Colton Dowell (6-3, 215, RS-Jr., WR), a preseason all-conference pick, also returns and is one of the top receivers in the OVC. He caught 40 passes for 459 yards and four touchdowns a year ago.
Dowell will be joined by two other standouts who have proven to be adept at catching the football.
Tight end Rodney Williams (6-4, 235, Grad.) caught 30 passes for 327 yards and four touchdowns, while Donnell Williams (6-3, 23, Grad.) hauled in 20 passes for 445 yards as a wide receiver and scored three times. Both also enter the new season as preseason all-conference picks.
The UTM defense is expected continued to be led by Deven Sims (6-2, 200, RS-Jr. S), another preseason all-conference pick, who paced the team with 60 (29 solo) tackles last season, including five stops for negative yardage. John Ford (6-3, 230, Grad., LB) finished second on the team in tackles with 43 (23 solo). Included in that impressive total were three TFLs and one sack.
JaQuez Akins (5-9, 185, Sr., Rover), a second-team all-league pick last season, and Takeem Young (6-1, 200, RS-Sr., S) also return after posting 38 (19 solo) and 37 (20 solo) stops a year ago for the Skyhawks.
Western Kentucky Hilltoppers
Western Kentucky is looking to rebound from a subpar season that saw the Hilltoppers finish with a 5-7 record in 2020.
To help right the ship in Bowling Green coach Tyson Helton went to the transfer portal and came away with one of the most dynamic players in all of college football last season.
Bailey Zappe (6-1, 220, Grad.), a graduate transfer from Houston Baptist, arrives at Western Kentucky as the NCAA active leading passer with 10,004 yards during his time at HBU. He threw for 1,833 yards (141-215) and 15 touchdowns in what turned out to be his final season at Houston Baptist and is among several candidates for the Earl Campbell Tyler Rose Award this season which recognizes the top Division 1 player who hails from the state of Texas.
The arrival of Zappe should bode well for Mitchell Tinsley (6-1, 2-5, Jr. WR) who returns after catching 43 passes for 377 yards and four touchdowns last season. Tight end Joshua Simon (6-5, 240, So.) also returns after a productive 2020 season that saw him on the receiving end of 33 passes for 370 yards and three touchdowns. He has been named to the John Mackey Award Watch List of the 2021 season.
WKU returns three players at running back who combined for 502 yards last season. If one or more of those takes a more consistent role in the offense that will only provide even more balance and more headaches for opposing coaches.
Jakairi Moses (5-9, 195, RS-So.) is the leader of that returning trio. He rushed 60 times for 319 yards (5.3 ypc) last season. C.J. Jones (5-10, 195, RS-Jr.) accounted for 144 yards on 21 carries (6.9 ypc) last season and collected a pair of touchdowns for the Hilltoppers while Noah Whittington (5-10, 190, Fr.) saw limited action and ran for 39 yards on 16 carries (2.4 ypc) on the year.
Adam Cofield (5-11, 215, Grad., RB), a transfer from FC powerhouse North Dakota State, is expected to provide additional depth at the position that could prove critical for the Hilltoppers by season's end.
Zappe and his new WKU teammate DeAngelo Malone, have both been selected to the Reese's Senior Bowl Watch List and are both likely to be drafted in next year's NFL Draft.
DeAngelo Malone (6-4, 240, Sr.), a defensive end, the C-USA defensive player of the year for the second straight season, Malone has been named to watch lists for a number of postseason honors, including the Chuck Bednarik Award, Naguski Trophy and the Lombardi Award.
Last season Malone tallied 71 (42 solo) tackles, including 11 tackles for loss and six sacks.
He recorded 99 total tackles during the 2019 season, including 21 TFLs, which set a new school standard in WKU's time as a FBS program, on his way to being voted the league's defensive player of the year.
Malone has played in 48 games (39 starts) in his career as a Hilltopper and has amassed 255 (135 solo) tackles during time. Included in that staggering total are 42.5 TFLs and 25 sacks.
Malone is far from being the only standout returning on defense for WKU this season. Also returning are Aaron Key (6-1, 230, Fr., LB) and Antwon Kincade (5-11, 205, Sr., DB).
Key started all 12 games last season and led the team with 92 (55 solo) tackles while Kincade was not far behind with 85 (48 solo) tackles of his own.
Fearless Prediction: The Skyhawks have every reason to believe they can challenge in the Ohio Valley Conference this season, but WKU figures to simply be too much too early in the season for UTM to conquer. In the end: WKU 35, UT Martin 21.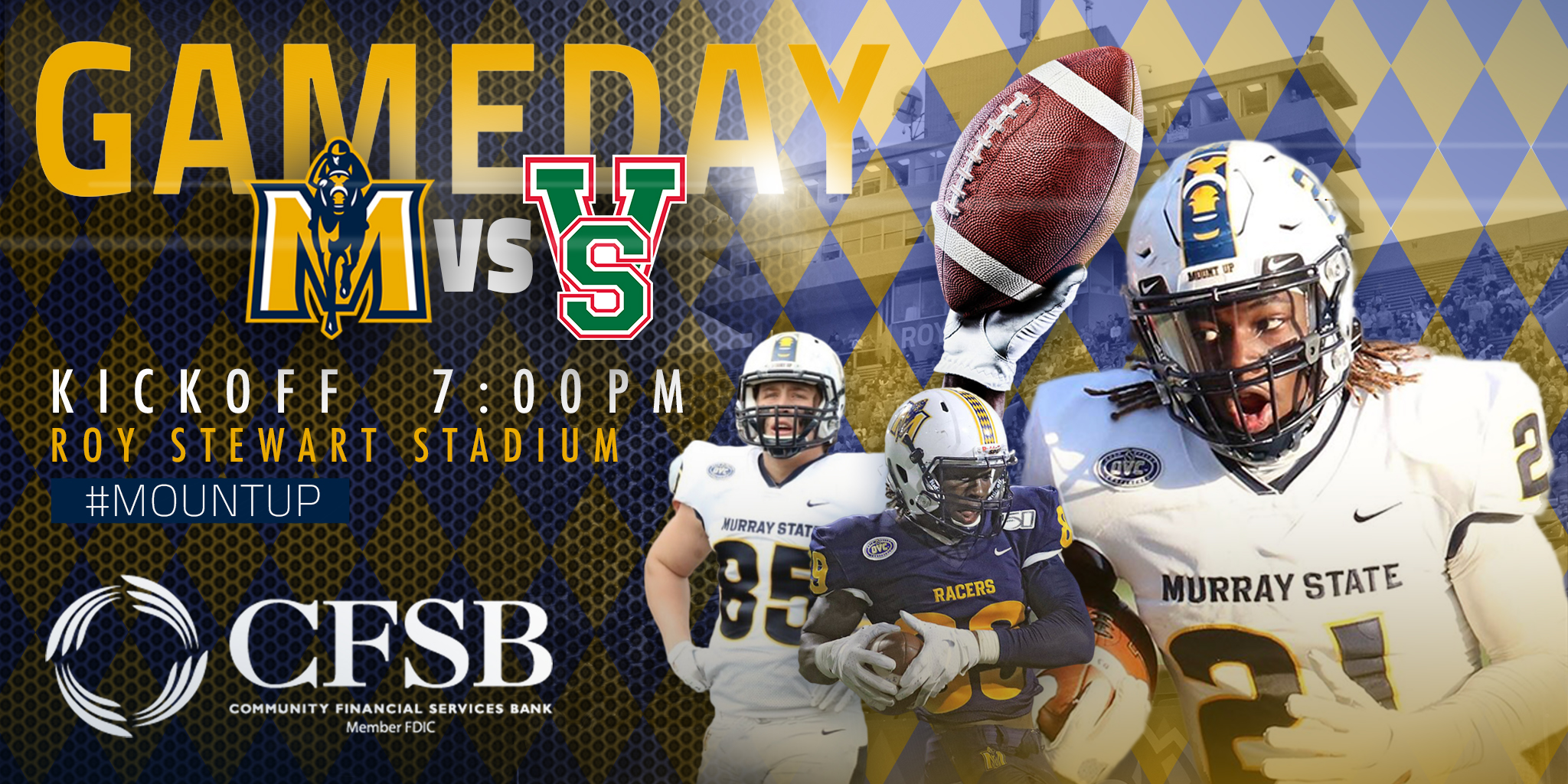 Mississippi Valley (0-0, 0-0) at Murray State (0-0, 0-0)
Where: Roy Stewart Stadium (16,800)
Murray, Kent.
When: Thursday, Sept. 2 (7 p.m. CT)
TV/Streaming: ESPN+ (subscription req'd)
Radio: FROGGY 103.7 FM (MSU)
First Meeting: 2011
All-Time Series: Murray State leads 1-0
Last Meeting: Murray State 39, Mississippi Valley 0 (2011)
Mississippi Valley State Delta Devils
There was once a time that Mississippi Valley State was a force to be reckoned with in college football.
Remember when some guy named Jerry Rice tore up opponents at the tiny school in Itta Bena, Miss. on his way to becoming one the most prolific players in National Football history and securing his place in the Pro Football Hall of Fame after his professional career with the San Francisco 49ers and one other team based in the Golden State at the time.
Those days are now a distant memory, and the Delta Devils are struggling to regain their place among the elites of college football. MVSU won just one of four games this past spring and were outscored 89-41 in those four setbacks and will be looking to reverse those numbers in the new season.
Despite getting little respect in the Southwestern Athletic Conference preseason poll, where MVSU was picked for finish last in the Eastern Division, the Delta Devils return some talent on both sides of the ball that will make for some not-so-bleak Saturday afternoons.
Jalani Eason (5-10, 180, Grad., QB) returns to operate the offense this season after racking up 521 yards of total offense in three games a year ago. He completed 47 of his 86 pass attempts for 356 yards and one touchdown and tossed just two interceptions during the shortened season. Eason rushed 51 times for 165 yards (3.2 ypc) and a pair of scores.
Caleb Johnson (5-9, 210, RS-So., RB) caught some eyes and turned the heads of many with a solid outing on the season. He carried 31 times for 146 yards, but averaged an impressive 4.7 yards per carry, and scored a pair of touchdowns. It was more than enough to land him a spot on this season's preseason all-conference team.
Darius Williams (6-1, 295, So.) ran the ball 24 times for 135 yards (5.6 ypc) and also collected seven passes out of the backfield for an additional 72 yards for the Delta Devils. According to the team's website it appears Williams has been flipped to the defensive side of the ball in time for the 2021 campaign and will play a spot along the D-line.
MVSU returns a pair of wide receivers who figure to have bigger seasons with the added experience gained last season.
Jarius Clayton (5-10, 180, Sr.) and Malik Myers (6-3, 190, Sr.) combined for 18 receptions and 1,700 yards a year ago. Clayton paced that tandem with 11 receptions for 93 yards while Myers added 77 yards on seven catches of his own.
The addition of Williams to the defense only bolsters an area that is already filled with some athletic performers who should combine to help MVSU improve its win total in 2021.
Keonte Daniels (5-9, 170, Sr., DB) is the top tackler returning for the Delta Devils after tallying 24 (21 solo) tackles on the season. Teammate William Morgan (5-10, 175, Sr.), another defensive back, added 17 stops of his own, including 15 solo tackles.
And despite having just nine (4 solo) tackles last season, Caleb Brown (6-1, 185, Jr.) did enough of all the other things a defensive back is expected to do. He was another Delta Devil to land a spot on the preseason honor squad.
Deione Reed (5-9, 210, Jr., LB) is expected to anchor the middle of the field after recording 16 (9 solo) tackles last season.
Murray State Racers
Having all 22 starters returning for another go-round Murray State has every reason to look forward to the season getting underway and tackling someone other than teammates.
Talented quarterback Preston Rice (6-2, 227, Sr.) headlines the Racers on offense and was chosen as one of the top two quarterbacks in the league heading into the 2021 season.
"He is really phenomenal at managing a game," Hood said of Rice, "and he makes some really good decisions when things break down."
Jacob Bell (6-3, 177, Jr.) and LaMartez Brooks (6-1, 192, Sr.) joined Rice as skill position players on the preseason all-conference team and gives Rice two quality receivers to look for this season.
Two standouts along the offensive front will also help in Hood's desire to see his team improve.
Levi Nesler (6-1, 318, Sr.), a former walk-on at MSU who was named all-conference last season, was all smiles as he spoke as part of this year's conference media day in July.
"I'm just happy to be back, Nesler said. "I'm just ready to play football."
Nesler also pointed to increased expectations as the Racers head into the new season.
"It's more than 22 guys," said, "there are so many more who know what the standard is for this program."
He will be joined along the offensive front by Jacob Vance (6-4, 328, RS-Sr.) to provide plenty of protection for Rice to operate the MSU offense.
Four MSU seniors were also tabbed as among the best in the league on defense. Ethan Edmondson (6-3, 246), a defensive end, along with linebackers Scotty Humpich (6-4, 252) and Eric Samuta (5-10, 215), as well as cornerback Marcis Floyd (5-10, 215) are expected to be the stalwarts on defense for the Racers this season.
Fearless Prediction: Murray State has all the makings of being a serious challenger to win the Ohio Valley Conference crown this season and the Racers get a chance to put all its talents on display against MVSU. And it all be too much for the Delta Devils to counter: Murray State 42, Mississippi Valley 14.
Eastern Illinois (0-0 OVC, 0-1 Overall) at South Carolina (0-0, 0-0)
Where: Williams-Brice Stadium (80,250)
Columbia, S.C.
When: Saturday, Sept. 4 (7 p.m. ET)
TV/Streaming: ESPN+ (subscription req'd)
Radio: Panther Radio Network (Eastern Illinois)
First Meeting: This will be the first-ever meeting between the two schools.
Eastern Illinois Panthers
Eastern Illinois got its season started a bit earlier than most teams battled Indiana State most of the way before falling 26-21 in the season opener.
Unfortunately, things don't get any easier this time out as EIU travels to Columbia, S.C. to take on Southeastern Conference member South Carolina. It will be the first-ever meeting between the two schools.
Quarterback Otto Kuhns (6-3, 205, Fr.) who took over as the starter during the spring season, completed 14 of 29 passes for 253 yards and two touchdowns in the opener against the Sycamores. He was also sacked five times and a repeat of that against the Gamecocks will only make what figures to be a long night even longer for Kuhns and the rest of the Panthers.
Harrison Bey-Buie (5-10, 205, Fr., RB) and Markenzy Pierre (5-11, 215, RS-Jr., RB) combined for 107 rushing in the loss to Indiana State. Bey-Buie posted 57 yards on 11 carries (5.2 ypc) and scored one touchdown while Pierre was just behind with 50 yards of his on his 11 carries (4.2 ypc) in the game. The Panthers finished the game with 171 yards on the ground.
Tyler Ringwood (6-, 21, RS-Sr., WR) led all Panther receiver with five catches for 116 yards in the opener.
The 378 yards of total offense in the game is respectable enough and if the offensive line can provide better protection for Kuhns whenever he goes to the air things may not get out of hand against the Gamecocks.
South Carolina is not Indiana State. And the EIU defense will be hard pressed to duplicate its respectable performance of allowing just 245 yards of offense when the Panthers take on the Gamecocks.
Jason Johnson (6-2, 200, So., LB) and Colin Bohanek (6-0, 210, Fr.), another linebacker, led the Panthers on defense in the opener. Johnson finished the game with eight (4 solo) tackles while Bohanek tallied six (2 solo) tackles in the contest.
Phoenix Porter (6-1, 210, Fr., LB) and defensive back Elijah Benoit (6-0, 170, RS-Jr.) both tallied five total tackles against the Sycamores.
South Carolina Gamecocks
A new era gets underway this weekend when South Carolina takes the field at home against Eastern Illinois.
The game will be the debut of new Gamecock coach Shane Beamer, but don't figure he will be out his element as he begins his head coaching career. He's been around the game longer than many first-year head coaches.
A former tight end during his playing career at Virginia Tech, where he played for his father, legendary coach Frank Beamer, he has spent the last 20 years as an assistant at several schools.
The younger Beamer worked as a graduate assistant at Georgia Tech (2000) before spending three seasons (2001-03) in the same capacity at Tennessee. He became a full-time assistant coach at Mississippi State (2004-06) and South Carolina (2007-10) before returning to his alma mater for five seasons (2011-15). He also coached at Georgia (2016-17) and Oklahoma (2018-20) before returning to Columbia to take over the Gamecock program.
The new coach has his work cut out for him as he tries to rebuild a program that managed just a 2-8 record last season and finishing sixth in the SEC East Division.
His opening day roster figures to be a mix of old and new faces in the garnet and white of the Gamecocks.
It was announced earlier this week that Zeb Noland (6-2, 232) will start at quarterback for the season opener.
Noland began this fall as a graduate assistant coach for the Gamecocks before resuming his playing career. He previously played at Iowa State (2017-18) before transferring to North Dakota State and spending the 2019 season as a backup to Trey Lance, who is now with the San Francisco 49ers. Noland started seven games this past spring while leading the Bison to a 5-2 record in those games. He completed 51 of his 100 passes (721 yards) for five touchdowns while being intercepted six times and led the Bison with 740 yards of total offense.
Jason Brown (6-3, 229, RS-Sr. QB) will provide a quality backup to Noland at the position. Brown transferred from St. Francis (Penn.) where he was a honorable mention All-American selection in 2019 when he passed for 3,084 yards and 28 touchdowns before transferring in 2020 when his former school opted out playing the season.
Brown's learning curve will be made easier with the return of Kevin Harris (5-10, 220, Jr., RB) to carry the ball for the Gamecocks. And Harris will be doing a lot of that season.
A first-team All-SEC pick last season, Harris rushed 185 times in 10 games and finished with 1,138 yards (6.2 ypc) and 15 touchdowns. He will get some help by the continued improvement of ZaQuandre White (6-1, 215, RS-Sr.) who saw limited action last year and finishing with 59 yards on 16 carries (3.7 ypc) in nine games. White reportedly was impressive in spring practice and will likely see plenty of additional playing time this season.
Xavier Legette (6-1, 217, Jr., WR) was another player who made an impression in preparation for the new season. Last season he caught just seven passes for 113 yards, but like White, figures to become a more focal point in the South Carolina offensive gameplan. Tight end Nick Muse (6-5, 252, Sr.) returns for his third season in Columbia after transferring from William & Mary. Last season he caught 30 passes for 425 yards at one touchdown for the Gamecocks.
Zacch Pickens (6-4, 305, Jr., DL), Kinglsey Enagbare (6-4, 265, SR, DB) and Jabairi Ellis (6-3, 278, RS-Sr., DL) all return as a bevy of standouts on defense that should help Beamer and the rest of the Gamecocks move up in the win column this season.
Pickens led that trio with 35 (14 solo) tackles last season including 2.5 tackles for loss and one sack while Enagbare chipped in with 30 (16) solo tackles, including a team-high seven tackles for loss while also leading the way with six sacks. Ellis, meanwhile, ended the season with 27 (11 solo) tackles. He was credited with three TFLs and was later chosen as a first-team all-conference selection.
Fearless Prediction: The SEC is not the Missouri Valley Conference and Eastern Illinois figures to be have trouble in containing the Gamecocks for long in the game. South Carolina 44, Eastern Illinois 17
Black College Football Hall of Fame Classic Tennessee State (0-0 OVC, 0-0 Overall) vs. Grambling (0-0 SWAC, 0-0 Overall)
Where: Tom Benson Stadium (23,000)
Canton, Ohio
When: Sunday, Sept. 5 (3 p.m. CT)
TV/Streaming: NFL Network
Radio: 102.1 FM (Tennessee State)
First Meeting: 1950
All-Time Series: 22-18-1
Last Meeting: Grambling 49, Tennessee State 14 (2002)
Grambling Tigers
Despite losing its last five games dating back to the end of the 2019 season Grambling figures to make some noise in the SWAC in 2021.
And the Tigers, who were picked to finish second in the SWAC West Division this season. get a chance to showcase themselves in front of a national audience when they tangle with familiar foe Tennessee State in the Black College Hall of Fame Classic in Canton, Ohio. The game, the 42nd meeting between the two schools, will be held at Tom Benson Stadium, located in the shadows of the Pro Football Hall of Fame.
Elijah Walker (6-2, 215, Jr., QB) returns at starter to operate the Grambling offense. He completed 30 of 52 passes for 332 yards during the spring season that saw the Tigers drop all four contests. Walker threw for two touchdowns and was intercepted just one time in those four games.
CJ Russell (6-0, 200, RS-Fr.) and Keilon Elder (5-10, 200, So.) both return at running back after combining for 280 yards this past spring. Russell carried 34 times for 148 yards (4.4 ypc) and had one touchdown, while Elder managed 132 yards on 39 carries (3.4 ypc) and a pair of scores for the Tigers.
Broderick Fobbs, who is beginning his eighth season at the helm of the storied Grambling program one led by legendary Eddie Robinson, also welcomes the return of Darrell Clark (5-11, 185, Sr., WR) and Kobe Ross (6-0, 175, Sr., WR) who had nearly identical seasons in catching the ball earlier this year.
Clark caught 17 passes for 156 yards and Ross was not far behind with 152 receiving yards of his own after catching 13 passes on the season.
The season opener is also expected to mark the return of Tiger standout Danquarian Fields (6-3, 210, Grad., DB) who played two games in 2019 before being injured and has not played in nearly two full years.
The return of Fields will take some of the pressure off Kenan Fontenot (6-0, 185, Sr.) in the secondary and gives GSU a solid tandem of performers to guard against deep aerial attempts by the opposition. Fontenot tallied 26 (16 solo) tackles during the spring season.
Lewis Matthews (5-11, 220, So., LB) and Lane Lewis (6-2, 226, Fr., DL) gives the Tigers two other solid players to build the defense around. Matthews had a team-high 30 (7 solo) tackles last season, including 2.5 tackles for loss and one sack. Lewis, meanwhile, tallied 28 (9 solo) stops. Included in that total were 3.5 TFLS and a team-best 2.5 sacks.
Tennessee State Tigers
Eddie George is familiar with the limelight being shined upon him.
From his days as a Heisman Trophy winner at Ohio State to a hall of fame career in the National Football League, George's face is well recognized.
He hopes to deflect some of that attention onto his Tennessee State players as he works to return the Tigers to prominence in the OVC. TSU, according to George, has produced more than 120 players that have gone on to play in the NFL over the years.
George was happy with what he found after taking over the TSU program.
"What I found is that they are a resilient and tough group who are hungry for success and hungry to learn," the new Tiger coach said.
Tennessee State posted a 2-5 record this past spring prior to George's arrival.
As one of the top rushers in history at both the collegiate and professional levels it's understandable that George will make that a focal point moving forward. But, he also understands a solid foundation must be constructed from within.
"We must build from inside out," George said. "That means along the defensive line and the interior offensive line."
That approach will take root with finding players to complement Cam Durley (6-6, 315, RS-Sr.,) along the offensive line and to open up the TSU offensive attack in 2021.
Devon Starling (6-0, 190, RS-Fr.), who shared the league's freshman of the year award last season with Austin Peay's Draylen Ellis, returns to give George one of the top backs in the nation to build an offense around.
Starling was chosen as one of three running backs to the preseason all-conference squad. So was Benjamin Johnson (6-2, 230, RS-Jr.), a fullback, who gives the new coach a solid backfield to mentor in 2021.
Wide receiver Cam Wyche (6-0, 190, RS-Jr.) joined Starling and Johnson as top OVC players heading into the start of the season.
"We will seek balance (on offense) by establishing the run," George promised, "and we're not going to be apologetic about it."
Three defensive standouts should lead the way to an improved defense in Nashville this season and the task of George's assistants will be to find solid players to fill in the gaps.
Davoan Hawkins (6-3, 286, RS-So.), a defensive tackle, and linebacker James Green (6-1, 220, RS-Jr.) were both named to the preseason all-conference squad, as was safety Josh Green (6-0, 180, RS-So.).
Placekicker Antonio Zita (5-9, 170, Jr.) was also chosen to represent the Tigers.
"Last year's team was full of talent," Starling said, "we just didn't capitalize."
Fearless Prediction: George may be wanting to create a balanced offense, but it will take some time. Until then Starling will the focal point in the coaching debut of the former Heisman Trophy winner. Not a bad decision: Tennessee State 35, Grambling 14.
A native of Bismarck, N.D., Ray is a graduate of North Dakota State University where he began studying athletic training and served as a student trainer for several Bison teams including swimming, wrestling and baseball and was a trainer at the 1979 NCAA national track and field championship meet at the University of Illinois. Ray later worked in the sports information office at NDSU. Following his graduation from NDSU he spent five years in the sports information office at Missouri Western State University and one year in the sports information at Georgia Tech. He has nearly 40 years of writing experience as a sports editor at several newspapers and has received numerous awards for his writing over the years. A noted sports historian, Ray is currently an assistant editor at Amateur Wrestling News.