Richmond at Lehigh Game Preview And Fearless Prediction, 9/9/2022: In The Lord Of the Rings Universe, The Mountain Hawks Win This Game
BETHLEHEM, PA – You are probably coming to this preview to get a breakdown on the big game in Murray Goodman Stadium this weekend, where Richmond (0-0, 1-1) will take on Lehigh (1-0, 1-1) in a really tough out-of-conference battle for the home team.
Indulge me for a moment, though, while I talk Lord of the Rings. (I promise, it will relate to this weekend's game.)
I don't know about every Lehigh fan, but every time I watch the original Lord of the Rings movies directed by Peter Jackson (both the LOTR trilogy and the Hobbit trilogy), there are several scenes when giant birds fly in and save the day for the heroes.
Tolkien had his characters call them "eagles", but when you look at the actual end product – come on. You can't tell me Peter Jackson didn't have in the forefront of his mind the mascot of a beloved school in Bethlehem, PA on his mind when he okayed the design.
I mean, come on. Look at the GIF.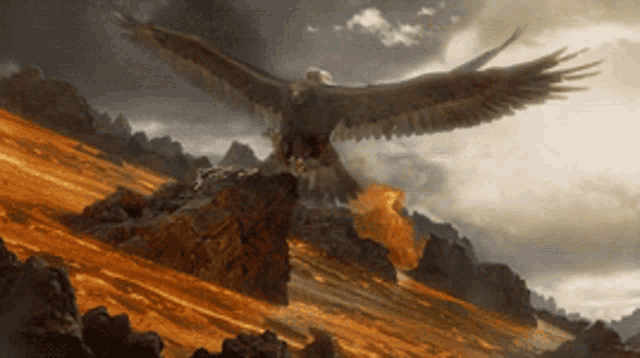 For most Tolkien hard-cores, the big debate in regards to the Mountain Hawks doesn't have anything to do with football at all, surprisingly – it has more to do with why Gandalf didn't ask Gwahlir the Windlord (yes, apparently the quarterback of this bird team of Mountain Hawks has a name) didn't just take Frodo, Sam and the Ring from the very beginning and deposit them at the foot of Mt. Doom, thus making Peter Jackson's job a lot easier and saving millions of dollars of Warner Brothers' special effects money.
Conversely, if you're a fan of the Richmond Spiders, you're probably trying to do your best to ignore The Lord of the Rings, where the Spiders are, in every way imaginable, the Heavies of the Lord of the Rings. Shelob, who almost doomed the world to be shrouded in darkness? The spiders in Mirkwood, one of whom inadvertently ends up naming Bilbo's letter opener of a sword as it dies a horrible death? Tolkien clearly hated spiders, as giant spiders are some of the biggest villains of the books and the movies – beings with no positive qualities to cling to. ("Saurman's a jerk, but boy, could he run a factory!")
To Lehigh football fans, such themes in literature are something to finally enjoy and cling to as we emerge from the COVID-19 pandemic and a bitterly polarizing time. It's been a while since people have been able to enjoy a classic matchup of "good" versus "evil", and during this year's home opener, it's a useful thing to think about how far we've come in recent years.
I can pinpoint the exact time I felt like something was wrong in the world, in retrospect.
It was 2016, and what could possibly be coined as Lehigh's last great football team was pulverizing the rest of the Patriot League with a powerful offense. With gunslinging QB Nick Shafnisky, bowling ball RB Dominic Bragalone, and uncoverable WRs Troy Pelletier and Gatlin Casey, Lehigh had just beaten Fordham 58-37 in a game that wasn't as close as the final score indicated. (A future NFL RB, Chase Edmonds, suited up for the Rams.) Lehigh would finish the season at 9-2 and head to New Hampshire for the FCS Playoffs.
The day after that win, there was a small media piece online about something that was captured at the Wisconsin football game. Apparently, someone came in with an Obama mask and a noose, got caught on camera, and… pretty much nothing happened to him. He was escorted from the stadium.. and came back in, with a Hillary Clinton mask.
To me, who's seen a lot of college football over the years, it was jarring. I'd become accustomed over the years as describing games against "hated Lafayette", or "classic matchups between good and evil". But this fan wasn't just a random putz. There were a lot of people consumed by the same level of irrational hatred for Barack Obama – and a significantly higher number of people that were quite willing to allow someone with an Obama mask and a noose to just happen. It's not even clear that the police would have done anything had someone not tweeted his picture during the game.
College football doesn't affect society, but college football reflects society. At that moment, it reflected society a bit too well.
And for the next five years, through the Trump presidency and COVID, toxic partisanship reigned. Protests, violence – it's hard to write about a physical, violent game using the imagery of "good" and "evil" when a racist drives a car into peaceful protest and kills an innocent woman. It's hard to call a football game a "bitter rivalry" when people are yelling at each other about COVID restrictions. It's sometimes hard to get worked up about a football game when school boards had real threats of violence involved with them.
Again, college football reflects society – and as society felt broken, college football felt broken, too. It felt stifling to not be able to get into the emotions of college football games because it seemed like everything could boil over into a finger-pointing exercise. Was it even right to get excited about a football game? I'm sure I wasn't the only person thinking about this.
In 2020, no Lehigh/Lafayette Rivalry was contested, depriving me and many others of the comfort and normality of college football on Saturdays. (The "fall 2020 college football season", a loose collection of strange games mostly played in empty stadiums, was hotly and fiercely debated in a polarized world, and the teams that did play mostly played exhibition games in empty stadiums.) Ironically, though, it was footage of old Lehigh football games – one of which was the only matchup between the Richmond Spiders and the Lehigh Mountain Hawks, the 1998 playoff victory – that really helped me personally get me through it all.
I arranged for a "simulcast" of the 1998 playoff win to be broadcast on Youtube, and a lot of people that were also missing Lehigh football joined along and "enjoyed" the footage of the game on Twitter, as I did my typical "twittering" about the game as the simulcast was happening.
I remember it so distinctly because it felt like such a moment of positivity when things didn't feel very positive. We literally didn't know if we could catch a disease that could kill us if we went outside and did something reckless. But we could do this, and we did. It helped. At least it helped me.
Fast forward to today.
COVID-19 never really went away, and there was no nice movie-ending wrap up to the pandemic – instead, it ended kind of the way Return of the King ended, both the book and the movie, in that it went on way too long, there were way too many false hopes that it was finally over, and it seems like it might never end in a satisfying way.
But what happened instead is that COVID restrictions started to ease, and, more importantly, society started to emerge, slowly, from lockdown.
There was a college football season in 2021, but certainly at Lehigh, it didn't feel like one at first – at the Mountain Hawk home opener, despite there being no COVID restrictions, the attendance was announced as 4,101. which might have been a bit generous.
Like society, college football was slow to adjust to the "new normal", and it took the course of 2021 to finally start to feel like things were headed back to normalcy. 2021 started with a riot to try to overturn the election, and ended with a college football season that felt like it needed to work out its issues over the course of the fall 2021 season. It didn't feel any less partisan or polarized than the last four years – the same toxic environment remained.
But 2022 finally feels different.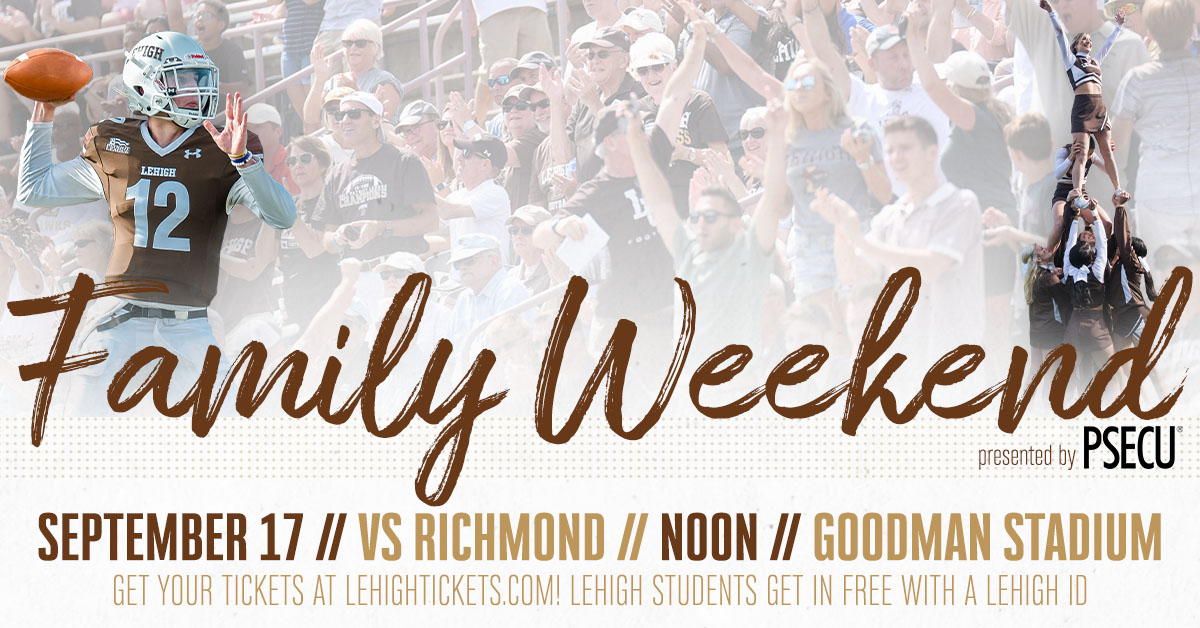 This time in Bethlehem, there won't be any lingering fear about COVID in the stands. The full contingent of the Marching 97 will be in the stadium performing. It's parents' weekend, and there will be a large crowd of families enjoying the game at Murray Goodman, a crowd that hasn't really been this large since 2019. And adding to the atmosphere is the fact that for some of the Richmond Spider star players, this will be a homecoming for them, too – their families are from the area.
In society, too, it feels like partisanship is on the wane. People are tired of the drama. On Saturdays in the fall, everyone wants to jut head back to the stadium, and see a matchup where the good guys fly on the wings of Mountain Hawks, the Spiders have no redeemable qualities, and things are simple once again. This weekend, we'll see for sure.
LFN's Drink of the Week
I was pretty stumped on what this week's Drink of the Week would be – until I looked up "Richmond" on Google. It was then when I stumbled on a pre-Civil War recipe named for a freed slave called Jasper Crouch, who also was a renowned mixologist. Officially it's called "Jasper Crouch's Quoit Club Punch", but I'm just going to re-name it "Jasper's Lemonade", because it deserves a snappier name and a bigger audience. You can find the recipe here.
LFN's Tailgate Dish of the Week
In the recipe for "Jasper's Lemonade", there's a reference to a "pig roast with cayenne pepper" which was tempting. However, since I figure Lehigh's tailgating rules won't allow for a full pig roast, I'll go for the next best thing – a pork sandwich topped with arugula (which I prefer to the more typical broccoli rabe sandwich, though that would go too). You can find the recipe here.
Lehigh Game Notes and Injury Report
Not much different in Lehigh's game notes this week – the freshmen OL that had a very good game against Georgetown's defensive front will be staring again this week, OL Aidan Palmer and OL Langston Jones, and no injuries of note happened last week in DC.
Last week's game in DC was a pretty critical win for the Mountain Hawks, a 21-19 thriller that was punctuated by a late goal-line stand on the Hoya's final 2 point try to tie the game. DB TyGee Leach, who notched 14 tackles (13 of them solo) and 3 tackles for loss, earned Patriot League Defensive Player of the Week honors for his performance.
"Winning a game like this is a really important thing," head coach Tom Gilmore said. "It proves to the whole program that we can win it in the end in a really tight battle like that, so hats off to everyone involved."
Scouting Richmond
Richmond, who is in the "Others Receiving Votes" portion of the Top 25, isn't technically nationally ranked at the moment, but they may as well be. Anyone who saw them dominate Lehigh at Robins Stadium last year, a 31-3 win that saw a 28 point outburst in the second quarter, knows that.
But the team that suited up in 2021 and in 2022 won't be the same, even if, like in 2021, Richmond will be loaded up with redshirted players and 5th year players. That's because they imported a very daunting QB and WR combo from VMI to suit up for Team Shelob.
QB Reese Udinski and WR Jacob Herres aren't just one of best QB and WR combos in the last few years in FCS (they've combined for 9 catches and 94 yards so far in two games), from their game notes they also have a local connection – Udinski is from North Penn HS outside of Philadelphia, and Herres went to nearby Easton HS. They both were Walter Payton award nominees at VMI, and in their final year of eligibility, they are once again.
Add to that 1-2 punch a talented sophomore in WR Jasaiah Williams (119 yards, 1 TD) and you have an effective short passing game that thrives on Udinski's accuracy (72.6% passing percentage, 135.12 passer rating) and ability to limit mistakes. The 6'4 Herres is a persistent matchup problem for defensive backs, too.
Mixing with that is an effective running game with RB Savon Smith (216 net yards, 1 TD) and RB Aaron Dykes (145 yards) that balances the run and pass well. It's worth noting that last week against St. Francis (PA), they ran the ball a significant amount, but couldn't pull away until the very end.
Another local member of Team Mirkwood Arachnids that is also a local connection is LB Tristan Wheeler, who is leading the Spiders in tables with 31 (to go with 1 1/2 tackles for loss). Wheeler is from Freedom HS in Bethlehem, and he'll be sure to want to show out for his friends and family.
Something to note as well about the Spider defense is that through 2 games they have only 1 sack and only 6 tackles for loss.
LFN's Keys to the Game
Helm's Deep. Aside from being one of my favorite movie battles of all time, one of the keys of this battle in the movie was to stand ground defensively before help arrived. In this case, this means Lehigh needs to limit Richmond's damage on the ground in order to establish everything else. Stuff the run, and good things will happen.
Take What Sauron Gives You. Richmond seems like more of a "read and react" defense, which means the offense might be able to get yardage in small chunks where there are openings. Patience might really pay off on sustained drives and taking what the defense gives them.
Eisen-Guard. The offensive line is young and, so far, has battled mighty well. They'll need to be on their game once again in order to give QB Dante Perri the time to make good things happen. If the OL can get Perri time, good things can happen.
Fearless Prediction
Lehigh is 1-1, 1-0 in the Patriot League. Technically, Lehigh could lose this week 31-3 again and they would still be atop the standings next week.
But make no mistake, this team really has plenty to clean up and improve over battles with tough Spiders, Orcs (Princeton), and Goblins (Monmouth) in three consecutive weeks.
They've shown flashes of possibly being a great team, but they've also shown signs of how raw they are. Unfortunately Lehigh's Middle Earth isn't very forgiving, with a brutal three game stretch and Fordham, Holy Cross and Colgate all looking like potentially very tough teams down the pike.
Lehigh will need to win one of these three stretch games to really feel like they have a chance going further into league play. They can do it. The question is, will it be this week?
Lehigh 23, Richmond 27
Listen to my Twitter Space, where I talk about last week's game and this week's matchup, below.