Six Possible FCS Humiliupsets Over FBS Schools
There are few things more exciting in the kickoff of the college football season than a Jacksonville State putting The Fear Of The Big Guy Above into Auburn, or Portland State delivering probably the most humiliating upset on FCS over FBS history over North Texas.
There's an extra jolt of adrenaline when a sixty-three scholarship team like North Dakota State is paid good money to travel to a school in a Power Five conference like Kansas State and turns the expected tune-up into an exquisite FCS flavor of humiliupset.
Humiliupsets of the FCS variety happen almost every year can can happen with any FBS school. They happen most frequently with Group of Five schools, but that's not enough to prevent them. If you're Michigan, you're not automatically immune (Appalachian State, 2007). If you're nationally ranked, you're not immune (James Madison over Virginia Tech, 2010).
So where should we be looking this year in terms of humiliupsets?
When I look at the schedule looking for potential moments of FCS glory, I tend to look at several factors. I don't think of it as a magic formula in any way, but here it is:
Consistent FCS success. It is generally no accident when an FCS teams upset or challenge an FBS opponent – generally, the teams that you think are challengers for the FCS postseason are the same ones that are good threats to pull off the upset. Generally, it's pretty well known who the title contenders are.
FBS teams in a rebuild. To me, it's not so much whether a team is in the preseason AP Top 25 as whether the team is replacing something major on their team, such as a head coach or quarterback. It takes time for an FBS team to sometimes find its feet – and that's where a hungry, strong FCS team can strike.
Sneaking Up On Them. Reputation generally isn't a good thing when it comes to FCS upset candidates. The less hype they've received, the better (think: when Appalachian State upset Michigan in 2007, few FBS followers knew anything about the Mountaineers). This doesn't always apply (see: North Dakota State against all sorts of FBS teams), but in general it helps a lot.
"Power" vs." Non-Power". Time and again, it gets proven that teams in "power" FCS conferences are not all that different than those in G5, or "non-power" conferences in FBS. In fact, some FBS teams would probably struggle to reach .500 in, say, the Missouri Valley Football Conference or Big Sky Conference. Though these types of matchups are more rare these days, they do crop up occasionally, and are great picks.
So without further ado, in order of likelihood, here are six games that are my picks as potential upsets, and six more that won't be upsets but might be worth your time.
Two That Almost Certainly Won't Happen But Still I Might Light Some Incense For Jobu Just In Case
Wagner at Boston College. This matchup pretty much has everything I look for in an upset candidate: epically bad offense (check), a home team picked to be among the dregs of the ACC this year (check), and the probability that the opponent will take the opponent lightly (check). Even though Wagner comes out of the limited-scholarship NEC, they've been in this situation before: they came very close to upsetting Florida Atlantic in 2012, taking the Owls pretty much the distance in a 7-3 defeat.
But I'm having a hard time believing that of this year's Wagner team, who finished 1-10 last season and are in serious rebuilding mode under head coach Jason Houghtailing. Still, Wagner should be better in 2016 after 2015's Year One rebuild, and don't count out Boston College's near-complete inability to score. This game could really be a really big be a lot closer than you think.
Rhode Island at Kansas. Looking over the Big 12, it's no secret that the perennial basement-dwelling Jayhawks will likely struggle in their division, and struggle to win football games overall. This has been the theme for Kansas football for so long, it's hard to recall the last time things were any different.
Normally this would be a fantastic indicator for an FCS upset – if they weren't facing off against their FCS doppelganger, Rhode Island. The Rams have a combined five wins in the last three years, and might be the one game on the Jayhawk schedule that might make Kansas look like an actual, live, competitive Big 12 team.
The key in this game might be punting. Which punter will hold onto the ball best? Which one is marginally less likely to fumble and give their opponents a 2-0 lead? If there isn't a key special teams miscue that turns into a touchdown in this game, I'll be shocked.
Four On the Fence, But Probably Will End With FBS Ego Intact
North Dakota State at Iowa. You'd have to be a fool to overlook the five-times-consecutive FCS champions, even without Number-Two-Pick-In-The-NFL-Draft QB Carson Wentz, leading the Bison anymore.
North Dakota State has become synonymous with FCS success. They will be the preseason No. 1. They will be good. They'll be the team to beat in the Missouri Valley.
But that's just it: Iowa, who is a preseason contender for "that other College Football Postseason Playoff thing that happens around New Year's Day", seems so unlikely to overlook the Bison that it feels a lot more like a longshot this time around.
Don't get me wrong – I'll still be paying very close attention – but I think this will be a very different type of matchup for the Bison.
UC Davis at Wyoming. Pity Wyoming head coach Craig Bohl. No; on second thought, don't.
The Cowboys, led by the former head football coach at North Dakota State, haven't enjoyed the same success under Bohl as the Bison had, to put it mildly. Last year they experienced a depressing 2-10 season last year lowlighted by a loss to another Big Sky team, North Dakota.
Could UC Davis make it two in a row for the Big Sky over Wyoming? If they weren't in the middle of their own rebuild under head coach Ron Gould, I'd like their chances a lot more. Also, Wyoming won't be entering into this season the same way they were last season, where they had a boatload of transfers (including at QB). It's unclear how much Bohl's team will improve from last season, but they should be improved enough to get past UC Davis, who finished 2-9 last season themselves. But I could see the Aggies keeping this closer than people realize, which puts this on the watchlist.
Eastern Kentucky at Purdue. Dear Eastern Kentucky: I so want to pick you here.
You return experience at key positions such as QB (Bennie Coney), and the secondary (Kiante Northington).
You face a Big 10 team that looks vulnerable, Purdue, who, under fourth year head coach Darrell Hazell, doesn't look like they will be back in the Rose Bowl anytime soon.
Yet something holds me back. I'm not sure whether it's the fact that you're breaking in your own new head coach, Mark Elder, or whether it's that Purdue has never lost to an FCS team (two of those wins, incidentally, coming against EKU). I fully anticipate the Colonels, who always have the expectation of competing for the OVC title, to be in the thick of the title race – and I'll be watching. To me, this one feels like another close, but no cigar, effort by EKU against the Boilermakers.
Villanova at Pitt. Another team I'm dying to pick is Villanova, who certainly want to be sending Andy Talley a beautiful present in his Wildcat farewell tour. Beating an old Big East foe, not to mention one that was a perennial thorn in the side of the basketball team, would be a real treat for Talley and his team.
But Villanova, who is replacing QB John Robertson and OL Jake Prus, will have a job on their hands putting together a team to beat a team that is expected to compete in the ACC this year. I wouldn't rule out Talley pulling another John Robertson-esque contributor out of his hat this year, but it seems like asking for a Pitt upset might be too much to ask.
Now, let's get to the games where the chances of humiliupsets are most likely.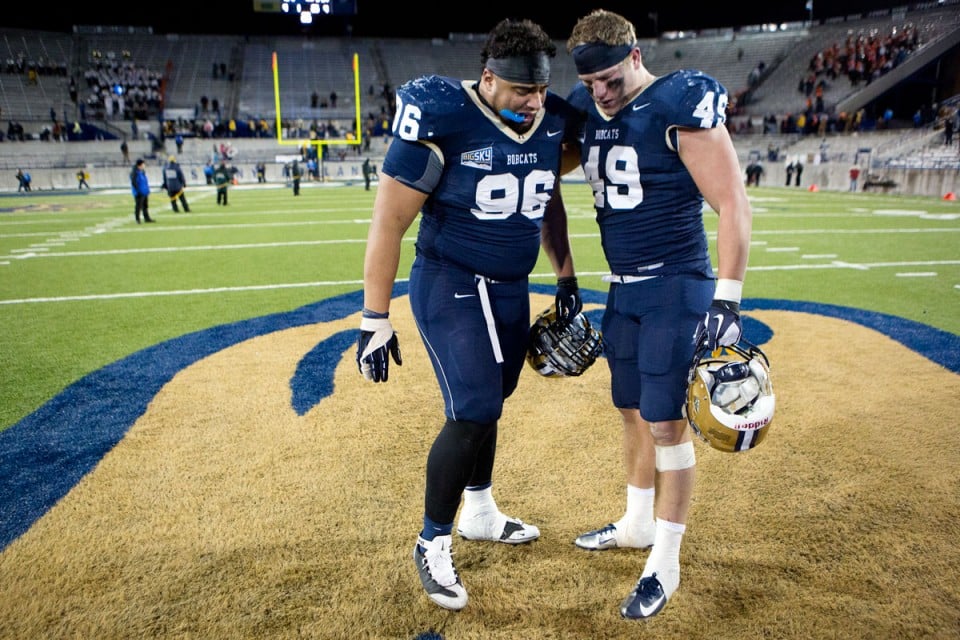 6. Montana State at Idaho.
Call this the "Tumultuous Offseason Bowl."
With Idaho's offseason – you know, the one where the Vandals announced they were transitioning back to FCS – you have to think that their first opponent for the 2016 season will be a future conference opponent in the Big Sky has to be some sort of cruel joke.
Montana State's offseason hasn't been anything to joke about, either.
The Bobcats fired head coach Rob Ash after a very disappointing 5-6 season, and also saw QB Dakota Prukop become Oregon's latest rent-a-QB-from-the-Big-Sky, following QB Vernon Adams, Jr,'s successful stint there last season.
Not a normal offseason for either team. And normally, not exactly a great case for a FCS upset.
The key in this game, though, is that even a rebuilding Montana State should be much better than an Idaho team that will be struggling to compete in any college football game they compete in this season.
Even with a new QB, Bobcat head man Jeff Choate will have no problem motivating his team to go out to Moscow and re-establish Montana State as a title contender in 2016, especially considering Idaho will be a future conference opponent.
At best this season, Idaho was going to struggle. The latest news will make it harder for them, while handing Montana State a huge opportunity to take a Big Sky stand on their future conferencemate. Whether Montana State competes for a playoff spot or not, it should be the perfect set for a possible Bobcat win.
5. UT Martin at Hawai'i.
It's no secret that I love picking against FBS schools in trouble, and Hawai'i fits that bill perfectly.
With public debate on whether the Rainbow Warriors should continue sponsoring FBS football, the entire athletics department operating deep in the red, and a brand-new head coach in his first year, Hawai'i will almost certainly be bad. Head coach Nick Rolovich from Nevada certainly has one ace in the hole in terms of recruiting – beaches and paradise is pretty compelling – but the money and lack of competitiveness seems to point to a bad season coming up.
Bad enough to lose to UT Martin, though?
Yes.
The Skyhawks lose their starting QB from last season, but a new transfer quarterback from Marshall, QB Gunnar Holcombe, should make that transition a lot easier that it might initially seem, along with talented WR Caylon Weathers. They'll have a good chance against a team that would struggle to compete in the OVC, and as long as they can keep their minds off the beaches and on the playing field, I think the Skyhawks could definitely win this game.
4. Colgate at Syracuse.
It bugs me a little to pick Colgate here. The Raiders are notoriously slow starters, and they're going against a former regional "rival" that probably won't take them lightly.
But this isn't some non-scholarship Raider team that will get railroaded by the Orange.
Last year, Colgate, under coach Dan Hunt, ended the season on a tear and also, for good measure, knocked out two CAA teams in the playoffs (New Hampshire, 27-20, and James Madison, 44-38). Until their run was halted at Sam Houston State, there was no hotter team in FCS than Colgate, and with so little graduating, they will be a potentially tougher out in 2016 than they first might seem.
Additionally, the Big Maroon Machine return QB Jake Melville and RB James Holland, who were a huge part of Colgate's playoff success. And they have an experienced defense poised to make a jump, led by DE Pat Afriyie. Why shouldn't they have a better than even chance against a potential ACC cellar-dweller with a first year head coach?
3. UNI at Iowa State.
Speaking of potential cellar-dwellers with new first-year head coaches… Hey there, Iowa State!
We all already know UNI is an FCS "power conference" team, making the playoffs yet again out of the Missouri Valley Football Conference. They check all the boxes – returning starting QB (Aaron Bailey), Top 25 team, solid returning players on offense and defense.
The only possible hitch? Last season, one of Iowa State's few wins came against the Panthers.
Matt Campbell, who takes over after a rough 3-9 season for Iowa State, has to effectively start over on offense for the Cyclones, including almost complete turnover on the offensive line.
If you think that's not great news for UNI's defense, who haven't given up more than 28 points in a game in their lat eight contests, you haven't been paying attention.
You can imagine the family dinner discussions this summer with Panther head coach Mark Farley, and his son, LB Jared Farley, talking about how to pressure Iowa State's QB and stuff the Cyclone running game.
I think this year, UNI is in a better position than they were last season. The Panthers are a tougher out, and Iowa State is in a tough spot. I think UNI will win this game.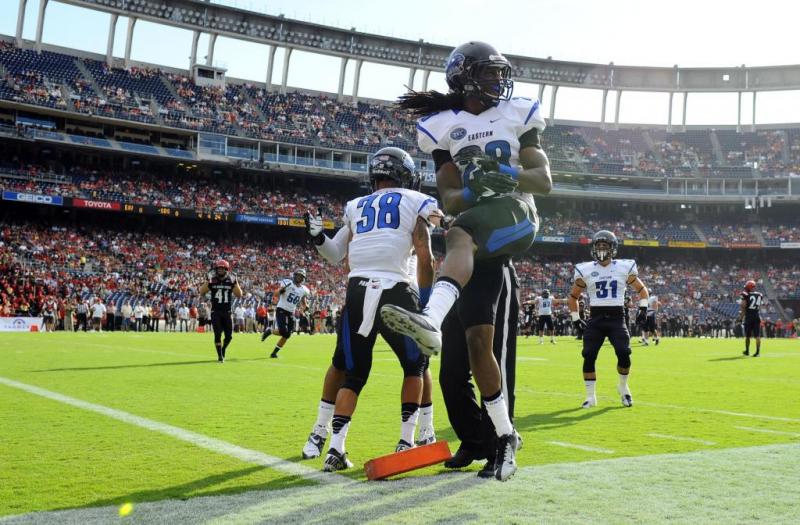 2. Eastern Illinois at Miami (OH).
The Redhawks are at a crossroads.
Arguably the worst team in FBS the last two seasons, head coach Chuck Martin took the words "youth movement" to its logical extreme when became Miami (OH)'s head man in 2014. In two years, after installing mostly "his guys", a team filled with freshmen and sophomores limped to a 5-19 record.
Now Miami (OH) is at a crossroads at Year 3. Is this the year that the Redhawks jump to the upper tier of the MAC, and compete for a bowl spot?
I'm thinking the opposite.
The Panthers. behind DT Jarvis Williams and RB Jalen Church, have exactly the senior-laden team that should give a mid-range (at best) team in the MAC fits. The team made strides last year and made it into the FCS playoffs, very much fit the bill as an upset-maker.
They've been here before, too. Back before San Diego State was considered a serious candidate for the Big 12, they were busy getting drilled by an Eastern Illinois team headed by Jimmy Garoppolo, 40-19, in a legendary opening college football weekend in 2013 that ended with "54 hours of hell" and eight FCS upsets over FBS teams.
It's admittedly a high-risk, high reward pick, because Miami (OH) won't be a team that is short on experience, and they could be a lot better than advertised. Eastern Illinois, though, could be, too.
1. Richmond at Virginia.
The Spiders surprised many by making a deep run in the FCS playoffs last season. Head man Danny Rocco, finally with the FCS playoff monkey off his back, is looking this year to take it a step further – to coach a Richmond team that can win the whole enchilada in Frisco this January.
QB Kyle Lauletta, last seen running through mammoth-sized holes created by the Spiders' offensive line, returns, as well as leading receiver WR Brian Brown.
They'd be a very tough out for the Cavs, even if Virginia were predicted to be very good this year. They're not.
Virginia head coach Bronco Mendenhall is in his first year at UVa, and adding to their struggles is the fact that the offense is unsettled at both QB and RB. Making matters worse, the Cavs own athletic department seemed to throw all of the sophomore teams under the bus when they said, "Mendenhall routinely played true freshmen at BYU, and he expects to do the same at Virginia."
He's also completely revamping the offense, going from a run-first approach to a more high-octane, fast-paced unit, meaning big changes to the playbook for all the returning players.
Let's just say this doesn't sound like it will end well for Virginia when they open the 2016 season.